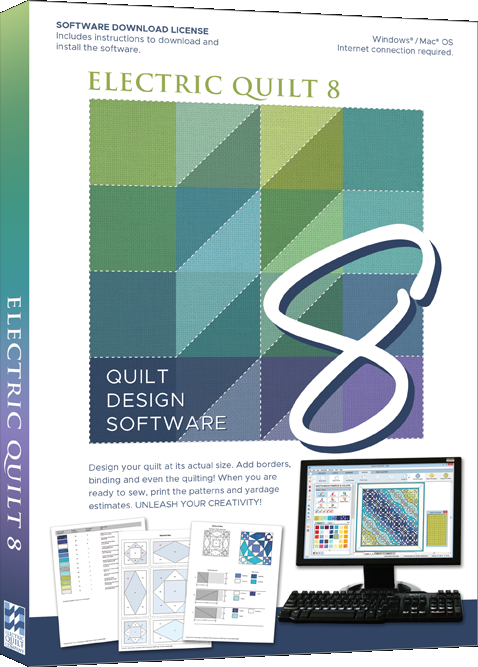 EQ8 is a powerful software package for designing your own quilts. In this six-week course, we will step through the features of EQ8 with a focus on giving students the skills to design their own quilts.
The Introduction to EQ8 will explore designing a custom quilt using EQ8 software. We will explore how to use the software, set up your quilt, pick your blocks, and add fabric swatches to your design. In later weeks we will explore how to create custom blocks and applique, bring images into our quilts, and finally put it all together to design a quilt from start to finish.
For those who need to improve their basic technology skills in preparation for using EQ8, attendance is required at a one-and-a-half-hour pre-class technology skill bootcamp on PC and Mac concepts, basic technical understanding, tech terminology, and short-cut keys.
The course is hands-on, and each student will work with EQ8 on their own laptop. Each class has in-class detailed exercises for students to learn the concepts and explore EQ8.
Summary Agenda
Pre-Course:Technology Skill Bootcamp
Week 1: EQ8 Introduction and Designing Quilt Layouts & Borders
Week 2: Working with Pieced Blocks & Applique
Week 3: Adding Fabrics & Colors
Week 4: Custom Quilt Layouts, Printing, Applique Templates & Foundation Paper Piecing
Week 5: Creating Custom Pieced & Applique Blocks
Week 6: Working with Images and Putting It All Together
Requirements:

You MUST own a copy of EQ8. You MUST have a working laptop and be familiar with using it.

If you do not have strong PC/Mac experience and skills, attendance is required at the one-and-a-half hour pre-course Technology Skill Bootcamp for Quilters.
| | |
| --- | --- |
| Requirements: | You MUST own a copy of EQ8. You MUST have a working laptop, and be familiar with using it. For those who need to improve their basic technology skills in preparation for using EQ8, attendance is required at a one-and-a-half-hour pre-class technology skill bootcamp on PC and Mac concepts, basic technical understanding, tech terminology, and short-cut keys. |
| Instructor: | Harry Fox |