Skip Navigation
Website Accessibility
What's New at CQ 04/21/16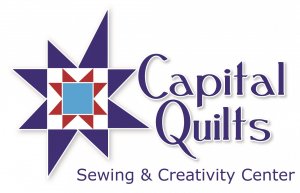 "Just living is not enough... one must have sunshine, freedom, and a little flower." -- Hans Christian Andersen
Happy Thursday to you, dear readers,
Tomorrow is Earth Day! Do you have plans to do something positive for this beautiful planet we live on? Help clean a stream, or plant a tree or some pretty flowers that support the bees, or take a child on a nature walk, perhaps? You can also help the earth by shopping at Capital Quilts: 5% of the day's net sales will be donated to the Chesapeake Bay Foundation.
Our thanks to Cyndi Hershey, Alicia Dujets, and Kevin Driscoll of Quilting Treasures for a fantastic Ink & Arrow Trunk Show last Saturday! All of us who attended learned a great deal about the design process in particular and the fabric production process in general. There was even a quilting trivia game at the end! Who knew that the Dutch invented the thimble or that the first electric home appliance was the iron? And, of course, we got to see lots of beautiful and fun fabric and projects. If you missed the show, you can still see some of the projects on display in the shop, near the registers, for the next few days.
Our next event will be on Monday evening, May 9, at 7. Larry Sheckman, manufacturers' rep for several companies, will be here to show us some of the newest fabrics from Timeless Treasures and, if we are lucky, some of his other lines. Larry has been in the fabric industry for a whole lot of years and has witnessed many changes in the industry. He has lots of stories to tell. He is also a designer. As the go-between for the fabric shops and the designers and manufacturers and a designer himself, he has a unique perspective on what the trends are and what customers like to purchase and make. I am sure it will be a fascinating evening! The event is $5 and includes a beverage and light eats (crackers and cheese, peanuts, that sort of thing). We will cap attendance at 50, so don't delay in signing up!
Help us make baby quilts for Mary's Center, an organization that offers education, health care and social services to people and families in need. We will meet here at the shop on Friday, April 29, 10-1. Fabric kits are provided; bring your sewing machine, thread, and sewing supplies. If you have any batting pieces that are at least 36" x 45", we sure could use them! As for all our Capital Quilts Cares efforts, the event is FREE. Please register so that we know how many to expect. We are also suggesting that you bring a small gift, such as a teething ring, clothing, diapers, or a small toy to share with a baby. Thank you!
Mother's Day is 2-1/2 weeks away. If you'd like to make a unique gift for your favorite lady, come to Jenny Trussell's Photo Pillow class on April 30 at 1! As part of the class, Jenny will transfer your photo to special fabric for free, but you'll need to send her the photo in the next few days so that she has time to do the work. Visit or call the shop or sign up online today!! You will take home a completed pillow that Mom will cherish for years.


Congratulations to Barbara "Bobbie" Korengold of Chevy Chase, MD, who took the AQS Best Hand Workmanship Award at Paducah for her quilt, "Ben's Midnight Garden." It took her 2 ½ years to make the quilt. Way to go, Bobbie!
Go 'n' Piece,
Alison Zacharkiw
(301)527-0598

VENDOR SPECIALS

JANOME has two promotions going on. The first one is get $500 back when you purchase a Horizon 15000 at Capital Quilts. The other is a baby clothes contest! Go to http://janome.com/en/promotions/ for more details.
HORN OF AMERICA is offering the Quilter's Dream sewing cabinet 3280 for $1398, regularly $1747.50. Visit https://www.hornofamerica.com/ for more information.
FLORIANI is always offering more specials than you can shake a stick at. Visit their website to see what is happening! I am happy to order anything.
NEW & NOTEWORTHY


Daniela Stout of Cozy Quilt Designs has some new patterns out, including this one, "Flower Fields". Use your Strip Tube Ruler or the Strip Tube Junior ruler to make half-square triangles quickly and accurately. $10

This beautiful collection from Wilmington Prints is called "Poppy Celebration." $11.99/yd

From Dear Stella, we have lovely Spring flowers and a geometric from the "Adelaide" collection. $11.99/yd.

Ahoy There! Moda's summery marine collection is called "Coral Queen of the Sea." The main print has some fabulous sea creatures in it! $11.99/yd.


CLASSES


For those of you in the Gravity BOM, don't forget that you'll meet at 2pm this Saturday 4/23 (a departure from the usual), and you have an opportunity to sit and sew with Kim on from 3-6.

Are you a crazy quilter? Join in the fun with Annette on Sunday, April 24. The Crazy Quilting class goes from 3-5.

Make a pretty table runner for your Spring and Summer décor in Making Waves, Monday, April 25, 1-4pm. Cathy Sullivan will show you how.

We have a Simply Sixteen Rental Workshop scheduled for Monday as well, from 10:30 to 12:30.

If you would like to rent our Handi Quilter Sweet Sixteen, the sit-down quilting machine, sign up for the rental workshop scheduled for Wednesday, April 27. Annette's class begins at 10.

The ProStitcher Certification class is offered on Thursday, April 28, 11-4. Completion of this course allows you to use the ProStitcher when you are renting one of our Handi Quilters. Please complete the Handi Quilter Certification course first, so that you know how to load, thread, and care for the longarm machines.

Thursday evening, we give you another opportunity to take the Simply Sixteen Rental Workshop from 7-9.

Our next Capital Quilts Cares Event is on Friday, April 29, 10-1. We'll make baby quilts for Mary's Center. Staffer Laurie is the leader for this event. Fabric kits are being supplied. You will need to bring your machine, neutral thread, and sewing supplies. If you have pieces of batting that are at least 36" x 45", we are in need of those. Also, kindly bring a small gift for an infant, perhaps a package of diapers, some clothing, a teething toy, or a book. The new moms at the Center will be thrilled. Thank you!! The event is free, but please register for the class so that we know how many to expect. Also note that if we have any extra kits, you can take them home to make there and then return the completed quilt to the shop.

Come back Friday night for Sit 'N' Sew, our monthly get together for quilters and sewists. Bring your own project and some food to share with the others. Capital Quilts will provide beverages.

April 30, the last day of the month, offers three classes for your quilting pleasure! At 9:30, learn how to use the EQ7 software to design your own quilts. It is a remarkably versatile program, even allowing you to use current fabrics on your computer screen as you design. Elyse Turkletaub, our resident EQ7 expert, will explain all.

In the afternoon, Jenny Trussell will show you how to make a Photo Pillow. If you are interested, sign up soon, so that you can send your photo to Jenny; she will transfer it to the photo transfer fabric for you. Your photo can be of a person, a favorite place or event, a wedding license, anything! Class begins at 1, and you'll take home a completed pillow with you.

If you've been in the shop lately, you may have stood admiring the large appliqued Christmas quilt hanging in the back of the shop on the right. This is the model for The Night Before Christmas Block of the Month, led by Julie Evans. The BOM will run for 6 months. The first class meets on the 30th from 2-4. If you would like the pattern for this quilt, even if you don't take the class, they are available for $79. This includes all 12 patterns.

We begin May's classes with Fobio. Phyliss Jaffe will help you make a lanyard-style key fob that zips up to your wrist for added security. And it is just darn cute! The pattern includes hardware to make two Fobios; you can purchase it at Capital Quilts.

Hilary is back from her trip to Australia, and she is teaching Aussie Shadow Box on Tuesday, May 3, at 1pm. Talk to her about her wonderful trip while you make the quilt!

The first Handi Quilter Rental Workshop in May will be held on Wednesday, May 4, 4-9.

If you prefer to rent the HQ Simply Sixteen to quilt your quilts, take the Simply Sixteen Rental Workshop class on Thursday, May 5, 7-9.

Practice a different applique technique in Annette's Hawaiian Applique class on Saturday, May 7, 1-6. Annette will also talk about the history of this unusual technique. Coconut bras optional.


COMMUNITY CORNER:


Fellow Friends of Animals,
Please join us for our annual Kentucky Derby fundraiser to celebrate FMCA's success in 2015 and support our critical efforts in 201
6.
There will be large screen TV's for viewing the race, a 50/50 Betting Pool, lots of wonderful door prizes, open bar and a fabulous supper spread.
In 2015, FMCA adopted 232 cats and funded the spay-neuter, medical care and vaccinations of 250 community cats. We provided funding to Days End Farm Horse Rescue for medical care of abused and neglected horses and provided individuals in need with vet care. With the support of PetSmart Charities, we distributed hundreds of cases of food to colony caretakers for community cats.
In 2016, FMCA will expand our rescue/adoption program and support of community cats. In March, we were invited to collaborate with local and national organizations to address the challenges of community cats. The coalition will advocate for legislative change, raise public awareness, and improve the welfare
of community cats to reduce the number of cats and kittens entering shelters.
Our success depends on the support of our members and friends. FMCA President Claire Proffitt will generously match all contributions up to $5,000. Thank you for your support in fulfilling our mission of building a better world for animals.
Sincerely,
Claire Proffitt and the FMCA Board


Visit the FMCA website for more information.