Skip Navigation
Website Accessibility
What's New at CQ 05/12/16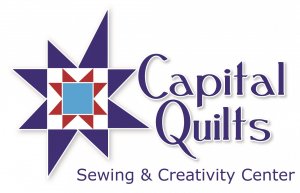 "Just living is not enough... one must have sunshine, freedom, and a little flower." Hans Christian Andersen
Dear Soggy Quilters and Sewists,
The weather report does not look to be improving much, if at all, over the next ten days or so. Why not come to Capital Quilts for some SUNSHINE? We have lots of classes scheduled, for quilts, free motion quilting, learning to use the Handi Quilter Simply 16 stand-up quilting machine, a skirt, and lots more; the complete list is below and on our website. Enjoy the color of the fabrics, the inspiration of the samples on the wall, the smiles all around you!
Annie, manager of our Sewing and Quilting Machines Department, and I went to a Janome Regional Training meeting on Wednesday. We learned about the new products Janome has introduced this month, including a sit-down quilting machine that is very like the Handi Quilter Sweet 16, except you face the side of the machine to quilt (like sitting at your domestic sewing machine), and the new MB7, a 7-needle embroidery machine. The most exciting thing for us, though, was the new Janome MC9400 sewing machine! We spent some four hours sewing with this new machine, and I am here to tell you it is fabulous. In fact, I am planning on trading in my 8900 for one of these machines (anyone interested in a gently used, well-maintained Janome 8900?). Not that the 8900 is a bad machine; it is a quite wonderful machine. The 9400 has automatic presser foot lift when you take your foot off the pedal; a light that pulls out above the needle area and provides exceptional lighting; a heavy-duty needle threader; a bobbin alert that tells you when your bobbin is low; the Stitch Creator that allows you to design your own stitches; an 11" throat space and a wider bed; three throat plates, one for straight stitching, one for zigzag and other wide stitches, and one for stitching with the needle in the left position, which gives a beautiful stitch and makes things like curved stitching easier. And of course, all the great quality and warranties you have come to expect from Janome are there. This is just a small list of what the 9400 has to offer; stop by the shop to see and try the machine and learn what other goodies are included!
Debbie, Annie and I are off to Quilt Market in Salt Lake City next week! Salt Lake City is where Handi Quilter is headquartered, and we will be touring their facility and taking training courses while we are there. I love going to Market; there is so much to see and learn and friends, new and old, to meet. Many of the companies have been sending me 'sneak peeks' the last couple of weeks, so I know there is going to be lots of new stuff to look at! I'll do my best to keep you informed.

Speaking of being informed, there are spots still available for Sandwich Night tomorrow. Call us ASAP to secure one of them!

Go 'n' piece,
Alison Zacharkiw
301-527-0598

WHAT'S NEW AT CQ


The sun shines in the shop and the tulips bloom! These beauties are from Northcott; the collection is called Spring Glory. $11.99/yard.
Timeless Treasures' Row by Row: Home Sweet Home fabrics are in!! The novelties are $11.50/yard and the textured solids are $9.50/yard.
It's java time! The squares on the panel are sized to make mug rugs or pot holders; they could also form the nucleus of placemats or be the back of a quilt…or whatever your imagination leads you to! Clothworks' Coffee House collection is $11.99/yard.
VENDOR SPECIALS
HANDI QUILTER has an a-MAY-zing shipping and financing special happening now through May 23! They are offering 0% down, 0% interest and $20 shipping on any longarm package and on the ProStitcher. The machine is delivered right to your home, and my husband and I come to you to set up the machine and show you how to use it and take care of it. Our certified service technician in most cases comes to your home for servicing the machine (he may charge mileage, depending on how far away you live). We have employees who can answer most of your questions and are happy to find out the answers to those they can't answer, plus Handi Quilter has a wonderful support team that you are welcome to contact for help. If you have thought of getting one of these marvelous machines, now is a great time to do it!
HORN OF AMERICA is offering the 3240 Medium Quilter's Dream sewing cabinet for $1303, regularly $1448. Get all the great features of the regular Quilter's Dream in a smaller footprint. Visit https://www.hornofamerica.com/ for more information.
FLORIANI is always offering more specials than you can shake a stick at. Visit their website to see what is happening! I am happy to order anything.
SEW STEADY: Back To Basics Table Package Buy Sew Steady's very popular 18"x 24" Large Sew Steady extension Table and Travel Bag at a discounted sale price. Table comes with 16" ruler printed on front edge, front edge is beveled for easy fabric glide, legs are removable for easy storage and transport. Travel Bag is 20" x 26", made of padded nylon. Regular Price: $158.00 Sale $119.00 Offer valid through 06/30/2016
CLASSES
You can sign up for classes online, by phone at 301-527-0598, or in person at the shop.


Do you have a closet full of quilt tops waiting to be quilted? You may be interested in the Fun With Free Motion class on Friday, May 13, from 10:30-12:30. Karen Fricke will go over basic free motion technique and then teach you several quilting patterns. You will take home a sampler to remind you of the designs you learned!

Bring your quilt top, backing, batting, and basting spray to Sandwich Night, Friday, May 13, between 6 and 8, or to Sandwich Day, Sunday, May 15 between 12 and 5. Please make an appointment, in person, on the phone, or online.

Attention machine embroiderers! Use your hoop to make a Flying to Pieces Zipper Pouch on Saturday, May 14, from 3-6. Elyse Turkletaub will show you how. The software from Kimberbell is available in the shop. Who knew you could use your hoops to make projects that do not necessarily involve embroidery?!
Zentangle Club meets on Sunday, May 15, 1-3. It's never too late to join in the fun!
There is a Simply Sixteen Certification class on Monday, May 16, 10:30-12:30. Completion of the class will allow you to rent the Simply Sixteen to finish your quilts.

Start with a "layer cake", a bundle of 10" squares, and create this fun and easy "Ten Pack" quilt. Make it bigger or smaller just by adding more blocks. Hilary Hastie will show you how on Tuesday, May 17, 10-1.
Staffer Annie Jeffrey has found a great skirt pattern! Learn how to make the Everyday Skirt on Tuesday, May 17, 6-9.
Our next Capital Quilts Cares event is on Friday, May 20, 10:30-12:30. We'll be making Pet Beds for local shelters and rescues. If you don't want to sew, come and stuff the pillows! The event is free, but please register for it so we know how many to expect. We are now accepting "chopped" scraps to fill the beds with. Please ensure that your scraps contain no pins or other sharp/hard objects.
Also on May 20 is our Capital Quilts Cares: Quilting for Charity event. Cindy Bosca will load the charity quilt onto the Handi Quilter frame and show you how to use the ProStitcher to do the quilting. Participants in the Baby Quilts for Mary's Center event have been given first choice of appointments for this event. There are 3 places left in the 4pm session. If you would like to make a baby quilt to donate to Mary's Center and use the ProStitcher to quilt it, please call or visit the shop to make an appointment.
Learn how to do traditional hand applique in the Whig Rose Workshop with Helen Johnston. The first session meets on Sunday, May 22, 12:30, and the second session meets on June 5 at the same hour. This block is a variation of the traditional Whig Rose pattern. In the first class, you will learn how to transfer the pattern, make bias stems, and do freezer paper applique and reverse applique. In the second class, dimensional applique techniques are taught for the blossoms, folded buds, and the yoyo center. You'll put the finishing touch on with a sawtooth border.
Take the Handi Quilter Rental Workshop on Monday, May 23 to become certified to rent the Avante or Fusion quilting machine. Let's get those tops quilted!
Have your cake and eat it, too! Susan Stanton-Carr is teaching the Piece of Cake III quilt on Tuesday evening, May 24, 6-9. This quilt is suitable for advanced beginners right up through master quilters!
You have two classes to choose from on Wednesday, May 25: take the Sweet Sixteen Rental Workshop with Annette at 10 to learn how to use the sit-down quilting machine or the new Improv Club with Kim Jalette and Kat Martinez, also at 10. Bring your sewing machine and a stack of fabrics and learn how to create a quilt with your heart, hand, and eye. It's all fun, there is no right or wrong, no pattern to follow…yes, you CAN do this! Stop in and see the models Kat and Kim have made!
Come in out of the rain on Thursday, May 26 at 10:30 for Pat Dee's Zentangle for Beginners class. Pat will brighten your day with oodles of doodles! If you enjoy free motion quilting, Zentangle is a wonderful way to train your hands and eyes to coordinate and create beautiful quilting designs.
Friday, May 27 is the last Friday of the month and therefore meeting day for Sit 'N' Sew. Bring your own project and supplies and some food to share; Capital Quilts will provide the beverages. Enjoy an evening of fellowship with other quilters. FREE!
If you would like to learn how to use the Handi Quilter ProStitcher software, enroll in the ProStitcher Certification class on Saturday, May 28, at noon. There are three seats remaining.


COMMUNITY CORNER:
Congratulations to Lois Eriksson! Lois' Wall Art Quilts are hanging in Lang Hall at the Village at Rockville through the end of May. Do go and see them. Many of them are for sale. The address is 9701 Veirs Drive, Rockville, MD.