Skip Navigation
Website Accessibility
What's New at CQ 05/26/16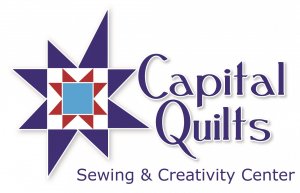 "Flowers always make people better, happier, and more helpful; they are sunshine, food and medicine for the soul." --Luther Burbank
Halloooo Friends!
Debbie, Annie and I are back from Quilt Market and we are feeling inspired and energized! There was a great deal to see, information to gather, and friends new and old to meet. Navy and gray are still trending as neutrals. The hot theme seemed to be 'camping'; there were tents, camping caravans, wild critters, and campfires everywhere. The fabric manufacturers were showing lots of garments in their booths; garment-making is coming back as an interest and a skill. Off-the-rack is relatively inexpensive and easy, but it's fun to wear something that is unique, with special details that you add yourself. There is room for both sorts of garments in your closet! If you make quilts and clothes for children, you'll be interested in the 3/8" bias tape we found that comes in lots of colors and patterns and has a scalloped lace edge; it should arrive in the shop in a month or so.
In notions, Bloc Lock was touting their new Log Cabin tools. United Notions is offering the Weightless Quilter, a gadget that holds the corners of your quilt up and takes the weight off the area you are quilting, making it tons easier to maneuver the quilt under your needle (when you are quilting on a domestic machine); it retails for $299. It is not available yet, but I am happy to take pre-orders! Deb Tucker has a new tool called Large Square Squared, an updated version of Square Squared that allows you to make finished blocks from 1" to 12"; it is a two-template set and retails for $49.50. You can use it to make several different blocks, such as Stacked Squares (Storm at Sea) and Pineapple blocks.
Handi Quilter has some new gadgets: a pole cradle, which holds the quilt top pole up above the quilting frame to make it easier to put the batting on the backing ($20 for a set of two); new ruler bases for the HQ16, Simply Sixteen, Avante, and Fusion that just slip on (no more bending the plastic to make the ruler base fit!!), $159.99 each; and quilt clamps that can be used on the frames to hold your quilt snugly on the frame. Originally designed for the new Simply Sixteen Little Foot frame, customers found they like using them on the Studio and Gallery frames, too, and Handi Quilter is now offering clamps for the larger frames. Price depends on the clamp being purchased, ranging from $25 to $50. I'll be carrying all of these new gadgets in the shop; please do pre-order to be sure to get yours soonest! (Infinity owners, you already have an easy slip-on ruler base, so no need to order another!)
The three of us spent a lot of time looking at how the vendors put displays together, talking to designers about possible events and trunk shows, looking for new patterns and ideas to bring to the shop, talking to other shop owners to find out what is trending in their towns, exploring what new classes we might offer, and thinking about how we can encourage new sewists to come to the shop as well as inspire experienced ones. I think you will see our shop displays changing more often, and keep reading these weekly newsletters for information on exciting events, workshops, and classes!!
And speaking of events, don't miss the Northcott Trunk Show on Friday, June 17, at 10:30am. Shirley Mandler, our Northcott representative, and Northcott's Lead Designer Debra Edwards will be here to show you what is new at Northcott, with samples of quilts and fabrics that were introduced at the Quilt Market last weekend. Can you guess which ones I bought?? Maybe you'll think there are some I should have gotten! Shirley and Debra will be bringing goodies to give away, and we'll put some coffee and tea and edibles out for you. $5; please register by phone, on-line, or in person so we know how many give-away-kits and dozens of cookies to make! 301-527-0598 or www.capitalquilts.com.
It's time for quilt shows! Capital Quilts will be vending at two shows in June. The first is Quilters Unlimited "Beautiful Waters" show on June 3, 4, and 5 at the Dulles Expo Center in Chantilly, VA. The show opens at 10 each day. The following weekend, on June 11 and 12, visit the Annapolis Quilt Guild show, "Quilts by the Bay 2016" at the Annapolis Senior High School, 2700 Riva Road, Annapolis, MD. The show opens at 10 on Saturday and 11 on Sunday. These shows are always a lot of fun, and we want to thank both guilds for inviting Capital Quilts to participate as a vendor.
Many thanks to those who helped both make and quilt the quilts for the Mary Center. The quilts are beautiful and sure to be loved by those who receive them. Take a look on our website www.capitalquilts.com to see the quilts!
We will be open on Memorial Day, Monday, May 30th.
Go 'n' piece,
Alison Zacharkiw
301-527-0598

HELP WANTED:
Sewing and Quilting Machine Specialist: Are you an out-going, friendly person who loves to help people make the perfect purchase? Are you looking to work in a friendly, safe, and inspiring environment? If you have retail experience and strong computer skills, Capital Quilts may be the perfect place for you. If your experience is in selling sewing and/or quilting machines and you know EQ7, Handi Quilter's ProStitcher, Art & Stitch, and/or Floriani's Total Control U software, so much the better! Earn salary plus commission. Please send your CV to alison@capitalquilts.com.
Sales Associate: Wanted: a friendly, out-going person with retail experience and a little computer savvy! Help your customers make the perfect purchase while working in a friendly, safe, and inspiring environment. Sewing and quilting knowledge is a plus but not required; we will teach you! Please send your CV to alison@capitalquilts.com.
VENDOR SPECIALS
HORN OF AMERICA is offering the 3240 Medium Quilter's Dream sewing cabinet for $1303, regularly $1448. Get all the great features of the regular Quilter's Dream in a smaller footprint. Visit https://www.hornofamerica.com/ for more information.
FLORIANI Chrome needles are in full supply. Buy any ten and receive 10 free pinwheel embroidery designs from Floriani. Ask for a form at the register.
SEW STEADY: Back To Basics Table Package Buy Sew Steady's very popular 18"x 24" Large Sew Steady extension Table and Travel Bag at a discounted sale price. Table comes with 16" ruler printed on front edge, front edge is beveled for easy fabric glide, legs are removable for easy storage and transport. Travel Bag is 20" x 26", made of padded nylon. Regular Price: $158.00 Sale $119.00 Offer valid through 06/30/2016
NEW & NOTEWORTHY
Experience quilting like never before with the Free Motion Wish Package with Glider from Sew Steady. Do what Longarms have done for years. Create quilting works of art with your domestic sewing machine. This machine specific package includes: 22-1/2 x 25-1/2 Wish Table with compartment drawer, universal grid, quilting ruler foot, 6 styles of acrylic template designs, and free motion glider. $300
Quilter's Wonder 18" Round Standing Hoop: This hoop rotates and tilts a full 360 degrees on its stable, height adjustable base. The large three pronged knobs make adjustments easy, while allowing you complete access to the sides and bottom of your quilt. The Quilters Wonder! stands up to 37.5" high so you can comfortably quilt in an easy chair. It is lightweight, stable and portable and folds down to 16" for storage.
Say "Hello!" in many languages with Riley Blake's Our World collection. Wouldn't this make a great travel tote bag? $11.99/yard.

From Northcott we have the Connector Playmat collection. There are four separate panels; you can sew them all together to make one big quilt, sew them in pairs as we did, or make four mats. The panels are designed so that the roads and train tracks connect across the edges of the panel so that the child can arrange the mats in different ways to make different 'towns'. Add vehicles, trains, and planes and a child's imagination and fun will be had! Each of the panels is $8.50; fabric on the bolt runs $11.50/yard.
CLASSES
You can sign up for classes online, by phone at 301-527-0598, or in person at the shop.
Friday, May 27 is the last Friday of the month and therefore meeting day for Sit 'N' Sew. Bring your own project and supplies and some food to share; Capital Quilts will provide the beverages. Enjoy an evening of fellowship with other quilters. FREE!
If you would like to learn how to use the Handi Quilter ProStitcher software, enroll in the ProStitcher Certification class on Saturday, May 28, at noon. There are three seats remaining.
There is a make-up Zentangle Club meeting on Sunday, May 29, from 1-3.
There are seats remaining in all three of our Handi Quilter Rental Workshops in June: Wednesday, June 1, 4-9pm; Monday, June 13, 11-4; and Thursday, June 30, 11-4. Learn how to load your quilt on the quilting frame and use and care for the quilting machine.
Great ready to show your red, white and blue this summer in Annette's Betsy Ross Flag quilt class. Learn a method for making 8 half square triangles at one time and Betsy Ross's own method for cutting perfect 5-point stars. Saturday, June 4, 1-5pm.
Capital Quilts Cares: Wilkens Avenue Shelter event is happening on Sunday, June 5, from 12-5. Come help us make quilt blocks and quilts for the women and children who live at the shelter. Fabric is provided; please bring your sewing machine and sewing supplies, including neutral piecing thread. Only one person has signed up so far, and there are lots of needy women and children! You don't have to stay the whole time; any contribution is appreciated. Grab a friend and come on over and sew!
Have you got a really big quilt that needs quilting and a really small machine to quilt it on? No worries: let Annette show you how to Quilt in Sections on Monday evening, June 6th, 7-9.
Using the right needle and the right thread to sew your quilt or garment can make a world of difference in the quality of the finished item. Skipped stitches, thread nests, and breaking thread can all result from using incompatible needles and threads. Learn more about this important topic in Needles & Thread, a lecture given by Barbara Kascic on Thursday, June 9 at 10:30.
Capital Quilts Cares: Little Dresses for Africa is our second charity event for June. Come help us make pillowcase-style dresses for little girls in Africa on Friday, June 10, 10:30-12:30. It's FREE and fabric is provided. Please bring your sewing machine and a neutral thread for sewing these easy and cute dresses.



COMMUNITY CORNER:
You've only got a few days left to see Lois Eriksson's wonderful quilts! Lois' Wall Art Quilts are hanging in Lang Hall at the Village at Rockville through the end of May. Many of them are for sale. The address is 9701 Veirs Drive, Rockville, MD.