Skip Navigation
Website Accessibility
What's New at CQ 06/02/2016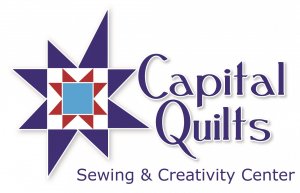 "A gentle heart is tied with an easy thread." George Herbert
Dear Thread-full Friends,

I always have bits of thread all over me. I wear them proudly! They are a sign of my profession and my passion. They are also darned hard to get rid of. I am sure you are thread-full, too!

This weekend is the first of the 2016 quilt shows for us. We will be at the Quilters' Unlimited Show at Dulles Expo Center in Chantilly, booth 406. Do come by and see us on Friday, Saturday, and/or Sunday! We are taking some new quilts and their kits, patterns we picked up at Market, and other goodies, including ½ yard cuts of the new holiday fabrics. Normally $6.50, all ½ yard cuts will be on sale for $6, or you can get 10 for only $50. We are looking forward to meeting and greeting our friends in Virginia! Our thanks to the Guild for inviting us to vend at their show.

We have four Capital Quilts Cares events coming up on the next three weeks. I invite you to participate in one or more of these events! They are free, and all fabric and batting is provided; you need only bring a sewing machine, thread, and basic sewing supplies. Sew and chat with old friends and new ones and help make something for others who are in need. The first event is Quilts for the Wilkens Ave Women's Shelter, this Sunday, June 5, from 12-5. Next up is Little Dresses for Africa, with Laurie Sieminski hosting, on Friday, June 10, 10:30 to 12:30. These are easy pillowcase-style sundresses. On Flag Day, Tuesday, June 14, Sue Moats is leading a Quilts of Valor event from 1:30-4:30. Sue has led many of these QOV events here at Capital Quilts over the last four years, and we are very grateful to her for providing the time and leadership for this important effort. The fourth Capital Quilts Cares event is on Saturday, June 18, from 3:30 to 5:30. This is Days for Girls, led by Laurie, and we will be making drawstring bags that will be used to make kits of supplies for menstrual periods. These kits are distributed to girls worldwide; they allow the girls to go to school, rather than stay home, during their period. We ask that you bring a new colorful washcloth to be included in the kit. (If you can't come to the event but would still like to donate a washcloth(s), please drop the cloth(s) off at the shop before the 18th and we will see that they are included.) Go to www.daysforgirls.org to learn more about this program.

Did you know you can participate in any of our Capital Quilts Cares projects by doing sewing at home? We provide you with fabric and instructions, and you make the item at home and return it to the shop for distribution to the appropriate place. Donations of fabric and batting are always gratefully accepted!

Don't miss the Northcott Trunk Show on Friday, June 17, at 10:30am. Shirley Mandler, our Northcott representative, and Northcott's Lead Designer Debra Edwards will be here to show you what is new at Northcott, with samples of quilts and fabrics that were introduced at the Quilt Market last weekend. Can you guess which ones I bought?? Maybe you'll think there are some I should have gotten! Shirley and Debra will be bringing goodies to give away, and we'll put some coffee and tea and edibles out for you. $5; please register by phone, on-line, or in person so we know how many give-away-kits and dozens of cookies to make! 301-527-0598 or www.capitalquilts.com.
Go 'n' Piece,
Alison Zacharkiw



HELP WANTED:
Sewing and Quilting Machine Specialist: Are you an out-going, friendly person who loves to help people make the perfect purchase? Are you looking to work in a friendly, safe, and inspiring environment? If you have retail experience and strong computer skills, Capital Quilts may be the perfect place for you. If your experience is in selling sewing and/or quilting machines and you know EQ7, Handi Quilter's ProStitcher, Art & Stitch, and/or Floriani's Total Control U software, so much the better! Earn salary plus commission. Please send your CV to alison@capitalquilts.com.
Sales Associate: Wanted: a friendly, out-going person with retail experience and a little computer savvy! Help your customers make the perfect purchase while working in a friendly, safe, and inspiring environment. Sewing and quilting knowledge is a plus but not required; we will teach you! Please send your CV to alison@capitalquilts.com.


VENDOR SPECIALS
HORN OF AMERICA is offering the new 6-way adjustable chair at half price with the purchase of a 5280 Super Quilters Dream cabinet. Normally $159.00, the chair is $79.00 during the month of June. Visit the Horn of America website for more information.
JANOME: Win a Janome Thread Kit and Fabric Bundle! Submit a photo of any quilt made on a Janome machine to the Janome website.
SEW STEADY: Back To Basics Table Package Buy Sew Steady's very popular 18"x 24" Large Sew Steady extension Table and Travel Bag at a discounted sale price. Table comes with 16" ruler printed on front edge, front edge is beveled for easy fabric glide, legs are removable for easy storage and transport. Travel Bag is 20" x 26", made of padded nylon. Regular Price: $158.00 Sale $119.00 Offer valid through 06/30/2016


WHAT'S NEW AT CQ

The blueberries in Elizabeth's Studio's 'Berry Good Blueberries' look fat and delicious, just like the ones I got at the food store this week! $11.50/yd.
We have four new patterns from Meags & Me, which we found at Quilt Market. We saw the models at Market; the three quilts are just delightful, and the 10" square "I'm Not All There" embroidery made me smile every time I walked by it. The quilts are $12 each and the embroidery pattern is $8.
Angela Walter's new book, Shape by Shape, Collection 2, has arrived. It includes over 70 more designs for blocks, backgrounds, and borders with easy to follow instructions. The book retails for $24.95, but all books are 20% off at Capital Quilts, so you only pay $19.96!


CLASSES
You can sign up for classes online, by phone at 301-527-0598, or in person at the shop.
There are seats remaining in both of our Handi Quilter Rental Workshops in June: Monday, June 13, 11-4; and Thursday, June 30, 11-4. Learn how to load your quilt on the quilting frame and use and care of the quilting machine.
Capital Quilts Cares: Wilkens Avenue Shelter event is happening on Sunday, June 5, from 12-5. Come help us make quilt blocks and quilts for the women and children who live at the shelter. Fabric is provided; please bring your sewing machine and sewing supplies, including neutral piecing thread. Only one person has signed up so far, and there are lots of needy women and children! You don't have to stay the whole time; any contribution is appreciated. Grab a friend and come on over and sew!
Have you got a really big quilt that needs quilting and a really small machine to quilt it on? No worries: let Annette show you how to Quilt in Sections on Monday evening, June 6th, 7-9.
Using the right needle and the right thread to sew your quilt or garment can make a world of difference in the quality of the finished item. Skipped stitches, thread nests, and breaking thread can all result from using incompatible needles and threads. Learn more about this important topic in Needles & Thread, a lecture given by Barbara Kascic on Thursday, June 9 at 10:30.
Capital Quilts Cares: Little Dresses for Africa is our second charity event for June. Come help us make pillowcase-style dresses for little girls in Africa on Friday, June 10, 10:30-12:30. It's FREE and fabric is provided. Please bring your sewing machine and a neutral thread for sewing these easy and cute dresses.
Tillie's Treasure is another scrappy beauty from Pat Speth's Big Book of Nickel Quilts. Join Liz Brodsky on Saturday, June 11, at 3:30 to learn how to make it.
Are you ready to learn how to do machine quilting? Annette Burns will give you the gentle but skillful introduction you've been waiting for in Machine Quilting for Beginners. Tuesdays, June 14 & 21, 10:30-12:30.
Help us support our veterans by coming to the Capital Quilts Cares: Quilt of Valor sewing event on Tuesday, June 14, 1:30-4:30. It's FREE! Fabric is provided. Please bring your sewing machine and sewing supplies and neutral thread for piecing.
The second meeting of the new Improv Club happens on Wednesday, June 15 from 10-12. Join Kim Jalette and Kat Martinez to explore this fun quilt-making technique, even if you missed the first meeting. $5 gets you a seat!
Wherever your travels take you this summer, you'll need a nifty Becca Bag or two to stow your stuff! Karen Fricke shows you how to make them on Thursday, June 16, 10:30-12:30.
Sunday, June 19 is a Day: it's Father's Day, it's Sandwich Day, and it's Bruce Day. Fathers you are on your own for, but do make an appointment to have help sandwiching your quilt or to have your sewing machine serviced!
Celebrate the first day of summer, Monday, June 20, with a class in Color Theory. Shelby will help you with the terms, tools, and techniques of choosing the right colors for any project. See lots of samples! Class is from 2-4.
Breeze into summer in A Little Somethin' Jacket. Barbara Kascic will show you how to make this easy jacket; you'll finish it in class! Tuesday, June 21, 1-5.
The Sweet Sixteen Rental Certification class, normally held on the last Wednesday of each month, will instead meet on June 22. Annette will teach you about the machine and how to use it and care for it. You will be certified to rent this machine at the end of the class.
CAPITAL QUILTS BLUE BAG BONANZA Congratulation to Barbara N., winner of May's Blue Bag drawing! Barbara won a wonderful book by Gerri Robinson, A Cut Above.
June's prize is "Fat Quarter Four-Patch", a pattern by Swirly Girls, and seven fat quarters of Timeless Treasures' collection called "Gabrielle". To be entered in the month's drawing, bring your Capital Quilts Blue Bag with you when you shop. Make sure you show it to the staffer at the register! Upon completion of your sales transaction, your name will be put in the jar for the drawing at the end of the month. Don't have a Blue Bag? Purchase one at the shop, by phone, or online for just $4.99.