Skip Navigation
Website Accessibility
What's New at CQ 10/20/16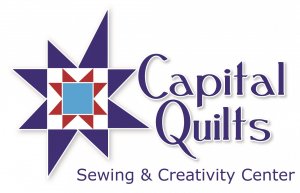 Dear Sewing Buddies,
It's Show Time! Tomorrow and Saturday, October 21 and 22, is the Nimble Fingers Quilt Guild Show. It is at the Universities at Shady Grove, building II, at 9630 Gudelsky Drive in Rockville. We will have a booth there, and we've got some new quilts and kits to offer you. The members of the quilt guild will have lots of quilts that they have made on display, as well as demos, visiting designers, and a boutique. What a wonderful way to spend an autumnal day!

When the show is over on Saturday, come back to Capital Quilts for a party! From 5-7, enjoy light eats and party down with your friends and quilting acquaintances.
The Quilt of Valor Challenge is now officially underway. Timeless Treasures has donated a multitude of two different panels suitable for QOVs. Pick up at least one of them from the shop or from Sue Moats at the next Capital Cares QOV workshops: Monday October 31, 1-4 PM or Thursday December 1, 1-4 PM. The deadline for entries is January 30, 2017. The quilts will be on display in the shop for National QOV Sew-In Day, Saturday, February 4 and the week following. You are invited to vote for your favorite one. Viewers' Choice awards will be presented on Saturday, February 11 at noon.

Quilts of Valor have certain requirements they must meet. They must, for example, be made of quality, 100% cotton fabric; use a quality low-loft batting; be quilted, not tied; and be at least 55" x 65" but not more than 72" x 90". A brochure listing the complete requirements will be made available in the shop and on our website.
Capital Quilts is now a registered member of the Quilt of Valor Foundation. We are very pleased to be able to support this group and the important work that it does. A Quilt of Valor honors the person receiving it, and lets him or her know that his or her efforts on our behalf are recognized and appreciated. I invite you to become a member of our QOV sewing group and join us once or twice a quarter to help make these quilts. There is a $5 registration fee that is sent to the QOVF to help defray the Foundation's costs. Each sewing session is free, and the fabrics are all donated.
To celebrate our becoming a member of the QOVF, all patriotic, and red, white, and/or blue fabric is on sale today through October 27, 10% off, bolt fabric only, ½ yard cut minimum. May not be combined with other discounts or offers, as usual!

Go 'n' Piece,
Alison Zacharkiw
JANOME SALE We have one Janome sewing machine available at a deep discount:
4120 (floor model), regularly $1199, now $699. Wow! This is a gently-used machine, with lots of feet included. It is a good size to take to class or on a retreat. It is also a good 'extra' machine to have on hand to use while your main machine is being serviced.
The machine comes with a warranty, and you get a free lesson on the use of the machine, and continuing support from us after your purchase. We carry the Janome feet and other accessories, thread, and needles that you need to make your sewing experience the best ever.
HORN CABINET FOR SALE: We have our floor model 5278A.85 with electric lift on sale. The model has been discontinued, so we would like to find a good home for this cabinet. Originally priced at $2997.50, it is now available for $1850 plus tax and shipping. That is a fabulous price! Your back and neck will thank you for buying this cabinet!
VENDOR SPECIALS
HANDIQUILTER is having National Demo Days now through October 25. Take advantage of the end-of-season savings and get a quilting machine for your home use. All of Capital Quilts floor models are on sale; when I've sold mine, Handi Quilter has more for me to sell! This is great pricing and you still get free in-home set up and training! Plus there are no shipping fees to pay!
CAPITAL QUILTS' HANDI QUILTER SPECIALS: Contact Alison or Annie for details! 301-527-0598. At no extra cost to you, we install the machine in your home and give you a lesson on using and maintaining it. (If you live more than 50 miles away from the shop, we will charge standard mileage). You'll receive the full support of Handi Quilter and Capital Quilts should you have questions or difficulties. The machine will be serviced by our certified Handi Quilter technician prior to installation in your home. The machine's warranty will transfer to you.
Normally $9,795, our floor model Avante is on sale for just $6,900, plus you save $295 in shipping, for a total savings of $3,190. You may choose either a 10' or a 12' frame.
Fusion: regularly priced $13,995, our floor model is on sale for $11,500. You save $395 in shipping, for a total savings of $2,890. The frame is 12'.
Infinity: instead of the usual $17,995, our sale price is $13,000. You save $450 in shipping, for a total savings of $5,445. The frame is 12'.
The popular Simply Sixteen, regularly $5,995, is available for $5,100. Including shipping, you save a total of $1,120. The frame is 6'.
Sweet Sixteen Sit-Down package with the table is regularly $5,595. Get it this month for $4,500. Shipping is $190, so your total savings is $1,285.
HORN: Horn is having a 3-month long Fall Super Sale! For the months of October, November, and December, enjoy a 10% discount on models 6479,6278, and 6280. These cabinets are made for the latest top of the line sewing machines and provide storage for accessories. All other electric or airlift sewing machine cabinets are offered at a 5% discount.
Why sew hunched up at your kitchen table when you can be sewing sitting up straight at a Horn cabinet? With your machine bed at the same level as the table top, you will be more comfortable and more productive. We have several different models in stock; come in and see which one you like best. It's a great time to buy a cabinet!
SEW STEADY is offering The BACK TO BASICS Promotion- Get a travel bag with the purchase of a Basic Table. Offer is valid on Large Basic (18" x 24") and Big Basic (24" x 24") models only
Travel bag is padded nylon

Large $119, Big $149
NEW & NOTEWORTHY


Take your child on safari with these four bolts from Blank. "Safari Expedition", $11.99/yd.
"Caravan Elephant Suzani" has been so popular here the last couple of days that I am going to have to order another bolt! From Timeless Treasures, $11.99/yd.
For the quilters who love reproduction fabrics, this pretty group from Marcus is called "Antique Plum Calicos". $11.99/yd.
These Staples V Shirtings are from Clothworks and may be found in with the reproduction fabrics. $12.50/yd.
We have new Cuddle from Shannon this week. The pink and the red bolts have stars embossed in the fabric; $18.99/yd. The navy blue is plain, $16.50/yd. There are also several new kits; we are taking most of them to the Nimblefingers show, but what doesn't sell there will be back in the shop on Sunday!
CLASSES
You can sign up for classes online, by phone at 301-527-0598, or in person at the shop.

Capital Quilts Cares: Help us make placemats for Meals on Wheels from 10-1 on Monday, October 24th. All fabric is provided (donations are always gratefully accepted!). Please bring your sewing machine, thread, and basic sewing supplies. Put a bit of cheer in someone's life! FREE
The Just Hugs Zipper Pouch is fun to make, plus you will learn some new ways to use your sewing machine! This completed bag is a great gift item. Barbara Kascic shows you how on Tuesday, October 25, 10-2.
Also on Tuesday the 25th, Elyse will show you how to use EQ7 to do quilt layouts several ways. EQ7: Custom Quilt Layouts is a software class, and you will need to bring a laptop with the software loaded on it, plus your mouse.
Want to know more about Handi Quilter's ProStitcher? Take Getting Started: The Basics of ProStitcher with Barbara Bean on Wednesday, October 26, 10:30-1:30. If you are thinking of using ProStitcher when you rent quilting time at Capital Quilts, you'll need to take this class first.
Have you ever seen an antique manuscript with the first letter on the page enlarged and beautifully decorated, often with gold leaf? Those are called illuminated letters, and Pat D. is teaching a Zentangle version of them on Thursday, October 27 from 1-3. The class is called Zentangle: Illuminated Letters.
The October Sit 'n' Stitch is on Friday, October 28, 5-9. Bring some food to share and enjoy an evening with like-minded friends, sewing and chatting! Capital Quilts provides the beverages.
If you would like to rent the Handi Quilter Simply Sixteen or just want to know more about it, join Annette for an enlightening couple of hours on Saturday, October 29, 10-12.
The Circle of Nine quilt is a quilt with an unusual layout. It's a great way to use a panel that has several images on it. Learn how to make this quilt with Hilary Hastie on Saturday, October 29, 10-1.
Two more Capital Quilts Cares events: On Sunday the 30th, join Billye Roberts to work on quilts for the Wilkins Avenue Women's shelter, 12-5. On Monday, October 31, meet Sue Moats in the classroom to make a Quilt of Valor for a deserving service member, 1-4, Halloween costumes optional! Both events are free and fabric is provided. Please bring your sewing machine, thread, and basic sewing supplies. Thank you for your support of our community outreach program!
SERVICE DAYS
Bruce will be in the shop on Sunday, November 20 to service your machine while you wait. Call the shop to make an appointment, or book online.
COMMUNITY EVENTS
Local quilter Lauren Kingsland is offering two classes through the Smithsonian Associates program in October. On October 22, she and Elizabeth Lay will teach a class called "The Inspirational Quilts of Gee's Bend". "Quilting for Beginners" is on October 29 and November 12; she will teach how to make a quilt by hand, including piecing, quilting, and binding it. More information can be found at https://smithsonianassociates.org or call 202-633-3030. Congratulations, Lauren!


CAPITAL QUILTS BLUE BAG BONANZA

For October, we have a prize bundle that includes: a "Festive Fun" fat eighth pack from Lynnette Anderson Designs, "Millie" antique snowball pattern from Somerset Designs, and a Spoolie Bird notepad. To be entered in the month's drawing, bring your Capital Quilts Blue Bag with you when you shop. Make sure you show it to the staffer at the register! Upon completion of your sales transaction, your name will be put in the jar for the drawing at the end of the month. Don't have a Blue Bag? Purchase one at the shop, by phone, or online for just $4.99.