What's New at CQ 12/22/2016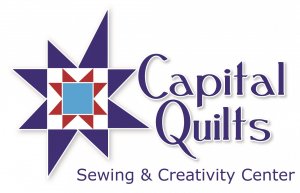 "Sharing the holiday with other people, and feeling that you're giving of yourself, gets you past all the commercialism." Caroline Kennedy

Dear Friends,
As the year draws to a close, I would like to thank you for your business, for your smiles and laughter and kindnesses, and for being a part of the Capital Quilts community. It has been a pleasure to serve you in 2016, and we look forward to serving you in 2017.
A Dear Reader has noted my confusion about the Dear Jane quilt and sent me this email:
"Just wanted to let you know that the quilt we commonly refer to as Dear Jane was completed in 1863, so it's quite a bit older than 100 years as stated in the Newsletter. There is an anniversary this year, however: the 20th anniversary of the publishing of Brenda Papadakis' book, Dear Jane. There was a special exhibit of Dear Jane quilts, 'Celebrating 20 Years of Dear Jane,' at the Houston quilt show this year. As an aside, the 2013 Vermont Quilt Festival also featured an exhibit of Dear Jane quilts to commemorate the 150th anniversary of the completion of the original quilt made by Jane A. Stickle of Shaftsbury, VT."
Thank you, Dear Reader, for this better information! I apologize to you all for misrepresenting Dear Jane. Sign up for the Dear Jane class to learn more! The class begins January 8, 3-5, Helen Johnston teaching.
It is that dreaded (by us) time of year again: Inventory! We will be closed on January 1 and 2 to count our stock. We need your help: because we would really rather not count all that fabric, please help us by purchasing yards and yards during our Pre-Inventory Fabric Sale!! From December 26-30, please take 25% off all regularly-priced fabric on the bolt. The minimum cut is ½ yard. This discount may not be combined with any other discounts or offers.
We have the new Limited Edition Anna Marie Horner M100 Janome sewing machine in stock! This machine includes all of Anna Maria's favorite features and accessories for her everyday garment sewing, patchwork and quilt making. There are 100 built-in stitches plus cutting edge convenience features to make your sewing experience a dream.
Our holiday hours are:
December 24: closing at 2pm.
December 25: closed.
December 31: closing at 2pm.
January 1 and 2: closed.
The very happiest of holidays to you, your families, and your friends, and may you know joy and laughter in the New Year.
Go 'n' piece,
Alison Zacharkiw
CAPITAL QUILTS' HANDI QUILTER FLOOR MODEL SPECIAL: Contact Alison or Annie for details! 301-527-0598. At no extra cost to you, we install the machine in your home and give you a lesson on using and maintaining it. (If you live more than 50 miles away from the shop, we will charge standard mileage). You'll receive the full support of Handi Quilter and Capital Quilts should you have questions or difficulties. The machine will be serviced by our certified Handi Quilter technician prior to installation in your home. The machine's warranty will transfer to you.
Fusion: regularly priced $13,995, our floor model is on sale for $11,500. You save $395 in shipping, for a total savings of $2,890. The frame is 12'.
JANOME SPECIALS: We have three models of Janome sewing machines on sale at deep discounts!
2016: Normally $999, now available for $699, a 30% savings
DC5100: Marked down to $559 from $799, also a 30% savings.
MyStyle100: Just $199! It's normally $349. This is a great machine for a child.
We discount all of our Janome machines every day (except the 15000, which Janome won't let us discount). These are great deals; come in and check them out!
VENDOR SPECIALS:
HORN: Why sew hunched up at your kitchen table when you can be sewing sitting up straight at a Horn cabinet? With your machine bed at the same level as the table top, you will be more comfortable and more productive. We have several different models in stock; come in and see which one you like best. Horn is having a 3-month long Fall Super Sale! For the months of October, November, and December, enjoy a 10% discount on models 6479, 6278, and 6280. These cabinets are made for the latest top of the line sewing machines and provide storage for accessories. All other electric or airlift sewing machine cabinets are offered at a 5% discount. It's a great time to buy a cabinet!
SEW STEADY is offering The BACK TO BASICS Promotion- Get a travel bag with the purchase of a Basic Table. Offer is valid on Large Basic (18" x 24") and Big Basic (24" x 24") models only
Sew Steady is also offering the Free Motion Wish 22 ½" x 25" Table Package for $300, a $69 savings. The package includes:
Sew Steady Wish Table 22-1/2 x 25-1/2 Compartment Drawer Table with Holes for Circle Sewing & Tool, Universal Grid

Quilting Ruler Foot

6 styles of Acylic Template Designs

Free Motion Glider
NEW & NOTEWORTHY:

We have lots of new patterns and books for you, and a big order of jigsaw puzzles! These will all make wonderful gifts for quilters.
In the fabric department, there are new batiks from Island Batik ($12.50/yd.) and Batik Textiles ($11.99/yd.). All lovely as always!
We also have four new bolts of blooms and butterflies from Studio E's Salon Fleur collection. $11.99/yd.
Breezy Color Absorber Sheets are made from powerful fibers that soak up excess dyes in water. Once the dyes are absorbed-the sheet locks them away protecting your clothes from being stained and damaged. Colors are prevented from running or bleeding. $9.49/box

Take control of your rulers or templates with Betty Bits. Betty Bits are designed to compress flat for a perfect fit on your ruler or template to stop slipping. $4.99/pkg

Does your foot pedal creep away from you? The B-50 Pedal Betty minimizes foot controller movement, keeping it in place, so you always know where it is. $27.99


CLASSES:


You can sign up for classes online, by phone at 301-527-0598, or in person at the shop.
December
The last Sit 'n' Stitch for the year meets on December 23, 5-9. Bring some festive food to share! Capital Quilts provides the beverages. Enjoy an evening chatting and sewing with friends and like-minded others.
January
Getting Started: The Handi Quilter Longarm Machine teaches you the basics of how to set up for quilting a quilt, what proper tension is, and some basic quilting designs. Class meets Wednesday, January 4 from 10:30-1:30.
Create your own heaven of stars in Zentangle: Star Gazing with Pat Dee, CZT on Saturday, January 7 from 2-4.
The Dear Jane quilt dates back to 1863. Helen Johnston will emphasize hand piecing, but you may also do machine piecing. Develop the piecing and applique skills needed to construct the 225 quilt blocks. This class will meet monthly, beginning on Sunday, January 8, 3-5, for 9 months.
Laurie Sieminski is offering a new hand-piecing class, called Feathered Star. This group meets the 2nd Monday of each month for 3 months from 10-12.
Capital Quilts Cares: Quilts for Kids - Put some warmth into January by helping us make small quilts for boys and girls who are staying in local area hospitals. All fabric is provided. Please bring your sewing machine, neutral thread, and basic sewing supplies. The group meet on Thursday, January 12, from 10-12. Laurie Sieminski is the project director.
Need help sandwiching a quilt? Make an appointment for Friday the 13th, at 6, 7 or 8 pm.
Our next Judy Niemeyer project is Bali Fever. This is a 2-day workshop, meeting from 11-5 both days, with Jackie Kelso. There is value added with this project: Jackie will show you how to insert narrow strips around a curved piece, a technique that is not in the pattern! The workshop meets on Sunday and Monday, January 15 & 16.
Groovy Boards and Pantographs allow you to make a consistent, edge-to-edge quilting pattern on your quilt. Learn how on Thursday, January 19 from 12-2.
The Artful Improv Workshop with Cindy Grisdela meets on January 27, 10-4.
CLUBS
Please note that Janome Club will not meet on the 1st Saturday of the Month in 2017. It will meet on the 3rd Saturday of each month, 10:30-12:30.
The Longarm Club and ProStitcher Club will continue to meet the 1st Saturday of each month at 10 and 12 respectively.
EPP Club will continue to meet on the 2nd Sunday of every month at noon. Interested in any of the Paper Pieces auto-ship programs like "The New Hexagon"? Capital Quilts can help! Several people have signed up for the Perpetually Hexie autoship already.
The Hand-Piecers Club will continue to meet the 2nd Monday of every month from 1-3. Laurie is hosting.
Our new Improv Club will meet from 6-9 on the 2nd Tuesday evening of every month. Kim Jalette and Kat Martinez will offer a block or an exercise to try each month; blocks that are made for this activity will be turned into quilts for charitable organizations. There will also be show & tell, sharing of ideas, and all around good fun! In addition to this meeting, there will be an Improv Open Sew on the 4th Monday of every month from 1-4. Bring your sewing gear and your projects and work on improv sewing with friends!
New for 2017 is our UFO Club. The group will get together the 2nd Wednesday evening of every month, 6:30-8:30, with Annie Jeffrey as your hostess. You will bring one (or more) unfinished projects to the meeting, and the group will give you ideas on how to finish it (if you'd like, of course). You then commit to finishing it before the next meeting. Bring the finished project to the next meeting, along with the project you will commit to finishing the next month. Kudos (and maybe a chance to win a prize) for finishing a project!
The 2nd Saturday Club (9-10:30) and Machine Embroidery Club (1-3) will continue to meet on the 2nd Saturday of each month next year. The Wool Club will also meet on the 2nd Saturday, from 3:15-5:15.
Zentangle Club will continue to meet on the 3rd Sunday of every month, with Pat Dee, CZT, from 1-3.
Accuquilt Club meets on the fourth Saturday of every month from 10 until 12.
CAPITAL QUILTS BLUE BAG BONANZA

December's prize is a charm pack of Michael Miller's Cotton Couture solids; "Francis Firefly", a pattern by Elizabeth Hartman; and an Olfa 45 mm rotary cutter. To be entered in the month's drawing, bring your Capital Quilts Blue Bag with you when you shop. Make sure you show it to the staffer at the register! Upon completion of your sales transaction, your name will be put in the jar for the drawing at the end of the month. Don't have a Blue Bag? Purchase one at the shop, by phone, or online for just $4.99.