What's New at CQ 1/12/17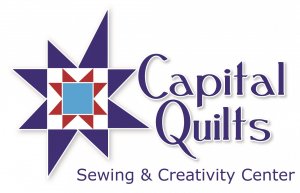 "The supreme accomplishment is to blur the line between work and play." Arnold J. Toynbee
Dear Fans of Fabric,
Capital Quilts has been awarded the Handi Quilter Way Award for 2016. This award is given to retailers who go above and beyond what is necessary to educate their customers about quilting and service their Handi Quilter machines. Here at Capital Quilts we work hard to offer you the best in classes, gadgets and accessories, information about the Handi Quilter products, and support for your quilting experience, whether it is as a renter here in the shop or in your own home. I am proud of my staff and all that we accomplished in 2016! We look forward to another award-winning year in 2017.
I've been emailing with Lauri Perry at Checker Distributors, and I have more information about working with cork fabric. She uses a 90/14 Universal needle and Aurifil 50wt. thread. Lauri said she ran a few pieces through the washer and dryer and they came out great. You can also surface wash it. It does not iron well. You can't use a hot iron because of the backing to which the cork is bonded. She had some trouble getting seams to "settle down". She did not offer an alternative, but perhaps a finger press tool would work. If you try it and you like it, or if you have another alternative, let me know and I'll share the tip! She also tried machine embroidering on the cork and it came out beautifully.
If you've signed up for the Bali Fever Class on Sunday, remember that it starts at 11am. We will be here a little before to let you in.
Are you making a Quilt of Valor Challenge quilt? Don't forget that they are due to the shop by January 30, and they must have a 4" rod pocket on the back at the top of the quilt. The open edges of the rod pocket should be set back 1" away from the edge of the quilt, so that the end of the hanging rod doesn't show.
The first meeting of our newest club, the UFO Club, scheduled for next Wednesday evening, has been postponed to February 8. Annie has been called out of town for a family emergency. The club will meet 11 times during the year, and the price is reduced to $60. If you have already signed up, the $5 will be refunded to you. Look below under "CLUBS" for a more detailed description of how the club will be organized.
There may be some wintry precipitation in the next few days. Be sure to check our website or Facebook page for information about whether we are closing or opening late before you head out for the shop. If we open late, classes will be delayed or rescheduled.
Go 'n' piece,
Alison Zacharkiw
CAPITAL QUILTS' SPECIALS:
HANDI QUILTER FLOOR MODEL: Contact Alison or Annie for details! 301-527-0598. At no extra cost to you, we install the machine in your home and give you a lesson on using and maintaining it. (If you live more than 50 miles away from the shop, we will charge standard mileage). You'll receive the full support of Handi Quilter and Capital Quilts should you have questions or difficulties. The machine will be serviced by our certified Handi Quilter technician prior to installation in your home. The machine's warranty will transfer to you.
Fusion: regularly priced $13,995, our floor model is on sale for $11,500. You save $395 in shipping, for a total savings of $2,890. The frame is 12'.
JANOME SPECIALS: We have three floor models of Janome sewing machines on sale at deep discounts!
2016: Normally $999, now available for $699, a 30% savings
DC5100: Marked down to $559 from $799, also a 30% savings.
MyStyle100: Just $199! It's normally $349. This is a great machine for a child.
We discount all of our Janome machines every day (except the 15000, which Janome won't let us discount). These are great deals; come in and check them out!
VENDOR SPECIALS:
HANDI QUILTER is offering a 10-disc Golden Threads Digital Pattern Collection of quilting patterns with the purchase of the new ProStitcher Premium. This offer is in effect until January 23, 2017.
SEW STEADY is offering The BACK TO BASICS Promotion- Get a travel bag with the purchase of a Basic Table. Offer is valid on Large Basic (18" x 24") and Big Basic (24" x 24") models only
Sew Steady is also offering the Free Motion Wish 22 ½" x 25" Table Package for $300, a $69 savings. The package includes:
Sew Steady Wish Table 22-1/2 x 25-1/2 Compartment Drawer Table with Holes for Circle Sewing & Tool, Universal Grid

Quilting Ruler Foot

6 styles of Acrylic Template Designs

Free Motion Glider
NEW & NOTEWORTHY:
New year, lots of new stuff!

The 80 wt. thread from Aurifil has arrived, all the colors of the rainbow. This is the perfect thread for hand work, including piecing, English Paper Piecing, and applique, as well as some machine applications. It is strong, but fine like silk and disappears into the material.
Look for Bonnie Hunter Playing Cards, featuring scrappy quilts by Bonnie Hunter, on the blue display table at the front of the shop. $4.99
We have the pattern "Fancy Forest" by Elizabeth Hartman in stock. It's $24, but you can use the patterns to make one big quilt, small quilts, bags, table runners, and lots of other projects. There are no templates or paper piecing!
New from Aardvark Quilts is the pattern "Fronds" , a fat-quarter-friendly quilt that uses paper piecing. The quilt as shown is 48" x 64" and the blocks are 8". $9.
I love the new fabric from Dear Stella. It's called Into the Reef and features mermaids, whales, back-stroking turtles, and more! There are 9 bolts in our collection. $11.99/yd.
Victoria Findlay Wolfe has designed a line called Light Work for Marcus Fabrics. The textures are fun. $11.99/yd.
From Blank Fabric we have Dogwood Lane, a lovely cardinal and dogwood flowers collection. Get yours soon; it is proving to be very popular! $11.99/yd.
Reproduction fabrics fans: We have a collection called Conestoga Crossing in stock, from Marcus Fabrics. There are seven bolts in our group. $12.50/yd.
We forgot to put in the picture of the Crab Shack fabric from Andover Fabrics. Here you go! $16.99/yd. (it is a digital print).


CLASSES:

You can sign up for classes online, by phone at 301-527-0598, or in person at the shop.
Need help sandwiching a quilt? Make an appointment for Friday the 13th, at 6, 7 or 8 pm.
Our next Judy Niemeyer project is Bali Fever. This is a 2-day workshop, meeting from 11-5 both days, with Jackie Kelso. There is value added with this project: Jackie will show you how to insert narrow strips around a curved piece, a technique that is not in the pattern! The workshop meets on Sunday and Monday, January 15 & 16.
Groovy Boards and Pantographs allow you to make a consistent, edge-to-edge quilting pattern on your quilt. Learn how on Thursday, January 19 from 12-2. Barbara Bean offers a hands-on class.
Annette is teaching Getting Started: The Handi Quilter Sweet Sixteen" class on Saturday, January, 21, from 10:30-12:30. Learn how to use and maintain the sit-down longarm quilting machine. Take this class if you are thinking about purchasing one of these machines and would like to know more about it, or if you are interested in renting ours to finish your own quilts here in the shop.
On Saturday afternoon, from 1-3, Laurie is offering the Doll Quilt Workshop for mothers and daughters. The fabric is provided. Moms, bring your sewing machine and supplies and help your daughter make a small quilt for her favorite doll. The quilt is sized to fit the American Girl dolls, but you can change the size of it if need be. Laurie will show you how!
One more event on Saturday the 21st, and that is Night Owl Sewing with Kat. This is a mini in-store retreat! Bring your own projects and supplies and enjoy up to six hours of stress-free sewing. No phones (if you turn your cell phone off!), no dogs to walk, no kids to put to bed, no laundry to do. We provide dinner! Sew with us from 6 to midnight.
Zentangle for Beginners happens on Sunday, January 22 from 12-2. Let Pat Dee introduce you to the joys of doodling. You will find it both creative and restful. No drawing talent is needed! Pat guides you every step of the way. Please bring a $5 supplies fee; you will get paper, pens, pencils, and lots of chocolate!
If you would like to rent the Handi Quilter Avante or Fusion, or if you would like to know more about the basics of these quilting machines, take Getting Started: the Handi Quilter Longarm Machine on Monday, January 23, 12:30-3:30. Barbara Bean is your teacher.
The Capital Quilts Complete Course of Quilting begins its winter session on Wednesday, January 25. This series of 10 classes is the ultimate beginning quilt course! Annette Burns covers everything from fabric selection to how to use your sewing machine to binding the finished quilt. You will feel quite confident about making your next quilt after taking this class. You can sign up for the afternoon session, from 2-4, or the evening session, from 7-9.
Annette is back Thursday afternoon, January 26, for Problem Solving With Annette. Bring your projects and problems (quilting problems only, please) to class, and Annette will help you through to finishing.
The Artful Improv Workshop on January 27 is full. I'll ask Cindy if she would schedule another one next quarter. Keep an eye out for it!
CLUBS
Please note that Janome Club will not meet on the 1st Saturday of the Month in 2017. It will meet on the 3rd Saturday of each month, 10:30-12:30. Contact Barbara Kascic at the shop Wednesday through Saturday for more information about the club. 301-527-0598
The Longarm Club and ProStitcher Club will continue to meet the 1st Saturday of each month at 10 and 12 respectively.
EPP Club will continue to meet on the 2nd Sunday of every month at noon. Interested in any of the Paper Pieces auto-ship programs like "The New Hexagon"? Capital Quilts can help! Several people have signed up for the Perpetually Hexie autoship already.
The Hand-Piecers Club will continue to meet the 2nd Monday of every month from 1-3. Laurie is hosting.
Our new Improv Club will meet from 6-9 on the 2nd Tuesday evening of every month. Kim Jalette and Kat Martinez will offer a block or an exercise to try each month; blocks that are made for this activity will be turned into quilts for charitable organizations. There will also be show & tell, sharing of ideas, and all around good fun! In addition to this meeting, there will be an Improv Open Sew on the 4th Monday of every month from 1-4. Bring your sewing gear and your projects and work on improv sewing with friends!
New for 2017 is our UFO Club. The group will get together the 2nd Wednesday evening of every month, 6:30-8:30, beginning February 8, with Annie Jeffrey as your hostess. Here is how it works: Before the first meeting in February, select 10 projects (a "project" may consist of 2 or more smaller projects) that you want to finish in 2017. For each project, on a 3 x 5 index card, write your name and a description of the project; e.g. 'quilt and bind top' or 'make 5 more blocks for this quilt'. Assign that project a number from 1-10 and write the number on the other side of the index card. Take a picture of each project and its numbered index card; send the pictures to Annie at annie@capitalquilts.com. Bring your index cards to the first meeting. At the meeting, Annie will pick a number from 1-10. Each club member will strive to complete that number project before the next meeting! Bring your finished project to the meeting, and your name is entered into a drawing for a prize. You also, of course, have the satisfaction of finishing that UFO, plus kudos from your fellow club members!
The 2nd Saturday Club (9-10:30) and Machine Embroidery Club (1-3) will continue to meet on the 2nd Saturday of each month this year. The Wool Club will also meet on the 2nd Saturday, from 3:15-5:15.
Zentangle Club will continue to meet on the 3rd Sunday of every month, with Pat Dee, CZT, from 1-3.
Accuquilt Club meets on the fourth Saturday of every month from 10 until 12.
CAPITAL QUILTS BLUE BAG BONANZA

The January Prize is a Tool Tote from Storage Solutions, the "Bonnie Bag" pattern from Abbey Lane Quilts, and a "Studio" charm pack from Timeless treasures.
To be entered in each month's drawing, bring your Capital Quilts Blue Bag with you when you shop. Make sure you show it to the staffer at the register! Upon completion of your sales transaction, your name will be put in the jar for the drawing at the end of the month. Don't have a Blue Bag? Purchase one at the shop, by phone, or online for just $4.99. We save all of the entries for the year, and at the end of the year we draw a Grand Prize Winner from all the entries.
Our thanks to everybody who shops at Capital Quilts and participates in the Blue Bag Bonanza.