What's New at CQ 1/19/17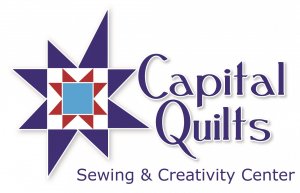 "Human progress is neither automatic nor inevitable... Every step toward the goal of justice requires sacrifice, suffering, and struggle; the tireless exertions and passionate concern of dedicated individuals." Martin Luther King, Jr.
Dear Stitchers,
Drumroll please…announcing QUILT LIKE A PRO 2017, the next Handi Quilter education event at Capital Quilts! On February 17 and 18, Handi Quilter National Educator Harriet Carpanini will be here for two fun-filled days of quilting classes. Harriet has been an HQ Educator for 10 years and is the author of Inside the Shell, a book featuring creative fills for clamshell quilting. The classes:
Feb. 17, 10-1 LONGARM BOOT CAMP BASICS: find out the real names of the thing-a-mabobs and the doohickies. Learn how to get your quilt on that big (or little) frame. Learn how to thread the machine and avoid loopy stitching. Try out groovy boards and pantographs (whatever they are!).

Feb. 17, 2-5 RULER MANIA: Rulers give free motion quilters precision and consistency in their quilting. Learn how to hold the ruler safely, place it accurately, and stitch precisely with it. Your design repertoire will grow dramatically! All of the HQ rulers and templates can be used with any of the longarm machines.

Feb. 18, 10-1 SIT-DOWN BOOT CAMP BASICS: If you prefer to quilt sitting down, or if you have limited space for a quilting machine, you will enjoy the HQ Sweet Sixteen quilting machine. At Boot Camp you'll learn about stitch regulation, marking patterns on your quilt top, basting and manipulating the quilt, and using different machine feet, rulers, and gadgets to make your quilts unique.

Feb. 18, 2-5 CUSTOM WAVES, CURVES, AND CIRCLES: Open up a new world of design options with circle templates and curved rulers! Get tips and tricks for making half circles, flattened circles, and perfectly curved lines. Do curved crosshatching. Make swags, ovals, and arcs. Make clam shells…and Harriet has a book for that!
Each class is $30. Register for this event and receive a 20% discount on Handi Quilter rulers, templates, accessories, and gadgets during the two days of classes. Special pricing on the Handi Quilter machines is available from February 11-25, plus you will receive a Capital Quilts Gift Certificate ($200 for the Simply Sixteen or Sweet Sixteen; $350 for the Avante or ProStitcher Premium; $450 for the Fusion; or $600 for the Infinity).
Are you making a Quilt of Valor Challenge quilt? Don't forget that they are due to the shop by January 30, and they must have a 4" rod pocket on the back at the top of the quilt. The open edges of the rod pocket should be set back 1" away from the edge of the quilt, so that the end of the hanging rod doesn't show. Please ask for a form to complete when you turn your quilt in to us or to Sue Moats.
Janome Club meets this Saturday at 10:30. The Wool Embroidery Club is having their rescheduled meeting on Sunday, January 22, from 12:15-2:15. This is the first meeting of 2017 for both of these clubs. If you are interested in joining one or both of them, we invite you to come to the meeting(s).
Also on Sunday, from 12-2, is Zentangle for Beginners. This class is a lot of fun…ask me how I know! Whole families have stopped in the shop, peeked into the class, sat down to 'just try it', and stayed for the whole class. Pat brings all the supplies you need; for this first class, please bring $5 to help defray her costs. It's something different, and it is good training for a quilter's brain. You can't go wrong!
Go 'n' piece,
Alison Zacharkiw
CAPITAL QUILTS' SPECIALS:
HANDI QUILTER FLOOR MODEL: Contact Alison or Annie for details! 301-527-0598. At no extra cost to you, we install the machine in your home and give you a lesson on using and maintaining it. (If you live more than 50 miles away from the shop, we will charge standard mileage). You'll receive the full support of Handi Quilter and Capital Quilts should you have questions or difficulties. The machine will be serviced by our certified Handi Quilter technician prior to installation in your home. The machine's warranty will transfer to you.
Fusion: regularly priced $13,995, our floor model is on sale for $11,500. You save $395 in shipping, for a total savings of $2,890. The frame is 12'.
VENDOR SPECIALS:
HANDI QUILTER is offering a 10-disc Golden Threads Digital Pattern Collection of quilting patterns with the purchase of the new ProStitcher Premium. This offer is in effect until January 23, 2017.
SEW STEADY is offering The BACK TO BASICS Promotion- Get a travel bag with the purchase of a Basic Table. Offer is valid on Large Basic (18" x 24") and Big Basic (24" x 24") models only
Sew Steady is also offering the Free Motion Wish 22 ½" x 25" Table Package for $300, a $69 savings. The package includes:
Sew Steady Wish Table 22-1/2 x 25-1/2 Compartment Drawer Table with Holes for Circle Sewing & Tool, Universal Grid

Quilting Ruler Foot

6 styles of Acrylic Template Designs

Free Motion Glider
During January, receive a FREE Lightstick with every table purchase. The Lightstick sits under your Sew Steady table to turn it into a light box for easy pattern tracing.
NEW & NOTEWORTHY: In addition to a boatload of Kaffe Fassett and friends, six new lines came in this week:

Alison Glass's new "Sun Prints" are here! $12.50/yd.
"Aria" is a gorgeous collection from Windham. There are 22 bolts that will make a fabulous quilt, among other things! $11.99/yd.
"Funny Bunnies" is a very cute line from Kanvas, perfect for Easter quilts and dresses. $11.50/yd.
Quilting Treasures sent two groups of fabrics. I particularly like "The Migration", fun for a youngster's room. There are more bolts than these five. $11.99/yd. The other group is called "Pretty as a Peacock" and is just four bolts of feathers and florals. $12.99/yd.
Last but not least is Riley Blake's "By the Sea", a group that will look very nice as quilts, wall hangings, pillows and cushions at the beach. $11.99/yd.
There are also some odds and ends: a panel of quilt labels called "Made With Love"; "Scribble Dogs" and "Fantasie" from Timeless Treasures; "Chalk Effects" from Contempo.
We also have Bonnie Hunter's new Essential Triangle Tool. This tool allows you to quickly make half-square and quarter-square triangles and flying geese, all from strips. As a bonus, she's included a 'buddy ruler' that you can use to set the seam allowance on your sewing machine as well as make bonus half-square triangles at the same time you make regular half-square triangles. Instructions are on the back of the packaging. $24.95.

CLASSES:

You can sign up for classes online, by phone at 301-527-0598, or in person at the shop.

On Saturday the 21st, come to Night Owl Sewing with Kat. This is a mini in-store retreat! Bring your own projects and supplies and enjoy up to six hours of stress-free sewing. No phones (if you turn your cell phone off!), no dogs to walk, no kids to put to bed, no laundry to do. We provide dinner! Sew with us from 6 to midnight.
Zentangle for Beginners happens on Sunday, January 22 from 12-2. Let Pat Dee introduce you to the joys of mindful doodling. You will find it both creative and restful. No drawing talent is needed! Pat guides you every step of the way. Please bring a $5 supplies fee; you will get paper, pens, pencils, and lots of chocolate!
The Capital Quilts Complete Course of Quilting begins its winter session on Wednesday, January 25. This series of 10 classes is the ultimate beginning quilt course! Annette Burns covers everything from fabric selection to how to use your sewing machine to binding the finished quilt. You will feel quite confident about making your next quilt after taking this class. You can sign up for the afternoon session, from 2-4, or the evening session, from 7-9. Five places remain in each session.
Annette is back Thursday afternoon, January 26, for Problem Solving With Annette. Bring your projects and problems (quilting problems only, please) to class, and Annette will help you through to finishing.
The Artful Improv Workshop on January 27 is full. I'll ask Cindy if she would schedule another one next quarter. Keep an eye out for it!
How often have you finished a quilt top and looked at it and said to yourself, "Now what?" How do you decide how to quilt the top? For answers to these questions, take Barbara Bregman's Quilt as Desired lecture class on Sunday, January 29, 1-4. Bring one of your own quilt tops for advice on how to quilt it. If you send Barbara a picture of your quilt top ahead of time, she will try to prepare a suggested plan for you.
Does your serger confuse you? Let Barbara Kascic shed some light on it in Sergers Made Easy! She will go over the parts of the machine and how to thread it and maintain it. She will also teach you some basic stitches and talk about the many uses for a serger. Monday, January 30, 10:30-1:30.
After serger class, stick around for Glimmer with Kim Jalette. Make a medallion star that shines and can be used on its own or as the starting point of a larger quilt. It's easy and fun!
Learn more about the Sweet Sixteen on Tuesday, January 31, 10:30-12:30 with Annette. Getting Started: the Handi Quilter Sweet Sixteen Machine is a required class for anyone wanting to rent our machine. It is also a wonderful class for anyone who is considering purchasing a Sweet Sixteen.
Need help sandwiching your quilts? Make an appointment for Sandwich Day on January 31.
CLUBS
Please note that Janome Club will not meet on the 1st Saturday of the Month in 2017. It will meet on the 3rd Saturday of each month, 10:30-12:30. Contact Barbara Kascic at the shop Wednesday through Saturday for more information about the club. 301-527-0598
The Longarm Club and ProStitcher Club will continue to meet the 1st Saturday of each month at 10 and 12 respectively.
EPP Club will continue to meet on the 2nd Sunday of every month at noon. Interested in any of the Paper Pieces auto-ship programs like "The New Hexagon"? Capital Quilts can help! Several people have signed up for the Perpetually Hexie autoship already.
The Hand-Piecers Club will continue to meet the 2nd Monday of every month from 1-3. Laurie is hosting.
Our new Improv Club will meet from 6-9 on the 2nd Tuesday evening of every month. Kim Jalette and Kat Martinez will offer a block or an exercise to try each month; blocks that are made for this activity will be turned into quilts for charitable organizations. There will also be show & tell, sharing of ideas, and all around good fun! In addition to this meeting, there will be an Improv Open Sew on the 4th Monday of every month from 1-4. Bring your sewing gear and your projects and work on improv sewing with friends!
New for 2017 is our UFO Club. The group will get together the 2nd Wednesday evening of every month, 6:30-8:30, beginning February 8, with Annie Jeffrey as your hostess. Here is how it works: Before the first meeting in February, select 10 projects (a "project" may consist of 2 or more smaller projects) that you want to finish in 2017. For each project, on a 3 x 5 index card, write your name and a description of the project; e.g. 'quilt and bind top' or 'make 5 more blocks for this quilt'. Assign that project a number from 1-10 and write the number on the other side of the index card. Take a picture of each project and its numbered index card; send the pictures to Annie at annie@capitalquilts.com. Bring your index cards to the first meeting. At the meeting, Annie will pick a number from 1-10. Each club member will strive to complete that number project before the next meeting! Bring your finished project to the meeting, and your name is entered into a drawing for a prize. You also, of course, have the satisfaction of finishing that UFO, plus kudos from your fellow club members!
The 2nd Saturday Club (9-10:30) and Machine Embroidery Club (1-3) will continue to meet on the 2nd Saturday of each month this year. The Wool Club will also meet on the 2nd Saturday, from 3:15-5:15.
Zentangle Club will continue to meet on the 3rd Sunday of every month, with Pat Dee, CZT, from 1-3.
Accuquilt Club meets on the fourth Saturday of every month from 10 until 12.
CAPITAL QUILTS BLUE BAG BONANZA

The January Prize is a Tool Tote from Storage Solutions, the "Bonnie Bag" pattern from Abbey Lane Quilts, and a "Studio" charm pack from Timeless treasures.
To be entered in each month's drawing, bring your Capital Quilts Blue Bag with you when you shop. Make sure you show it to the staffer at the register! Upon completion of your sales transaction, your name will be put in the jar for the drawing at the end of the month. Don't have a Blue Bag? Purchase one at the shop, by phone, or online for just $4.99. We save all of the entries for the year, and at the end of the year we draw a Grand Prize Winner from all the entries.
Our thanks to everybody who shops at Capital Quilts and participates in the Blue Bag Bonanza.