Skip Navigation
Website Accessibility
What's New at CQ 1/26/17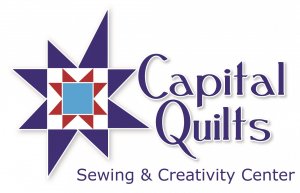 "The expectations of life depend upon diligence; the mechanic that would perfect his work must first sharpen his tools." Confucius
Dear Makers,
February 7 is scissor sharpening day. Wrap your scissors, small knives, and small garden tools up securely, put your check or cash in the bundle ($7 per item), and drop them off at the shop by Monday, February 6. Make sure your name and phone number is included. Rod and Liz have let me know that we don't give them enough business to make it worthwhile for them to come here anymore, so this may be your last chance to get your scissors sharpened by them here!
Capital Quilts Cares! Saturday, February 4 is the Quilt of Valor National Sew-in Day. Join us from 1-5 to participate in this effort. We'll make one or more quilts for the military service men and women who have protected us so well.
Are you making a Quilt of Valor Challenge quilt? Don't forget that they are due to the shop by January 30, and they must have a 4" rod pocket on the back at the top of the quilt. The open edges of the rod pocket should be set back 1" away from the edge of the quilt, so that the end of the hanging rod doesn't show. Please ask for a form to complete when you turn your quilt in to us or to Sue Moats. There is also a $5 registration fee to help defray our costs. Quilts will hang in the "Gallery" February 1-14. Be sure to come in and vote!

Does the phrase "quilt as desired" make you tremble with trepidation? Barbara Bregman would like to help you get over it! This Sunday, the 29th, from 1-4, Barbara is offering her "Quilt as Desired" workshop. She will talk about how she goes about deciding how to quilt a quilt, review quilting design principals, and have lots of samples to show you. She would like it very much if you bring one of your quilt tops for the class; think of all the advice and suggestions you will get! If you can send her a picture of it a week or so before class (so very soon!), she can give your top some consideration ahead of time and have a plan to suggest to you. Call or go online to register.
You don't want to miss QUILT LIKE A PRO 2017, the next Handi Quilter education event at Capital Quilts! On February 17 and 18, Handi Quilter National Educator Harriet Carpanini will be here for two fun-filled days of quilting classes. Harriet has been an HQ Educator for 10 years and is the author of Inside the Shell, a book featuring creative fills for clamshell quilting. The classes:
Feb. 17, 10-1 LONGARM BOOT CAMP BASICS: find out the real names of the thing-a-mabobs and the doohickies. Learn how to get your quilt on that big (or little) frame. Learn how to thread the machine and avoid loopy stitching. Try out groovy boards and pantographs (whatever they are!). If you are thinking about purchasing a Handi Quilter, this is a great introduction to the company and their quilting machines.

Feb. 17, 2-5 RULER MANIA: Rulers give free motion quilters precision and consistency in their quilting. Learn how to hold the ruler safely, place it accurately, and stitch precisely with it. Your design repertoire will grow dramatically! All of the HQ rulers and templates can be used with any of the longarm machines.

Feb. 18, 10-1 SIT-DOWN BOOT CAMP BASICS: If you prefer to quilt sitting down, or if you have limited space for a quilting machine, you will enjoy the HQ Sweet Sixteen quilting machine. At Boot Camp you'll learn about stitch regulation, marking patterns on your quilt top, basting and manipulating the quilt, and using different machine feet, rulers, and gadgets to make your quilts unique.

Feb. 18, 2-5 CUSTOM WAVES, CURVES, AND CIRCLES: Open up a new world of design options with circle templates and curved rulers! Get tips and tricks for making half circles, flattened circles, and perfectly curved lines. Do curved crosshatching. Make swags, ovals, and arcs. Make clam shells…and Harriet has a book for that! If you have never used templates and rulers before, I suggest taking RULER MANIA before taking this more advanced class.
Each class is $30. Register for this event and receive a 20% discount on Handi Quilter rulers, templates, accessories, and gadgets during the two days of classes. Special pricing on the Handi Quilter machines is available from February 11-25, plus you will receive a Capital Quilts Gift Certificate ($200 for the Simply Sixteen or Sweet Sixteen; $350 for the Avante or ProStitcher Premium; $450 for the Fusion; or $600 for the Infinity). You can place your order any time between now and the 25th; we just won't send it in until the "window of opportunity"!

Late breaking news: Nina informs me that she has made precuts (5" squares, 10" squares, and 2-1/2" strips) out of the popular "Aria" collection by Kelly Ventura for Windham Fabrics.



Go 'n' piece,
Alison Zacharkiw
CAPITAL QUILTS' SPECIALS:
HANDI QUILTER FLOOR MODEL: Contact Alison or Annie for details! 301-527-0598. At no extra cost to you, we install the machine in your home and give you a lesson on using and maintaining it. (If you live more than 50 miles away from the shop, we will charge standard mileage). You'll receive the full support of Handi Quilter and Capital Quilts should you have questions or difficulties. The machine will be serviced by our certified Handi Quilter technician prior to installation in your home. The machine's warranty will transfer to you.
Fusion: regularly priced $13,995, our floor model is on sale for $11,500. You save $395 in shipping, for a total savings of $2,890. The frame is 12'.
VENDOR SPECIALS:
SEW STEADY is offering The BACK TO BASICS Promotion- Get a travel bag with the purchase of a Basic Table. Offer is valid on Large Basic (18" x 24") and Big Basic (24" x 24") models only
Travel bag is padded nylon

Large $119, Big $149
Sew Steady is also offering the Free Motion Wish 22 ½" x 25" Table Package for $300, a $69 savings. The package includes:
Sew Steady Wish Table 22-1/2 x 25-1/2 Compartment Drawer Table with Holes for Circle Sewing & Tool, Universal Grid

Quilting Ruler Foot

6 styles of Acrylic Template Designs

Free Motion Glider
During January, receive a FREE Lightstick with every table purchase. The Lightstick sits under your Sew Steady table to turn it into a light box for easy pattern tracing.
NEW & NOTEWORTHY:

We have a new sort of zipper in the shop! It is a 30" designer bag zipper, with two largish pulls; great for duffle bags! $5.29 each. We now carry five different zippers at Capital Quilts: 14", two kinds of 22", 24" and 30". Check it out!

Do the Funky Chicken! From Michael Miller, $11.99/yd.
Also from Michael Miller are these 2 bolts of Rat Race Redux. I couldn't resist the rats in their helmets and long race cars. $11.99/yd.
This is a new kind of Minky. It is still silky soft, but the pile is much lower and the company figured out how to do complex printing on it. The Puddle Play and Hash Dot are $18.99/yd. Anjou Pour Vous is $19.99/yd.
Every once in a while someone asks me if we carry Southwestern-themed fabric. The answer is usually 'no', but this group from a company called 3 Wishes appealed to me. The collection of 10 fabrics is called Kohana and is $10.99/yd.
Let's have a Tea Party with these fabrics from Dear Stella. $11.99/yd.
Another really good grey group has come in this one from Moda. Compositions is by Basic Grey and has 16 different fabrics in the collection. $11.99/yd.

CLASSES:

You can sign up for classes online, by phone at 301-527-0598, or in person at the shop.


January
The Artful Improv Workshop on January 27 is full. I'll ask Cindy if she would schedule another one next quarter. Keep an eye out for it!
How often have you finished a quilt top and looked at it and said to yourself, "Now what?" How do you decide how to quilt the top? For answers to these questions, take Barbara Bregman's Quilt as Desired lecture class on Sunday, January 29, 1-4. Bring one of your own quilt tops for advice on how to quilt it. If you send Barbara a picture of your quilt top ahead of time, she will try to prepare a suggested plan for you.
Does your serger confuse you? Let Barbara Kascic shed some light on it in Sergers Made Easy! She will go over the parts of the machine and how to thread it and maintain it. She will also teach you some basic stitches and talk about the many uses for a serger. Monday, January 30, 10:30-1:30.
After serger class, stick around for Glimmer with Kim Jalette. Make a medallion star that shines in any of five sizes. It's easy and fun!
Learn more about the Sweet Sixteen on Tuesday, January 31, 10:30-12:30 with Annette. Getting Started: the Handi Quilter Simply Sixteen Machine is a required class for anyone wanting to rent our machine. It is also a wonderful class for anyone who is considering purchasing a Simply Sixteen.
Need help sandwiching your quilts? Make an appointment for Sandwich Day on January 31 or February 5.
February (already!!)
Capital Quilts Cares: Valentine Quilt for Interfaith Works Women's Center Shelter. Come help us make a quilt to brighten up the lobby at the shelter this month! FREE and all fabric is provided. Just bring your sewing machine, thread, basic supplies, and a cheerful demeanor! Thursday, February 2, 10-12.
Karen Fricke shows you how to make a pillow with piping around the edge on Friday, February 3, 10:30-1:30.
February 4 is the Quilts of Valor National Sew-in Day. Join us from 1-5 and help make quilts for the men and women of the armed services who have served our country.
SAVE THE DATES
February 17 & 18: Quilt Like a Pro – a Handi Quilter education event

February 26: Take the Deck of Cards Quilt Challenge!

March 25: Demo Day

April 28-30: Friendship Star's "Sunshine and Moon Glow" Quilt Show

June 2-4: Quilters Unlimited "Wing It" Quilt Show

June 10 & 11: Annapolis Quilt Guild "Quilts by the Bay" Quilt Show

July 23-25: It's Christmas in July!

September 22 & 23: Quilting is a Stitch – a Handi Quilter education event

November 9-18: Quilters' Quest
CAPITAL QUILTS BLUE BAG BONANZA
The January Prize is a Tool Tote from Storage Solutions, the "Bonnie Bag" pattern from Abbey Lane Quilts, and a "Studio" charm pack from Timeless treasures.
To be entered in each month's drawing, bring your Capital Quilts Blue Bag with you when you shop. Make sure you show it to the staffer at the register! Upon completion of your sales transaction, your name will be put in the jar for the drawing at the end of the month. Don't have a Blue Bag? Purchase one at the shop, by phone, or online for just $4.99. We save all of the entries for the year, and at the end of the year we draw a Grand Prize Winner from all the entries.
Our thanks to everybody who shops at Capital Quilts and participates in the Blue Bag Bonanza.