What's New at CQ 2/9/17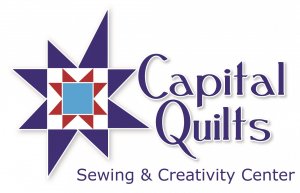 "All you need is love. But a little chocolate now and then doesn't hurt." Charles M. Schulz
Dear Lovers of Stitching,
The season of Love is upon us! I wish you all a Happy Valentine's Day. Have you swooned over our red and pink display at the front of the store? Visit us on Valentine's Day and enjoy a piece of chocolate, but before you eat it, look at the bottom to see what discount you get on your purchase! The fine print: discount applies to regularly priced items and can't be combined with other discounts; select your chocolate when you come to the register to check out – once you've picked it, you can't go back to get more stuff! You can, of course, do more than one transaction and get more chocolate!
The Quilts of Valor Challenge quilts are hanging in the "Gallery" through February 14. Be sure to come in and vote for your favorite! The last day for voting is tomorrow; the awards ceremony is on Saturday, February 11 at noon. Please join us!
Some have expressed an interest in having sewing classes for home-schooled children. We would love to do that! If your children would like to participate in such a class, please let me know and we'll get busy organizing!
The months of April, July, September, and December each have a fifth Saturday this year. We are planning some fun on those days for those of you who own a Capital Quilts Blue Bag. You've got to have the bag to have the fun, so buy yours soon!
Some class changes: Blooming Nine Patch will now begin on Wednesday, February 15 instead of the 22nd. The time is 10:30-12:30. The other two sessions are on March 8 and 22 (it is a 3-session class).
Annette is teaching Machine Quilting for Beginners on Tuesday, February 21 & 28, 6:30-9. This was inadvertently left out of the quarterly newsletter (sorry Annette!). Fabulous class, do take it!
As we mentioned last week, the start of the HoopSisters Charmed Adventure Embroidablock has been delayed, so there's still time to sign up! It will now begin on Saturday, March 4th, from 1-3pm.
Annette's Getting Started: the HQ Simply Sixteen class has been rescheduled from March 18 to March 25, 10:30-12:30. Her Problem Solving with Annette class, scheduled for March 16, has been cancelled.
The start of the Vintage Rose class with Jackie Kelso has also been postponed, until March 19. Vintage Rose is a six-month Block of the Month quilt, designed by Judy Niemeyer. Each month you will learn a new paper-piecing technique. Two sizes of quilt are available, wall and queen, the difference being in the borders. Jackie will meet with you before the first class to give you your pattern and help you pick out fabrics, if you would like that assistance. We have a model of the quilt hanging in the classroom and a picture online, if you'd like to see it. Anybody with a basic knowledge of sewing can take this class; you don't have to be an expert quiltmaker, but you can get results like one!
If you've been pondering purchasing a Handi Quilter quilting machine now is the time to do it! Wouldn't it be nice to be able to finish your own quilts 24/7? Love the Avante but can't fit the big frame in your home? You can also get a 6' or 8' frame. Love the Simply Sixteen machine but don't like the hoop-type frame? You can put the Simply Sixteen on an Avante frame (it's called the Studio Frame), at 6', 8', 10' or 12' long. See below for more details.
Go 'n' piece,
Alison Zacharkiw
QUILT LIKE A PRO:
You don't want to miss QUILT LIKE A PRO 2017, the next Handi Quilter education event at Capital Quilts! On February 17 and 18, Handi Quilter National Educator Harriet Carpanini will be here for two fun-filled days of quilting classes. Harriet has been an HQ Educator for 10 years and is the author of Inside the Shell, a book featuring creative fills for clamshell quilting. The classes:
Feb. 17, 10-1 LONGARM BOOT CAMP BASICS: find out the real names of the thing-a-mabobs and the doohickies. Learn how to get your quilt on that big (or little) frame. Learn how to thread the machine and avoid loopy stitching. Try out groovy boards and pantographs (whatever they are!). If you are thinking about purchasing a Handi Quilter, this is a great introduction to the company and their quilting machines.

Feb. 17, 2-5 RULER MANIA: Rulers give free motion quilters precision and consistency in their quilting. Learn how to hold the ruler safely, place it accurately, and stitch precisely with it. Your design repertoire will grow dramatically! All of the HQ rulers and templates can be used with any of the longarm machines. If you have the appropriate foot for your domestic sewing machine, you can also use Handi Quilter rulers and templates with it.

Feb. 18, 10-1 SIT-DOWN BOOT CAMP BASICS: If you prefer to quilt sitting down, or if you have limited space for a quilting machine, you will enjoy the HQ Sweet Sixteen quilting machine. At Boot Camp you'll learn about stitch regulation, marking patterns on your quilt top, basting and manipulating the quilt, and using different machine feet, rulers, and gadgets to make your quilts unique.

Feb. 18, 2-5 CUSTOM WAVES, CURVES, AND CIRCLES: Open up a new world of design options with circle templates and curved rulers! Get tips and tricks for making half circles, flattened circles, and perfectly curved lines. Do curved crosshatching. Make swags, ovals, and arcs. Make clam shells…and Harriet has a book for that! If you have never used templates and rulers before, I suggest taking RULER MANIA before taking this more advanced class.
Each class is $30. Register for this event and receive a 20% discount on Handi Quilter rulers, templates, accessories, and gadgets during the two days of classes.

Special pricing on the Handi Quilter machines is available now through February 25. In addition you will receive a Capital Quilts Gift Certificate ($200 for the Simply Sixteen or Sweet Sixteen; $350 for the Avante or ProStitcher Premium; $450 for the Fusion; or $600 for the Infinity) AND your choice of either a bundle of goodies valued at $390 or free shipping from Handi Quilter AND 1 year's FREE membership in our Longarmers Club, a $65 value. That is a lot of savings!

CAPITAL QUILTS' SPECIALS:
HANDI QUILTER FLOOR MODEL: Contact Alison or Annie for details! 301-527-0598. At no extra cost to you, we install the machine in your home and give you a lesson on using and maintaining it. (If you live more than 50 miles away from the shop, we will charge standard mileage). You'll receive the full support of Handi Quilter and Capital Quilts should you have questions or difficulties. The machine will be serviced by our certified Handi Quilter technician prior to installation in your home. The machine's warranty will transfer to you.
Fusion: regularly priced $13,995, our floor model is on sale for $11,500. You save $395 in shipping, for a total savings of $2,890. The frame is 12'.
VENDOR SPECIALS:
SEW STEADY is offering The BACK TO BASICS Promotion- Get a travel bag with the purchase of a Basic Table. Offer is valid on Large Basic (18" x 24") and Big Basic (24" x 24") models only
Sew Steady is also offering the Free Motion Wish 22 ½" x 25" Table Package for $300, a $69 savings. The package includes:
Sew Steady Wish Table 22-1/2 x 25-1/2 Compartment Drawer Table with Holes for Circle Sewing & Tool, Universal Grid

Quilting Ruler Foot

6 styles of Acrylic Template Designs

Free Motion Glider
NEW & NOTEWORTHY:

Four fabrics from Red Rooster's "Flint" collection will make a delicious bag, among other things! $12.50/yd.
Reminisce with Northcott's "Hipster on the Go" fabric. $11.99/yd.
Meow! "Smarty Cats" is 17 bolts devoted to cats and books! I love this collection! From Windham Fabrics, $12.50/yd.
We've added three more knits to our little collection; one with colorful lightning, one with a galaxy print, and one with stylish skulls. We are looking for a great leggings pattern; if you know of one, tell us! These bolts are from Timeless Treasures, $17.50/yd. All of our knits have a touch of spandex in them, are 58" wide, and can be machine washed and dried.
We have Art Gallery fabrics!! These are five of fifteen that can be found on the bench as you enter the shop. They are absolutely beautiful and have a lovely hand. The picture doesn't do it justice; they MUST be seen in person! $12.50/yd.
NEW PRECUT FABRIC SIZES! We now have a selection of pre-cut 1 yard and 3 yard pieces, and the pricing is lower than you'd expect – just $8.99 for 1 yard, and $26.97 for a 3 yard piece. You'll really want to check them out the next time you are in the shop.

CLASSES:

You can sign up for classes online, by phone at 301-527-0598, or in person at the shop.

Make yourself a Little Somethin' Jacket on Tuesday, February 14, 10:30-4:30. You can wear it out to dinner with your special Valentine! Barbara Kascic is teaching the class.
If you don't have dinner plans on the 14th, come learn how to use the Handi Quilter Simply Sixteen quilting machine with Annette from 7-9.
Learn how to make a Blooming Nine Patch quilt from Hilary Hastie on Wednesday, February 15, 10:30-12:30. This is the first of 3 sessions, the other two being on March 8 and 22. Hilary is happy to help you select fabrics for this project; contact her before the day of the class, because it can take time to gather these fabrics.
Annie is offering a Tuffet Assembly Workshop on Wednesday, February 15, 5-9. This workshop is for those who have made the tuffet top at home and want help assembling the tuffet. Annie has the heavy duty power tools that it takes, especially for the square tuffet.
Want to make yourself some pants that actually fit you? Take Eureka! Pants That Fit! Ray Cumbie of Fit for Art will be here on Thursday and Friday, February 16 and 17 to help you with the fitting and creating of pants just for you. This two-day workshop meets from 10-4 both days. She'll have lots of samples and tips to share.
Learn all about the Handi Quilter Sweet 16, the sit-down quilting machine, from Annette on Thursday, February 16, 2-4.
Of course, on Friday, February 17 and Saturday, February 18, we have the Handi Quilter education event with Harriet Carpanini.
Here is a new Zentangle class: Marble Coasters! Take real marble squares that have felt on the bottom already and add Zentangle designs to the tops to make a very unique item! Saturday, February 18, 1-3, with Pat Dee.
The delightful Kim Jalette is teaching Sprinkles on Monday, February 20, also known as President's Day. The class is from 10:30-1:30. This is a Jaybird Quilts design.
Prepare to rent the HQ Avante or Fusion and finish your own quilts: take Getting Started: the Handi Quilter Longarm Machine on Monday, February 20, 10:30-1:30. This is also a great class for someone who is considering purchasing a Handi Quilter. Barbara Bean is teaching.
If you've never made a tote bag before, I highly recommend our Basic Tote class. It covers all the basic elements: straps, lining, pockets, corners. Every other pattern is a variation of this one! Tuesday, February 21, 12:30-4:30, with Cathy Sullivan.
On the evening of February 21, Annette is teaching Machine Quilting for Beginners. Learn how to set up your sewing machine for quilting and practice some basic designs. Learn how to quilt using your walking foot (it's best if your machine has a walking foot; not all machines can be fitted with one) and using a darning foot.
SAVE THE DATES
February 17 & 18: Quilt Like a Pro – a Handi Quilter education event

February 26: Take the Deck of Cards Quilt Challenge!

March 25: Demo Day

April 28-30: Friendship Star's "Sunshine and Moon Glow" Quilt Show

June 2-4: Quilters Unlimited "Wing It" Quilt Show

June 10 & 11: Annapolis Quilt Guild "Quilts by the Bay" Quilt Show

July 23-25: It's Christmas in July!

September 22 & 23: Quilting is a Stitch – a Handi Quilter education event

November 9-18: Quilters' Quest
CAPITAL QUILTS BLUE BAG BONANZA
For February, we are giving away a bundle of 3 one-yard cuts of fabric from Batik Textiles, and "Be My Valentine" pattern from On Point Quilter. To be entered in each month's drawing, bring your Capital Quilts Blue Bag with you when you shop. Make sure you show it to the staffer at the register! Upon completion of your sales transaction, your name will be put in the jar for the drawing at the end of the month. Don't have a Blue Bag? Purchase one at the shop, by phone, or online for just $4.99. We save all of the entries for the year, and at the end of the year we draw a Grand Prize Winner from all the entries.
Our thanks to everybody who shops at Capital Quilts and participates in the Blue Bag Bonanza.