Skip Navigation
Website Accessibility
What's New at CQ 2/23/17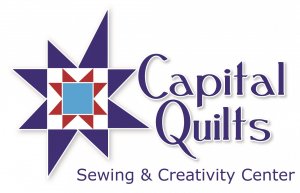 "Any time women come together with a collective intention, it's a powerful thing. Whether it's sitting down making a quilt, in a kitchen preparing a meal, in a club reading the same book, or around the table playing cards, or planning a birthday party, when women come together with a collective intention, magic happens."
Phylicia Rashad
Dear Most Esteemed Sewists,
Are you ready for a challenge? Come to Capital Quilts this Sunday, the 26th, at 12:30 and become a part of our CUT THE DECK challenge! Pick a card from a standard deck of cards, then use that card as inspiration for a small quilt. Turn your quilt in to us not later than April 12; we will hang them in the Gallery and ask viewers to vote for their favorites. Awards will be given at the Card Party on April 30. If 52 people turn in a quilt, I'll have them photographed and printed as a real deck of cards!
Woodblock printing on textiles with carved wooden blocks is an ancient art. Judy Gula is coming to Capital Quilts on Friday, March 3, 10-4, to lead a workshop on this technique. The workshop is called "Woodblock Printed Collage Art Quilt". Begin by learning to print your fabrics with a wide variety of wooden printing blocks and gel plates and textile paints. In the afternoon, use your blocks to make artful collages with fusing and, time permitting, sewing. Judy will help you create a plan for finishing at home. Receive a printing block and foam printing mat to take home! There are just six places left, so sign up soon!

Capital Quilts now offers quilting services! We will quilt your quilt for you. The fees begin at $.025 per square inch for edge-to-edge quilting, but may be more, depending on the complexity of the design. Call 301-527-0598 to make an appointment with one of our quilters for a consultation or to answer any questions you might have.

DID YOU KNOW that there is enough concrete in the Hoover Dam near Las Vegas to pave a two-lane highway from San Francisco to New York? (a little tidbit we picked up on our trip last week!)
Go 'n' piece,
Alison Zacharkiw
CAPITAL QUILTS' SPECIALS:
HORN CABINET SALE! All of our floor models are on sale, 30% off, through the end of February. This is a great opportunity to get a great sewing cabinet at a great price!
HANDI QUILTER FLOOR MODEL: Contact Alison or Annie for details! 301-527-0598. At no extra cost to you, we install the machine in your home and give you a lesson on using and maintaining it. (If you live more than 50 miles away from the shop, we will charge standard mileage). You'll receive the full support of Handi Quilter and Capital Quilts should you have questions or difficulties. The machine will be serviced by our certified Handi Quilter technician prior to installation in your home. The machine's warranty will transfer to you.
Fusion: regularly priced $13,995, our floor model is on sale for $11,500. You save $395 in shipping, for a total savings of $2,890. The frame is 12'.
VENDOR SPECIALS:
SEW STEADY is offering Wish Table + Free Light Stick 22-1/2" x 25-1/2" Circle Sewing & Drawer Table for only $199, a $29 savings. This package includes several features as requested by quilters and sewers alike: 22-1/2" x 25-1/2". Includes: 3 beveled edges, 9" x 14" blue compartmentalized notions tray, Circles Sewing Tool, Universal Table Grid, and Table Lock. And Get a free Light Stick with purchase thru 3/31/2017!
NEW & NOTEWORTHY:

More fabric of a nautical nature rolled in this week: Ocean Tides, from Northcott. There are several more bolts than shown here. The ombre is running yardage and could be used for so many things, from tablecloths to dresses and skirts to aprons to curtains and shower curtains. $11.99/yd.
These are from Moda's eighth collection in their Wildflowers series! $11.99/yd
The colors in Kanvas' Vineyard Classics II fabrics are as deep and rich as a glass of merlot. Anybody want to do a wine and cheese tasting here at the shop? $11.99/yd.
And these beauties are from In the Beginning. It is the entirety of the collection called Garden Delights. The fabric has a beautiful hand, almost like lawn. $11.99/yd.

Jason Yenter has written a book to accompany the Garden Delights collection. It is titled Garden Fresh Quilts and contains 7 beautiful projects using the fabrics.

CLASSES:



You can sign up for classes online, by phone at 301-527-0598, or in person at the shop.
Sit 'n' Sew is Friday evening, February 24, 5-9. Bring a friend! Bring food to share! We provide the drinks. FREE.
Thinking about Spring yet? Get in the mood with Jenny Trussel's Bunny Bag class on Saturday, February 25, 1:30-4:30.
Those of you in Improv (or are thinking of trying it), don't forget there is a sew-in on Monday, February 27, 1-4.
MARCH
Barbara Kascic is giving her Needles & Thread lecture on Thursday, March 2, 10:30-11:30. If you haven't attended this lecture before, or if you need a refresher, TAKE THIS CLASS. Barbara does a fantastic job of explaining how needles and threads work together to give you the best outcome.
The Woodblock Printed Collage Art Quilt Workshop with Judy Gula of Artistic Artifacts is taking place on Friday, March 3, 10-4. Begin by learning to print your fabrics with a wide variety of wooden printing blocks and gel plates and textile paints. In the afternoon, use your blocks to make artful collages with fusing and, time permitting, sewing. Judy will help you create a plan for finishing at home. Receive a printing block and foam printing mat to take home! There are just six places left, so sign up soon!
The HoopSisters Charmed Adventure Embroidablock begins on Saturday, March 4th, from 1-3pm. You'll learn different techniques with each block design that you do, including some 3-D work. See the model quilt hanging in the shop; it is gorgeous!
Transform your 2½" strips into a sophisticated and stunning column quilt! Hilary Hastie will show you how in her Braidwork class on Tuesday, March 7, 10:30-12:30.
We are offering four Art & Stitch classes 1-5 on Tuesday afternoons in March. Begin on March 7 with the basics. Each class will move you further along in the program. You will learn to create your own longarm quilt design including "edge-to-edge", custom work, and fills; turn lettering into quilting designs; edit existing quilt patterns to create unique designs, scan in a quilt block to design and audition quilt designs, and save your design for stitch-out in formats for all major longarm electronic quilt systems. Art and Stitch can be used with your embroidery machine as well.
Learn how to make a Blooming Nine Patch quilt from Hilary Hastie on Wednesday, March 8, 10:00-12:00. This is the first of 3 sessions, the other two being on March 22 and 29. Hilary is happy to help you select fabrics for this project; contact her before the day of the class, because it can take time to gather these fabrics.
Join Laurie on Thursday, March 9 from 10-12 for Capital Quilts Cares: I Spy Quilts. These children's quilts will go to schools in Montgomery and Prince George's County and the District to help students with linguistic skill building.
The Capital Quilts Cares: Pet Beds event is scheduled for Thursday, March 23, 1-3. We need scraps! Both fabric and batting should be not more than roughly 2" square – in other words, please cut them up into small pieces. Big pieces make for lumpy beds! Please bring your scraps to the shop after March 1. Thanks!
Annette's Getting Started: the HQ Simply Sixteen class has been rescheduled from March 18 to March 25, 10:30-12:30. Her Problem Solving with Annette class, scheduled for March 16, has been cancelled.
The start of the Vintage Rose class with Jackie Kelso has also been postponed, until March 19. Vintage Rose is a six-month Block of the Month quilt, designed by Judy Niemeyer. Each month you will learn a new paper-piecing technique. Two sizes of quilt are available, wall and queen, the difference being in the borders. Jackie will meet with you before the first class to give you your pattern and help you pick out fabrics, if you would like that assistance. We have a model of the quilt hanging in the classroom and a picture online, if you'd like to see it. Anybody with a basic knowledge of sewing can take this class; you don't have to be an expert quiltmaker, but you can get results like one!
Some have expressed an interest in having sewing classes for home-schooled children. We would love to do that! If your children would like to participate in such a class, please let me know and we'll get busy organizing!

SAVE THE DATES
February 26: Take the Deck of Cards Quilt Challenge!

March 25: Demo Day

April 28-30: Friendship Star's "Sunshine and Moon Glow" Quilt Show

June 2-4: Quilters Unlimited "Wing It" Quilt Show

June 5: Quilting on a Domestic Sewing Machine with Donelle McAdams

June 10 & 11: Annapolis Quilt Guild "Quilts by the Bay" Quilt Show

July 23-25: It's Christmas in July!

August 11-13: Four County Quilters Guild Quilt Show

September 22 & 23: Quilting is a Stitch – a Handi Quilter education event

October 6-8: Everybody's Quilt Guild Quilt Show

November 9-18: Quilters' Quest
CAPITAL QUILTS BLUE BAG BONANZA
For February, we are giving away a bundle of 3 one-yard cuts of fabric from Batik Textiles, and "Be My Valentine" pattern from On Point Quilter. To be entered in each month's drawing, bring your Capital Quilts Blue Bag with you when you shop. Make sure you show it to the staffer at the register! Upon completion of your sales transaction, your name will be put in the jar for the drawing at the end of the month. Don't have a Blue Bag? Purchase one at the shop, by phone, or online for just $4.99. We save all of the entries for the year, and at the end of the year we draw a Grand Prize Winner from all the entries.
Our thanks to everybody who shops at Capital Quilts and participates in the Blue Bag Bonanza.