Skip Navigation
Website Accessibility
What's New at CQ 03/02/2017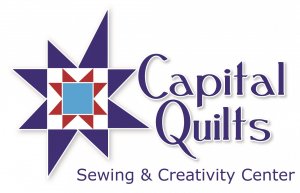 "Everyone takes surveys. Whoever makes a statement about human behavior has engaged in a survey of some sort." Andrew Greeley
Dear Lovers of All Things Beautiful,
Our CUT THE DECK challenge is underway! It is not too late to join in the fun. Come to the shop and pick a card from a standard deck of cards, or call us and we will pick one for you, then use that card as inspiration for a small quilt. Turn your quilt in to us not later than April 19; we will hang them in the Gallery and ask viewers to vote for their favorites. Awards will be given at the Card Party on April 30. If 52 people turn in a quilt, I'll have them photographed and printed as a real deck of cards! You can look at images online of card quilts that other groups have made to get some ideas for your own (but no copying!).
Mark your calendar: we having Demo Day at Capital Quilts on Saturday, March 25, from 1-5ish. We'll start with a one-hour lecture on collage quilt-making, given by Susan McLaughlin and illustrated by Lulu the Elephant, then move on to a Stripology tool lesson, an English paper piecing demonstration, a discussion about some of the newest products from Clover, how to make a mitered-corner baby blanket, and a review of Sew Steady tables and the Westalee templates you can use to quilt your quilts on your domestic sewing machine and give them the professional look of a longarm quilter. In addition to Susan, Jenny Trussell, Annette Burns, Kim Jalette, and Annie Jeffrey will be making presentations. Make-and-take a greeting card that uses a flower made on an embroidery machine. View Gundrun Erla's trunk show of quilts she designed and made using the Stripology rulers. Win a door prize! It's free, but please register for Demo Day so we know how many to expect.
Do you own a Capital Quilts Blue Bag? I hope so! Announcing the Capital Quilts Blue Bag Bonanza 5th Saturday Club! There are four months in 2017 that have 5 Saturdays: April, July, September, and December. On each 5th Saturday, we will have a different event or promotion for you to enjoy. On April 29, bring your Capital Quilts Blue Bag and load it up with goodies; I'll give you a 20% discount on whatever you can cram in there. It has to be in the bag; no handholding anything! How do you become a member of the 5th Saturday Club, you ask? If you already have a Capital Quilts Blue Bag, you just need to purchase a 5th Saturday Club green ticket, which we will affix to your Blue Bag. The ticket costs $10 and will gain you entry to all four of the 5th Saturday events. If you don't have a Blue Bag, buy one for $14.99, which includes the green ticket. If you don't want to participate in the 5th Saturday Club, you can still purchase a Blue Bag for just $4.99.
Nina has been busy making strip sets! She asked me to tell you there are three new ones available: one of Australian fabrics, one for the Garden Delight fabrics that were highlighted in last week's newsletter, and our annual "Cherry Blossom" batik strip set in pinks, greens, and soft yellows. We usually wait until later in the Spring to make Cherry Blossom, but what with global warming and all…
If you are interested in machine embroidery or want to learn more about using your embroidery machine, consider enrolling in the HoopSisters Block of the Month. It's called "Charmed Adventure", and each month you will learn one or more new techniques. Learn about different ways to use the blocks you make; our model is only for inspiration! You can reproduce it or make something different. The class is scheduled to begin on Saturday, April 1. There are 5 sessions total. Annie Jeffrey will teach the classes.
Handi Quilter, in conjunction with other companies, is conducting a Quilters Survey that aims to identify what quilters in 2017 like to do, what tools they like to do it with, and how they like to shop. There are prizes being offered if you participate. Here is the link: Quilters Survey.

PriStitcher owners: there has been an update to the ProStitcher software! Check the Handi Quilter website for details and download information.

Go 'n' piece,
Alison Zacharkiw
CAPITAL QUILTS' SPECIALS:
HANDI QUILTER FLOOR MODELS: Contact Alison or Annie for details! 301-527-0598. At no extra cost to you, we install the machine in your home and give you a lesson on using and maintaining it. (If you live more than 50 miles away from the shop, we will charge standard mileage). You'll receive the full support of Handi Quilter and Capital Quilts should you have questions or difficulties. The machine will be serviced by our certified Handi Quilter technician prior to installation in your home. The machine's warranty will transfer to you.
Sweet Sixteen: Our package includes the TruStitch stitch regulation system and the table overlay. Regularly priced at $5995, you can buy our floor model for $5,295. Save $205 in shipping, for a total savings of $905.




o

Simply Sixteen: This small stand-up quilting machine, with its 5' hoop-style frame, has an MSRP of $5,995. Our floor model is now available for $5,295. You save an additional $225 in shipping costs, for a total savings of $925. This machine has built-in stitch regulation. Because of the hooping system, you can quilt even a king-sized quilt on it. It is a mighty machine for a small space!

Avante: MSRP is $10,995. Our floor model is on sale for $8,495. The frame can be set up at 6', 8', 10', or 12'. You save $345 in shipping, for a total savings of $2,845.


Avante with ProStitcher: Regularly $20,995, buy our floor model for $16,995. Same frame set up possibilities as above. Save $415 in shipping, for a total savings of $4,415.


Fusion: regularly priced $13,995, our floor model is on sale for $11,495. You save $395 in shipping, for a total savings of $2,895. The frame can be set up at 8' or 12'.


Fusion with ProStitcher: MSRP is $23,995; buy our floor model for $19,995. You save $465 in shipping, for a total savings of $4,465. The frame can be set up at 8' or 12'.


Infinity: This machine regularly sells for $17,995. The floor model sale price is $15,495. You save $450 in shipping, for a total savings of $2,950. The frame is 12'. This is a top-of-the-line machine, with special features like a camera for viewing the underside of your quilt, a laser pointer for pinpoint accuracy in placing your needle, lighting in the bobbin area, and programmable handlebar controls.


Infinity with ProStitcher: MSRP is $27,995. Buy ours for $23,995. You'll save $520 in shipping, for a total savings of $4,520. This package combines the top-of-the-line machine with the state-of-the-art computer software. It doesn't get any better than this! The ProStitcher was recently redesigned to make it even easier to use.
All of the machines come with a package from Handi Quilter that includes the bobbin winder, tools for maintaining the machine such as an oil pen and a brush, wrenches of several sizes for making adjustments, a screw driver for adjusting the bobbin tension, bobbins, thread samples, needles, and a "getting started" disk. Manuals are available online. You automatically become a member of our Longarmers' Club, free for one year. Our technician makes housecalls within a reasonable distance of the shop, so any servicing and maintenance your machine needs is done in your own home (you can haul it into the shop if you prefer!). We offer lots of classes and books on machine quilting and will do our best to give you all the support you need.
HORN OF AMERICA FLOOR MODEL SALE: All of our Horn of America floor model sewing cabinets and tables are on sale at a 30% discount. Check with Annie or Barbara for the particulars!
VENDOR SPECIALS:
SEW STEADY is offering Wish Table + Free Light Stick 22-1/2" x 25-1/2" Circle Sewing & Drawer Table for only $199, a $29 savings. This package includes several features as requested by quilters and sewers alike: 22-1/2" x 25-1/2". Includes: 3 beveled edges, 9" x 14" blue compartmentalized notions tray, Circles Sewing Tool, Universal Table Grid, and Table Lock. And Get a free Light Stick with purchase thru 3/31/2017!
NEW & NOTEWORTHY:

'Tis the season for baseball's Spring Training! Celebrate with this collection from Benartex called "Play Ball". Make your kids quilts for their beds or a tote bag or seat pad for trips to the ball field. $11.99/yd.
Beautiful new Asian fabrics have arrived from Timeless Treasures. There are two collections: "Zen" has more coral in it, and "Alex" tends to the blue and turquoise. Both are $12.50/yd. The panel is part of the "Zen" group; it is priced at $8.99. Some of the blenders work well with either collection.
"Digital Garden: Tulips", from Elizabeth's Studios, is digitally printed. Not only is it a glorious field of tulips, it is a sort of ombre, with the tulips fading in size as you progress from the bottom of the fabric to the top. Think pillows, dresses, totes, or just stretching it on a picture frame. It might make an interesting convergence quilt. $16.99/yd.

Wooly Felted Wonders aim to help every household save time, energy and money. 100% Natural and Energy Efficient Reusable Dryer Balls replace costly and disposable dryer sheets and liquid fabric softener. Add a couple of drops of your favorite essential oil to make it even better. Naturally eliminate static from your laundry, reduce drying time, fluff those loads of towels, sheets & blankets and luxuriate in newly absorbent towels right out of the bath or shower! $24/pkg. of 6.



CLASSES:



You can sign up for classes online, by phone at 301-527-0598, or in person at the shop.
Transform your 2½" strips into a sophisticated and stunning column quilt! Hilary Hastie will show you how in her Braidwork class on Tuesday, March 7, 10:30-12:30.
We are offering four Art & Stitch classes 1-5 on Tuesday afternoons in March. Begin on March 7 with the basics. Each class will move you further along in the program. You will learn to create your own longarm quilt design including "edge-to-edge", custom work, and fills; turn lettering into quilting designs; edit existing quilt patterns to create unique designs, scan in a quilt block to design and audition quilt designs, and save your design for stitch-out in formats for all major longarm electronic quilt systems. Art and Stitch can be used with your embroidery machine as well.
Learn how to make a Blooming Nine Patch quilt from Hilary Hastie on Wednesday, March 8, 10:00-12:00. This is the first of 3 sessions, the other two being on March 22 and 29. Hilary is happy to help you select fabrics for this project; contact her before the day of the class, because it can take time to gather these fabrics.
Join Laurie on Thursday, March 9 from 10-12 for Capital Quilts Cares: I Spy Quilts. These children's quilts will go to schools in Montgomery and Prince George's County and the District to help students with linguistic skill building.
Sandwich Night is scheduled for March 10th. Don't break your back trying to sandwich on your kitchen floor! Make an appointment, bring in your quilt and supplies, and we'll help! Appointments are currently available at 6, 7, and 8.
The Capital Quilts Cares: Pet Beds event is scheduled for Thursday, March 23, 1-3. We are now accepting scraps! Both fabric and batting should be not more than roughly 2" square – in other words, please cut them up into small pieces. You should also ensure that your scraps are free from paper, pins, needles, and other dangerous/uncomfortable items.
Annette's Getting Started: the HQ Simply Sixteen class has been rescheduled from March 18 to March 25, 10:30-12:30. Her Problem Solving with Annette class, scheduled for March 16, has been cancelled.
Some have expressed an interest in having sewing classes for home-schooled children. We would love to do that! If your children would like to participate in such a class, please let me know and we'll get busy organizing!

SAVE THE DATES
March 25: Demo Day

April 28-30: Friendship Star's "Sunshine and Moon Glow" Quilt Show

June 2-4: Quilters Unlimited "Wing It" Quilt Show

June 5: Quilting on a Domestic Sewing Machine with Donelle McAdams

June 10 & 11: Annapolis Quilt Guild "Quilts by the Bay" Quilt Show

July 23-25: It's Christmas in July!

August 11-13: Four County Quilters Guild Quilt Show

September 22 & 23: Quilting is a Stitch – a Handi Quilter education event

October 6-8: Everybody's Quilt Guild Quilt Show

November 9-18: Quilters' Quest
CAPITAL QUILTS BLUE BAG BONANZA
Congratulations to Sue B., who won February's Blue Bag prize of 3 yards of batik and pattern. For March, we are giving away a strip set of Robert Kaufman's Artisan Batiks from their Portofino fabric line and Elizabeth Hartman's pattern called "Frances Firefly". To be entered in each month's drawing, bring your Capital Quilts Blue Bag with you when you shop. Make sure you show it to the staffer at the register! Upon completion of your sales transaction, your name will be put in the jar for the drawing at the end of the month. Don't have a Blue Bag? Purchase one at the shop, by phone, or online for just $4.99. We save all of the entries for the year, and at the end of the year we draw a Grand Prize Winner from all the entries.
Sign up for our 5th Saturday Club! See the beginning of this newsletter for details.
Our thanks to everybody who shops at Capital Quilts and participates in the Blue Bag Bonanza.
Save