Skip Navigation
Website Accessibility
What's New at CQ 3/23/17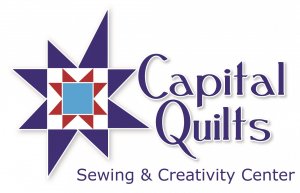 "Being in the same room with people and creating something together is a good thing." Robin Williams
Dear Fabricologists,
Help Wanted! We have an opening in our sales staff. If you love to help people and be with people, if you love sewing, if you are computer literate and have a well-developed sense of humor, and if you think you might enjoy working at Capital Quilts, please send your resume to alison@capitalquilts.com!
Lots and lots of people have signed up for Demo Day! That's wonderful, but I don't own enough chairs for everybody. If anybody can bring a folding chair, I would appreciate it. Make sure your name is on it, please.
There is a new quilt show hanging in the Gallery! This is a collection of quilts by Gudrun Erla. Gudrun is a designer and author and the creator of the two Stripology rulers. These are rulers that are used to cut strips of various widths; they can reduce your time spent cutting strips by as much as 75%. The newer of the rulers, the Stripology Squared, can also be used to cut diamonds, trim blocks, and do fussy cutting. Annette will be demonstrating the rulers at Demo Day on March 25. Look for the books and Stripology rulers in the Gallery.
The next time you are in the shop, test drive the new sewing chairs! We are now a dealer for Heavenly Seating. These chairs adjust in every imaginable way, including lumbar support. You will be able to sew longer and more comfortably because your posture will be better and your body will have support in all the right places. Each chair is custom-made: you can choose from over 150 different fabrics, different kinds of wheels depending on your floor surface, different heights and widths of cushions, different styles of seat, arms or no arms, and more. They offer an excellent warranty. The foam is guaranteed never to break down or compress. Visit www.heavenlyseating.com to learn more.
Some folks have already finished their playing card quilts and they look great! There are still some cards left in our CUT THE DECK challenge! Come to the shop and pick a card from a standard deck of cards, or call us and we will pick one for you, then use that card as inspiration for a small quilt. Turn your quilt in to us not later than April 19; we will hang them in the Gallery and ask viewers to vote for their favorites. Awards will be given at the Card Party on April 30. I'd love to have all 54 cards (including the two jokers) taken so that I can have them photographed and printed as a real deck of cards! You can look at images online of card quilts that other groups have made to get some ideas for your own (but no copying!).
Do you own a Capital Quilts Blue Bag? I hope so! Announcing the Capital Quilts Blue Bag Bonanza 5th Saturday Club! There are four months in 2017 that have 5 Saturdays: April, July, September, and December. On each 5th Saturday, we will have a different event or promotion for you to enjoy. On April 29, bring your Capital Quilts Blue Bag and load it up with goodies; I'll give you a 20% discount on whatever you can cram in there. It has to be in the bag; no handholding anything! How do you become a member of the 5th Saturday Club, you ask? If you already have a Capital Quilts Blue Bag, you just need to purchase a 5th Saturday Club green ticket, which we will affix to your Blue Bag. The ticket costs $10 and will gain you entry to all four of the 5th Saturday events. If you don't have a Blue Bag, buy one for $14.99, which includes the green ticket. If you don't want to participate in the 5th Saturday Club, you can still purchase a Blue Bag for just $4.99.
Home-schoolers! We are offering a class in beginning sewing skills for 8-12 year-olds. Shelby will be teaching the children how to make an easy quilt. Along the way, they'll learn all about their sewing machine and the fundamentals of sewing. And, quilting reinforces math skills! If your child already knows the basics, Shelby can work with him or her to learn more intermediate skills. There will be 6 classes, Wednesday mornings from 10:30-12:30, on May 3, 10, 17, 24, 31, and June 7.
Go 'n' piece,
Alison Zacharkiw
CAPITAL QUILTS' SPECIALS:
HANDI QUILTER FLOOR MODELS: It's time to sell our floor models again! Contact Alison or Annie for details: 301-527-0598. At no extra cost to you, we install the machine in your home and give you a lesson on using and maintaining it. (If you live more than 50 miles away from the shop, we will charge standard mileage). You'll receive the full support of Handi Quilter and Capital Quilts should you have questions or difficulties during your quilting career. The machine will be serviced by our certified Handi Quilter technician prior to installation in your home. The machine's warranty will transfer to you.

Sweet Sixteen: Our package includes the TruStitch stitch regulation system and the table overlay. Regularly priced at $5995, you can buy our floor model for $5,295. Save $205 in shipping, for a total savings of $905.

Simply Sixteen: This small stand-up quilting machine, with its 5' hoop-style frame, has an MSRP of $5,995. Our floor model is now available for $5,295. You save an additional $225 in shipping costs, for a total savings of $925. This machine has built-in stitch regulation. Because of the hooping system, you can quilt even a king-sized quilt on it. It is a mighty machine for a small space!

Avante: MSRP is $10,995. Our floor model is on sale for $8,495. The frame can be set up at 6', 8', 10', or 12'. You save $345 in shipping, for a total savings of $2,845.

Avante with ProStitcher: Regularly $20,995, buy our floor model for $16,995. Same frame set up possibilities as above. Save $415 in shipping, for a total savings of $4,415.

Fusion: regularly priced $13,995, our floor model is on sale for $11,495. You save $395 in shipping, for a total savings of $2,895. The frame can be set up at 8' or 12'.

Fusion with ProStitcher: MSRP is $23,995; buy our floor model for $19,995. You save $465 in shipping, for a total savings of $4,465. The frame can be set up at 8' or 12'.

Infinity: This machine regularly sells for $17,995. The floor model sale price is $15,495. You save $450 in shipping, for a total savings of $2,950. The frame is 12'. This is a top-of-the-line machine, with special features like a camera for viewing the underside of your quilt, a laser pointer for pinpoint accuracy in placing your needle, lighting in the bobbin area, and programmable handlebar controls.

Infinity with ProStitcher: MSRP is $27,995. Buy ours for $23,995. You'll save $520 in shipping, for a total savings of $4,520. This package combines the top-of-the-line machine with the state-of-the-art computer software. It doesn't get any better than this! The ProStitcher was recently redesigned to make it even easier to use.

All of the machines come with a package from Handi Quilter that includes the bobbin winder, tools for maintaining the machine such as an oil pen and a brush, wrenches of several sizes for making adjustments, a screw driver for adjusting the bobbin tension, bobbins, thread samples, needles, and a "getting started" disk. Manuals are available online. You automatically become a member of our Longarmers' Club, free for one year. Our technician makes housecalls within a reasonable distance of the shop, so any servicing and maintenance your machine needs is done in your own home (you can haul it into the shop if you prefer!). We offer lots of classes and books on machine quilting and will do our best to give you all the support you need.
HORN OF AMERICA FLOOR MODEL SALE: All of our Horn of America floor model sewing cabinets and tables are on sale at a 30% discount. Check with Annie or Barbara for the particulars!
VENDOR SPECIALS:
SEW STEADY is offering Wish Table + Free Light Stick 22-1/2" x 25-1/2" Circle Sewing & Drawer Table for only $199, a $29 savings. This package includes several features as requested by quilters and sewers alike: 22-1/2" x 25-1/2". Includes: 3 beveled edges, 9" x 14" blue compartmentalized notions tray, Circles Sewing Tool, Universal Table Grid, and Table Lock. And Get a free Light Stick with purchase thru 3/31/2017!
NEW & NOTEWORTHY:

Some new books are on the shelves! A New Dimension in Wool Applique by Deborah Gale Tirico provides dimensional felted-wool techniques such as beading, trapunto, layering, and needle slanting. It includes 9 small applique and embroidery projects. $29.95 $25.46

Crazy-Quilted Memories by Brian Haggard shows you how to incorporate family photos in your crazy quilt and use beautiful embroidery to enhance the pictures. $27.95 $23.76

In Block Genius, Sue Voegtlin illustrates 201 pieced quilt blocks with No Math charts, color photography, and instructions on sewing the blocks and creating quilts. $24.95 $21.21

Stitch, Fabric & Thread is an inventive book that offers over 40 inspiring practical exercises that will get you thinking about stitches, stitching, and different techniques. This is a more advanced level book: the techniques include, for example, using bleach and fabric paint to make Aboriginal dreamtime lizards; decorative bookbinding; and mola applique. The author is Elizabeth Healey. $24.95 $21.21

The new seam roller from Violet Craft has arrived. It is earth-conscious: made of wood, and made in the USA. Use it in place of an iron for a crisp press. It's perfect for paper piecing, on-the-go sewing, and retreats where an iron is not available. $14 each.
We have 5 bolts of Quilt Gate's Hyakka Ryoran line. These are Asian fabrics. $12.50/yd.
We also got 5 colors of Essex Yarn Dyed fabrics in from Robert Kaufman. $10.99/yd.

Just in! A new batch of rayon scarves from Island Batik. $16.99 each.



CLASSES:



You can sign up for classes online, by phone at 301-527-0598, or in person at the shop.
Annette's Getting Started: the HQ Simply Sixteen is March 25, 10:30-12:30.

If you would like to learn how to use the Handi Quilter ProStitcher, take Getting Started: the ProStitcher on Monday, March 27, at 10:30. You need to take this class before you use the ProStitcher during a rental session, if you are so inclined.
The Improv Open Sew is on Monday afternoon, March 27, 1-4. Bring your improv project and have fun sewing with other improv quilters.
Learn how to make a Novelty Print Collage Quilt with Karen Fricke, Thursday, March 30, 10:30-1:30. It's a little bit like scrapbooking, with fabric! Bring lace, buttons, beads, fancy thread, and other fun things to add to your quilt.
NEW CLASS: Learn how to make a Heated Neck Wrap with Jenny Trussell on Thursday, March 30, 2-4:30. Relieve those sore neck and shoulder muscles! All together now…aahhhh…
Karen Fricke is back on Friday morning, March 31, to teach Fun With Free Motion. The two-hour class begins at 10:30. You'll use your domestic sewing machine to create quilting designs. Practice on "sandwiches" of scrap fabric and batting. You will be ready to quilt your own quilts!
The March Sit 'n' Stitch is on Friday, March 31, 5-9. Bring your own projects and supplies and some food to share. Capital Quilts provides the beverages.
HoopSisters' 2017 Embroidablock of the Month, Charmed Adventure, is for machine embroiderers. One or more new techniques are taught each month. Each block takes 30 minutes or less to stitch out, and each can be used to make a one-block "wonder quilt". Starts Saturday, April 1, 1-3.
Capital Quilts Cares: Come help make quilts for the Interfaith Works Shelter for Women on Sunday, April 2 from 12-5. These quilts make temporary housing more livable. Because quilts can mean so much… warmth, love, hugs, comfort, home.
Interested in renting our Handi Quilter longarm machines to finish your own quilts? You'll need to take Getting Started: The Handi Quilter Longarm Machine on Monday, April 3, 10-1.
On Tuesday, April 4, Barbara and Elyse team up in Art & Stitch + ProStitcher = Success for a hands-on class with personal attention to walk you through the process from design to stitch out. Experience the long-arm computerized quilting cycle from designing a unique long-arm quilting pattern using Art & Stitch to stitching out your design using ProStitcher.
Cindy Grisdela is back on Friday, April 7 from 10-4 with Artful Improv: Permission to Play. Learn to create your own unique quilts using improvisational piecing techniques. Cindy encourages you to let go of the rules and piece blocks intuitively, freely, without a pattern. You'll have a blast in this all-day workshop!
Antelope Canyon is the latest pattern from Laurie Shifrin, and Hilary has fallen in love with it! The sewing is not difficult, assuming an accurate quarter inch seam, but planning and organization are essential. The class starts with an organizational meeting on Saturday, April 8, 11:30-12:30. There will be two more sessions for sewing, on April 15, 2-4 and on May 6, 3:30-5:30.
Pat Vasaio is teaching Lemoyne Star Sampler, a class for intermediate and advanced quilters. It requires precision cutting, sewing, and pressing and plenty of patience. Classes begin on Sunday, April 9, 12:30-4:30, and meet on the 2nd Sunday of each month for a total of 6 months. It's a beautiful quilt. I didn't know there were so many ways to make a Lemoyne Star!
SAVE THE DATES
April 28-30: Friendship Star's "Sunshine and Moon Glow" Quilt Show at the Gaithersburg Fairgrounds

June 2-4: Quilters Unlimited "Wing It" Quilt Show at the Dulles Expo Center in Chantilly, VA

June 5: Quilting on a Domestic Sewing Machine with Donelle McAdams

June 10 & 11: Annapolis Quilt Guild "Quilts by the Bay" Quilt Show in Annapolis

July 17: "Inside Aurifil and Aurifil Inside" with Alex Veronelli

July 23-25: It's Christmas in July!

August 11-13: Four County Quilters Guild Quilt Show at the Frederick County Fairgrounds

September 22 & 23: Quilting is a Stitch – a Handi Quilter education event

September 23 & 24: Friendship & Eternal Quilts Guilds Show in Linthicum Heights

October 6-8: Everybody's Quilt Guild Quilt Show in Westminster

November 9-18: Quilters' Quest Shop Hop
CAPITAL QUILTS BLUE BAG BONANZA
For March, we are giving away a strip set of Robert Kaufman's Artisan Batiks from their Portofino fabric line and Elizabeth Hartman's pattern called "Frances Firefly". To be entered in each month's drawing, bring your Capital Quilts Blue Bag with you when you shop. Make sure you show it to the staffer at the register! Upon completion of your sales transaction, your name will be put in the jar for the drawing at the end of the month. Don't have a Blue Bag? Purchase one at the shop, by phone, or online for just $4.99. We save all of the entries for the year, and at the end of the year we draw a Grand Prize Winner from all the entries.
Sign up for our 5th Saturday Club! Purchase your Green Tag for $10 and come to our special events on the four 5th Saturdays of 2017. The first one is April 29th. You'll get 20% off everything you can stuff in your Blue Bag! Things have to be in the bag: no handholding the overflow! Each event will be different. The discount applies to regularly priced items and may not be combined with other discounts, offers, or promotions.
Our thanks to everybody who shops at Capital Quilts and participates in the Blue Bag Bonanza.
Save