Skip Navigation
Website Accessibility
What's New at CQ 4/6/17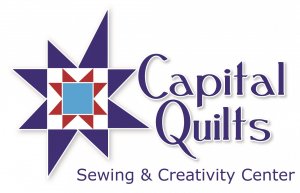 "All vacations can come down to a few little moments - what do your remember when you're alone, totally relaxed and taken out of yourself to appreciate this other world." Bill Kurtis
Dear Members of the Needle & Thread Community,

I'm back from vacation, rested and relaxed. The store looks fabulous; Shelby did some rearranging while I was gone! The Anniversary Sale is well underway and runs through Saturday, 4/8. All regularly priced fabric, patterns, rulers, pre-cuts, scissors, kits, needles, thread, etc. are 20% off!!! Come in while there is still something left to buy! There is a minimum 1/2 yard cut on fabric to qualify for sale pricing. Sale prices do not apply to special orders, merchandise on hold, previous purchases, or sewing machines. Sale may not be combined with any other offer or discount. Why not sewing machines, you ask? Because we discount sewing machines every day of the year already! Every day is a good day to buy a Janome sewing machine at Capital Quilts!
But, wait! There's more! Our Handi Quilter floor models are currently available for purchase at great savings! The Simply Sixteen has been snapped up, but the others remain. Contact Alison or Annie for details: 301-527-0598.
Horn of America Floor Models: Selected models of our Horn of America floor model sewing cabinets and tables (and it is most of them!) are on sale at a 30% discount. Annie and Barbara have all the particulars.

If you haven't seen the Newsletter and Class Listing for April, May, and June yet, click here. We have added lots of new classes, as well as scheduling additional sessions of old favorites. There are lots of new models to see around the shop, too! Annie has just added another Retreat Bag class, on Thursday, June 8, 1-5; the first class has filled up already.
CAPITAL QUILTS CARES: Come to the shop on Monday, April 10 from 10-12 to help us make pillowcases for residents at the NIH Children's Inn. These are children who are undergoing treatment for cancer and other diseases, along with their families. Some fun pillowcases can really cheer them up! All fabric is provided, and the event is FREE. Please bring your sewing machine, some neutral thread, and basic sewing supplies. Thank you for your help!

If you haven't been in recently, don't miss the Gudrun Erla (Stripology and Stripology Squared) show in the gallery.

All 54 cards have been handed out for the CUT THE DECK challenge! Yeah!!! If you find that you are unable to make a card quilt after all, please let us know so that we can give the card to someone else. We want to have a full deck so that we can get the cards printed!
Thank you for shopping at Capital Quilts.


Go 'n' piece,
Alison Zacharkiw
VENDOR SPECIALS:
Sew Steady: 18" x 24" large table with FREE light stick (light stick value $29.95), regularly $199, now $119. Offer expires 6/30/2017. The light stick allows you to turn your Sew Steady table or cabinet insert into a light box.


CLASSES:



You can sign up for classes online, by phone at 301-527-0598, or in person at the shop.

Cindy Grisdela is back at Capital Quilts on Friday, April 7 from 10-4 with Artful Improv: Permission to Play. Learn to create your own unique quilts using improvisational piecing techniques. Cindy encourages you to let go of the rules and piece blocks intuitively, freely, without a pattern. You'll have a blast in this all-day (10-4) workshop!

Antelope Canyon is the latest pattern from Laurie Shifrin, and Hilary has fallen in love with it! The sewing is not difficult, assuming an accurate quarter inch seam, but planning and organization are essential. The class starts with an organizational meeting on Saturday, April 8, 11:30-12:30. There will be two more sessions for sewing, on April 15, 2-4 and on May 6, 3:30-5:30.

Pat Vasaio is teaching Lemoyne Star Sampler, a class for intermediate and advanced quilters. It requires precision cutting, sewing, and pressing and plenty of patience. This course of six classes begins on Sunday, April 9, 12:30-4:30. It's a beautiful quilt. I didn't know there were so many ways to make a Lemoyne Star!

Laurie is leading a Capital Quilts Cares workshop on Monday, April 10, 10-noon, to make pillowcases for the Children's Inn at NIH. Please call the shop if you plan on attending so we can save you a seat.

Sergers Made Easy is on Tuesday, April 11th, 11:30-1:30. Barbara Kascic will teach you all the different parts of the machine, how to thread it, some basic stitches, and how to maintain it.

Join Sue Moats on Wednesday, April 12 from 10-1 for a Quilts of Valor workshop. We're expecting a special visitor from the Quilts of Valor Foundation at this session; it should be fun! As with all Capital Quilts Cares events, please call to reserve space at this free session, as space is limited.

Also on Wednesday, April 12 is Getting Started: The Basics of ProStitcher, from 12-3. ProStitcher is the computer attached to the longarm quilting machines that allows you to program quilting designs.

Ever wanted to make a Knit Tee or Tunic? Let Rae Cumbie of Fit for Art show you how in a two day workshop, Thursday, April 13 and Friday, April 14, 10-4 each day.
Sandwich Day is on Tuesday, April 18, with appointments available at 2, 3, and 4. We are here to help you get those quilts sandwiched! If you are planning on quilting on a longarm machine or having a longarmer quilt your quilt for you, there is no need to sandwich the quilt ahead of time.
The next Capital Quilts Complete Course of Quilting begins on Wednesday, April 19. You can register for the afternoon class or the evening class. The class meets a total of 10 weeks, the last class being on June 21. Annette covers all the basics of quilting, from how to turn on your machine right through to binding your quilt. And you will make a quilt! With each week's block you learn new techniques.
If you've had a little experience with free motion quilting and would like to learn more, take Karen Fricke's More Fun With Free Motion class on Thursday, April 20, 10:30-12:30.
April showers bring May flowers, so come to Annie's Make a Bumbershoot class and make your own umbrella! Friday, April 21, 12:30-4:30.
Learn the ins and outs of working with curves in Barbara Bregman's Lucky class on Saturday, April 22, 1-4. The Quick Curve Ruler makes it easy!
SAVE THE DATES

April 28-30: Friendship Star's "Sunshine and Moon Glow" Quilt Show at the Gaithersburg Fairgrounds

June 2-4: Quilters Unlimited "Wing It" Quilt Show at the Dulles Expo Center in Chantilly, VA

June 5: Quilting on a Domestic Sewing Machine with Donelle McAdams

June 10 & 11: Annapolis Quilt Guild "Quilts by the Bay" Quilt Show in Annapolis

July 17: "Inside Aurifil and Aurifil Inside" with Alex Veronelli

July 23-25: It's Christmas in July!

August 11-13: Four County Quilters Guild Quilt Show at the Frederick County Fairgrounds

September 22 & 23: Quilting is a Stitch – a Handi Quilter education event

September 23 & 24: Friendship & Eternal Quilts Guilds Show in Linthicum Heights

October 6-8: Everybody's Quilt Guild Quilt Show in Westminster

November 9-18: Quilters' Quest Shop Hop
CAPITAL QUILTS BLUE BAG BONANZA
For April, we are giving away an Autumn Breeze Charm Pack By Susan Rooney for Benartex, an Aurifil Thread Sampler, and a "Joy" Pillow Pattern From Martingale. To be entered in each month's drawing, bring your Capital Quilts Blue Bag with you when you shop. Make sure you show it to the staffer at the register! Upon completion of your sales transaction, your name will be put in the jar for the drawing at the end of the month. Don't have a Blue Bag? Purchase one at the shop, by phone, or online for just $4.99. We save all of the entries for the year, and at the end of the year we draw a Grand Prize Winner from all the entries.
Sign up for our 5th Saturday Club! Purchase your Green Tag for $10 and come to our special events on the four 5th Saturdays of 2017. The first one is April 29th. You'll get 20% off everything you can stuff in your Blue Bag! Things have to be in the bag: no handholding the overflow! Each event will be different. The discount applies to regularly priced items and may not be combined with other discounts, offers, or promotions.
Our thanks to everybody who shops at Capital Quilts and participates in the Blue Bag Bonanza.
Save
Save