Skip Navigation
Website Accessibility
What's New at CQ 4/13/17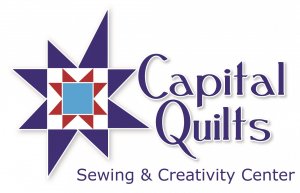 "Easter is meant to be a symbol of hope, renewal, and new life." Janine di Giovanni
Dear Stash Mashers,

I hope you were all able to stock up on things you want and/or need last week during the sale! I loved how busy the shop was; there was so much energy. I heard a lot of laughter, too! Thanks for shopping here!
CAPITAL QUILTS CARES: We have a new event! Join us on Monday, April 17, 10:15-1:15 to make table toppers for the Tragedy Assistance Program for Survivors (taps.org), a charity that provides support services for surviving family members of military servicemen and women who have died in service to the US. As part of their fundraising efforts for their National Seminar to be held in DC over Memorial Day weekend, they had donors design fabric squares with messages of gratitude and encouragement which will be fashioned into table toppers for the family meals at the Seminar. They need sewists to help make the table toppers. As always, the event is free and all fabric is provided. Please register for the event so that we know how many to expect. You will need to bring your sewing machine, sewing supplies (scissors, pins, seam ripper…), and neutral thread. I hope you will be able to give some time to this worthwhile endeavor.
Floor Models: Selected models of our Horn of America floor model sewing cabinets and tables (and it is most of them!) and our Handi Quilter machines are on sale at a 30% discount. Annie and Barbara have all the particulars.

If you haven't seen the Newsletter and Class Listing for April, May, and June yet, click here. We have added lots of new classes, as well as scheduling additional sessions of old favorites. There are lots of new models to see around the shop, too! Annie has added another Retreat Bag class, on Thursday, June 8, 1-5; the April class has filled up already. A Zentangle Beginners Workshop has been added as well, on Friday, April 28, 10:30 to 12:30, with Pat Dee.
Lots of Cut the Deck card quilts have come into the shop! I think you are going to enjoy the display when we put it up in the Gallery April 21-30. Sewists, remember that your quilt is due back to Capital Quilts not later than April 19. If you find that you are unable to make a card quilt after all, please let us know so that we can give the card to someone else (and soon, so there is time for the new sewist to make a quilt!). We want to have a full deck so that we can get the cards printed!

One of our customers needs a 5" x WOF strip of this fabric to finish a quilt. If anybody has some and is willing to help, please call the shop or reply to this email and we will put you in touch. Thanks!

We are looking forward to vending at the Friendship Star Quilters quilt show at the Gaithersburg Fairgrounds on April 28-30. We will have the Heavenly Seating chairs there for you to try, and we will be offering a 10% discount on purchases of the chairs during the show. These chairs are custom made for you and ergonomically terrific. You will be much more comfortable while you sew. Please come and have a seat!

Don't forget to get your Capital Quilts Blue Bag and 5th Saturday Club Green Ticket! Get 20% off all the new fabrics that have arrived (as well as 'old' fabric), patterns, books, and anything you can stuff in your Blue Bag on April 29. It's not that far away!

Capital Quilts will be closed on Sunday, April 16. Happy Easter! If you don't celebrate Easter, Happy Spring! Go forth and plant!


Go 'n' piece,
Alison Zacharkiw
VENDOR SPECIALS:
Sew Steady: 18" x 24" large table with FREE light stick (light stick value $29.95), regularly $199, now $119. Offer expires 6/30/2017. The light stick allows you to turn your Sew Steady table or cabinet insert into a light box.
NEW AND NOTEWORTHY: Lots of boxes of fabric came in the back door last week while you all were taking bagsful out the front door. Here is what we've managed to get out on the floor so far:

From Windham, a few bolts of "Lilla" by Lotta Jansdotter. $12.50/yd.
"Sandpipers" comes to us from Michael Miller. Birds, feathers, pebbles, flowers and more in a pleasing collection of colors. $12.50/yd.
Laurel Burch's "Mythical Jungle" collection is here, from Clothworks. I think the designers have managed to get all of Laurel's iconic animals on to one fabric! It is a happy group of giraffes, lions, zebras, cats, horses, elephants, birds and more. $12.99/yd. The panel is $8.95.
Kaffe lovers! I know you've been waiting for the Spring 2017 collection, and it is here! There are 15 bolts of new Kaffe and Friends on the shelves. $12.99/yd.
Now that the warmer weather is with us, make this sweet pair of rompers or dress for your favorite little girl. "Shortcake" is reversible and ties at the shoulder. The dress can easily grow with your child by turning it into a top. Take these outfits from summer into fall by layering them with a long-sleeve shirt and pants or tights. Neither garment includes any buttonholes or zippers, so the pattern is a great introduction to sewing for a beginner and a fun pattern to play around with for the more advanced seamstress. The pattern includes size 6 months through 6 years. Laurie is going to teach the class on July 10.


CLASSES:



You can sign up for classes online, by phone at 301-527-0598, or in person at the shop.
There are still seats available in Night Owl Sewing on Saturday, April 15. Enjoy up to six blissful hours of distraction-free sewing and fun with Kat Martinez! It's like a mini-retreat! You will receive a $10 Capital Quilts Gift Card, pizza, and beverages. Work on a new project or bring an old one. Kat will stay with you as late as midnight.

Sandwich Day is on Tuesday, April 18, with appointments available at 2, 3, and 4. We are here to help you get those quilts sandwiched! If you are planning on quilting on a longarm machine or having a longarmer quilt your quilt for you, there is no need to sandwich the quilt ahead of time.
The next Capital Quilts Complete Course of Quilting begins on Wednesday, April 19. You can register for the afternoon class or the evening class. The class meets a total of 10 weeks, the last class being on June 21. Annette covers all the basics of quilting, from how to turn on your machine right through to binding your quilt. And you will make a quilt! With each week's block you learn new techniques.
If you've had a little experience with free motion quilting and would like to learn more, take Karen Fricke's More Fun With Free Motion class on Thursday, April 20, 10:30-12:30.
April showers bring May flowers, so come to Annie's Make a Bumbershoot class and make your own umbrella! Friday, April 21, 12:30-4:30.
Get certified to use the Handi Quilter Avante or Fusion on Saturday, April 22, 12:30-3:30 so that you can rent the machine and finish your own quilt! The class is called Getting Started: the Handi Quilter Longarm Machine.
Learn the ins and outs of working with curves in Barbara Bregman's Lucky class on Saturday, April 22, 1-4. The Quick Curve Ruler makes it easy!
Do your own thing! Come to the Improv Open Sew on Monday, April 24, 1-4. Bring your project and your sewing gear and enjoy 3-hours of hassle-free sewing. Kim and Kat will be on hand for inspiration, cheer-leading, and answering questions. Improv is the new "in" thing in the sewing world. Give it a try…I dare you!
Need a pretty new table runner? Mother's Day is on the horizon; perhaps your mom would like a new table runner. Try the Delectable Diamonds class with Cathy Sullivan on Tuesday, April 25, 12:30-3:30. Use your favorite border stripe to create this pretty runner. The patterns works best with florals and if at least one stripe is at least 3" wide.
If you would like to be certified to use the Simply Sixteen quilting machine, or just want to know more about it, take Annette's Getting Started: the Handi Quilter Sweet Sixteen class on Tuesday, April 25, 10:30-12:30.
If you are taking the Square Tuffet class in May, there is a prep class on April 26, 4:15-6:15.
The Retreat Bag class scheduled for April 27 is full, but you can sign up for the one on June 8!
Learn how to use a Groovy Board or a Pantograph to guide your edge-to-edge quilting on a longarm machine. Barbara Bean is teaching the skill in Groovy Boards and Pantographs for the Longarm on Thursday, April 27, 12-2.
We speak Zentangle here! Take the Zentangle Beginner's Workshop on Friday, April 28, 10:30-12:30. This class is a prerequisite to all other Zentangle classes.
The April Sit 'n' Stitch is on Friday, April 28, 5-9. Bring your own project and supplies and some food to share with others. It's free, and Capital Quilts supplies the beverages.
Jenny Trussell and her hubby are retiring to Tennessee this summer, so she's only teaching a couple more classes here at Capital Quilts. In April, she is teaching the Photo Pillow class on Saturday, the 29th, 10:30-12:30. Jenny will do the photo transfer for you and spend time in the class explaining how to do it. This will also make a wonderful Mother's Day gift! Look for her Journal Covers 4 Ways class on May 20.
SAVE THE DATES


April 28-30: Friendship Star's "Sunshine and Moon Glow" Quilt Show at the Gaithersburg Fairgrounds

June 2-4: Quilters Unlimited "Wing It" Quilt Show at the Dulles Expo Center in Chantilly, VA

June 5: Quilting on a Domestic Sewing Machine with Donelle McAdams

June 10 & 11: Annapolis Quilt Guild "Quilts by the Bay" Quilt Show in Annapolis

July 17: "Inside Aurifil and Aurifil Inside" with Alex Veronelli

July 23-25: It's Christmas in July!

August 11-13: Four County Quilters Guild Quilt Show at the Frederick County Fairgrounds

September 22 & 23: Quilting is a Stitch – a Handi Quilter education event

September 23 & 24: Friendship & Eternal Quilts Guilds Show in Linthicum Heights

October 6-8: Everybody's Quilt Guild Quilt Show in Westminster

November 9-18: Quilters' Quest Shop Hop
CAPITAL QUILTS BLUE BAG BONANZA
For April, we are giving away an Autumn Breeze Charm Pack by Susan Rooney for Benartex, an Aurifil Thread Sampler, and a "Joy" Pillow Pattern From Martingale. To be entered in each month's drawing, bring your Capital Quilts Blue Bag with you when you shop. Make sure you show it to the staffer at the register! Upon completion of your sales transaction, your name will be put in the jar for the drawing at the end of the month. Don't have a Blue Bag? Purchase one at the shop, by phone, or online for just $4.99. We save all of the entries for the year, and at the end of the year we draw a Grand Prize Winner from all the entries.
Sign up for our 5th Saturday Club! Purchase your Green Tag for $10 and come to our special events on the four 5th Saturdays of 2017. The first one is April 29th. You'll get 20% off everything you can stuff in your Blue Bag! Things have to be in the bag: no handholding the overflow! Each event will be different. The discount applies to regularly priced items and may not be combined with other discounts, offers, or promotions. Please note that we will NOT sell Green Tags on 4/29.
Our thanks to everybody who shops at Capital Quilts and participates in the Blue Bag Bonanza.
Save
Save
Save