Skip Navigation
Website Accessibility
What's New at CQ 4/27/17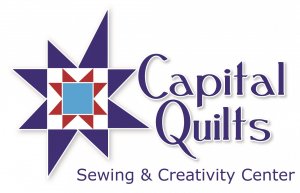 "Don't think. Thinking is the enemy of creativity. It's self-conscious, and anything self-conscious is lousy. You can't try to do things. You simply must do things" – Ray Bradbury
Dear Members of My Favorite Sewing Community,
You may have missed my email last week! Our email provider had server problems big time. You might get three of last week's emails in your in box sometime, because we kept trying, or you might not, who knows.
The Deck of Cards Challenge quilts are hanging in our Gallery and they are fantastic! We have so many creative and talented people in our community. Be sure to come by to see the quilts and vote for your favorites. You are invited to the Card Party this Sunday at noon to find out who the winners of the voting are.
We are looking forward to vending at the Friendship Star Quilters quilt show at the Gaithersburg Fairgrounds this weekend, April 28-30. We will have the Heavenly Seating chairs there for you to try, and we will be offering a 10% discount on purchases of the chairs during the show. These chairs are custom made for you and ergonomically terrific. You will be much more comfortable while you sew. Please come have a seat and see why people are raving about these chairs!
To those of you who have girls for whom you sew clothes, I invite you to participate in some market research with me! If you go to www.checkerdist.com and search 'olive ann', you will see a lot of patterns by Olive Ann. Would you look through them and tell me if you would consider making these things for your girls? Are there patterns you particularly like? Don't' like? Why or why not? Do you consider them stylish? Would you like to take a class to make a girl's dress? All comments are appreciated!
While you are visiting checkerdist.com, look around! If you see something you like that I don't normally stock, I am more than happy to order it for you.

Don't forget to get your Capital Quilts Blue Bag and 5th Saturday Club Green Ticket! Get 20% off all the new fabrics that have arrived (as well as 'old' fabric), patterns, books, and anything* you can stuff in your Blue Bag this Saturday, April 29. It's just two days away, and we have scads of new fabrics out for you to consider! You won't be able to buy a ticket on Saturday, but you can call and order one over the phone and we will hold it for you to pick up on Saturday, along with a Blue Bag if you don't have one of those either. (*Exclusions: special orders, machines, items already on sale. May not be combined with any other offer or discount.)

Floor Models: Selected models of our Horn of America floor model sewing cabinets and tables are still available, along with our Handi Quilter machines are on sale at a 30% discount. Annie and Barbara have all the particulars.


Go 'n' piece,
Alison Zacharkiw
VENDOR SPECIALS:
Janome is having a Spring Sale! We are participating in the sale; in some cases, our prices beat Janome's! Please ask for Annie in the shop if you'd like to know more.
HMC15000: this is Janome's top of the line machine. It has 510 built-in stitches and 980 embroidery designs. They are pairing it with the new M7050 machine, which is a compact travel machine that is great for classes, retreats and vacations, and a hard case on wheels for the 15000 for a savings of $1150. I'll throw in a $150 Capital Quilts Gift Card for a total savings of $1300.
HMC9400: The 9400 is the premier quilting machine, with an 11" bed space, 3 quick-change needle plates, and the auto pivot function (the foot automatically lifts up when you stop sewing so that you can adjust the fabric). Included in this package is Learn to Quilt panel and a set of 3 Abbacino Bags, which includes a travel trolley case, a tote bag, and a large zipper pouch.
Skyline S9: This embroidery and sewing package includes the Anna Maria Horner Embroidery Kit and the set of 3 Abbacino Bags. The S9 machine has 300 stitches and 250 embroidery stitches built in, is Wi-Fi Certified, and has automatic thread tension. Much of the technology in it was debuted in the 15000 machine. It's lovely to sew on!
There are also packages available for the S5 and S7, the new M7100 and M7200 machines, the CoverPro 2000CPX, the HD3000, the MOD series of machine, and the MC500E embroidery machine. The Artistic Edge cutting machine is being offered at half-price! WOW! Do come by and talk to Annie! The sale goes on through May 31, 2017.
Handi Quilter: Now through May 21, receive a FREE Stitch sewing machine with the purchase of any new Handi Quilter quilting machine. I say 'new' because our floor model sale machines don't qualify for the HQ special. The Stitch sewing machines are Janome machines in disguise, so we can service them for you!
Sew Steady: 18" x 24" large table with FREE light stick (light stick value $29.95), regularly $199, now $119. Offer expires 6/30/2017. The light stick allows you to turn your Sew Steady table or cabinet insert into a light box.
NEW AND NOTEWORTHY: Having missed a week, there is a lot to tell you, and more than we can give you pictures of without risking the email going to your junk file.

The Weightless Quilter is here! This awkward looking contraption will soon be your best quilting friend. It takes the weight off the quilt while you maneuver your fabric under your sewing machine's needle. No more heavy, bulky bundles under your arm or falling off the edge of the table at just the wrong moment! It has a 36" square footprint and is designed to fit around almost any table, sit-down longarm or sewing machine cabinet. No tools are required to assemble it, and it breaks down quickly for easy storage when not in use. $299
We have new extra-wide backing fabrics on hand, two from Kaffe ($20.99/yd), one from Angela Walters ($17.50/yd), and a pretty Spring green floral($19.99/yd).
I've added four bolts to our music collection, two from Kanvas's "Encore" collection and two from Timeless Treasures, all $11.99/yd.
Other novelties have come from Timeless Treasures, including knitting sheep, construction tools, and cat selfies, all $11.99/yd. There are also two bolts of fish and other marine creatures, very pretty in blue and white, $11.99/yd.
A shipment of Aboriginal fabrics has arrived, some new and some repeats, all gorgeous. $12.50/yd.
Remember date stamps and card files at your local library? They are now immortalized in fabric! This group of six bolts is called "Literary", from Windham Fabrics. $12.50/yd.
Here is a wonderful, fun blender from P&B. It's called "Ultraweave". Look in each colorway for the fabrics. $10.99/yd.
"Zentastic" is fantastic! There are 33 bolts of fun shapes and colors, even some shimmery frost. From Contempo. $11.99/yd.
From Moda we have Fig Tree's latest offering, called "Coney Island". There are lots of bolts, fat quarters, strip sets, charm packs, and 10" squares. Fabric on the bolt is $11.99/yd.


CLASSES:


You can sign up for classes online, by phone at 301-527-0598, or in person at the shop.

The April Sit 'n' Stitch is on Friday, April 28, 5-9. Bring your own project and supplies and some food to share with others. It's free, and Capital Quilts supplies the beverages.
Jenny Trussell and her hubby are retiring to Tennessee this summer, so she's only teaching a couple more classes here at Capital Quilts. In April, she is teaching the Photo Pillow class on Saturday, the 29th, 10:30-12:30. Jenny will do the photo transfer for you and spend time in the class explaining how to do it. This will also make a wonderful Mother's Day gift! Look for her Journal Covers 4 Ways class on May 20.
Sue Moats will be in the classroom Saturday, April 29, from 2-5, working with a group on a Quilt of Valor. Please call or email the shop if you'd like to join this free workshop.
Want to learn how to quilt a quilt on your home sewing machine? Take Annette's Machine Quilting for Beginners on Tuesday, May 2, 10:30-1.
The next Square Tuffet class meets on Thursday, May 4, 11-2. This is a fabulous class! Get a seat while you can.
Annette teaches Hawaiian Applique once a year, and Sunday, May 7 is the 2017 date! Learn not only the technique but the history behind it. Music provided. Coconut bras optional.
Annie is teaching the Round Tuffet class on Monday, May 8, 11-5.
Become familiar with the Handi Quilter ProStitcher software in Barbara Bean's class on Tuesday, May 9, 12-3. We will ask you to provide your laptop computer to Annie a few days ahead of time so that she can load the software on it for you. This will allow you to spend your time in class learning how to use the software, as it can take some time to load.
SAVE THE DATES
April 28-30: Friendship Star's "Sunshine and Moon Glow" Quilt Show at the Gaithersburg Fairgrounds

June 2-4: Quilters Unlimited "Wing It" Quilt Show at the Dulles Expo Center in Chantilly, VA

June 5: Quilting on a Domestic Sewing Machine with Donelle McAdams

June 10 & 11: Annapolis Quilt Guild "Quilts by the Bay" Quilt Show in Annapolis

July 17: "Inside Aurifil and Aurifil Inside" with Alex Veronelli

July 23-25: It's Christmas in July!

August 11-13: Four County Quilters Guild Quilt Show at the Frederick County Fairgrounds

September 22 & 23: Quilting is a Stitch – a Handi Quilter education event

September 23 & 24: Friendship & Eternal Quilts Guilds Show in Linthicum Heights

October 6-8: Everybody's Quilt Guild Quilt Show in Westminster

November 9-18: Quilters' Quest Shop Hop
COMMUNITY NEWS
George Washington University Museum and the Textile Museum are hosting the traveling Ebony Fashion Fair exhibit now through July 24. In addition to displays of clothing, 50 years' worth of Ebony Magazine covers adorn the walls. The Ebony Fashion Fair was begun in the 1950's as a fundraiser for a hospital in New Orleans and grew from there, exposing black fashion to the world. It wasn't always easy, as you can imagine. Visit the show to learn more!

Friends of Montgomery County Animals Kentucky Derby Party: Loads of fun at the Derby Day Party coming up on May 6. Proceeds from the catered supper, open bar, craft beer table, silent auction, door prizes, and 50/50 betting all benefit the work FMCA does in our animal community. Visit www.fmca.org for more details.

CAPITAL QUILTS BLUE BAG BONANZA
For April, we are giving away an Autumn Breeze Charm Pack by Susan Rooney for Benartex, an Aurifil Thread Sampler, and a "Joy" Pillow Pattern From Martingale. To be entered in each month's drawing, bring your Capital Quilts Blue Bag with you when you shop. Make sure you show it to the staffer at the register! Upon completion of your sales transaction, your name will be put in the jar for the drawing at the end of the month. Don't have a Blue Bag? Purchase one at the shop, by phone, or online for just $4.99. We save all of the entries for the year, and at the end of the year we draw a Grand Prize Winner from all the entries.
Sign up for our 5th Saturday Club! Purchase your Green Tag for $10 and come to our special events on the four 5th Saturdays of 2017. The first one is April 29th. You'll get 20% off everything you can stuff in your Blue Bag! Things have to be in the bag: no handholding the overflow! Each event will be different. The discount applies to regularly priced items and may not be combined with other discounts, offers, or promotions. Please note that we will NOT sell Green Tags on 4/29.
Our thanks to everybody who shops at Capital Quilts and participates in the Blue Bag Bonanza.
Save
Save
Save