Skip Navigation
Website Accessibility
What's New at CQ 5/4/17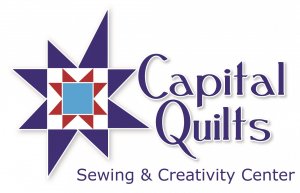 "The objective of cleaning is not just to clean, but to feel happiness living within that environment." Marie Kondo
Dear Sewl Mates,
The Deck of Cards Challenge quilts will hang in our Gallery for another week or so while we photograph them for the deck we are having printed. There is still time to see them all together! Winners are posted in the shop.
We enjoyed vending at the Friendship Star Quilters quilt show last weekend. It was a wonderful show, and the members of the guild always take good care of their vendors, which we appreciate! I enjoy this one most of all the shows we do, because I know so many of you. Our next show is the Quilters Unlimited show in Chantilly, VA, on June 2, 3 & 4, followed the next weekend by the Annapolis Quilt Guild show at the Annapolis High School on June 10 & 11. I hope we will see you there!
I am continuing to offer 10% off the Heavenly Seating chairs through Sunday. If you didn't get a chance to sit on one during the show, come on over to the shop and have a seat. These chairs are custom made for you and ergonomically terrific. You will be much more comfortable while you sew, and you will be able to sew longer. You will see why people are raving about these chairs!
Here is a trivia game for you: we have over 9000 names on our mailing list. Of those, 3978 have given us their birthdays. Guess what month is the most "popular" birthday month? Send your answer in a reply to this email, and we will put the correctly answered ones into a random drawing for a prize! Make sure your name is in the reply somewhere so we know whom to contact.
We are housecleaning the fabric shelves again! I started in the Batiks. Check out the Clearance area for super savings during the next week.
CQ Floor Models: Selected models of our Horn of America floor model sewing cabinets and tables are still available, along with our Handi Quilter machines are on sale at a 30% discount. Annie and Barbara have all the particulars.
Go 'n' piece,
Alison Zacharkiw
VENDOR SPECIALS:
Janome is having a Spring Sale! We are participating in the sale; in some cases, our prices beat Janome's! Please ask for Annie in the shop if you'd like to know more.

HMC15000: this is Janome's top of the line machine. It has 510 built-in stitches and 980 embroidery designs. It comes with a hard case on wheels, and the new M7050 machine for free! Talk to Annie about how to get a $150 Capital Quilts Gift Card with your purchase.
HMC9400: The 9400 is the premier quilting machine, with an 11" bed space, 3 quick-change needle plates, and the auto pivot function (the foot automatically lifts up when you stop sewing so that you can adjust the fabric). Included in this package is Learn to Quilt panel and a set of 3 Abbacino Bags, which includes a travel trolley case, a tote bag, and a large zipper pouch.
Skyline S9: This embroidery and sewing package includes the Anna Maria Horner Embroidery Kit and the set of 3 Abbacino Bags. The S9 machine has 300 stitches and 250 embroidery stitches built in, is Wi-Fi Certified, and has automatic thread tension. Much of the technology in it was debuted in the 15000 machine. It's lovely to sew on!
There are also packages available for the S5 and S7, the new M7100 and M7200 machines, the CoverPro 2000CPX, the HD3000, the MOD series of machine, and the MC500E embroidery machine. The Artistic Edge cutting machine is being offered at half-price! WOW!

Do come by and talk to Annie! The sale goes on through May 31, 2017.
Handi Quilter:
Now through May 21, receive a FREE Stitch sewing machine with the purchase of any new Handi Quilter quilting machine. I say 'new' because our floor model sale machines don't qualify for the HQ special. The Stitch sewing machines are Janome machines in disguise, so we can service them for you!
Sew Steady: 18" x 24" large table with FREE light stick (light stick value $29.95), regularly $199, now $119. Offer expires 6/30/2017. The light stick allows you to turn your Sew Steady table or cabinet insert into a light box.
NEW AND NOTEWORTHY:
Halloween and Thanksgiving fabric is beginning to arrive! This week we have "Witchy" from Studio E, $11.99/yd, and a very amusing "Belinda Big Kitty" from Alexander Henry, $12.50/yd.
The Thanksgiving fabric is a line called "Give Thanks" from Blank, which includes a panel. The bolted fabric is $11.99/yd. and the panel is $7.99/panel.
I finally found some patriotic fabric that is a bright red, white, and blue! This is called "Liberty", and it is from Windham. There are other colorways of each of these patterns. The bolted fabric is $12.50/yd. and the panel is $8.99.
CLASSES:
You can sign up for classes online, by phone at 301-527-0598, or in person at the shop.
Become familiar with the Handi Quilter ProStitcher software in Barbara Bean's class on Tuesday, May 9, 12-3. We will ask you to provide your laptop computer to Annie a few days ahead of time so that she can load the software on it for you. This will allow you to spend your time in class learning how to use the software, as it can take some time to load.
Need help sandwiching a quilt? There is one appointment available, at 8pm, on Friday, May 12.
Crosswalk is a beautiful table runner pattern. Learn how to make it on May 15, 10:30-12:30. Hilary Hastie is your instructor.
Also on May 15 is the first of three classes for Spring Wagon, a delightful applique project. The class meets from 2-4 with Julie Evans as your teacher.
There is much to choose from on May 16! Debra Ball will teach you how to make a T-Shirt Quilt from 10:30-12:30.
Grab a bite to eat and come back for the Maui Glam Bag, a very nice clutch from Pink Sand Beach Designs; Barbara Kascic will provide instruction and tips from 1-4pm.
When you are finished making your glam bag, hop over to the Handi Quilter room to learn how to use the Handi Quilter Simply Sixteen quilting machine from 2-4. You can quilt your T-Shirt quilt on it later! Annette will teach the Simply Sixteen class.
Learn to use EQ7 on your computer to design your own quilts, change the size of the quilt and/or quilt blocks, preview various fabrics and colorways, calculate fabric yardage and print out templates and so much more! The class is called EQ7 Demystified and Elyse Turkeltaub is teaching it on Friday, May 19, 1-4.
Barbara Bean is offering Getting Started: the Handi Quilter Longarm Machine on Friday, May 19 6-9 and again the next day, May 20, from 1:30-4:30. You will learn how to use and care for the Avante and the Fusion so that you can rent the machines here at the shop to finish your own quilts.

The May 20th Featherweight Clinic is full, but we have scheduled another one for Saturday, August 5th, 10:30-12:30. Each workshop is limited to 6 participants, so don't wait too long to sign up!
Jenny Trussell and her hubby are retiring to Tennessee this summer, so she's only teaching one more class here at Capital Quilts. Her popular Journal Covers 4 Ways class will be on May 20 from 10-1. In this class, you'll learn how to turn a composition book into a wonderful journal just by covering the outside. Try making one in cork; I've seen some and the result is beautiful.

The Glacier Star Workshop is scheduled to begin on Saturday, May 21. This is the first of six meetings, each on the third Sunday of the month, from 1-5. You don't need to be an expert to make this beautiful quilt! Jackie Kelso, the instructor, loves to teach beginner paper-piecers, but all levels will enjoy making Glacier Star. We are glad to help you select your fabrics here in the shop. The skills you learn in class will allow you to make other Quiltworx quilts with ease.

SAVE THE DATES
June 2-4: Quilters Unlimited "Wing It" Quilt Show at the Dulles Expo Center in Chantilly, VA
June 5: Quilting on a Domestic Sewing Machine with Donelle McAdams
June 10 & 11: Annapolis Quilt Guild "Quilts by the Bay" Quilt Show in Annapolis
July 17: "Inside Aurifil and Aurifil Inside" with Alex Veronelli
July 23-25: It's Christmas in July!
August 11-13: Four County Quilters Guild Quilt Show at the Frederick County Fairgrounds
September 22 & 23: Quilting is a Stitch – a Handi Quilter education event
September 23 & 24: Friendship & Eternal Quilts Guilds Show in Linthicum Heights
October 6-8: Everybody's Quilt Guild Quilt Show in Westminster
November 9-18: Quilters' Quest Shop Hop
COMMUNITY NEWS
George Washington University Museum and the Textile Museum are hosting the traveling Ebony Fashion Fair exhibit now through July 24. In addition to displays of clothing, 50 years' worth of Ebony Magazine covers adorn the walls. The Ebony Fashion Fair was begun in the 1950's as a fundraiser for a hospital in New Orleans and grew from there, exposing black fashion to the world. It wasn't always easy, as you can imagine. Visit the show to learn more!
Friends of Montgomery County Animals Kentucky Derby Party: Loads of fun at the Derby Day Party coming up on May 6. Proceeds from the catered supper, open bar, craft beer table, silent auction, door prizes, and 50/50 betting all benefit the work FMCA does in our animal community. Visit www.fmca.org for more details.
CAPITAL QUILTS BLUE BAG BONANZA Congratulations to Colleen B. who won the April Blue Bag Bonanza prize! In May, the prize is a stack of Stonehouse Garden Fat 16ths from Lynette Anderson Designs and patterns for twenty 4" and 6" pieced blocks from Susan Garman. To be entered in each month's drawing, bring your Capital Quilts Blue Bag with you when you shop. Make sure you show it to the staffer at the register! Upon completion of your sales transaction, your name will be put in the jar for the drawing at the end of the month. Don't have a Blue Bag? Purchase one at the shop, by phone, or online for just $4.99. We save all of the entries for the year, and at the end of the year we draw a Grand Prize Winner from all the entries. Sign up for our 5th Saturday Club! Purchase your Green Tag for $10 and come to our special events on the four 5th Saturdays of 2017. We just had the April sale. The next one is in July! Our thanks to everybody who shops at Capital Quilts and participates in the Blue Bag Bonanza.
Save
Save