Skip Navigation
Website Accessibility
What's New at CQ 4/6/17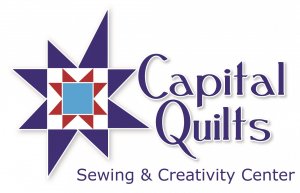 "Sometimes the strength of motherhood is greater than natural laws." Barbara Kingsolver
Dear Stitching Friends,
It is cool and wet outside, but here at Capital Quilts it's warm and bright! Our Clearance department overfloweth with batik, Kaffe, and so much more. There are lots of new collections for you to enjoy, along with a new shipment of fabric from the Kaffe Fassett Collective.
Happy Mother's Day! If you are planning a special time with your mom or your children, I hope it is delightful and fun. Capital Quilts' gift to you is 20% off any regularly-priced notions on May 12-14. (Offer good for in-store purchases of in-stock items only, and may not be combined with any other discount or offer.) Can't decide what to get mom? We have Gift Cards available! Always the perfect pick.
Annie and I leave for Quilt Market in St. Louis next week. These Markets seem to come around more and more quickly! If there is anything you'd like us to look for, reply to this email with your suggestions. I've never been to St. Louis before; I'm looking forward to visiting a new-to-me city. Anybody know of a spectacular restaurant?
The holiday fabric is beginning to arrive. Halloween fabric is listed below in the New and Noteworthy section. I'll try to post arrivals of new collections on Facebook and Instagram between newsletters so that you know what has come. It's about time to start the holiday projects! We are planning a Christmas in July event this year; we are still finalizing plans, but I think we'll have Make-an-Ornament day on July 23, a Capital Quilts Cares workshop on July 24 to make stockings and large drawstring gift bags for children at the NIH Children's Inn, and I don't know about July 25 yet – maybe a visit from Santa? HO, HO, HO!
Plans for Quilters' Quest proceed apace. We've just about finalized the special fabric for this year and the shops are thinking about how they are going to decorate themselves for the Ready-Camera-Action theme. If you are unfamiliar with Quilters' Quest, it is the shop hop in which Capital Quilts participates in November each year. The dates this year are Nov. 9-18. There are 10 shops in the hop, located in Maryland and northern Virginia, and we all have buses that take two days to visit all the shops. Leave the driving to us: find the shop nearest you and sign up to ride the bus! You can do your own driving, of course, but you will have lots of fun and not get so tired if you let us chauffer you. All the shops are accepting reservations now. At Capital Quilts, you can call us, visit us at the shop, or sign up online. We include lunch, snacks, and beverages both days.
Quilters needed! Hospice Caring in Gaithersburg is committed to providing a quilt to each camper who attends their Summer Camp in 2018. These are children whose parent or other loved one has passed away. The child keeps the quilt at the end of camp. Volunteers at Hospice Caring are providing the quilt tops, batting, and backing. If you have taken the ProStitcher class here at Capital Quilts, here is an opportunity to practice your new skills! Pay a one-time fee of $10 to help us defray the cost of thread and utilities, and you can quilt as many of these quilts (there will be 50 of them) here at the shop as you like. Staff member Cindy will be with you while you quilt. Please contact Cindy at puzmas@yahoo.com to make arrangements.
Trivia: Only ONE of you correctly guessed that March is the most popular birthday month in our database. Congratulations to Carol M!

Go 'n' piece,
Alison Zacharkiw



VENDOR SPECIALS:
Janome is having a Spring Sale! We are participating in the sale; in some cases, our prices beat Janome's! Please ask for Annie in the shop if you'd like to know more.

HMC15000: this is Janome's top of the line machine. It has 510 built-in stitches and 980 embroidery designs. It comes with a hard case on wheels, and the new M7050 machine for free! Talk to Annie about how to get a $150 Capital Quilts Gift Card with your purchase.

HMC9400: The 9400 is the premier quilting machine, with an 11" bed space, 3 quick-change needle plates, and the auto pivot function (the foot automatically lifts up when you stop sewing so that you can adjust the fabric). Included in this package is a Learn to Quilt panel and a set of 3 Abbacino Bags, which includes a travel trolley case, a tote bag, and a large zipper pouch.

Skyline S9: This embroidery and sewing package includes the Anna Maria Horner Embroidery Kit and the set of 3 Abbacino Bags. The S9 machine has 300 stitches and 250 embroidery stitches built in, is Wi-Fi Certified, and has automatic thread tension. Much of the technology in it was debuted in the 15000 machine. It's lovely to sew on!

There are also packages available for the S5 and S7, the new M7100 and M7200 machines, the CoverPro 2000CPX, the HD3000, the MOD series of machine, and the MC500E embroidery machine. The Artistic Edge cutting machine is being offered at half-price! WOW!

Do come by and talk to Annie! The sale goes on through May 31, 2017.

Handi Quilter: Now through May 21, receive a FREE Stitch sewing machine with the purchase of any new Handi Quilter quilting machine. I say 'new' because our floor model sale machines don't qualify for the HQ special. The Stitch sewing machines are Janome machines in disguise, so we can service them for you!
Fusion Floor Model: Regularly $13,995, buy it now for $10,496.25. This price includes shipping (a $395 value), installation (a $150 value), a lesson on the use and maintenance of the machine (priceless), a bobbin winder, bobbins, thread, needles, machine oil, a DVD on getting started, and all the tools you need to maintain the machine.

Sew Steady: 18" x 24" large table with FREE light stick (light stick value $29.95), regularly $199, now $119. Offer expires 6/30/2017. The light stick allows you to turn your Sew Steady table or cabinet insert into a light box. You can buy them separately, as well.


NEW AND NOTEWORTHY:



These are just 5 of over 20 bolts of batik from Hoffman. The patterns and colors are amazing. $12.99/yd.
These 5 bolts of sweetness are from Blend. The name of the collection is "Sweet Dreams". $11.99/yd.
From Moda, we have Sweet Blend Prints. They look nice with the Reproduction prints. $11.99/yd.
Love the gray and yellow elephants! Little Safari 2 from Robert Kaufman is flannel and oh, so soft. $12.50/yd.
More Halloween fabric has arrived, this from Blend. "Boo Crew" is a large collection, and "Spooktacular Ghosts" is the three bolts you see here. Both terrific, both $11.99/yd.
Here is an interesting concept, from Shannon Brinkley. She provides the patterns for 6 U.S skylines, including Seattle, New York City, St. Louis, San Francisco, Chicago, and Austin. Sadly, Washington, DC is not represented! She includes instructions for making a quilt/wall hanging, throw pillow, tote bag, and tea towel. This is a great scrap buster; the skylines are made of scraps that are turned into a collage. $15.97


CLASSES:
You can sign up for classes online, by phone at 301-527-0598, or in person at the shop.




Need help sandwiching a quilt? There are appointments available on Friday, May 12.

Crosswalk is a beautiful table runner pattern. Learn how to make it on May 15, 10:30-12:30. Hilary Hastie is your instructor.

Also on May 15 is the first of three classes for Spring Wagon, a delightful applique project. The class meets from 2-4 with Julie Evans as your teacher.

There is much to choose from on May 16! Debra Ball will teach you how to make a T-Shirt Quilt from 10:30-12:30.

Grab a bite to eat and come back for the Maui Glam Bag, a very nice clutch from Pink Sand Beach Designs; Barbara Kascic will provide instruction and tips from 1-4.

When you are finished making your glam bag, hop over to the Handi Quilter room to learn how to use the Handi Quilter Simply Sixteen quilting machine from 2-4. You can quilt your T-Shirt quilt on it later! Annette will teach the Simply Sixteen class.

Learn to use EQ7 on your computer to design your own quilts, change the size of the quilt and/or quilt blocks, preview various fabrics and colorways, calculate fabric yardage and print out templates and so much more! The class is called EQ7 Demystified and Elyse Turkeltaub is teaching it on Friday, May 19, 1-4.

Barbara Bean is offering Getting Started: the Handi Quilter Longarm Machine on Friday, May 19, 6-9 and again the next day, May 20, from 1:30-4:30. You will learn how to use and care for the Avante and the Fusion so that you can rent the machines here at the shop to finish your own quilts.

The May 20th Featherweight Clinic is full, but we have scheduled another one for Saturday, August 5th, 10:30-12:30. Each workshop is limited to 6 participants, so don't wait too long to sign up!

Jenny Trussell and her hubby are retiring to Tennessee this summer, so she's only teaching one more class here at Capital Quilts. Her popular Journal Covers 4 Ways class will be on May 20 from 10-1. In this class, you'll learn how to turn a composition book into a wonderful journal just by covering the outside. Try making one in cork; I've seen some and the result is beautiful.

The Glacier Star Workshop is scheduled to begin on Sunday, May 21. This is the first of six meetings, each on the third Sunday of the month, from 1-5. You don't need to be an expert to make this beautiful quilt! Jackie Kelso, the instructor, loves to teach beginner paper-piecers, but all levels will enjoy making Glacier Star. We are glad to help you select your fabrics here in the shop. The skills you learn in class will allow you to make other Quiltworx quilts with ease. There are just 2 seats left, so don't wait to sign up if you want to take this class!


SAVE THE DATES
June 2-4: Quilters Unlimited "Wing It" Quilt Show at the Dulles Expo Center in Chantilly, VA

June 5: Quilting on a Domestic Sewing Machine with Donelle McAdams

June 10 & 11: Annapolis Quilt Guild "Quilts by the Bay" Quilt Show in Annapolis

July 17: "Inside Aurifil and Aurifil Inside" with Alex Veronelli

July 23-25: It's Christmas in July!

August 11-13: Four County Quilters Guild Quilt Show at the Frederick County Fairgrounds

September 22 & 23: Quilting is a Stitch – a Handi Quilter education event

September 23 & 24: Friendship & Eternal Quilts Guilds Show in Linthicum Heights

October 6-8: Everybody's Quilt Guild Quilt Show in Westminster

November 9-18: Quilters' Quest Shop Hop


COMMUNITY NEWS
George Washington University Museum and the Textile Museum are hosting the traveling Ebony Fashion Fair exhibit now through July 24. In addition to displays of clothing, 50 years' worth of Ebony Magazine covers adorn the walls. The Ebony Fashion Fair began in the 1950's as a fundraiser for a hospital in New Orleans and grew from there, exposing black fashion to the world. It wasn't always easy, as you can imagine. Visit the show to learn more!



CAPITAL QUILTS BLUE BAG BONANZA
For May, the prize is a stack of Stonehouse Garden Fat 16ths from Lynette Anderson Designs and patterns for twenty 4" and 6" pieced blocks from Susan Garman. To be entered in each month's drawing, bring your Capital Quilts Blue Bag with you when you shop. Make sure you show it to the staffer at the register! Upon completion of your sales transaction, your name will be put in the jar for the drawing at the end of the month. Don't have a Blue Bag? Purchase one at the shop, by phone, or online for just $4.99. We save all of the entries for the year, and at the end of the year we draw a Grand Prize Winner from all the entries.

Sign up for our 5th Saturday Club! Purchase your Green Tag for $10 and come to our special events on the four 5th Saturdays of 2017. We just had the April sale. The next one is in July!

Our thanks to everybody who shops at Capital Quilts and participates in the Blue Bag Bonanza.
Save
Save
Save