Skip Navigation
Website Accessibility
What's New at CQ 5/25/17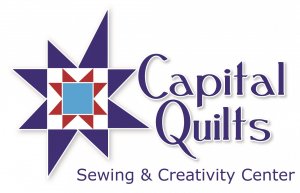 "A figure with curves always offers a lot of interesting angles." Wesley Ruggles
Dear Fellow Fabriholics,
Annie and I are back from Quilt Market and we are brimming with ideas for classes, events, projects, workshops, and quilts! The "hot" trend is hand-stitching. This includes traditional embroidery and hand-quilting, but the concept has expanded to include big stitches, Boro stitching, Sashiko, and the like, using perle cotton, floss, wool thread, and other non-traditional threads. Julie Herman of Jaybird Quilts made a quilt using her new knit fabrics and hand-quilted it using perle cotton. Judy Gula of Artistic Artifacts here in Alexandria is using 8, 10, and 12-weight threads to stitch on hand-printed batiks; we took her class and thoroughly enjoyed ourselves! We are planning on offering hand stitching classes here at Capital Quilts.
Curves are still popular, including various versions of Dresden Plate quilts, curved piecing, and, new from Creative Grids, an oval template. We've ordered the new template and a pattern to go with; more patterns will be forthcoming, I am sure. Also part of this are Robin Ruth's Mariner's Compass templates; she has a fat and a skinny template now, and many more patterns. Look for a class using this template in the fall!
I took a class from Laura Heine, the designer who does collage quilts (Lulu the Elephant). Her newest quilt is a pincushion; what a fun quilt to hang in your sewing room! She is using Pattern Ease as the base (as opposed to voile, which she used to use and which you may see specified in her early patterns) and Steam-a-Seam 2 (not Lite). She said that if your scissors are getting gummy while cutting through the Steam-a-Seam, cut through a dryer sheet to clean them off, and that if your needle is getting gummy while you sew, then you haven't fused the Steam-a-Seam properly.
We did videos of Elizabeth Hartman, Julie Herman, Anna Maria Horner, and Carolyn Friedlander talking about their newest quilts. Look for the videos on Instagram and Facebook. There are lots of other pictures, too.
Alison Glass's new lines, Chroma and Diving Board, are ordered and should arrive in August and September respectively. We brought back the new Jaybird Quilts pattern, "Cookie Cutter" with us and have it in the shop. I found some yoga-themed fabric, which we have had some requests for recently; it should arrive in the shop next month sometime. For you wool lovers, we have new wool bindles coming from Mary Flanagan Woolens. Look for shipments of Aboriginal fabrics in both June and July, including a couple of new designs.
We have few seats left in the Westalee rulers lecture with Donelle McAdams on Monday, June 5. The fun begins at 10!
We will be vending at the Quilters Unlimited Quilt Show "Wing It" at the Dulles Expo Center in Chantilly, VA on June 2, 3 and 4, and at the Annapolis Quilt Guild's show "Quilting by the Bay" at the Annapolis High School on June 10 and 11. Come by and see us!

Go 'n' piece,
Alison Zacharkiw



VENDOR SPECIALS:
Janome is having a Spring Sale! We are participating in the sale; in some cases, our prices beat Janome's! Please ask for Annie in the shop if you'd like to know more.

HMC15000: this is Janome's top of the line machine. It has 510 built-in stitches and 980 embroidery designs. It comes with a hard case on wheels, and the new M7050 machine for free! Talk to Annie about how to get a $150 Capital Quilts Gift Card with your purchase.

HMC9400: The 9400 is the premier quilting machine, with an 11" bed space, 3 quick-change needle plates, and the auto pivot function (the foot automatically lifts up when you stop sewing so that you can adjust the fabric). Included in this package is a Learn to Quilt panel and a set of 3 Abbacino Bags, which includes a travel trolley case, a tote bag, and a large zipper pouch.

Skyline S9: This embroidery and sewing package includes the Anna Maria Horner Embroidery Kit and the set of 3 Abbacino Bags. The S9 machine has 300 stitches and 250 embroidery stitches built in, is Wi-Fi Certified, and has automatic thread tension. Much of the technology in it was debuted in the 15000 machine. It's lovely to sew on!

There are also packages available for the S5 and S7, the new M7100 and M7200 machines, the CoverPro 2000CPX, the HD3000, the MOD series of machine, and the MC500E embroidery machine. The Artistic Edge cutting machine is being offered at half-price! WOW!

Do come by and talk to Annie! The sale goes on through May 31, 2017.

Handi Quilter: Today through June 6, Handi Quilter is offering $0 down and 0% interest if you finance your purchase of any of the Handi Quilter machines or ProStitcher and only $20 shipping. Come in and try one of the machines and find out how smoothly the machine glides as you quilt!
Fusion Floor Model: Regularly $13,995, buy it now for $10,496.25. This price includes shipping (a $395 value), installation (a $150 value), a lesson on the use and maintenance of the machine (priceless), a bobbin winder, bobbins, thread, needles, machine oil, a DVD on getting started, and all the tools you need to maintain the machine.

Sew Steady: 18" x 24" large table with FREE light stick (light stick value $29.95), regularly $199, now $119. Offer expires 6/30/2017. The light stick allows you to turn your Sew Steady table or cabinet insert into a light box. You can buy them separately, as well.


NEW AND NOTEWORTHY:



For all your future astronauts, we have three bolts from Makower's "Galaxy" line. $12.50/yard
Here is a wonderful group for a quilt for a child's bedroom at the beach! It's called "Sail Away" and it is from Clothworks. The bolt fabric is $12.50/yard and the panel is $8.95 each.
"Lilliana" is a sweet collection from Clothworks. There are over 20 bolts in the group. $12.50/yard.
We have more cork! Imported directly from Portugal, it can be used in any way you would use fabric. You can sew it, stamp it, embroider it, print on it; use it to make coasters, shoes, totes, wallets, journal covers, placemats and table runners. The red is deeper than this picture shows. The light blue has silver bits in it. The navy is so dark it almost looks black. The mottled one is an intriguing combination of light and dark brown, white, and red. $84/yard (36" x 56); $42/half yard (18" x 56"); and $21/quarter yard (18" x 28").


CLASSES:
You can sign up for classes online, by phone at 301-527-0598, or in person at the shop.




The May meeting of Sit 'n' Sew is on Friday, May 26, 5-9. Bring your project, supplies, and some food to share with your fellow stitchers! FREE!
The next Quilt of Valor workshop is on Saturday, May 27, 2-5. We have five seats available still if you would like to participate in the making of quilts for veterans. All fabric is provided. Please bring a sewing machine, neutral thread, and basic sewing supplies.
We are having a Capital Quilts Cares workshop to make Pet Beds on Thursday, June 1, 1-3. You can sew beds together or stuff the assembled beds with scraps. If you've been saving up scraps, please bring them to the shop on Tuesday or Wednesday, May 30 or 31. They must be cut up into pieces not larger than 2" square; anything larger will clump and make a lumpy bed for the pet. All fabric is provided to make the beds. Donations are always gratefully accepted for any of our Capital Quilts Cares events.
Learn more about needles and threads and how they work together to produce the look and quality stitch you want on Saturday, June 3, 10:30-11:30. Barbara Kascic will enlighten you in her Needles and Thread lecture.
Put down your needle and pick up a pencil to learn how to make a mandala in Zentangle: The Mandala, Saturday, June 3, 3-5. Pat Dee is teaching the wonderful art of organized doodling.
There is more Zentangle coming your way the next day, Sunday, June 4. From 12:30-2:30, take the Zentangle Workshop for Beginners. Immediately following, from 3-5, decorate marble coasters using Zentangle patterns. There is a small supply fee for a starter kit in the first session and another for the marble in the second session.
Getting Started: the ProStitcher is the class to take if you want to become familiar with the HQ ProStitcher or become certified to use ours here in the shop. Barbara Bean is teaching the class from 10:30-1:30 on Monday, June 5.
Join us on Monday, June 5 from 10-1 to learn more about Sew Steady Tables and Westalee Quilting Templates. Donelle McAdams will be demonstrating how to use these tools to quilt like a longarmer using your domestic sewing machine!
Are you a beginner quilter, or do you know someone who would like to get started learning how to quilt? Hilary Hastie is offering Let's Start Quilting, a five-week class for beginners starting on Tuesday, June 6, 10:30-12:30. Class meets every Tuesday morning for five weeks. Hilary will talk about fabric selection, how to cut using a rotary cutter and ruler, stitching a good ¼" seam, pressing, quilting, and binding. There will be lots of great tips along the way! Purchase a 45mm rotary cutter, cutting mat, and 24" ruler together and get a 15% discount on all three items.
Learn how to use the Handi Quilter Sweet Sixteen sit-down quilting machine on Thursday, June 8, 10:30-12:30. Annette Burns is teaching. Taking this class certifies you to rent the shop's machine to quilt your own quilts.
Annie's class, Retreat Bag, on Thursday, June 8, is full, but another class has been scheduled for 6pm on Wednesday, July 19 and another for Thursday, July 20 at 1pm. This is a nifty bag; the hardware keeps the bag opened wide to allow you to rumble around inside it easily. It zips closed to prevent anything from falling out. Sign up soon as this is a very popular class!
Become certified to use the shop's Avante and Fusion longarm quilting machines in Getting Started: the HQ Longarm Machine on Friday, June 9, 6-9pm or June 16, 11:30-2:30.

SAVE THE DATES
June 2-4: Quilters Unlimited "Wing It" Quilt Show at the Dulles Expo Center in Chantilly, VA

June 5: Quilting on a Domestic Sewing Machine with Donelle McAdams

June 10 & 11: Annapolis Quilt Guild "Quilts by the Bay" Quilt Show in Annapolis

July 17: "Inside Aurifil and Aurifil Inside" with Alex Veronelli

July 23-25: It's Christmas in July!

August 11-13: Four County Quilters Guild Quilt Show at the Frederick County Fairgrounds

September 22 & 23: Quilting is a Stitch – a Handi Quilter education event

September 23 & 24: Friendship & Eternal Quilts Guilds Show in Linthicum Heights

October 6-8: Everybody's Quilt Guild Quilt Show in Westminster

November 9-18: Quilters' Quest Shop Hop


COMMUNITY NEWS
George Washington University Museum and the Textile Museum are hosting the traveling Ebony Fashion Fair exhibit now through July 24. In addition to displays of clothing, 50 years' worth of Ebony Magazine covers adorn the walls. The Ebony Fashion Fair began in the 1950's as a fundraiser for a hospital in New Orleans and grew from there, exposing black fashion to the world. It wasn't always easy, as you can imagine. Visit the show to learn more!



CAPITAL QUILTS BLUE BAG BONANZA
For May, the prize is a stack of Stonehouse Garden Fat 16ths from Lynette Anderson Designs and patterns for twenty 4" and 6" pieced blocks from Susan Garman. To be entered in each month's drawing, bring your Capital Quilts Blue Bag with you when you shop. Make sure you show it to the staffer at the register! Upon completion of your sales transaction, your name will be put in the jar for the drawing at the end of the month. Don't have a Blue Bag? Purchase one at the shop, by phone, or online for just $4.99. We save all of the entries for the year, and at the end of the year we draw a Grand Prize Winner from all the entries.

Sign up for our 5th Saturday Club! Purchase your Green Tag for $10 and come to our special events on the four 5th Saturdays of 2017. We just had the April sale. The next one is in July!

Our thanks to everybody who shops at Capital Quilts and participates in the Blue Bag Bonanza.
Save
Save
Save