What's New at CQ 6/1/17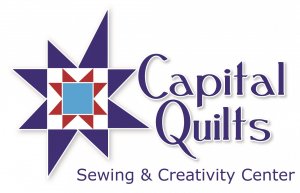 "My pals, such as they are, in Hollywood, ask me why I love to travel to D.C. so much, why it's a vacation destination for me. I say, 'Because I sometimes have perfect days there.'" Ben Stein
Dear Fellow Traveling Sewists,
It's June and that means it's almost time for Row by Row! The theme this year is "Row by Row On The Go!". Our transportation-themed row is nearly complete, and in keeping with our Row by Row tradition, it features iconic DC landmarks. Get the free pattern for our row in the shop, or purchase the kit with the free pattern included in the kit, starting June 21.
For those of you who are unfamiliar with Row by Row, it is an international shop hop that runs from June 21 through September 5. Thousands of quilt shops all over the country and in Canada and Europe are participating. As you travel this summer, stop in the local quilt shop; they will give you a free pattern for their row design. They may also have kits for their row and a fabric license plate as a memento of your travels, plus you will have fun visiting lots of shops! Make a quilt using at least 8 of the 2017 Row by Row patterns, bound and labeled, and take it to any participating quilt shop. If you are the first to bring in a Row by Row On the Go quilt to that shop, they will give you 25 fat quarters and a certificate of achievement; if that shop's row is in your quilt, you will also get a bonus prize. This challenge ends October 31. You can find a map of participating shops and much more information at www.rowbyrowexperience.com.
New this year is the Row by Row Junior program. We are very excited about it; we love to have kids in the shop and finding out how much fun it is to sew. Row by Row Junior is designed for kids ages 6 to 14. They travel along with an adult. They collect free row patterns designed just for them to make, and they can learn to sew at home with family help and support from the Row by Row website. Row by Row Junior follows the same rules and time schedule as adult Row by Row Experience, June 21 through September 5. Kids need to be in the shop to get the free pattern handout, but anyone can buy a kit. Grandparents and traveling family and friends can bring them home as gifts or souvenirs. Row by Row Junior designed the five different row patterns so you can be sure they are kid-friendly. Make it an adventure traveling to collect all five and seeing how different shops make up their row. For our row, we selected "Rover," because we love dogs! We even have "worker" dogs that come to work with their people sometimes. We'll be awarding "I Made This!" ribbons to the first five kids who return with something made using a Row by Row Junior pattern. Any sewing effort will be celebrated, not just quilting. "We want our kids to learn how to sew and carry on this craft that's so dear to us," explains Janet Lutz, Row by Row's founder. "Traveling to new places, collecting something just for them, visiting Grandma, summer vacation...this is all part of the wonder and excitement of the Row by Row Experience. Please join us."

There are 9 seats left for the Westalee/Sew Steady event this Monday, June 5, 10-1. Donelle McAdams will be here to demonstrate how to use the new Westalee templates and Sew Steady tables to quilt your quilts like a longarmer, but on your own domestic sewing machine. Find out how to achieve the same beautiful designs the longarmers create with the Westalee rulers and templates. The afternoon hands-on workshop is full, but if you put your name on the wait list, we will call you first when we schedule another one.
We will be vending at the Quilters Unlimited Quilt Show "Wing It" at the Dulles Expo Center in Chantilly, VA on June 2, 3 and 4, and at the Annapolis Quilt Guild's show "Quilting by the Bay" at the Annapolis High School on June 10 and 11. Come by and see us!

Go 'n' piece,
Alison Zacharkiw



VENDOR SPECIALS:

Handi Quilter: Today through June 6, Handi Quilter is offering $0 down and 0% interest if you finance your purchase of any of the Handi Quilter machines or ProStitcher and only $20 shipping. Come in and try one of the machines and find out how smoothly the machine glides as you quilt!
Fusion Floor Model: Regularly $13,995, buy it now for $10,496.25. This price includes shipping (a $395 value), installation (a $150 value), a lesson on the use and maintenance of the machine (priceless), a bobbin winder, bobbins, thread, needles, machine oil, a DVD on getting started, and all the tools you need to maintain the machine.

Sew Steady: 18" x 24" large table with FREE light stick (light stick value $29.95), regularly $199, now $119. Offer expires 6/30/2017. The light stick allows you to turn your Sew Steady table or cabinet insert into a light box. You can buy them separately, as well.
Heavenly Seating: We will be demonstrating the new sewing chairs at both of the guild shows and so are able to offer you a 10% discount on these marvelous chairs from this weekend through June 18. The ergonomic chairs are designed to support your body and are adjustable for height, tilt, and lumbar support. And, important for us fabric lovers, there are over 150 fabrics to choose from for your chair! Come to the shows on the weekends or to the shop during the week between shows to see and sit on the chairs.


NEW AND NOTEWORTHY:

Here are two new patterns that will display the license plates you collect on your Row x Row journey: "Beep Beep" and "On the Go" are both from Patch Abilities. They are $11 and $12.50, respectively.

"Cookie Cutter" by Julie Herman of Jaybird Quilts is a fun pattern that will showcase any sort of fabric you want, even scraps. Kim Jalette will be teaching this class here at Capital Quilts on Sunday, July 30, 1-4! The pattern is $10.
Annie and I found a great new clutch pattern at Quilt Market! Two of them, actually, both by May Chappel, both $12.00. "Clutched" is the larger of the two, and "Cased" is a great size for taking your rotary cutter and other small tools to classes and retreats. Both patterns use the same size hardware, and both are designed to be completed in just a few hours. Look for a class using these patterns later in the year.
We also found some new clothing patterns. From Liesl + Co. we have the "Bistro Dress". This is a semi-fitted sheath dress, and the pattern includes options for a wide variety of styles; $14.95, intermediate skill level. Also from Liesl + Co. is "Soho Shorts + Skirt". The pleated shorts and skirt have a contour waistband, an invisible zipper in the side seam, and front pockets; $12.95, intermediate skill level. Just in from Grainline Studio is the "Farrow Dress", featuring an elegant A-line shape with a flattering diagonal seam than conceals inseam pockets. Make it with or without sleeves. $18.00, advanced beginner skill level.
In the new tool department, we have Magic Clips from Taylor Seville. They look like Wonder Clips with a metal tongue that serves as a sewing guide. Use them instead of pins; they are designed such that you can sew right over them. A package of 12 is $14.99. We found another nifty template at Market: Nested Petal Templates from Cabin in the Woods Quilters. Create two sizes of petals with the template and use them to make fun, scrappy quilts such as "Scrap Petal Garden", which is currently out of stock at our distributor but which we have on order. The template package is $10.
We have added to our line of Tulip needles. We now carry applique, chenille, milliners, and sashiko needles. A package of 6 is $8.50. You will be amazed at how pleasureable it is to stitch with these needles.
Just for fun, we have these Mr. Fox sewing kits! $4.99.
More Christmas fabric has arrived! Moda has sent along a 20-bolt collection called Merrily that has two wonderful panels to accompany it. The fabric is $11.99/yd. and the panels are $11.99 each. Four bolts from Makower's "Traditional Metallic Christmas" line have small prints and a nice visual texture; $12.50/yd. There is a contemporary line from Contempo called Mulberry Lane that is charming; $11.99/yd.


CLASSES:
You can sign up for classes online, by phone at 301-527-0598, or in person at the shop. Be sure to check the class calendar on our website frequently, as we post new classes all the time!

Learn more about needles and threads and how they work together to produce the look and quality stitch you want on Saturday, June 3, 10:30-11:30. Barbara Kascic will enlighten you in her Needles and Thread lecture.
Zentangle is coming your way on Sunday, June 4. From 12:30-2:30, take the Zentangle Workshop for Beginners. Immediately following, from 3-5, decorate marble coasters using Zentangle patterns. There is a small supply fee for a starter kit in the first session and another for the marble in the second session.
Getting Started: the ProStitcher is the class to take if you want to become familiar with the HQ ProStitcher or become certified to use ours here in the shop. Barbara Bean is teaching the class from 10:30-1:30 on Monday, June 5.
As mentioned above, we'd love to have you join us on Monday, June 5 from 10-1 to learn more about Sew Steady Tables and Westalee Quilting Templates. Donelle McAdams will be demonstrating how to use these tools to quilt like a longarmer using your domestic sewing machine! Interested? Please call us to register, as there is limited seating available.

Are you a beginner quilter, or do you know someone who would like to get started learning how to quilt? Hilary Hastie is offering Let's Start Quilting, a five-week class for beginners starting on Tuesday, June 6, 10:30-12:30. Class meets every Tuesday morning for five weeks. Hilary will talk about fabric selection, how to cut using a rotary cutter and ruler, stitching a good ¼" seam, pressing, quilting, and binding. There will be lots of great tips along the way! Purchase a 45mm rotary cutter, cutting mat, and 24" ruler together and get a 15% discount on all three items.
Learn how to use the Handi Quilter Sweet Sixteen sit-down quilting machine on Thursday, June 8, 10:30-12:30. Annette Burns is teaching. Taking this class certifies you to rent the shop's machine to quilt your own quilts.
Annie's class, Retreat Bag, on Thursday, June 8, is full, but another class has been scheduled for 6pm on Wednesday, July 19 and another for Thursday, July 20 at 1pm. This is a nifty bag; the hardware keeps the bag opened wide to allow you to rumble around inside it easily. It zips closed to prevent anything from falling out. Sign up soon as this is a very popular class!
Become certified to use the shop's Avante and Fusion longarm quilting machines in Getting Started: the HQ Longarm Machine on Friday, June 9, 6-9pm or June 16, 11:30-2:30.
The next Sandwich Night is Monday, June 12. Bring your quilt top, batting, backing, and spray or pins and let us help you assemble your quilt sandwich. (If you are going to do your quilting on a stand-up longarm machine or have someone do it for you, you don't need to sandwich the quilt.) Appointments are available at 6, 7, and 8.
Annette is back on June 13 to teach you how to use the Simply Sixteen, Handi Quilter's smallest stand-up quilting machine. Taking this class certifies you to rent the shop's Simply Sixteen machine. It is also an excellent introduction to Handi Quilter machines if you are contemplating purchasing your own. Class meets from 7-9.
Kim Jalette and our very own Kat are teaming up to teach their Big Hexie Love quilt. Showcase some of your favorite fabrics in these big hexies! Learn how to do English Paper Piecing to make hexies; use your machine to applique your hexies to the quilt blocks. Starts portable, ends fast! Make anything from a placemat to a king-sized quilt. Class meets on Thursday, June 15 and 29, 7-9.

The next Capital Quilts Cares: Quilts of Valor workshop meets on Saturday, June 17, 2-5. The event is free and fabric is provided (donations are always gratefully accepted!), along with some good eats that Sue Moats brings along! We will make a star quilt during this workshop. I hope you will join us for this worthy endeavor!

SAVE THE DATES
June 2-4: Quilters Unlimited "Wing It" Quilt Show at the Dulles Expo Center in Chantilly, VA

June 5: Quilting on a Domestic Sewing Machine with Donelle McAdams

June 10 & 11: Annapolis Quilt Guild "Quilts by the Bay" Quilt Show in Annapolis

July 17: "Inside Aurifil and Aurifil Inside" with Alex Veronelli

July 23-25: It's Christmas in July!

August 11-13: Four County Quilters Guild Quilt Show at the Frederick County Fairgrounds

September 22 & 23: Quilting is a Stitch – a Handi Quilter education event

September 23 & 24: Friendship & Eternal Quilts Guilds Show in Linthicum Heights

October 6-8: Everybody's Quilt Guild Quilt Show in Westminster

November 9-18: Quilters' Quest Shop Hop


COMMUNITY NEWS
Again this summer, Lavner Camps is offering two sessions of interest to young sewists at The George Washington University's Foxhall Road campus in northwest DC. One camp focuses on hand sewing stuffed animals, and the other on fashion design.

The Fashion Design camp is designed for 7-10 year olds, and has two sessions: June 26-30 and July 24-28.
The Hand Sewing Stuffed Animal Creations is designed for 8-12 year olds, and also has two sessions: June 26-30 and July 17-21. The camps provide all necessary supplies and materials.

This is a great opportunity to introduce a young person to the excitement of sewing. For complete information, check out the Lavner Camps website: http://www.lavnercampsandprograms.com. Click on the proper camp name, then on the Washington, DC section.

George Washington University Museum and the Textile Museum are hosting the traveling Ebony Fashion Fair exhibit now through July 24. In addition to displays of clothing, 50 years' worth of Ebony Magazine covers adorn the walls. The Ebony Fashion Fair began in the 1950's as a fundraiser for a hospital in New Orleans and grew from there, exposing black fashion to the world. It wasn't always easy, as you can imagine. Visit the show to learn more!



CAPITAL QUILTS BLUE BAG BONANZA
Congratulations to Bobbie D., May's winner of a stack of Stonehouse Garden Fat 16ths from Lynette Anderson Designs and patterns for twenty 4" and 6" pieced blocks from Susan Garman. June's prize is a book, Grandma's in the Garbage; "Nessie" a pattern by Elizabeth Hartman; a fat quarter of Flamingo, Kona's color of the year; and an itty bitty soap from Sweet Bee Designs. To be entered in each month's drawing, bring your Capital Quilts Blue Bag with you when you shop. Make sure you show it to the staffer at the register! Upon completion of your sales transaction, your name will be put in the jar for the drawing at the end of the month. Don't have a Blue Bag? Purchase one at the shop, by phone, or online for just $4.99. We save all of the entries for the year, and at the end of the year we draw a Grand Prize Winner from all the entries.

Sign up for our 5th Saturday Club! Purchase your Green Tag for $10 and come to our special events on the four 5th Saturdays of 2017. The next one is in July!

Our thanks to everybody who shops at Capital Quilts and participates in the Blue Bag Bonanza.
Save
Save
Save