Skip Navigation
Website Accessibility
What's New at CQ 6/8/17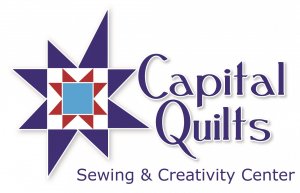 "Your attitude is like a box of crayons that color your world. Constantly color your picture gray, and your picture will always be bleak. Try adding some bright colors to the picture by including humor, and your picture begins to lighten up." Allen Klein
Dear Friends of Fabric,

Alison is away for the week, but never fear! We have everything under control, including vending at another quilt show this weekend! Do come out to the Annapolis High school to view all the wonderful quilts, attend fantastic demos, and do a little shopping. We'd love to see you there.

Annapolis Quilt Guild Show
Quilts By the Bay

Saturday, June 10, 2017, 10:00 am - 5:00 pm
Sunday, June 11, 2017, 11:00 am - 4:00 pm
Annapolis High School, 2700 Riva Road, Annapolis, MD
On Display
200 Member Made Quilts, Wall Hangings, Bags, and Clothing
Hoffman Challenge Quilts
Special Exhibit
To Do
Visit more than 20 Vendors
FREE Demonstrations on both days - of lots of exciting techniques are given throughout the quilt show
Silent Auction (includes a Singer Featherweight and other amazing items)
Raffle Quilt, Raffle Baskets, Raffle items (Singer Featherweight and a mid-sized longarm!)
Professional Quilt Appraisal Available
Shop the Boutique for new handmade items (a record number of sellers this year!)
Shop the Country Store (quilting, sewing, knitting, crocheting, and much more) for amazing deals,
often at "yard sale" prices
Children's Hunt
Voting and much more!
Have you been to the shop lately? Our newest Gallery exhibit consists of retired shop models that we are selling. There are some great deals to be had here! Sorry, but you may not use any discounts when purchasing these items.

Go 'n' Piece,
The Staff at Capital Quilts



VENDOR SPECIALS:
SEW STEADY is offering Wish Table + Free Light Stick 22-1/2" x 25-1/2" Circle Sewing & Drawer Table for only $199, a $29 savings. This package includes several features as requested by quilters and sewers alike: 22-1/2" x 25-1/2". Includes: 3 beveled edges, 9" x 14" blue compartmentalized notions tray, Circles Sewing Tool, Universal Table Grid, and Table Lock. And Get a free Light Stick with purchase thru 3/31/2017!
NEW & NOTEWORTHY:

We have five soft and lovely grey prints from Shell Rummel's Quiet Moments collection. $12.50/yard.

Little Genuis is Northcott's latest collection in support of Quilts for Kids Inc., a charity creating quilts for children with life-threatening illnesses or those who have suffered from abuse. We have four science-y prints, $12.50/yd.

From Julie Hermann of Jaybird Quilts, we have Alphabet Soup. Build your own personalized projects with letters & numbers cut with the Hex N More & Super Sidekick rulers, all with no Y seams! The book includes full color directions for all letters of the alphabet, numbers 0 to 9, coloring pages, full size templates and eight projects that you can make with the personalized blocks of your choice. Projects include: Letter & Number Tiles for Banners & Frames, Monogram Pillow, Table Runner, Signs, a Baby Quilt & a Tote Bag. The possibilities of what you can make with Alphabet Soup are endless! MSRP $29.98, only $25.48 at Capital Quilts!

Muffin Tops Quilt is a great pattern for perfecting curved piecing, and also featuring prints both large and small. It is built with 12in blocks and goes together quicker than you'd think! Make it in any size, baby to king. $12.00

The Clammy 12in is an innovative multi function template that can be used to cut 12in clamshells, circles, half circles, quarter circles, and orange peel shapes! (the Muffin Tops Quilt uses this tool!) This is the "new and improved" Clammy 12in which now includes registration marks right on the template for easy transfer to your shapes. $28.00


CLASSES:

You can sign up for classes online, by phone at 301-527-0598, or in person at the shop.

The next Sandwich Night is Monday, June 12. Bring your quilt top, batting, backing, and spray or pins and let us help you assemble your quilt sandwich. (If you are going to do your quilting on a stand-up longarm machine or have someone do it for you, you don't need to sandwich the quilt.) Only one appointment is currently available, at 6.
On June 13, Annette is teaching you how to use the Simply Sixteen, Handi Quilter's smallest stand-up quilting machine. Taking this class certifies you to rent the shop's Simply Sixteen machine. It is also an excellent introduction to Handi Quilter machines if you are contemplating purchasing your own. Class meets from 7-9.
Kim Jalette and our very own Kat are teaming up to teach their Big Hexie Love quilt. Showcase some of your favorite fabrics in these big hexies! Learn how to do English Paper Piecing to make hexies; use your machine to applique your hexies to the quilt blocks. Starts portable, ends fast! Make anything from a placemat to a king-sized quilt. Class meets on Thursday, June 15 and 29, 7-9.
The next Capital Quilts Cares: Quilts of Valor workshop meets on Saturday, June 17, 2-5. The event is free and fabric is provided (donations are always gratefully accepted!), along with some good eats that Sue Moats brings along! We will make a star quilt during this workshop. I hope you will join us for this worthy endeavor! (Please call or email to register.)

This nifty Round Tuffet comes together quickly using the Creative Grids 15-degree Triangle Ruler. Add legs and prop your feet up. Annie shows you how it goes together on Friday, June 23rd, 10:30-4:30.

The following day, Saturday, June 24th from 11-5, Annie walks you through making the rectangular Patchwork Bench. This is a great fun bench for your home, measuring 15 1/2" tall x 36" wide and 16" deep. The cover for the bench is made up of simple squares, but you can be more adventurous with your patchwork design. This is also a great way to use up scraps or you can be more planned with your fabric choice.



SAVE THE DATES
June 10 & 11: Annapolis Quilt Guild "Quilts by the Bay" Quilt Show in Annapolis

July 17: "Inside Aurifil and Aurifil Inside" with Alex Veronelli

July 23-25: It's Christmas in July!

August 11-13: Four County Quilters Guild Quilt Show at the Frederick County Fairgrounds

September 22 & 23: Quilting is a Stitch – a Handi Quilter education event

September 23 & 24: Friendship & Eternal Quilts Guilds Show in Linthicum Heights

October 6-8: Everybody's Quilt Guild Quilt Show in Westminster

November 9-18: Quilters' Quest Shop Hop


COMMUNITY NEWS
Again this summer, Lavner Camps is offering two sessions of interest to young sewists at The George Washington University's Foxhall Road campus in northwest DC. One camp focuses on hand sewing stuffed animals, and the other on fashion design.
The Fashion Design camp is designed for 7-10 year olds, and has two sessions: June 26-30 and July 24-28.
The Hand Sewing Stuffed Animal Creations is designed for 8-12 year olds, and also has two sessions: June 26-30 and July 17-21. The camps provide all necessary supplies and materials.
This is a great opportunity to introduce a young person to the excitement of sewing. For complete information, check out the Lavner Camps website: http://www.lavnercampsandprograms.com. Click on the proper camp name, then on the Washington, DC section.

George Washington University Museum and the Textile Museum are hosting the traveling Ebony Fashion Fair exhibit now through July 24. In addition to displays of clothing, 50 years' worth of Ebony Magazine covers adorn the walls. The Ebony Fashion Fair began in the 1950's as a fundraiser for a hospital in New Orleans and grew from there, exposing black fashion to the world. It wasn't always easy, as you can imagine. Visit the show to learn more!



CAPITAL QUILTS BLUE BAG BONANZA
June's prize is a book, Grandma's in the Garbage; "Nessie" a pattern by Elizabeth Hartman; a fat quarter of Flamingo, Kona's color of the year; and an itty bitty soap from Sweet Bee Designs. To be entered in each month's drawing, bring your Capital Quilts Blue Bag with you when you shop. Make sure you show it to the staffer at the register! Upon completion of your sales transaction, your name will be put in the jar for the drawing at the end of the month. Don't have a Blue Bag? Purchase one at the shop, by phone, or online for just $4.99. We save all of the entries for the year, and at the end of the year we draw a Grand Prize Winner from all the entries.

Sign up for our 5th Saturday Club! Purchase your Green Tag for $10 and come to our special events on the four 5th Saturdays of 2017. The next one is in July!

Our thanks to everybody who shops at Capital Quilts and participates in the Blue Bag Bonanza.
Save
Save
Save