What's New at CQ 6/15/17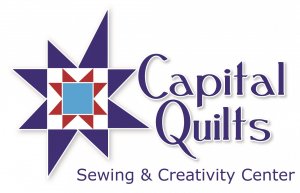 "I'm always astonished by a forest. It makes me realise that the fantasy of nature is much larger than my own fantasy. I still have things to learn." Gunter Grass

Dear Lovers of All Things Fabric,
I am newly returned from a week in Seattle, where we celebrated both my daughter's receiving her Master Degree in Communications from the University of Washington and her birthday. It was a joy to spend time with her, as she lives in Seattle and we don't get to share hugs much! We spent three days on the Olympic Peninsula, hiking in the rain forest and walking the beaches. At Ruby Beach, we saw 8 bald eagles, two of them juveniles, all on one small island and on a sand bar right in front of it; that was quite a sight. Everything grows big in the rain forest: the trees are as much as 200 feet tall and bigger at the base than a mid-sized car, and the Banana slugs can get to be 8" long; I saw one that was about 6". The cowbird, a robin-sized black bird with a brown head, makes the most beautiful bell-like bird song. The rain forest was green and lush and quiet, a very soothing place.

The shop looked great this morning when I walked in after my week away: a huge thank you to my wonderful staff! Our collection of Christmas fabrics has grown while I was away, and there is a brand new sewing cabinet in the Janome department that is pretty nifty! Horn is working hard at creating modular systems that you can add to as your needs grow.

The 10% discount on Heavenly Seating chairs is good through Sunday. Don't delay in getting one of these fabulous chairs. Everyone I know who has one is raving about how comfortable they are and how much longer they can sew because they are comfortable and supported.


Row by Row begins in just one week. Here is what our "On the Go" row looks like:


Patterns and kits can be obtained beginning on June 21.

Go 'n' piece,
Alison Zacharkiw
VENDOR SPECIALS:
SEW STEADY is offering Wish Table + Free Light Stick 22-1/2" x 25-1/2" Circle Sewing & Drawer Table for only $199, a $29 savings. This package includes several features as requested by quilters and sewers alike: 22-1/2" x 25-1/2". Includes: 3 beveled edges, 9" x 14" blue compartmentalized notions tray, Circles Sewing Tool, Universal Table Grid, and Table Lock. And Get a free Light Stick with purchase thru 6/30/2017!

NEW & NOTEWORTHY:

From Moda, we have Hocus Pocus, a fun and lively Halloween collection. $11.99/yard

Also from Moda, Merry Merry by Kate Spain manages to be both classic and fresh looking. $11.99/yard

We have some lovely blue and yellow florals from Camelot's Do What You Love collection. $11.99/yard

Our 2017 Row by Row plate is here! This year, we went in a different direction, trying to ensure that no one ever forgets our email address! We've also brought in a very special Washington, DC plate; it's the only one you'll find! While not an "official" RxR item, it is similar in design, and also created by Zebra Patterns. Plates are $5.99 each



CLASSES:

You can sign up for classes online, by phone at 301-527-0598, or in person at the shop.

The next Capital Quilts Cares: Quilt of Valor workshop meets on Saturday, June 17, 2-5. The event is free and fabric is provided (donations are always gratefully accepted!), along with some good eats that Sue Moats brings along! We will make a star quilt during this workshop. I hope you will join us for this worthy endeavor! (Please call or email to register.)

Does your sewing machine need a little love? Make an appointment with Bruce for Sunday, June 18th, for while-you-wait cleaning and maintenance.

On Saturday, June 24th from 11-5, Annie walks you through making the rectangular Patchwork Bench. This is a great fun bench for your home, measuring 15 1/2" tall x 36" wide and 16" deep. The cover for the bench is made up of simple squares, but you can be more adventurous with your patchwork design. This is also a great way to use up scraps or you can be more planned with your fabric choice.

Forget the rules and follow your imagination in our Improv Open Sew, Monday, June 26th from 1-4.
Don't have enough room in your house to easily sandwich a quilt? Bring your top backing batting and supplies to CQ and we will help you sandwich that quilt in no time! Sandwich Day appointments are available on Wednesday, June 28th at 2, 3, or 4.
The Barbados Bag is a cross-body style purse has an adjustable strap, lots of pockets, including a zippered one, and closes with a zipper at the top. At 10-1/2" wide x 10" tall x 2" deep, it is a good size to take to the mall or on a trip. Alison shows you how on Thursday, June 29th, 1-5pm.
Feathers are a beautiful addition to your quilt. They can be simple or ornate. You will learn several different feather designs, how to embellish them, and how to combine them. Barbara Bean teaches Free Motion Quilting on the Longarm: Feathers on Friday, June 30, 12:30-2:30.

SAVE THE DATES
July 17: "Inside Aurifil and Aurifil Inside" with Alex Veronelli

July 23-25: It's Christmas in July!

August 11-13: Four County Quilters Guild Quilt Show at the Frederick County Fairgrounds

September 22 & 23: Quilting is a Stitch – a Handi Quilter education event

September 23 & 24: Friendship & Eternal Quilts Guilds Show in Linthicum Heights

October 6-8: Everybody's Quilt Guild Quilt Show in Westminster

November 9-18: Quilters' Quest Shop Hop
COMMUNITY NEWS
Again this summer, Lavner Camps is offering two sessions of interest to young sewists at The George Washington University's Foxhall Road campus in northwest DC. One camp focuses on hand sewing stuffed animals, and the other on fashion design.
The Fashion Design camp is designed for 7-10 year olds, and has two sessions: June 26-30 and July 24-28.
The Hand Sewing Stuffed Animal Creations is designed for 8-12 year olds, and also has two sessions: June 26-30 and July 17-21. The camps provide all necessary supplies and materials.
This is a great opportunity to introduce a young person to the excitement of sewing. For complete information, check out the Lavner Camps website: http://www.lavnercampsandprograms.com. Click on the proper camp name, then on the Washington, DC section.

George Washington University Museum and the Textile Museum are hosting the traveling Ebony Fashion Fair exhibit now through July 24. In addition to displays of clothing, 50 years' worth of Ebony Magazine covers adorn the walls. The Ebony Fashion Fair began in the 1950's as a fundraiser for a hospital in New Orleans and grew from there, exposing black fashion to the world. It wasn't always easy, as you can imagine. Visit the show to learn more!



CAPITAL QUILTS BLUE BAG BONANZA
June's prize is a book, Grandma's in the Garbage; "Nessie" a pattern by Elizabeth Hartman; a fat quarter of Flamingo, Kona's color of the year; and an itty bitty soap from Sweet Bee Designs. To be entered in each month's drawing, bring your Capital Quilts Blue Bag with you when you shop. Make sure you show it to the staffer at the register! Upon completion of your sales transaction, your name will be put in the jar for the drawing at the end of the month. Don't have a Blue Bag? Purchase one at the shop, by phone, or online for just $4.99. We save all of the entries for the year, and at the end of the year we draw a Grand Prize Winner from all the entries.

Sign up for our 5th Saturday Club! Purchase your Green Tag for $10 and come to our special events on the four 5th Saturdays of 2017. The next one is in July!

Our thanks to everybody who shops at Capital Quilts and participates in the Blue Bag Bonanza.
Save
Save
Save