Skip Navigation
Website Accessibility
What's New at CQ 6/22/17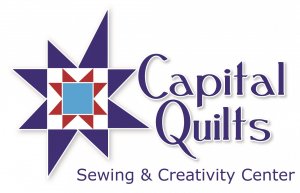 "Every shop is a different experience and people are collecting experiences as they go." — Janet Lutz
Dear Lovers of All Things Fabric,
Alison and Annie have been gone all week, attending the Handi Quilter Retail Academy, and learning exciting new things we're sure will inspire.

Happy summer, and happy Row by Row! We're looking forward seeing a lot of visitors this summer, both old friends and new ones we haven't met yet. We really do urge you to get out and explore some new shops. There are some hidden gems out there; go discover them!

Go 'n' piece,
The CQ Staff
VENDOR SPECIALS:
SEW STEADY is offering Wish Table + Free Light Stick 22-1/2" x 25-1/2" Circle Sewing & Drawer Table for only $199, a $29 savings. This package includes several features as requested by quilters and sewers alike: 22-1/2" x 25-1/2". Includes: 3 beveled edges, 9" x 14" blue compartmentalized notions tray, Circles Sewing Tool, Universal Table Grid, and Table Lock. And Get a free Light Stick with purchase thru 6/30/2017!
NEW & NOTEWORTHY:
We've been waiting for Tula Pink's Tabby Road for a couple of months now (Free Spirit oversold the printing, and ran out before they shipped out our order), and it's finally here! 17 bolts to delight you, $12.50 per yard.
Geek Chic from Studio E is a fabulous science-themed collection in bright colors. $11.99 per yard.
Also from Studio E, is the Snow Delightful Christmas collection, $11.99 per yard.

Do you have enough fabric, but need ideas on how to use it up? Try one of these books:



Flying Geese New Quilts from an Old Favorite

, The National Quilt Museum sponsors a contest based on a traditional quilt pattern. The challenge to quiltmakers stems from the contest name, New Quilts From An Old Favorite. This year's theme is the Flying Geese block. This book is a collection of the most innovative quilts entered in the contest. MSRP on this book is $24.95, but you can purchase it at CQ for only $21.21.

In Allie Aller's

Stained Glass Quilts Reimagined

, you will find a contemporary spin on stained glass quilts, and 6 projects from usable bed quilts to wall decor. MSRP $29.95. CQ price only $25.46.

Next up is

Art Quilts International Abstract & Geometric

, by Martha Sielman. These engaging works of art represent a range of styles across the abstract art spectrum. 300 gorgeous art quilts, bursting with color and excitement, capture the work of 124 major quilt artists from 18 countries. In-depth interviews with 29 of the artists help us understand their inspirations, their techniques, and their challenges. MSRP $29.99, CQ price $25.49.

CLASSES:
You can sign up for classes online, by phone at 301-527-0598, or in person at the shop.

On Saturday, June 24th from 1-5, Annie walks you through making the rectangular Patchwork Bench. This is a great fun bench for your home, measuring 15 1/2" tall x 36" wide and 16" deep. The cover for the bench is made up of simple squares, but you can be more adventurous with your patchwork design. This is also a great way to use up scraps or you can be more planned with your fabric choice.
Forget the rules and follow your imagination in our Improv Open Sew, Monday, June 26th from 1-4.
The Barbados Bag is a cross-body style purse has an adjustable strap, lots of pockets, including a zippered one, and closes with a zipper at the top. At 10-1/2" wide x 10" tall x 2" deep, it is a good size to take to the mall or on a trip. Alison shows you how on Thursday, June 29th, 1-5pm.
Feathers are a beautiful addition to your quilt. They can be simple or ornate. You will learn several different feather designs, how to embellish them, and how to combine them. Barbara Bean teaches Free Motion Quilting on the Longarm: Feathers, on Friday, June 30, 12:30-2:30.

We're really sorry the summer newsletter & class listings aren't complete yet, but if you go to our website and view the calendar, you'll see that many classes have already been posted.
SAVE THE DATES
July 17: "Inside Aurifil and Aurifil Inside" with Alex Veronelli
July 23-25: It's Christmas in July!
August 11-13: Four County Quilters Guild Quilt Show at the Frederick County Fairgrounds
September 22 & 23: Quilting is a Stitch – a Handi Quilter education event
September 23 & 24: Friendship & Eternal Quilts Guilds Show in Linthicum Heights
October 6-8: Everybody's Quilt Guild Quilt Show in Westminster
November 9-18: Quilters' Quest Shop Hop
COMMUNITY NEWS
George Washington University Museum and the Textile Museum are hosting the traveling Ebony Fashion Fair exhibit now through July 24. In addition to displays of clothing, 50 years' worth of Ebony Magazine covers adorn the walls. The Ebony Fashion Fair began in the 1950's as a fundraiser for a hospital in New Orleans and grew from there, exposing black fashion to the world. It wasn't always easy, as you can imagine. Visit the show to learn more!
CAPITAL QUILTS BLUE BAG BONANZA
June's prize is a book, Grandma's in the Garbage; "Nessie" a pattern by Elizabeth Hartman; a fat quarter of Flamingo, Kona's color of the year; and an itty bitty soap from Sweet Bee Designs. To be entered in each month's drawing, bring your Capital Quilts Blue Bag with you when you shop. Make sure you show it to the staffer at the register! Upon completion of your sales transaction, your name will be put in the jar for the drawing at the end of the month. Don't have a Blue Bag? Purchase one at the shop, by phone, or online for just $4.99. We save all of the entries for the year, and at the end of the year we draw a Grand Prize Winner from all the entries.
Sign up for our 5th Saturday Club! Purchase your Green Tag for $10 and come to our special events on the four 5th Saturdays of 2017. The next one is in July!
Our thanks to everybody who shops at Capital Quilts and participates in the Blue Bag Bonanza.
Save
Save
Save