Skip Navigation
Website Accessibility
What's New at CQ 6/29/17
"Education is not the fi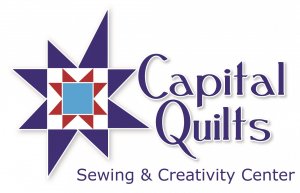 lling of a pail, but the lighting of a fire." William Butler Yeats
Dear Curious Quilters,
Annie and I are back from our Handi Quilter conference in Utah, where the weather was beautiful, the company fine, and the education tremendous. Education is one of the things Handi Quilter does best. It is a core value of the company, and they demonstrate that through online tutorials, forums, newsletters, and conferences like the one we attended. You can call their education staff anytime to get a question answered. (You can call us, too, of course!) They also have a group of National and International Educators that travel all over the country and the world teaching classes. One of these educators, Diane Henry, will be with us in September for our "Quilting is a Stitch" event. The dates are September 21-23. We'll be doing a lot of work with rulers and templates. Stay tuned for more details!
The calendar of summer classes is just about finalized! The highlight is the visit by Alex Veronelli of Aurifil on Monday, July 17. There are a few seats left in the afternoon session at 2. Folks who have seen Alex's presentation before say it is tremendous fun, full of information, and not to be missed. Do come!

Don't miss the "Strip and Play" class with Cathy Sullivan on Sunday, July 2, 1-4. Cathy will show you how to make 10" squares with strip sets and pair them with background squares to make half square triangles. You'll then get to play with your blocks on a design wall to make a unique quilt top. How fun is that? Easy, too!

Speaking of Handi Quilter education, we are having two classes here in the shop next week, Barbara Bean teaching both. Wednesday evening, 6-9, she is teaching "Getting Started: The HQ Longarm Machine," perfect for new owners, folks interested in knowing more about the machines, and people who would like to rent our machines. On Saturday, July 8, 11-2, she'll be teaching "Getting Started: the Basics of HQ ProStitcher." ProStitcher is the computer program that allows you to stitch your quilts faster and more precisely. It's a good class for the new ProStitcher owner and for those who want to know more about ProStitcher Premium. It is a requirement for those who want to use our ProStitchers when renting our machines.

There are more July classes listed below. Also take a look at our website to find our classes calendar and class descriptions. You can register through the website as well. www.capitalquilts.com.

Kids' Camp is back this year! Our theme is "Summer is Sew Fun!" We'll be making pillowcases, drawstring bags, and a zippered pouch and doing some hand embroidery. Camp is in session the week of August 7. Meet every morning from 10:30-1. Anne Brill is your camp counselor-in-chief.
A backorder of Janome Cover Pro 1000s just arrived. We have two machines in stock. If you would like to have one of them (or both), please contact Barbara Kascic or Annie at the shop.
Please note that we will be closed on July 4th. Enjoy your Independence Day picnics!

Go 'n' piece,

Alison Zacharkiw



VENDOR SPECIALS:
Imagine being able to finish your own quilts at home, any time of the day or night, in your pajamas or not, your playlist soothing you and wine and chocolate close at hand! HANDI QUILTER is having a FREE SHIPPING promotion June 28th through July 11th. Save up to $520 in shipping with the purchase of any new longarm package or ProStitcher. The package includes a bobbin winder ($349 value); an Accessory Kit that has thread, needles, all the tools you need to maintain your new quilting machine, and more; free installation in your home (a savings of up to $350); and a free class on using your new HQ. That is over $1000 in savings! Visit the shop or the Handi Quilter website for more information.

Last chance! SEW STEADY is offering Wish Table + Free Light Stick 22-1/2" x 25-1/2" Circle Sewing & Drawer Table for only $199, a $29 savings. This package includes several features as requested by quilters and sewers alike: 22-1/2" x 25-1/2". Includes: 3 beveled edges, 9" x 14" blue compartmentalized notions tray, Circles Sewing Tool, Universal Table Grid, and Table Lock. And Get a free Light Stick with purchase thru 6/30/2017!



NEW & NOTEWORTHY:



Even cutting mats can be improved! We have Riley Blake Designs' new "Cute Cuts" double-sided cutting mats in stock. There are four sizes, ranging from 5" x 8" to 24" x 36". The mats are self-healing, come in pretty pastel colors, and are marked on BOTH sides. They are thicker for superior self-healing and longer life. There is extra room on the edges for more stable cutting at the edges. The inch numbers are on the outside of the grid, so that you can easily see the dimensions you are cutting. There are also diagonals marked on the mats. (Remember not to leave any cutting mat in a hot car or put a hot cup of beverage on it, lest the mat warp.) 5" x 8" mat: $9.99 12" x 18" mat: $24.99 18" x 24" mat: $34.99 24" x 36" mat: $64.99

We have a number of new patterns in the shop. "Birthday Presents" from Atkinson Designs is simple but charming. It is fat quarter friendly. I haven't made it yet, but Terry Atkinson is one of the best pattern writers in the business, and I am confident this one will be well written and easy to follow. $9.50

"Mod Dog" from Colourwerx sports a playful pup with a modern attitude! Use a jelly roll or fat quarters. $12

"Laptop Computer Carriers 2.0" from By Annie includes directions for two styles of carrier to fit most 14" laptop computers. The pattern includes zippered pockets and a special back strap for attaching your carrier to rolling luggage. $9.95

Here is a two-in-one project: "Trilliant Ornament" is an English Paper Piecing kit for making 4" holiday ornaments by hand, perfect for those trips in the car or on a plane or train, and you'll have a head start on holiday decorating! You supply the fabric, needle, glue stick, and thread, and they supply the papers and instructions to make 3 ornaments. From Fabri Flair, $9.99

"Snow Delightful" from Studio e has a lovely Nordic flair to it. There are nine bolts in the collection. $11.99/yd.
Want to make something for your favorite beer drinker? "In Doubt, Drink Stout" from Quilting Treasures will fill the bill! We have six bolts of beer bottles in various forms and pretzels, all fun. $12.50/yd.
Ink & Arrow's "Zola" is a nice group in green, coral, and pink in floral, geometric, and raindrop textures. $12.50/yd.
If you own a Sew Steady table, we have the Polish Kit you need to keep your table slippery. $12.50 includes polish and mitt.

CLASSES:

You can sign up for classes online, by phone at 301-527-0598, or in person at the shop.



Strip and Play with Cathy Sullivan! Make 10" squares out of strip sets, pair the squares with a background and make half square triangle blocks, then play with your blocks on a design wall to create a unique quilt. This class is a huge amount of fun! It meets on Sunday, July 2, 1-4.
If you are a new Handi Quilter longarm machine owner or want to be, or if you would like to rent one of our machines to finish your quilts, take Getting Started: the HQ Longarm Machine with Barbara Bean on Wednesday evening, September 5, 6-9.
Getting Started: the Basics of ProStitcher Once you've learned how the Handi Quilter longarm machines work, you'll want to look into this class that teaches you how to use ProStitcher, the computer technology that allows you to use software to finish your quilts more quickly and with greater precision! Review the structure, functions, and buttons of ProStitcher. Learn how to do a basic edge-to-edge design. Students must bring their own laptop that is able to download the simulator used during the class (we can help you download it). Barbara Bean teaches this class on Saturday, July 8, 11-2.
The Shortcake pattern can be made as either a romper or a dress. It is fully reversible and requires no buttons or zippers. The pattern includes sizes 6mo through 6yrs. Laurie Sieminski guides you through this project on Monday, July 10, 10-12.
You can sit down and quilt with a longarm machine. It's a lot like using your home sewing machine. Learn how to use the Handi Quilter Sweet Sixteen and do some basic designs in Getting Started: the HQ Sweet Sixteen Machine on Monday, July 10, 10-12 with Annette Burns. You are certified to rent our Sweet Sixteen machine to finish your own quilts after taking this class.
If you prefer to stand up to quilt but don't have the room in your home for a 10' or 12' frame, consider using HQ Simply Sixteen machine. Annette Burns will show you how to load your quilt on this small, unique hoop frame, thread the machine, establish good tension, and stitch some simple designs. Getting Started: the HQ Simply Sixteen Machine meets on Wednesday, July 12, 10:30-12:30. You can rent our Simply Sixteen to finish your own quilts after taking this class. It is also a great introductory class for those who are considering purchasing a Simply Sixteen machine for their own home.
Rae Cumbie is back on Thursday and Friday, July 13 and 14, to teach us how to make well-fitting tees and tunics with knits. Enjoy a trunk show of possibilities, get a professional fitting, and spend time sewing your own tee or tunic. Explore finishing techniques to add variety to your knit wardrobe. Knit Tee and Tunic meets from 10-4 both days.
Don't have enough room in your house to easily sandwich a quilt? Make an appointment for Sandwich Night on Friday, July 14th, bring your top backing batting and supplies to CQ and we will help you sandwich that quilt in no time!

Our next CQ Cares event is scheduled for Saturday, July 15 from 1:30 to 5:30. Come help Billye Roberts make quilts for the Interfaith Works Shelter for Women in Rockville, MD. There are many opportunities to help out. Bring your sewing machine if you have one, we provide everything else. And if you don't have a machine, come anyway! You can press or cut or square up blocks; or just come & keep us company!

Kat is again offering Night Owl Sewing on Saturday, July 15th from 6-midnight. Enjoy up to six blissful hours of distraction-free sewing and fun. It's almost a mini-retreat! Includes a $10 Gift Card, dinner, and beverages. Work on a new project or finish up an old one.
SAVE THE DATES

July 17: "Inside Aurifil and Aurifil Inside" with Alex Veronelli
July 23-25: It's Christmas in July!
August 11-13: Four County Quilters Guild Quilt Show at the Frederick County Fairgrounds
September 21: Superior Threadology – lecture and workshop with Diane Henry
September 22 & 23: Quilting is a Stitch – a Handi Quilter education event with Diane Henry
September 23 & 24: Friendship & Eternal Quilts Guilds Show in Linthicum Heights
October 6-8: Everybody's Quilt Guild Quilt Show in Westminster
November 9-18: Quilters' Quest Shop Hop


COMMUNITY CORNER

CQ Cares needs your unwanted holiday fabric! We are looking for 1+ yard donations of Christmas/Hanukkah fabric for our upcoming CQ Cares: Christmas Stockings and Gift Bags for the Children's Inn at NIH. We have plenty of fabric for the stockings, but yardage for the gift bags is harder to come by.

George Washington University Museum and the Textile Museum are hosting the traveling Ebony Fashion Fair exhibit now through July 24. In addition to displays of clothing, 50 years' worth of Ebony Magazine covers adorn the walls. The Ebony Fashion Fair began in the 1950's as a fundraiser for a hospital in New Orleans and grew from there, exposing black fashion to the world. It wasn't always easy, as you can imagine. Visit the show to learn more!


CAPITAL QUILTS BLUE BAG BONANZA

June's prize is a book, Grandma's in the Garbage; "Nessie" a pattern by Elizabeth Hartman; a fat quarter of Flamingo, Kona's color of the year; and an itty bitty soap from Sweet Bee Designs. To be entered in each month's drawing, bring your Capital Quilts Blue Bag with you when you shop. Make sure you show it to the staffer at the register! Upon completion of your sales transaction, your name will be put in the jar for the drawing at the end of the month. Don't have a Blue Bag? Purchase one at the shop, by phone, or online for just $4.99. We save all of the entries for the year, and at the end of the year we draw a Grand Prize Winner from all the entries.

Sign up for our 5th Saturday Club! Purchase your Green Tag for $10 and come to our special events on the four 5th Saturdays of 2017. The next one is in July!

Our thanks to everybody who shops at Capital Quilts and participates in the Blue Bag Bonanza.

Save
Save
Save