Skip Navigation
Website Accessibility
What's New at CQ 7/06/17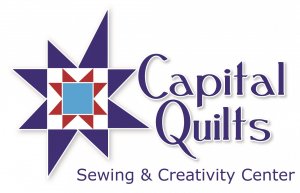 "Raise your words, not your voice. It is rain that grows flowers, not thunder." Rumi
Dear Stitchers,
I've got to say these hot, sultry days do not make me think of Christmas. On the other hand, said holiday is just six months away and it's time to start sewing to make sure you are ready for it! To light a fire under you, we are celebrating Christmas in July here at Capital Quilts. We'll have events over three days. Sunday, July 23, is Make an Ornament Day. We'll have stations set up around the shop from 12-5 where you can sit and make an ornament. Kits will be for sale; once you know how, you can make them for others! Monday, July 24, is Giving Day; through our Capital Quilts Cares program, we'll make stockings and large gift bags for the children at Children's Inn at NIH. Laurie will lead this project, from 10-12. It's free and all fabric is provided. If you have yards of holiday fabric that you would be willing to donate to this project, we would be very grateful; the gift bags are very large and take lots of fabric. Firemen and other public service persons fill them with gifts for the children. Finally, on July 25, we'll deck the halls! From 10-1, make a Crosswalk Table Runner in festive fabrics with Hilary Hastie. In the afternoon, from 2-5, Annie will lead a workshop to make decorative, three-dimensional stars that will put sparkle and shine on your mantles, tables, and trees.
I have a brand new Handi Quilter Simply Sixteen in stock, available for immediate free delivery! In addition to the machine and frame, you'll receive a bobbin winder, a starter kit of thread, needles, tools, DVD, and more, and a free admission to the next available Getting Started: the HQ Simply Sixteen class with Annette Burns (a $25 value). You also save $225 in shipping. Call me at 301-527-0598 or email me at sewit@capitalquilts.com if you'd like to be the owner of this machine. You, too, can finish your own quilts at 3 in the morning and in your pajamas!
I am once again looking for salespersons. The successful candidates will have extensive knowledge of quilting and/or sewing machines, be friendly and customer-service oriented, and have a good sense of humor (you need one to work with our lot!). Prior experience in retail is helpful. We need people to work 3 shifts of 4 hours each during the week plus at least one weekend shift per month. Please send your resume to alison@capitalquilts.com.

Go 'n' piece,

Alison Zacharkiw



VENDOR SPECIALS:
Imagine being able to finish your own quilts at home, any time of the day or night, in your pajamas or not, your playlist soothing you and wine and chocolate close at hand! HANDI QUILTER is having a FREE SHIPPING promotion June 28th through July 11th. Save up to $520 in shipping with the purchase of any new longarm package or ProStitcher. The package includes a bobbin winder ($349 value); an Accessory Kit that has thread, needles, all the tools you need to maintain your new quilting machine, and more; free installation in your home (a savings of up to $350); and a free class on using your new HQ. That could be over $1000 in savings! Visit the shop or the Handi Quilter website for more information.




NEW & NOTEWORTHY:

From Free Spirit Fabrics comes 19 bolts from the Floral Waterfall by Shannon Newlin. These fabrics are inspired by embracing the colors and movement of flowers from dawn to dusk. From light airy colors to rich dark backgrounds, each pattern ties together a story of beauty and discovery. Each different colorway is easily interchangeable with one another offering many opportunities to create a wide assortment of beautiful sewing projects. $12.50/yard.

Also from Free Spirit, these four different collections of Kaffe 10" squares are sure to delight you no matter what your color preferences are. Choose from Island, Lipstick, Peacock, or Citrus. $42.99 each.

Nobody does Christmas fabrics quite like Kaufman! We have 11 bolts from Holiday Flourish 10, and all feature delicate metallic printing. Some are gold, some are silver; all are elegant. $12.50/yard.

Calling all junior herpitologists! Reptile Ruckus from Northcott is here! Twelve bolts of snakes, lizards, turtles, and the stuff they eat are ready for you to make something wonderful from them. $12.50/yard.



CLASSES:

You can sign up for classes online, by phone at 301-527-0598, or in person at the shop.


Getting Started: the Basics of ProStitcher Once you've learned how the Handi Quilter longarm machines work, you'll want to look into this class that teaches you how to use ProStitcher, the computer technology that allows you to use software to finish your quilts more quickly and with greater precision! Review the structure, functions, and buttons of ProStitcher. Learn how to do a basic edge-to-edge design. Students must bring their own laptop that is able to download the simulator used during the class (we can help you download it). Barbara Bean teaches this class on Saturday, July 8, 11-2.
The Shortcake pattern can be made as either a romper or a dress. It is fully reversible and requires no buttons or zippers. The pattern includes sizes 6mo through 6yrs. Laurie Sieminski guides you through this project on Monday, July 10, 10-12.
You can sit down and quilt with a longarm machine. It's a lot like using your home sewing machine. Learn how to use the Handi Quilter Sweet Sixteen and do some basic designs in Getting Started: the HQ Sweet Sixteen Machine on Monday, July 10, 10-12 with Annette Burns. You are certified to rent our Sweet Sixteen machine to finish your own quilts after taking this class.
If you prefer to stand up to quilt but don't have the room in your home for a 10' or 12' frame, consider using HQ Simply Sixteen machine. Annette Burns will show you how to load your quilt on this small, unique hoop frame, thread the machine, establish good tension, and stitch some simple designs. Getting Started: the HQ Simply Sixteen Machine meets on Wednesday, July 12, 10:30-12:30. You can rent our Simply Sixteen to finish your own quilts after taking this class. It is also a great introductory class for those who are considering purchasing a Simply Sixteen machine for their own home.
Rae Cumbie is back on Thursday and Friday, July 13 and 14, to teach us how to make well-fitting tees and tunics with knits. Enjoy a trunk show of possibilities, get a professional fitting, and spend time sewing your own tee or tunic. Explore finishing techniques to add variety to your knit wardrobe. Knit Tee and Tunic meets from 10-4 both days.
Don't have enough room in your house to easily sandwich a quilt? Make an appointment for Sandwich Night on Friday, July 14th, bring your top backing batting and supplies to CQ and we will help you sandwich that quilt in no time!
Our next CQ Cares event is scheduled for Saturday, July 15 from 1:30 to 5:30. Come help Billye Roberts make quilts for the Interfaith Works Shelter for Women in Rockville, MD. There are many opportunities to help out. Bring your sewing machine if you have one, we provide everything else. And if you don't have a machine, come anyway! You can press or cut or square up blocks; or just come & keep us company!
Kat is again offering Night Owl Sewing on Saturday, July 15th from 6-midnight. Enjoy up to six blissful hours of distraction-free sewing and fun. It's almost a mini-retreat! Includes a $10 Gift Card, dinner, and beverages. Work on a new project or finish up an old one.
Have a dress pattern you love but it doesn't fit you right? Don't like the neckline of the blouse or T-shirt you are making? Need to know how to finish seams when the fabric frays a lot? Bring your pattern and fabric to Dressmaking: Finishing Details on Tuesday, July 18, with Nora Elias. Nora will teach you what you want to learn, whether it is one of these problems or any other. Class size is limited to 6 persons.
In Getting Started: the Handi Quilter Longarm Machine, you will become familiar with the parts, use, and maintenance of the Avante and Fusion longarm machines. Completion of this class makes you eligible to rent the machines so that you can finish your own quilts. The next class is Tuesday, July 18, 11-2; there is one spot still open.
If you prefer to quilt sitting down, take Annette Burns' Getting Started: the Handi Quilter Sweet Sixteen Machine class on Wednesday, July 19, 10:30-12:30. This is a great class for someone who is considering purchasing one of these machines, or who has recently purchased one. It also certifies you to rent ours.
Annie is teaching another Retreat Bag class! Two of them, actually. The Retreat Bag comes in two sizes. The best thing about it: when you unzip the zipper and open the top, it stays open wide, so you can reach in and easily find what you are looking for. The first class meets on Wednesday evenings, July 19 & 26, from 6-8:30. The other class meets once, on Thursday, July 20, 1-6.
SAVE THE DATES

July 17: "Inside Aurifil and Aurifil Inside" with Alex Veronelli
July 23-25: It's Christmas in July!
August 11-13: Four County Quilters Guild Quilt Show at the Frederick County Fairgrounds
September 21: Superior Threadology – lecture and workshop with Diane Henry
September 22 & 23: Quilting is a Stitch – a Handi Quilter education event with Diane Henry
September 23 & 24: Friendship & Eternal Quilts Guilds Show in Linthicum Heights
October 6-8: Everybody's Quilt Guild Quilt Show in Westminster
November 9-18: Quilters' Quest Shop Hop


COMMUNITY CORNER

CQ Cares needs your unwanted holiday fabric! We are looking for 1+ yard donations of Christmas/Hanukkah fabric for our upcoming CQ Cares: Christmas Stockings and Gift Bags for the Children's Inn at NIH. We have plenty of fabric for the stockings, but yardage for the gift bags is harder to come by.

George Washington University Museum and the Textile Museum are hosting the traveling Ebony Fashion Fair exhibit now through July 24. In addition to displays of clothing, 50 years' worth of Ebony Magazine covers adorn the walls. The Ebony Fashion Fair began in the 1950's as a fundraiser for a hospital in New Orleans and grew from there, exposing black fashion to the world. It wasn't always easy, as you can imagine. Visit the show to learn more!


CAPITAL QUILTS BLUE BAG BONANZA

Congratulations to Margaret C., winner of the June Blue Bag drawing! Our July prize is a Fat Quarter Bundle from Blank Fabrics and two patterns, "Nessie" by Elizabeth Hartman and "Play, the Store Away" by Cozy Nest Design. To be entered in each month's drawing, bring your Capital Quilts Blue Bag with you when you shop. Make sure you show it to the staffer at the register! Upon completion of your sales transaction, your name will be put in the jar for the drawing at the end of the month. Don't have a Blue Bag? Purchase one at the shop, by phone, or online for just $4.99. We save all of the entries for the year, and at the end of the year we draw a Grand Prize Winner from all the entries.

Sign up for our 5th Saturday Club! Purchase your Green Tag for $10 and come to our special events on the four 5th Saturdays of 2017. The next one is July 29!

Our thanks to everybody who shops at Capital Quilts and participates in the Blue Bag Bonanza.
Save
Save
Save