HO, HO, HO! IT'S CHRISTMAS IN JULY AT CAPITAL QUILTS!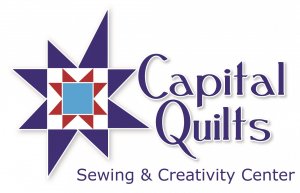 "Christmas is doing a little something extra for someone." Charles M. Schulz

Beat the heat! It's Christmas in July at Capital Quilts! Be cool, have fun, and get a head start on your Christmas preparations.
Sunday, July 23 is ORNAMENT DAY. Visit the shop between noon and 5pm and make one or more of four ornaments while you are here. Take home a paper-pieced log cabin ornament, a folded star, an embroidered mitten, or a wool embroidered ball. Your registration fee of $5 includes one ornament. If you'd like to make more, kits are available at $5 each, and you can make them in the shop or take the kits home.
Monday, July 24, is GIVING DAY. We will have a Capital Quilts Cares event from 10 – 12. During the event we will make Christmas stockings and large gift bags for the children at the Children's Inn at the NIH. The Inn is a place on the NIH campus where children and their families stay while the child is undergoing treatment at NIH. All fabric is provided for this free event. If you would like to sew, please bring your sewing machine, neutral thread, and basic sewing supplies. If you would like to participate but don't want to sew, we need people to do the pressing, pull the ribbons through the drawstring channels of the gift bags, and do other duties as assigned! Please register so that we know about how many people to expect.
Tuesday, July 25, is DECK THE HALLS DAY. Let us help you get started on your holiday decorating! In the morning, Hilary Hastie is teaching the "Crosswalk Table Runner" class. This beautiful table runner is made with 2½ " strips. Make it with Christmas fabric, or try it with one of the many strip sets we have available in the shop. The class meets from 10-1.
Annie is teaching a "Stars" class from 2-5. These 3-dimensional stars are made with a stiff fusible interfacing covered with a fabric of your choice. There are 3 sizes of stars available in the pattern. The stars don't need to be tucked away for the holidays; they can ornament your bookshelves or mantle all year round! You could make several and hang them on the wall, give them as hostess gifts, decorate your Christmas tree, use them in your table centerpiece, and any number of other things.
Register for any of our Christmas in July Events in the shop, by phone, or click here to register online.




As an added bonus, all Christmas fabric will be discounted 20% during these three days!

Save
Save
Save
Save