Skip Navigation
Website Accessibility
What's New at CQ 7/20/17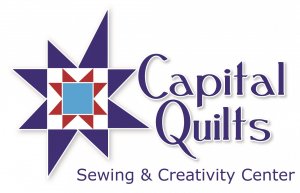 "An invisible thread connects those who are destined to meet, regardless of time, place or circumstance. The thread may stretch or tangle but it will never break. May you be open to each thread that comes into your life - the golden ones and the coarse ones - and may you weave them into a brilliant and beautiful life."
~Ancient Chinese Proverb
Dear Thread Lovers,
We had a great time with Alex Veronelli of Aurifil Threads on Monday! Alex showed us a video that depicted the 15 steps it takes to make a spool of Aurifil thread over a 48 hour period. His factory, in Milan, Italy, employs 50 people to make the thread, with more staff in the laboratory, marketing, and administrative departments. He also explained the recommended uses for each weight of thread: 80 wt. for applique; 50 wt. for piecing; 40wt. for quilting; 28wt. for embroidery; and 12 wt. for handwork. Of course, any weight can be used for any of these activities: it all depends on the look you want to achieve! He does recommend putting 50 wt. in the bobbin in most cases; 40wt. is good for 28wt. and 12wt. threads. He also makes wool thread, which can be used for both machine and hand work. His exciting news is that Aurifil will be introducing longarm thread very soon! It will be 3-ply, where all the other threads are 2-ply.
HO HO HO! IT'S CHRISTMAS IN JULY! Nevermind that it is hazy, hot, and humid outside; be cool at Capital Quilts July 23-25. On Sunday, July 23, come to the shop between 12 and 5 and make one or more of 4 different ornaments. Your $5 registration fee includes one ornament; kits for more ornaments may be purchased for $5 each. Return Monday morning, 10-12, to help us make Christmas stockings and gift bags for the children staying at Children's Inn at the NIH. This is a Capital Quilts Cares event; it's free and all fabric is provided. If you'd like to sew, bring your sewing machine, neutral thread, and basic sewing supplies. If you want to participate but don't want to sew, we need people to press, run ribbon through drawstring channels, and do other chores as assigned. Then, Merry Christmas! Tuesday, July 25 is Deck the Halls Day. Get started on your Christmas decorating with a new table runner or fabric stars. The Crosswalk Table Runner class is in the morning, from 10-1, and the Stars class is from 2-5. Please contact the shop or go online to register for all these events, so that we know how many to expect. As an added bonus, Christmas fabric will be on sale, 20% off, during the 3-day Christmas in July event. As usual, the minimum cut to qualify for the discount is a half yard; the discount may not be combined with any other discount, coupon, or promotion and applies to regularly priced fabric only.
Our Fall Handi Quilter event, "Quilting is a Stitch", is now open for registration! National HQ Educator Diane Henry will be with us on September 22 & 23 and will teach 4 different classes. On Friday, it's the 3B's: Backgrounds, Borders, & Blocks in the morning and Creative Textures & Fills in the afternoon. These classes consider what designs to use in what situation, how to create different effects with quilting, some basic techniques such as turning a quilt, and how to extend designs. On Saturday, we'll get into the nitty-gritty of creating the designs using rulers and templates. In the morning, Diane teaches basic ruler safety, how to use rulers accurately, and reviews what all the different shaped rulers can do in the "Ruler Mania" class. In the afternoon, she will open up a new world of design options in "Custom Waves, Curves, & Circles." Diane will introduce you to all the circle and curve rulers. Each class is 3 hours long and costs $30. Register for all four and save 10%. Purchase a Handi Quilter longarm machine from Capital Quilts between now and September 23 and take any or all four of the "Quilting is a Stitch" classes for free!
I have a brand new Handi Quilter Simply Sixteen in stock, available for immediate free delivery! In addition to the machine and frame, you'll receive a bobbin winder, a starter kit of thread, needles, tools, DVD, and more, and free admission to the next available Getting Started: the HQ Simply Sixteen class with Annette Burns (a $25 value) as well as the Quilting Is A Stitch Event in September (a $120 value). You also save $225 in shipping. Call or email me if you'd like to be the owner of this machine. You, too, can finish your own quilts at 3 in the morning and in your pajamas!
I am once again looking for salespersons. The successful candidates will have extensive knowledge of quilting, and/or knowledge and experience with sewing machines, be friendly and customer-service oriented, and have a good sense of humor, and like to have fun. Prior experience in retail is helpful. We need people to work 2 or 3 shifts of 4 hours each during the week plus at least one weekend 4-hour shift per month. Please send your resume to alison@capitalquilts.com.

Go 'n' piece,

Alison Zacharkiw



VENDOR SPECIALS:
Horn of America's Deal of the Month is the new Model 3240 cabinet, a mid-sized Quilter's Dream cabinet. At 48" wide, it is a great cabinet for a smaller space. The 25" x 13" cut out on top fits today's larger sewing machines. The airlift is heavy duty, making it easy for you to push your machine down into the cabinet when you want to use the top as a work space. There is free arm support for embroidery units, too. The Deal of the Month price is just $1340. Use your savings to treat yourself to a Heavenly Seating Chair!



NEW & NOTEWORTHY:

A shipment of Aboriginal fabrics has arrived from down under, including these 5 brand new designs. $12.50/yd.
We've seen this Honeycomb Handbag made out of cork, and it is fantastic! The pattern from Poorhouse Quilt Designs includes both the tote and the clutch. $9
With "Little Birdie" from Cottonwood Creations you can make little wool birdies that are just too cute for words. They are just 4" tall! $6.
Great for making up in either cork or felt, Pickle Pie Designs' "Monogrammed Luggage Tags" are a great way to keep track of your luggage. $12.99
Here's another cutie: "Seymour Spyhop", a whale of a pincushion. He comes with a crab friend, too. From Heather Bailey Sewing Patterns, $8.99
"Modern Holiday" from the Little Quilt Company is a collection of patterns. It includes a tree skirt with a 54" diameter; a wall quilt that is 20" x 26"; and a table runner, 18" x 49". $9.
From the Whole Country Caboodle company, we have two pre-cut and pre-fused applique blocks, the Red Owl #1 and the Snowman. Applique them on to your favorite background and build a quilt, a tote, a journal cover, or whatever you can imagine around them. The Owl is $10 and the Snowman is $15.
Book lovers: Did you know that all books are 15% off suggested retail at Capital Quilts every day? Come in and check out the selection!
In From Art to Stitch, Janet Edmonds provides a series of artistic workshops. Inspired by masters, she stitches out images and designs, then incorporates them into a finished stitched piece of art. MSRP $35.00, CQ price only $29.75!
Stitched Textiles: Landscapes by Kathleen Matthews utilizes a unique method that combines quilting, dyeing, and stitching techniques. The projects teach intermediate to experienced embroiderers and quilters how to create beautiful landscape quilts. There are five gorgeous step-by-step projects—Autumn Woodland, Flowers in a Landscape, Mountain Scene, Sunset on Water, and Lavender Field—and the book is filled with beautiful landscapes to inform and inspire textile artists. MSRP $29.95, CQ price only $25.46!

CLASSES:

You can sign up for classes online, by phone at 301-527-0598, or in person at the shop.


Our next CQ Cares: Quilts of Valor workshop is on Friday, July 21, 10:30-12:30. Sue Moats is the project leader. Come sew, press, or be a gofer as we put together blocks and quilts for our military service members. Free, and all fabric is provided. Bring your sewing machine, neutral thread, and sewing supplies if you plan to sew.
CQ Cares: Stockings and Gift Bags for the Children at Children's Inn at NIH is part of our Christmas in July event! Laurie Sieminski will lead this workshop on Monday, July 24, 10-12. The event is free and all fabric is provided. I hope you will join us for this opportunity to make a sick child's holiday a bit brighter! The gift bags are large and are filled by firemen and other public servants with gifts for the kids.
Crosswalk is a lovely table runner made with 2½" strips. Hilary Hastie will teach you how to make one on Tuesday, July 25, 10-1, as part of our Christmas in July event. We promise not to insist that you use Christmas fabric!
So we have a sort of mystery class to offer you: we are planning on having Annie teach the new FabriFlair Star Ornament pattern from Indygo Junction on Tuesday, July 25, 2-5. This is a fabulous star in three sizes that we saw at the Spring Quilt Market. Unfortunately, Indygo Junction is releasing the pattern on July 21, and we are not sure we will get the patterns in time for the class. If we can't, we will have a Plan B!
Annie found a pincushion pattern that has pockets and straps on the cushion so that you can store not only pins, but scissors, marking pens, small rulers and the like as well. She will be teaching the Carry All Pincushion on Thursday, July 27, 1-4. We love things that help us keep our sewing desk organized!
Want a sophisticated quilting pattern but can't afford a computerized quilting machine? Try Groovy Boards and Pantographs! Learn what they are and how they work in Barbara Bean's hands-on workshop, Groovy Boards and Pantographs for the Longarm, on Friday, July 28, 11-1.
Sit n Sew is Friday, July 28, 5-9. Bring some food to share and a project and spend quality time with your sewing friends. Free!
The last (but not least) class in July is on Sunday, July 30. Kim Jalette will teach Cookie Cutter, a Julie Herman pattern that is as pretty as a rainbow. Use the Super Sidekick Tool.
In Getting Started: the Handi Quilter Longarm Machine, you will become familiar with the parts, use, and maintenance of the Avante and Fusion longarm machines. Completion of this class makes you eligible to rent the machines so that you can finish your own quilts. The next available class is Tuesday, August 1, 11-2.
SAVE THE DATES

July 23-25: It's Christmas in July!
August 11-13: Four County Quilters Guild Quilt Show at the Frederick County Fairgrounds
September 21: Superior Threadology – lecture and workshop with Diane Henry
September 22 & 23: Quilting is a Stitch – a Handi Quilter education event with Diane Henry. See the 3rd quarter newsletter for more information.
September 23 & 24: Friendship & Eternal Quilts Guilds Show in Linthicum Heights
October 6-8: Everybody's Quilt Guild Quilt Show in Westminster
November 9-18: Quilters' Quest Shop Hop


COMMUNITY CORNER

Sacred Threads is an exhibition of quilts exploring the subject themes of spirituality, joy, inspiration, peace/brotherhood, grief and healing. This biennial exhibition was established to provide a safe venue for quilters who see their work as a connection to the sacred and/or as an expression of their spiritual journey. The objective is to create a dignified exhibition of artwork that touches on both spiritual and personal levels all those who view it. The intent is to share with others the experiences of quilters whose stories may be a source of healing and strength. Visit this powerful exhibit now through July 23rd at Floris United Methoist Church in Fairfax, Virginia.
George Washington University Museum and the Textile Museum are hosting the traveling Ebony Fashion Fair exhibit now through July 24. In addition to displays of clothing, 50 years' worth of Ebony Magazine covers adorn the walls. The Ebony Fashion Fair began in the 1950's as a fundraiser for a hospital in New Orleans and grew from there, exposing black fashion to the world. It wasn't always easy, as you can imagine. Visit the show to learn more!
Pierce Mill, located at 2539 Tilden St. NW, in Rock Creek Park, is the last remaining mill in Washington, DC. Friends of Pierce Mill have set October 14 as Heritage Day. Step back in time and witness the 19th century, four-story grist mill grind corn into meal, powered by a giant water wheel. Heritage Day activities are from 10-4. Milling demonstrations will take place from 11-2. There will also be hands-on activities for children, live bluegrass music, and other exhibitions, including hand quilting. Pierce Mill is seeking a small group of hand quilters to give a demonstration. Please contact Steve Dryden at jsdryden@comcast.net or by phone at 301-512-5899 if you are interested in participating in this fun day.



CAPITAL QUILTS BLUE BAG BONANZA
Our July prize is a Fat Quarter Bundle from Blank Fabrics and two patterns, "Nessie" by Elizabeth Hartman and "Play, the Store Away" by Cozy Nest Design. To be entered in each month's drawing, bring your Capital Quilts Blue Bag with you when you shop. Make sure you show it to the staffer at the register! Upon completion of your sales transaction, your name will be put in the jar for the drawing at the end of the month. The more you shop, the more chances you have to win. Don't have a Blue Bag? Purchase one at the shop, by phone, or online for just $4.99. We save all of the entries for the year, and at the end of the year we draw a Grand Prize Winner from all the entries.

Sign up for our 5th Saturday Club! Purchase your Green Tag for $10 and come to our special events on the four 5th Saturdays of 2017. The next one is July 29! Notions, thread, batting and patterns will be on sale. It's a great opportunity to stock up on the necessities.

Our thanks to everybody who shops at Capital Quilts and who participate in the Blue Bag Bonanza.
Save
Save
Save
Save