Skip Navigation
Website Accessibility
What's New at CQ 7/06/17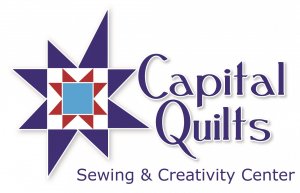 "Creativity is allowing yourself to make mistakes. Art is knowing which ones to keep." Scott Adams
Dear Summer Sewists,
I hope you will take advantage of these beautiful summer days to come to our second 5th Saturday Sale on July 29. On sale this time are notions (including the bolted interfacings, fleece, etc., that are behind the cutting table), thread, batting, and patterns. It's 20% off anything you can squeeze into your Blue Bag! I will make an exception for the large battings (twin and up); you can carry those to save room for other goodies in your bag. Don't forget you must purchase your Blue Bag and Green Ticket ahead of time to take advantage of the sale; we will not be selling the Green Tickets on Saturday.
Ornament Day was a lot of fun! So much so that I think we might do it again closer to Christmas. Watch for it in the newsletters. We had a wonderful turnout for the Capital Quilts Cares: Stockings and Bags event. The group made 50 decorative stockings and 100 gift bags. We couldn't have done any of it without the fabulous donations of holiday fabrics given so generously by the CQ community. Thank you everybody!!
The Montgomery County Agricultural Fair will be held at the Montgomery County Fairgrounds in Gaithersburg August 11-19. Capital Quilts is sponsoring some of the prizes for quilts. Get your projects in, ladies and gentlemen! We love it when our customers win prizes!
Janome Club will not meet in August. Instead, we will have two meetings in September, on the 16th and the 30th, both from 10:30-12:30.

Introducing the Handi Quilter Ruler of the Month Club! Each month, July through December 2017, HQ will introduce a new ruler. You'll come to the shop to pick yours up and enjoy a demonstration of how to use it. There will be a video tutorial available to you as well, so that you can review it at home. We will introduce you to new styles and techniques and build your ruler skill set and confidence. The Club continues for six months, and you will save a total of $30 for the six rulers. The rulers will not be available to the general public until 2018! Sign up for the Club in the shop, by phone, or online. Pay a one-time fee of $150 for the rulers, club meetings, and video tutorials and design ideas.
Our Fall Handi Quilter event, "Quilting is a Stitch", is now open for registration! National HQ Educator Diane Henry will be with us on September 22 & 23 and will teach 4 different classes. On Friday, it's the 3B's: Backgrounds, Borders, & Blocks in the morning and Creative Textures & Fills in the afternoon. These classes consider what designs to use in what situation, how to create different effects with quilting, some basic techniques such as turning a quilt, and how to extend designs. On Saturday, we'll get into the nitty-gritty of creating the designs using rulers and templates. In the morning, Diane teaches basic ruler safety, how to use rulers accurately, and reviews what all the different shaped rulers can do in the "Ruler Mania" class. In the afternoon, she will open up a new world of design options in "Custom Waves, Curves, & Circles." Diane will introduce you to all the circle and curve rulers. Each class is 3 hours long and costs $30. Register for all four and save 10%. Purchase a Handi Quilter longarm machine from Capital Quilts between now and September 23 and take any or all four of the "Quilting is a Stitch" classes for free!
I am still looking for salespersons. The successful candidates will have extensive knowledge of quilting, and/or knowledge and experience with sewing machines, be friendly and customer-service oriented, and have a good sense of humor, and like to have fun. Prior experience in retail is helpful. We need people to work 2 or 3 shifts of 4 hours each during the week plus at least one weekend 4-hour shift per month. Please send your resume to alison@capitalquilts.com.

Go 'n' piece,

Alison Zacharkiw



VENDOR SPECIALS:
Horn of America's Deal of the Month is the new Model 3240 cabinet, a mid-sized Quilter's Dream cabinet. At 48" wide, it is a great cabinet for a smaller space. The 25" x 13" cut out on top fits today's larger sewing machines. The airlift is heavy duty, making it easy for you to push your machine down into the cabinet when you want to use the top as a work space. There is free arm support for embroidery units, too. The Deal of the Month price is just $1340. Use your savings to treat yourself to a Heavenly Seating Chair!

Handi Quilter: Celebrate Handi Quilter's Founder's Day August 3rd through 22nd. Save up to $3,500 on one of four different machine packages. Click here for more details!


NEW & NOTEWORTHY:
"Bayberry"from Moda is eye candy! The colors are so soft and pretty. I took a picture of all the fat quarters so that I could show you all 15 of the fabrics. The fabric on the bolt is $11.99/yd.
Namaste! "Good Posture" from Michael Miller is full of different yoga poses, and comes in two colors. $11.99/yd.
Did you know we carry Tiger Tape? It is not new and maybe not noteworthy, but it is one of those things hanging on the wall that you may not know about! Tiger Tape is ¼" wide tape that is marked with evenly spaced lines for hand quilting or stitching. It has adhesive on the back to keep it in place and can be reused. We carry two sizes, one marked for 12 stitches per inch, and one marked for Big Stitching. Both are $9.43.
Books are discounted every day at Capital Quilts! Create masterpieces every time with stress-free coloring in Color by Number Travel Across America Coloring Book, illustrated by Debra Gabel. Printed on heavyweight, high-quality uncoated paper with perforated edges, your works of art will be ready for easy framing in an 8" x 10" frame. MSRP $14.95, CQ price $12.71.


CLASSES:

You can sign up for classes online, by phone at 301-527-0598, or in person at the shop.


Want a sophisticated quilting pattern but can't afford a computerized quilting machine? Try Groovy Boards and Pantographs! Learn what they are and how they work in Barbara Bean's hands-on workshop, Groovy Boards and Pantographs for the Longarm, on Friday, July 28, 11-1.
Sit n Sew is Friday, July 28, 5-9. Bring some food to share and a project and spend quality time with your sewing friends. Free!
The last (but not least) class in July is on Sunday, July 30. Kim Jalette will teach Cookie Cutter, a Julie Herman pattern that is as pretty as a rainbow. Use the Super Sidekick Tool.
In Getting Started: the Handi Quilter Longarm Machine, you will become familiar with the parts, use, and maintenance of the Avante and Fusion longarm machines. Completion of this class makes you eligible to rent the machines so that you can finish your own quilts. The next available class is Tuesday, August 1, 11-2.
The next Featherweight Clinic is on Saturday, August 5, 10:30-12:30. There are 2 seats available. You will learn how to take your Singer Featherweight apart, clean and oil it, and reassemble it.
Kids' Camp starts on Monday, August 7! Come to the shop each morning of the week, 10:30-1, and sew a fun project. We'll make drawstring bags, pillowcases, a zippered pouch, and do a little embroidery and learn how to sew on a button.
Use Robin Ruth Designs' rulers to make Mariner's Compass blocks that are STRIP-PIECED, not paper-pieced! You can make these blocks in 16 different sizes. There are many variations and Ruth is writing more and more patterns for the rulers. Fantastic! Thursday, August 10, 2-5, Annie teaching.
Need help getting your quilt sandwiched? Bring your top, backing, and batting and spray or pins to Sandwich night, August 11. There are two appointments available, at 7 and 8. Please call the shop to claim one of them!
ANS: Meander Quilting Edge to Edge: Create your own edge-to-edge quilting patterns using Art and Stitch (ANS) in this hands-on class. Art and Stitch must be installed on your computer prior to the start of class. If you need to have this done, please call the shop to make arrangements for the installation. The class is limited to 4 students. It is suitable for beginner and intermediate ANS users, and starts Tue, Aug 15, 2017 at 10:00 am.
Our August Quilts of Valor meeting is on the 16th. This is a free event and all fabric is provided. Just bring your sewing machine, neutral thread, and basic sewing supplies. If you would like to participate but don't want to sew, we need helpers to press, wield seam rippers, and do other chores as assigned. If you want to sew but can't lift your sewing machine, we can arrange a loaner for you for the class…or we'd love to sell you a more portable machine for classes, retreats, vacations, and such! Please register, as space is limited.

"Rag Basket" may be a misleading name for these lovely bowls! Make your bowl with clothesline wrapped with strips of fabric. Learn how to finish off with a fancy handle and add embellishments. Get tips for shaping the bowl. Thursday, August 17, 10:30-1:30.
SAVE THE DATES

August 11-13: Four County Quilters Guild Quilt Show at the Frederick County Fairgrounds
September 21: Superior Threadology – lecture and workshop with Diane Henry
September 22 & 23: Quilting is a Stitch – a Handi Quilter education event with Diane Henry. See the 3rd quarter newsletter for more information.
September 23 & 24: Friendship & Eternal Quilts Guilds Show in Linthicum Heights
October 6-8: Everybody's Quilt Guild Quilt Show in Westminster
November 9-18: Quilters' Quest Shop Hop


COMMUNITY CORNER

Pierce Mill, located at 2539 Tilden St. NW, in Rock Creek Park, is the last remaining mill in Washington, DC. Friends of Pierce Mill have set October 14 as Heritage Day. Step back in time and witness the 19th century, four-story grist mill grind corn into meal, powered by a giant water wheel. Heritage Day activities are from 10-4. Milling demonstrations will take place from 11-2. There will also be hands-on activities for children, live bluegrass music, and other exhibitions, including hand quilting. Pierce Mill is seeking a small group of hand quilters to give a demonstration. Please contact Steve Dryden at jsdryden@comcast.net or by phone at 301-512-5899 if you are interested in participating in this fun day.



CAPITAL QUILTS BLUE BAG BONANZA
Our July prize is a Fat Quarter Bundle from Blank Fabrics and two patterns, "Nessie" by Elizabeth Hartman and "Play, the Store Away" by Cozy Nest Design. To be entered in each month's drawing, bring your Capital Quilts Blue Bag with you when you shop. Make sure you show it to the staffer at the register! Upon completion of your sales transaction, your name will be put in the jar for the drawing at the end of the month. The more you shop, the more chances you have to win. Don't have a Blue Bag? Purchase one at the shop, by phone, or online for just $4.99. We save all of the entries for the year, and at the end of the year we draw a Grand Prize Winner from all the entries.

Sign up for our 5th Saturday Club! Purchase your Green Tag for $10 and come to our special events on the four 5th Saturdays of 2017. The next one is July 29! Notions, thread, batting and patterns will be on sale. It's a great opportunity to stock up on the necessities.

Our thanks to everybody who shops at Capital Quilts and who participates in the Blue Bag Bonanza.
Save
Save
Save
Save