Skip Navigation
Website Accessibility
What's New at CQ 08/03/17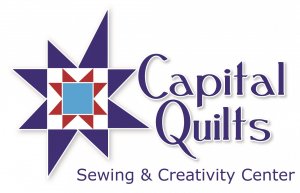 "One thing I know for sure: there are no rules in quilting. And if you think there are, then it's time to break a few." Dana Bolyard
Dear Friends,
The Four County Quilters Guild of Mount Airy MD will hold it biannual quilt show on August 11-13 at the Frederick County Fairgrounds. Capital Quilts is a vendor at the show, and we are looking forward to a great time! I hope you will come see us at the show. If you've been thinking about purchasing a Heavenly Seating chair for your sewing room or office, place your order anytime between now and August 18 to take advantage of a 10% savings at the show.
The Montgomery County Agricultural Fair will be held at the Montgomery County Fairgrounds in Gaithersburg August 11-19. Capital Quilts is sponsoring some of the prizes for quilts. Get your entries in, ladies and gentlemen! We love it when our customers win prizes!
Janome Club will not meet in August. Instead, we will have two meetings in September, on the 16th and the 30th, both from 10:30-12:30.

Introducing the Handi Quilter Ruler of the Month Club! Capital Quilts is a participating dealer. Each month, now through December 2017, HQ will introduce a new ruler. You'll come to the shop to pick yours up and enjoy a demonstration of how to use it. There will be a video tutorial available to you as well, so that you can review it at home. You will be introduced to new styles and techniques and build your ruler skill set and confidence. The Club continues for six months, and you will save a total of $30 for the six rulers. The rulers will not be available to the general public until 2018! Sign up for the Club in the shop, by phone, or online. Pay a one-time fee of $150. The first meeting of the Ruler of the Month Club is Saturday, August 12, at 11am.
Our Fall Handi Quilter event, "Quilting is a Stitch", is now open for registration! National HQ Educator Diane Henry will be with us on September 22 & 23 and will teach 4 different classes. On Friday, it's the 3B's: Backgrounds, Borders, & Blocks in the morning and Creative Textures & Fills in the afternoon. These classes consider what designs to use in what situation, how to create different effects with quilting, some basic techniques such as turning a quilt, and how to extend designs. On Saturday, we'll get into the nitty-gritty of creating the designs using rulers and templates. In the morning, Diane teaches basic ruler safety, how to use rulers accurately, and reviews what all the different shaped rulers can do in the "Ruler Mania" class. In the afternoon, she will open up a new world of design options in "Custom Waves, Curves, & Circles." Diane will introduce you to all the circle and curve rulers. Each class is 3 hours long and costs $30. Register for all four and save 10%. Purchase a Handi Quilter longarm machine from Capital Quilts between now and September 23 and take any or all four of the "Quilting is a Stitch" classes for free!
I am still looking for salespersons. The successful candidates will have extensive knowledge of quilting, and/or knowledge and experience with sewing machines, be friendly and customer-service oriented, and have a good sense of humor, and like to have fun. Prior experience in retail is helpful. We need people to work 2 or 3 shifts of 4 hours each during the week plus at least one weekend 4-hour shift per month. Please send your resume to alison@capitalquilts.com.

Go 'n' piece,

Alison Zacharkiw



VENDOR SPECIALS:

Handi Quilter: Celebrate Handi Quilter's Founder's Day August 3rd through 22nd. Save up to $3,500 on one of four different machine packages. Click here for more details!


NEW & NOTEWORTHY:

Timeless Treasures sent us a shipment of novelty fabrics. They only assigned numbers to these fabrics, so I took the liberty of naming them! Each is $12.50/yd.
Denyse Schmidt has a line out called "Washington Your-Guess-Is-As-Good-As-Mine." It's not really called that: on the Free Spirit website it is called "Washington Depot", and on the front of the layer cake package it is called "Washington Square", and on the ends of the bolts it is called "Washington Post", which I find rather amusing. Maybe we should just call it "Washington"! We have three of the bolts plus the 10" squares for the entire line. The bolts are $12.50/yd. and the 10" square package is $42.99.
We also have 11 new bolts of Art Gallery Fabrics in the shop. Absolutely yummy. $12.50/yd.
Books are discounted every day at Capital Quilts!
Light not only catches the eye, it can transform your work into something truly magical. In Radiant Landscapes, Gloria Loughman shows you how light can set a mood. You'll get stunning results with her mosaic tile process for capturing the essence of natural light with your fabric selection. She shares important design principals behind perspective, composition, color, and focal points that add dramatic depth to your landscape applique quilts. MSRP $29.95, CQ price only $25.46!
Julie Herman of Jaybird Quilts introduces Alphabet Soup. Build your own personalized projects with letters & numbers cut with the Hex N More & Super Sidekick rulers, all with no Y seams! The book includes full color directions for all letters of the alphabet, numbers 0 to 9, coloring pages, full size templates and eight projects that you can make with the personalized blocks of your choice. The possibilities of what you can make with Alphabet Soup are endless! MSRP $29.98, CQ price only $25.48!


CLASSES:

You can sign up for classes online, by phone at 301-527-0598, or in person at the shop.



The next Featherweight Clinic is on Saturday, August 5, 10:30-12:30. There is 1 seat available. You will learn how to take your Singer Featherweight apart, clean and oil it, and reassemble it.
Kids' Camp starts on Monday, August 7! Come to the shop each morning of the week, 10:30-1, and sew a fun project. We'll make drawstring bags, pillowcases, a zippered pouch, and do a little embroidery and learn how to sew on a button.
Need help getting your quilt sandwiched? Bring your top, backing, and batting and spray or pins to Sandwich night, August 11. There are two appointments available, at 7 and 8. Please call the shop to claim one of them!
ANS: Meander Quilting Edge to Edge: Create your own edge-to-edge quilting patterns using Art and Stitch (ANS) in this hands-on class. Art and Stitch must be installed on your computer prior to the start of class. If you need to have this done, please call the shop to make arrangements for the installation. The class is limited to 4 students. It is suitable for beginner and intermediate ANS users, and starts Tue, Aug 15, 2017 at 10:00 am.
Our August Quilts of Valor meeting is on the 16th. This is a free event and all fabric is provided. Just bring your sewing machine, neutral thread, and basic sewing supplies. If you would like to participate but don't want to sew, we need helpers to press, wield seam rippers, and do other chores as assigned. If you want to sew but can't lift your sewing machine, we can arrange a loaner for you for the class…or we'd love to sell you a more portable machine for classes, retreats, vacations, and such! Please register, as space is limited.
"Rag Basket" may be a misleading name for these lovely bowls! Make your bowl with clothesline wrapped with strips of fabric. Learn how to finish off with a fancy handle and add embellishments. Get tips for shaping the bowl. Thursday, August 17, 10:30-1:30.
Finish your own quilts! Take the Getting Started: the Simply Sixteen class with Annette on Wednesday, August 23, 2-4, and learn how to use this HQ quilting machine. Whether you want to buy your own machine or rent ours, this is a great class for learning all about it.
Finish your own quilts…sitting down! The Getting Started: the Sweet Sixteen class meets on Thursday, August 24, 2-4, with Annette. Learn how the Sweet Sixteen works so that you can rent our machine or enjoy your own at home.
Finish your own quilts…standing up at the Avante or the Fusion! Getting Started: the HQ Longarm Machine is a class designed to teach you how to use these two machines. The difference between the two is mostly in the amount of quilting space you have: the Fusion has a couple of inches more. You will be able to rent our machines upon completion of the class. Barbara Bean is teaching on Friday, August 25, 6-9
SAVE THE DATES

August 11-13: Four County Quilters Guild Quilt Show at the Frederick County Fairgrounds
September 21: Superior Threadology – lecture and workshop with Diane Henry
September 22 & 23: Quilting is a Stitch – a Handi Quilter education event with Diane Henry. See the 3rd quarter newsletter for more information.
September 23 & 24: Friendship & Eternal Quilts Guilds Show in Linthicum Heights
September 30: 5th Saturday Club Sale!! Get your CQ Blue Bag and your Green Ticket so that you can participate in the 3rd and 4th 5th Saturday sales!
October 6-8: Everybody's Quilt Guild Quilt Show in Westminster
November 9-18: Quilters' Quest Shop Hop


COMMUNITY CORNER

Pierce Mill, located at 2539 Tilden St. NW, in Rock Creek Park, is the last remaining mill in Washington, DC. Friends of Pierce Mill have set October 14 as Heritage Day. Step back in time and witness the 19th century, four-story grist mill grind corn into meal, powered by a giant water wheel. Heritage Day activities are from 10-4. Milling demonstrations will take place from 11-2. There will also be hands-on activities for children, live bluegrass music, and other exhibitions, including hand quilting. Pierce Mill is seeking a small group of hand quilters to give a demonstration. Please contact Steve Dryden at jsdryden@comcast.net or by phone at 301-512-5899 if you are interested in participating in this fun day.



CAPITAL QUILTS BLUE BAG BONANZA

Congratulations to Deb S., winner of the July drawing!
Our August prize is Stash-Buster Quilts by Lynne Edwards.
To be entered in each month's drawing, bring your Capital Quilts Blue Bag with you when you shop. Make sure you show it to the staffer at the register! Upon completion of your sales transaction, your name will be put in the jar for the drawing at the end of the month. The more you shop, the more chances you have to win. Don't have a Blue Bag? Purchase one at the shop, by phone, or online for just $4.99. We save all of the entries for the year, and at the end of the year we draw a Grand Prize Winner from all the entries.

Sign up for our 5th Saturday Club! Purchase your Green Tag for $10 and come to our special events on the four 5th Saturdays of 2017. The next one is September 30th! All fabric, panels, kits, and precuts will be 20% off for blue bag/green ticket holders ONLY.

Our thanks to everybody who shops at Capital Quilts and who participates in the Blue Bag Bonanza.
Save
Save
Save