Skip Navigation
Website Accessibility
What's New at CQ 08/24/17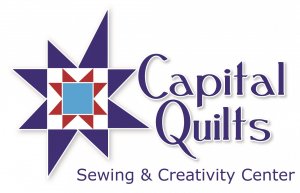 "Act as if what you do makes a difference. It does." William James
Dear Sewing Specialists,
Staffer Marianne Losey and I have been in at a Janome convention this week. Janome announced two new machines: the Horizon Quilt Maker Memory Craft 15000 (which is a huge mouthful of a name and we will shorten it to Quilt Maker!) and the 6700P. The QM15000 has all the features of the current 15000 model plus upgrades for ruler work and some new embroidery features. On the quilting side, there is a new ruler work mode, new feet and a new needle plate for the Professional Grade foot, a tapering stitch mode, and a ¼" seam foot without a flange. For you embroiderers, Janome has added custom baste and trace functions, 6 additional monogram borders, a locking stitch on/off function, a function for rotating patterns at the edge of your hoop, a fine positioning/angle adjusting key, and a light bar that turns progressively pinker as the embroidery design is stitched out. Janome is partnering with Sew Steady and Westalee to bring you the best of all three companies. Purchase a QM15000 and you will receive a kit that includes a Thread Carrier Set that is stocked with 24 polyester mini-king spools and 12 cotton mini-king spools, a ruler/notions organizer bag, an MC15000 Workbook, and a Westalee Ruler Kit that has six of Westalee's most popular rulers. This is a $449 kit that you get for free with your purchase.
Current owners of the MC15000 will be able to upgrade their machines to the Quilt Maker version. This will be a free upgrade, done in the shop. We do not yet have the tools to do this upgrade; I believe Janome is sending them out next month. As soon as we have them, we will notify those who have purchased their 15000s here at CQ. We can also upgrade those of you who purchased elsewhere, but I don't know who you are, and you will have to contact us.
"Sit. Sew. Fall in love." Give the new 6700P a try and that is what may well happen! This machine is the new and improved 6600. It has a 10" all metal seamless flatbed (the 6600 has a 9" bed). It stitches 1200 straight stitches per minute and 1000 decorative stitches per minute, the fastest machine in the industry, and every stitch is beautiful. Push a button to pop off the needle plate…no screws or screwdriver to mess with! The shape of the machine is more slender and there are 3 high powered LED lights for shadowless sewing. The package includes the HP foot and needle plate, perfect for curved piecing and scant ¼" seams. And there are many more features, so many that I fear I would bore you if I listed them all. I've got two machines on order; as soon as they come in and we have one set up, I will put out the good word.
Cuddle Lovers: I have placed every bit of our Cuddle on clearance! Look for it in the Clearance section in the Handi Quilter room.
Just two weeks left for Row by Row 2017! Where oh where has the summer gone? We have only 5 laser-cut kits left, so if you've had your eye on one, get it before they are gone!
Get huge savings on the Handi Quilter Avante and the Handi Quilter Fusion quilting machines and get them here at Capital Quilts! The Avante's regular price is $10,995 and the Fusion's is $13,995. Purchase either machine here at Capital Quilts and save $3,000! And you still get free home installation, a free lesson, one year's free admission to the Longarm Club, and free admittance to the Education event in September, as described below under "Handi Quilter Stuff". Most importantly, you get the full support of Handi Quilter and Capital Quilts for as long as you own your HQ machine. We want you to be the happiest quilter on the planet!
Janome Club will not meet in August. Instead, we will have two meetings in September, on the 16th and the 30th, both from 10:30-12:30.
We will be open on Labor Day from 10-6.


Go 'n' piece,

Alison Zacharkiw



HANDI QUILTER STUFF:
Purchase a Handi Quilter machine or ProStitcher between now and September 23 and I'll give you a bonus of four free classes at our "Quilting is a Stitch" education event on September 22 and 23. National HQ Education Diane Henry will be teaching classes here at Capital Quilts those two days. Skip down two more paragraphs for more information!
It's not too late to join the Handi Quilter Ruler of the Month Club. Capital Quilts is a participating dealer. Each month, now through December 2017, HQ will introduce a new ruler. You'll come to the shop to pick yours up and enjoy a demonstration of how to use it, usually on the 4th Saturday of the month. There will be a video tutorial available to you as well, so that you can review it at home. You will be introduced to new styles and techniques and build your ruler skill set and confidence. The Club continues for six months, and you will save a total of $30 for the six rulers. The rulers will not be available to the general public until 2018! Sign up for the Club in the shop, by phone, or online. Pay a one-time fee of $150, which includes all the rulers, all the instruction, all the tutorials, and the full support of Capital Quilts and Handi Quilter!
Our Fall Handi Quilter event, "Quilting is a Stitch", is now open for registration! National HQ Educator Diane Henry will be with us on September 22 & 23 and will teach 4 different classes. On Friday, it's the 3B's: Backgrounds, Borders, & Blocks in the morning, and Creative Textures & Fills in the afternoon. These classes consider what designs to use in what situation, how to create different effects with quilting, some basic techniques such as turning a quilt, and how to extend designs. On Saturday, we'll get into the nitty-gritty of creating the designs using rulers and templates. In the morning, Diane teaches basic ruler safety, how to use rulers accurately, and reviews what all the different shaped rulers can do in the "Ruler Mania" class. In the afternoon, she will open up a new world of design options in "Custom Waves, Curves, & Circles." Diane will introduce you to all the circle and curve rulers. Each class is 3 hours long and costs $30. Register for all four and save 10%. Purchase a Handi Quilter longarm machine from Capital Quilts between now and September 23 and take any or all four of the "Quilting is a Stitch" classes for free!


NEW & NOTEWORTHY:
"Bohemian Manor II" from In the Beginning Fabrics is a lovely collection of soft pinks, teals, greens, and a touch of gold. There are many more bolts than these, all with lovely textures. $11.99/yd.
Three sassy bolts from Ink & Arrow are from the "Toucan Do It!" collection. $12.50/yd.
I couldn't resist the "Full Moon Cats". I hope you can't either! From Hoffman, $12.99/yd.
I have three "Awesome Ocean" kits from Elizabeth Hartman! $216 gets you 60 pieces of fabric totaling 17.375 yards, the binding, and the pattern. Awesome!
From Clothworks we have the Bro.ther Sis.ter collection, including two panels. The panels are $8.50 each (there are two images on each panel) and the yardage is $12.50/yd.
Two more panels are new arrivals: "Grandparents Rules" ($8.95 each) and "Curious Cats" ($12.99 each). "Curious Cats is meant to be made into two stuffed cats (Mr. and Mrs. Fluffybottom) and one stuffed mouse (Mr. Meepers). I suppose you could get creative and applique them on to the front and back of a quilt!
Don't forget that books are discounted every day at Capital Quilts!


CLASSES:

You can sign up for classes online, by phone at 301-527-0598, or in person at the shop.

Finish your own quilts…standing up at the Avante or the Fusion! Getting Started: the HQ Longarm Machine is a class designed to teach you how to use these two machines. The difference between the two is mostly in the amount of quilting space you have: the Fusion has a couple of inches more. You will be able to rent our machines upon completion of the class. Barbara Bean is teaching on Friday, August 25, 6-9.
Friday, August 25 is the last Friday in August. Join us for Sit 'n' Sew from 5-9. FREE. Bring some food to share and your own projects and supplies and enjoy sewing with friends old and new.
Antelope Canyon begins on Sunday, August 27 with a one-hour prep class at 12:30. Don't think you can skip this one: this project is all about organization, and that is just what Hilary Hastie will be helping you do in this first meeting. Two more sessions follow, on September 10 and October 1.
Join the Zentangle community by taking the Zentangle: Beginner's Workshop on Sunday, August 27 with Pat Dee, 2:30-4:40. Completion of this class allows you to take any other Zentangle class on the planet. And it's fun! There is a $5 supplies fee, payable to Pat in class.
The next Improv Sew-in is on Monday, August 28 from 1-4. Kat and/or Kim will be there to answer your questions.
Make a fun pillow in this Slice of Summer Pillow class with Barbara Kascic, Tuesday, August 29, 2-5. The pillow is a combination of piecing and applique, plus you'll learn how to make ruches (take the class and find out what that is!).
The next Sandwich Day is August 30. Appointments are available at 1, 2, 3, and 4. Bring your top, batting, and basting spray or pins and let us help you get your quilt ready for finishing! If you are going to longarm quilt your quilt, or have someone else longarm it, you do not need to sandwich your quilt. In any case, your back needs to be wider than your top on all sides, and your batting should be the same size as your backing. The backing and the top must be square for best results. Check with our staffers if you are not sure what that means. We are here to help!
Also on Wednesday, August 30, Barbara Bean is teaching Rulers for the Longarm, a class on using rulers on the Handi Quilter longarm machines. She will review using the rulers safely as well as all the marvelous things you can do with rulers. Class meets from 11-1.
If you wanted to sign up for the Rag Basket class, but were unavailable last week, we've got good news! You can take it next week, on August 31st at 10:30am.
And now we move into September! Bruce has appointments available for sewing machine servicing at 1, 2, and 3pm on Sunday, September 3.
Learn how to machine quilt with Annette on Tuesday, September 5, 10:30-1. The class is called Machine Quilting for Beginners.
From 11-2 on the 5th, learn how to use the HQ Avante and Fusion in Getting Started: the HQ Longarm Machine. Successful completion of this course allows you to rent our machines here at the shop to finish your own quilts.
SAVE THE DATES

September 21: Superior Threadology – lecture and workshop with Diane Henry
September 22 & 23: Quilting is a Stitch – a Handi Quilter education event with Diane Henry. See the 3rd quarter newsletter for more information.
September 23 & 24: Friendship & Eternal Quilts Guilds Show in Linthicum Heights
September 30: 5th Saturday Club Sale!! Get your CQ Blue Bag and your Green Ticket so that you can participate in the 3rd and 4th 5th Saturday sales!
October 1: Trunk Show with Jennifer McClanahan of Sweet Tea Pattern Co., 3:30-5
October 6-8: Everybody's Quilt Guild Quilt Show in Westminster
October 19: The Larry Sheckman Show – Meet our fabric rep for Timeless Treasures and other companies and get a sneak preview on what his companies will be showing at Quilt Market the following week. 6:30-8:30
November 9-18: Quilters' Quest Shop Hop
December 9: Handi Quilter Demo Day - see all the cool new stuff from Quilt Market!


COMMUNITY CORNER
Bethesda Quilters Quilt Guild is having their 2017 Quilt Show on October 13 & 14, 10-5 at the Holy Redeemer Church School, 9705 Summit Ave., Kensington, MD. 100 quilts will be on display and there will be a white elephant sale, a boutique, and a silent auction. Take a chance on the raffle quilt and raffle baskets!

Pierce Mill, located at 2539 Tilden St. NW, in Rock Creek Park, is the last remaining mill in Washington, DC. Friends of Pierce Mill have set October 14 as Heritage Day. Step back in time and witness the 19th century, four-story grist mill grind corn into meal, powered by a giant water wheel. Heritage Day activities are from 10-4. Milling demonstrations will take place from 11-2. There will also be hands-on activities for children, live bluegrass music, and other exhibitions, including hand quilting. Pierce Mill is seeking a small group of hand quilters to give a demonstration. Please contact Steve Dryden at jsdryden@comcast.net or by phone at 301-512-5899 if you are interested in participating in this fun day.


CAPITAL QUILTS BLUE BAG BONANZA

Our August prize is Stash-Buster Quilts by Lynne Edwards.
To be entered in each month's drawing, bring your Capital Quilts Blue Bag with you when you shop. Make sure you show it to the staffer at the register! Upon completion of your sales transaction, your name will be put in the jar for the drawing at the end of the month. The more you shop, the more chances you have to win. Don't have a Blue Bag? Purchase one at the shop, by phone, or online for just $4.99. We save all of the entries for the year, and at the end of the year we draw a Grand Prize Winner from all the entries.

Sign up for our 5th Saturday Club! Purchase your Green Tag for $10 and come to our special events on the four 5th Saturdays of 2017. The next one is September 30th! All fabric, panels, kits, and precuts will be 20% off for blue bag/green ticket holders ONLY.

Our thanks to everybody who shops at Capital Quilts and who participates in the Blue Bag Bonanza.
Save
Save
Save