Skip Navigation
Website Accessibility
What's New at CQ 08/31/17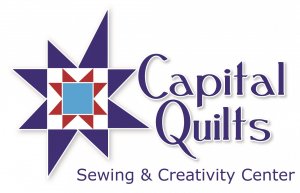 "Hurricane season brings a humbling reminder that, despite our technologies, most of nature remains unpredictable." Diane Ackerman
Dear Community of Quilters and Sewers,

Have you been watching the video of Houston these last few days with the same amount of OMG feeling for the people and animals, and fascination and awe at the power of Mother Nature, that I am feeling? Houston is the site of the Fall Quilt Market, and it is held in the same convention center that now houses thousands of refugees from the storm. I know the buildings and streets in that area, and it is terrible (and rather weird) to see them under water. The company that organizes Quilt Market is currently saying that the show will go on as planned; I hope they are right, but I am not rushing out to get my plane ticket!
I am not aware of any organization asking for quilts for the folks in Texas and Louisiana, although I feel sure there must be some. If you know of any, Capital Quilts is happy to be a collection point. Please send me any information you have.

We still have seats available for the Quilting is a Stitch classes coming up on September 22-23. Register for all four classes, and we'll take off 10%!

A note from our Quilting Services staff: the holidays are rapidly approaching (Christmas is 114 days away and Hanukkah 102 days). If you have one or more quilts you would like to have us quilt in time for the holidays, please bring them to us not later than November 1 to guarantee delivery. We will not take more quilts than we think we can complete, and even the November 1 date may become a moot point. If, however, you have a top ready for quilting after November 1, please give us a call; hopefully we will be able to help you. We may have a cancellation, or the ladies may get quilting projects completed faster than they had anticipated.
Alternatively, you can purchase a Handi Quilter and finish your own quilts on Christmas Eve! Starting today, all of our floor models are on sale at a 30% discount for the month of September. Or, purchase a new Avante or Fusion at $3,000 off Handi Quilter's recommended retail price.
The new Janome 6700P machines have arrived! We've set the machine up right at the front of the Sewing Machine Department. Ask Barbara to give you a demo when you next are in the shop. It's a beauty, the perfect piecing machine for quilters!
Looking for ways to entertain out-of-town guests this weekend? Or perhaps just yourself and your family? Check out the National Book Festival at the Walter E Washington Convention Center in DC. It opens at 9am on Saturday and is free. Also free is the Labor Day Capitol Concert on the West Lawn of the US Capitol on Sunday at 8pm. Weather permitting, you might hike the C&O Canal and check out the Great Falls, or rent kayaks at the Key Bridge Boat House, or float around the Tidal Basin in paddle boats. Take a pontoon boat ride on Lake Seneca, or see the butterflies at Brookside Gardens, or check out a farmer's market. For more ideas, do an online search on "things to do this weekend in Washington DC" and on "things to do in Montgomery County MD this weekend".
And the best thing to do on Labor Day? Come to Capital Quilts and SAVE during our Labor Day Sale! The doors open at 10am Monday!
Go 'n' Piece,
Alison
TIPS FROM THE PROS: We recently had a much-loved quilt brought to us for repair because the quilting stitches were pulling out of the fabric in a rampant sort of way. We all looked at the quilt during a staff meeting, trying to figure out why this was happening. The backing on the quilt was fleece. We decided that because fleece is not a woven fabric, there was little or nothing for the quilting stitches to hang on to after multiple washings eroded the fleece. Our recommendation to the quilt's owner: remove all the quilting stitches, the binding, and the fleece, back the quilt with a woven fabric, and requilt and rebind.

NEW & NOTEWORTHY:

From Robert Kaufman, we have three bolts of cotton jersey from Carolyn Friedlander's Blake collection. This 59" wide lightweight knit is perfect for t-shirts and more. Click here to see the Blake Look Book for more ideas. $17.50/yard.

Butterfly Grotto from Timeless Treasures has a breezy, summer feel to it. Beautiful butterflies and gorgeous blooms abound. $12.50/yard.

Do you want your flowers and butterflies to appear a bit more artisanal? Serendipity from Northcott is what you're looking for! We have both a gorgeous panel, and several bolts of coordinates. The panels are $8.50/each; coordinates are $12.50/yard.

We have a couple bolts of gorgeous batik wide backs from Timeless Treasures! $24.50/yard.

Are you a "curvy girl"? We are now carrying a selection of patterns from Cashmerette. These are modern patterns designed for sizes 12-28, cups C-H. $18.00 each.

Did you know? Books are discounted every day at Capital Quilts!


CLASSES:

You can sign up for classes online, by phone at 301-527-0598, or in person at the shop.

If you're unsure what to do with your hands, and how to attach and use your feet when machine quilting, Machine Quilting for the Beginner is the class for you! We will be using a pre-printed panel to minimize preparation time and maximize learning. The panel is large enough to allow for continued practice at home. Tuesday, September 5, 10:30am.

Barbara is giving her popular Needles and Thread lecture on Wednesday, September 6 at 10:30am. Learn which needles to use with with thread, and why.

The Handi Quilter Simply Sixteen lets you quilt any size quilt without having to attach leaders! Annette takes you through all you need to know to rent this machine on Wednesday, September 6 at 7pm.

If you prefer to quilt sitting down, Getting Started: the Handi Quilter Sweet Sixteen is the class you're looking for, on Thursday, September 7 at 2pm. You will learn how to thread it, wind and load a bobbin, establish good tension, bring up the bobbin thread, anchor and tie off, use the TruStitch stitch regulator, and do some basic designs.

We have appointments available for Sandwich Night on Friday, September 8th. You bring your quilt, backing, batting, and preferred basting tools, and we help you get it all together.

Lois Sumser is again offering the Rag Basket class on Tuesday, September 12th. Not only will you learn how to make these attractive and durable bowls, but Lois will offer tips on embellishment, too.

Hand quilting is both satisfying and stress relieving. Chris will help you find your quilting Zen in Hand Quilting - the Ultimate Finish on Thursday, September 14th at 10:30am.

Kim took the classic "Patchwork of the Crosses" block, super-sized it, and appliqued it down for a modern wall hanging. In Big Lucy Boston on Thursday, September 14 at 7pm, you'll learn English Paper Piecing (not as scary as it sounds!) and how to fussy cut your fabric for maximum wow factor.

If you're already familiar with the Handi Quilter longarm machines, and want to explore the possibilities of computer-aided quilting, you'll want to take Getting Started: The Basics of Pro-Stitcher on Friday, September 15 at noon. Please note that you'll need to make an appointment to get the simulator installed on your laptop at least three days prior to class.

CQ Cares: Quilt of Valor is one of our most popular charitable workshops. Join Sue Moats on Saturday, September 16th at 1:00pm to make a quilt to honor those who have served in the military. This is a free event, but we ask that you register as space is limited.



SAVE THE DATES

September 21: Superior Threadology – lecture and workshop with Diane Henry
September 22 & 23: Quilting is a Stitch – a Handi Quilter education event with Diane Henry. See the 3rd quarter newsletter for more information.
September 23 & 24: Friendship & Eternal Quilts Guilds Show in Linthicum Heights
September 30: 5th Saturday Club Sale!! Get your CQ Blue Bag and your Green Ticket so that you can participate in the 3rd and 4th 5th Saturday sales!
October 6-8: Everybody's Quilt Guild Quilt Show in Westminster
October 19: The Larry Sheckman Show
November 9-18: Quilters' Quest Shop Hop


COMMUNITY CORNER

Pierce Mill, located at 2539 Tilden St. NW, in Rock Creek Park, is the last remaining mill in Washington, DC. Friends of Pierce Mill have set October 14 as Heritage Day. Step back in time and witness the 19th century, four-story grist mill grind corn into meal, powered by a giant water wheel. Heritage Day activities are from 10-4. Milling demonstrations will take place from 11-2. There will also be hands-on activities for children, live bluegrass music, and other exhibitions, including hand quilting. Pierce Mill is seeking a small group of hand quilters to give a demonstration. Please contact Steve Dryden at jsdryden@comcast.net or by phone at 301-512-5899 if you are interested in participating in this fun day.



CAPITAL QUILTS BLUE BAG BONANZA

Congratulations to Deb S., winner of the July drawing!
Our August prize is Stash-Buster Quilts by Lynne Edwards.
To be entered in each month's drawing, bring your Capital Quilts Blue Bag with you when you shop. Make sure you show it to the staffer at the register! Upon completion of your sales transaction, your name will be put in the jar for the drawing at the end of the month. The more you shop, the more chances you have to win. Don't have a Blue Bag? Purchase one at the shop, by phone, or online for just $4.99. We save all of the entries for the year, and at the end of the year we draw a Grand Prize Winner from all the entries.

Sign up for our 5th Saturday Club! Purchase your Green Tag for $10 and come to our special events on the four 5th Saturdays of 2017. The next one is September 30th! All fabric, panels, kits, and precuts will be 20% off for blue bag/green ticket holders ONLY.

Our thanks to everybody who shops at Capital Quilts and who participates in the Blue Bag Bonanza.
Save
Save
Save