Skip Navigation
Website Accessibility
Hurricane Relief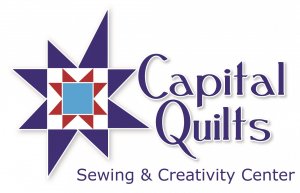 "We have a responsibility to help those around us and help others in need." Virginia Williams
Dear Quilting and Sewing Community,

Many of you have responded to my call for information in Thursday's Capital Quilts Newsletter about how to provide help to the victims of Hurricane Harvey. I am grateful to you for your help.
For those of you who are connected to the Linus project, Linus is collecting quilts to send to Houston. They have some restrictions on what they will accept. Please contact your Linus group, or refer to their website.
Here at Capital Quilts, we are going to have a two-pronged project. First, we will work with a non-profit called Craft Hope. Located in Texas, this group is collecting quilts and knitted or crocheted blankets, sized baby through king, and giving them to firefighters in the hard-hit neighborhoods of Houston to give to families that are in great need. They are calling this effort "Project 30: Quilts for Houston", because it is the 30th time they have done something like this. I feel confident they know what they are doing and that quilts and blankets will be delivered to those who need them most. You can find out more at www.facebook.com/crafthopetogether/
We have put a box in the front of the shop and labeled it "Help for Harvey Victims". If you have one or more quilts or blankets you would like to donate, you can put it in the box. Each item must be NEW and handmade, not purchased. Any size, from baby to king, is appropriate. I would recommend a lightweight batting, such as Quilter's Dream Request Cotton, as Houston, Texas, is rather warmer than here in the DC area. Project 30 has no end date on it as yet; the director knows that it takes time to make a quilt! Capital Quilts will send your quilts and blankets to Craft Hope.
We are opening our classroom for free sewing time to those who wish to make quilts for Houston. We will have fabric and simple patterns available. You are welcome to bring your own fabric and pattern as well. Bring your own machine, thread, a rotary cutter and 18" x 24" mat, a 24" ruler, and basic sewing supplies. Free sewing times are:
Monday, September 11, 10-12
Wednesday, September 13, 2-5
Thursday, September 14, 2-5
Friday, September 15, 10-1 and 2-5
Monday, September 18, 2:30-5:30
Tuesday, September 19, 2-5
We can accommodate up to 12 people at one time. Please call to register for a time, so that we don't have too many people coming at once. Get some friends together and come as a group! Bring some food and make it a party!
Secondly, we want to help the pets that are suffering because of Harvey. The Quilt Pattern Magazine formed their Small Kennel Quilt Team after Hurricane Sandy to help animal shelters affected by disasters. They are partnered with the Petfinder Foundation. When the Petfinder Foundation receives a request for help, it contacts the Quilt Pattern Magazine team, which springs into action. They currently have six requests for assistance. Find out more at www.kennelquilts.com . I have also heard that local shelters are accepting pets from the Houston area, and we may be able to help there, as well. If anybody hears of a local shelter needing bedding, please let us know.
We are having a CAPITAL QUILTS CARES: KENNEL QUILTS event on Wednesday, September 13, 10:30-12:30. As usual, it is free and all fabric is provided. We will be making 12" x 18" kennel quilts, pillowcased (no binding). You can make kennel quilts at home as well, and bring them to the shop for distribution. You can also make them during our free sew times listed above. Here are the requirements for the kennel quilts:
Guidelines for Small Kennel Quilts:
Materials used should be 100% cotton (biodegradable) (Do not use flannel as it sheds too much).

Pre-wash fabrics (pets can have allergies just like humans).

Finished size should be 12" x 18". This fits the most commonly used small kennel used at shelters.

When piecing, use a small stitch length (e.g. 14 stitches/inch).

Do not use binding as it can be hazardous to pets if it becomes loose. Layer, sew around the edge using a small stitch length, and turn quilts pillow-cover style. Whipstitch the opening with small, tight stitches.

Use only simple appliques that are secured with tight stitches along the edges. Avoid using fusibles.

Keep the quilting simple and use small tight quilting stitches that won't catch on pet claws. Do not tie quilts as the ends can get caught in claws or chewed off.

Do not use any metallic threads or other embellishments (e.g. beads, charms, buttons, ribbons, lace, trims, etc.) of any kind. Do not add handles or loops to the quilt.
The basic directions are to cut two pieces of cotton and a piece of cotton batting 12½" x 18½" . Place the fabrics right sides together and put them on top of the batting. Using a ¼ " seam, sew around all four sides of the quilt sandwich, leaving a 5" opening in one side for turning the quilt. Trim the corners. Turn the quilt right side out. Tidy up the corners and press. Slip stitch the opening closed. Stitch around the outside edge of the quilt, ¼" from the edge. Quilt as desired but keep it simple.
You can make fancier quilts if you'd like. There are free patterns on the Kennel Quilts website mentioned above. Practice your improv skills! Get your children to make one of these little quilts.
We will try to put together kits and have them available in the shop, so that you can make kennel quilts at home and bring them back to us for delivery. Please bring to them to the shop not later than September 20. If you would like to donate fabric and/or batting for this project, we would be very grateful to you.
Go 'n' piece,
Alison Zacharkiw
PS. I originally drafted this email a couple of days ago. Today, it looks like another hurricane, Irma, and perhaps another one after that, are hurtling towards Florida. If necessary, we will extend our hurricane relief efforts into the fall.
Save
Save
Save