Skip Navigation
Website Accessibility
What's New at CQ 09/7/17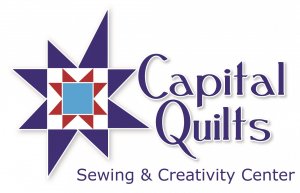 "I am certain that a Sewing Machine would relieve as much human suffering as a hundred Lunatic Asylums, and possibly a good deal more." Margaret Atwood, in Alias Grace
Dear Seekers of Fabric,
Quilters' Quest is just two months away! For those of you who are new to our community, Quilters' Quest is our annual shop hop. There are ten shops that participate in QQ, and you have ten days to visit them. From November 9 -18, enjoy the shops, win prizes, and get free quilt patterns. This year's theme is "Lights, Camera, Action!" Each shop has chosen a movie to decorate around and have fun with. Find out more at www.quiltersquest.org.
Concentrate on the fun and forget about the driving during Quilters' Quest! Hop on our bus on Friday and Saturday, November 10 and 11. Seats are still available. Sign up online, in the shop, or by phone (301-527-0598). Includes a light breakfast, lunch, snacks, a deluxe coach bus, all the driving, and a ton of fun! We come back to the shop Friday evening, so you can have dinner at home with your family and sleep in your own bed.

We still have seats available for the Quilting is a Stitch classes coming up on September 22-23. Register for all four classes, and we'll take off 10%! Buy a Handi Quilter and you we'll give you the classes for free!
A note from our Quilting Services staff: the holidays are rapidly approaching (Christmas is 107 days away and Hanukkah 95 days). If you have one or more quilts you would like to have us quilt in time for the holidays, please bring them to us not later than November 1 to guarantee delivery. We will not take more quilts than we think we can complete, and even the November 1 date may become a moot point. If, however, you have a top ready for quilting after November 1, please give us a call; hopefully we will be able to help you. We may have a cancellation, or the ladies may get quilting projects completed faster than they had anticipated.
Alternatively, you can purchase a Handi Quilter and finish your own quilts on Christmas Eve! Starting today, all of our floor models are on sale at a 30% discount for the month of September. Or, purchase a new Avante or Fusion at $3,000 off Handi Quilter's recommended retail price.

Hurricane Relief: after my last email, one of our quilting community members sent me this link: https://www.cbsnews.com/news/best-intentions-when-disaster-relief-brings-anything-but-relief/. The article describes how "stuff", including quilts and clothing, is not necessarily the best thing to donate, that much of the "stuff" is not distributed for many different reasons and ends up being put in a landfill or burned, neither one a good result for the victims of the disaster or for the environment. The author suggests that donations of money are much more appropriate: the money can be used by local people to purchase items that are needed when they are needed, and that as much as possible items are purchased locally, which boosts the economy. I have tried to avoid the distribution problem by going through Craft Hope. I am still collecting to send to Houston, to give comfort to those who are suffering, to adorn beds and couches when homes are rebuilt, to decorate walls. I would also encourage you to donate some amount to the Red Cross or other agency; even a little will make a difference. Be careful not to give to a scam; if you do a Google search on making donations to Houston, you will find articles about this problem.


Go 'n' Piece,
Alison

NEW & NOTEWORTHY:



Chroma from Alison Glass is the fifth collection in the Handcrafted series. The Handcrafted fabric series was born out of a partnership with Andover fabrics to create fabric using a batik type printing process, with a modern look. The full spectrum of color and smaller scale make the group highly useful for quilting, functioning as blenders as well as interest prints. These fabrics are also beautiful for garments! $15.50/yard

Tula Pink is back with Spirit Animal from Free Spirit Fabric. She's written a little story to explain her inspiration for these designs; paraphrasing it would not do her justice but you can read all about it on the Free Spirit website. Otters, birds, and bunnies abound in these 23 bolts. $12.50/yard

Make a delightful school of fish with Up The Lazy River from Far-Flung Quilts. Gather colorful fat quarters for fish and add beautiful blues for a water-y background. Use one blue or find four to six shades to make your river graduate from light to dark. $8.00

Take 18 Fat Quarters and divide them into three stacks of six. Do some 45-degree slicing, rearrange the slices, and sew them together to make a 56 x 64 quilt. Resizing is easy, just add more fat quarters. Six Stack by Nancy Rink Designs works up quickly, and is dynamic in any selection of fabrics. $10.00

If you're looking to use up your 2-1/2" strips, Hillside from Quilt Addicts Anonymous is the pattern for you! Hillside is a Jelly Roll and stash-friendly pattern. Made entirely of 2-1/2 inch strips with no neutral fabric, Hillside will help you show off all those beautiful prints in the design roll you just had to have. Use two Jelly Rolls from the same fabric line for a unified look, two Jelly Rolls from two fabric lines from the same designer for a more varied look or just raid your stash and use up some of the 2-1/2 inch strips you have been saving. $12.00
Did you know? Books are discounted every day at Capital Quilts!


CLASSES:

You can sign up for classes online, by phone at 301-527-0598, or in person at the shop.


We have one appointment available for Sandwich Night on Friday, September 8th. You bring your quilt, backing, batting, and preferred basting tools, and we help you get it all together.

We are opening our classroom for free sewing time to those who wish to make quilts for Houston. We will have fabric and simple patterns available. You are welcome to bring your own fabric and pattern as well. The first session is on Monday, September 11th at 10:00am.

Lois Sumser is again offering the Rag Basket class on Tuesday, September 12th. Not only will you learn how to make these attractive and durable bowls, but Lois will offer tips on embellishment, too.

On Wednesday, September 13 at 2:00pm, we'll have another CQ Cares: Help for Hurricane Victims sewing session.

Hand quilting is both satisfying and stress relieving. Chris will help you find your quilting Zen in Hand Quilting - the Ultimate Finish on Thursday, September 14th at 10:30am.

Another sewing session to help hurricane victims will be held Thursday, Sepember 14th at 2:00 pm.

Kim took the classic "Patchwork of the Crosses" block, super-sized it, and appliqued it down for a modern wall hanging. In Big Lucy Boston on Thursday, September 14 at 7pm, you'll learn English Paper Piecing (not as scary as it sounds!) and how to fussy cut your fabric for maximum wow factor.

We're keeping the classroom open as much as possible so you can come in and made those hurricane relief quilts! Two sessions are scheduled for Friday, September 15th: 10:00 am and 2:00 pm.

If you're already familiar with the Handi Quilter longarm machines, and want to explore the possibilities of computer-aided quilting, you'll want to take Getting Started: The Basics of Pro-Stitcher on Friday, September 15 at noon. Please note that you'll need to make an appointment to get the simulator installed on your laptop at least three days prior to class.

CQ Cares: Quilt of Valor is one of our most popular charitable workshops. Join Sue Moats on Saturday, September 16th at 1:00pm to make a quilt to honor those who have served in the military. This is a free event, but we ask that you register as space is limited.

Bruce, our machine technician, comes to the shop on selected Sundays and spends the afternoon with us. While he is here, he can clean and tune up your sewing machine. All brands are welcome. It takes about an hour, and you get to take your machine home the same day! Appointments are available for Sunday, September 17th.


SAVE THE DATES

September 21: Superior Threadology – lecture and workshop with Diane Henry
September 22 & 23: Quilting is a Stitch – a Handi Quilter education event with Diane Henry. See the 3rd quarter newsletter for more information.
September 23 & 24: Friendship & Eternal Quilts Guilds Show in Linthicum Heights, MD
September 30: 5th Saturday Club Sale!! Get your CQ Blue Bag and your Green Ticket so that you can participate in the 3rd and 4th 5th Saturday sales!
October 6-8: Everybody's Quilt Guild Quilt Show in Westminster, MD
October 13-14: The Bethesda Quilters Quilt Show in Kensington, MD
October 19: The Larry Sheckman Show
November 9-18: Quilters' Quest Shop Hop


COMMUNITY CORNER
Because Capital Quilts Cares: Fellow quilter Andrea Mitchell is collecting baby quilts for a baby shower to be given for a group of pregnant veterans whose husbands are deployed and away from home. If you would like to donate a baby quilt for this event, please bring it to Capital Quilts not later than October 7.

Pierce Mill, located at 2539 Tilden St. NW, in Rock Creek Park, is the last remaining mill in Washington, DC. Friends of Pierce Mill have set October 14 as Heritage Day. Step back in time and witness the 19th century, four-story grist mill grind corn into meal, powered by a giant water wheel. Heritage Day activities are from 10-4. Milling demonstrations will take place from 11-2. There will also be hands-on activities for children, live bluegrass music, and other exhibitions, including hand quilting. Pierce Mill is seeking a small group of hand quilters to give a demonstration. Please contact Steve Dryden at jsdryden@comcast.net or by phone at 301-512-5899 if you are interested in participating in this fun day.



CAPITAL QUILTS BLUE BAG BONANZA
Our September prize is 101 Fabulous Rotary-Cut Quilts by Judy Hopkins and Nancy J. Martin.
To be entered in each month's drawing, bring your Capital Quilts Blue Bag with you when you shop. Make sure you show it to the staffer at the register! Upon completion of your sales transaction, your name will be put in the jar for the drawing at the end of the month. The more you shop, the more chances you have to win. Don't have a Blue Bag? Purchase one at the shop, by phone, or online for just $4.99. We save all of the entries for the year, and at the end of the year we draw a Grand Prize Winner from all the entries.

Sign up for our 5th Saturday Club! Purchase your Green Tag for $10 and come to our special events on the four 5th Saturdays of 2017. The next one is September 30th! All fabric, panels, kits, and precuts will be 20% off for blue bag/green ticket holders ONLY.

Our thanks to everybody who shops at Capital Quilts and who participates in the Blue Bag Bonanza.
Save
Save
Save