Skip Navigation
Website Accessibility
What's New at CQ 09/14/17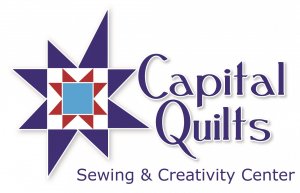 "Colors are the smiles of nature." Leigh Hunt
Dear Hunters and Gatherers of Fabric and Thread,
So many of you have responded to our call for help for hurricane victims! Our box is overflowing. As always, our community is generous to those in need. Our Capital Quilts Cares: Kennel Quilts event produced 27 little quilts for small animals, and everybody who came took home one or more kits to make more. If you would like to work on kennel quilts at home, pick up a kit at the shop. You can bring it back here for delivery to a needy shelter, or take or send it yourself. Many of the local shelters are also looking for these quilts, as they are taking in animals from Texas and Florida.
Saturday is National Jelly Roll Day! Take 10% off any strip set you buy at CQ that day. The Quilts of Valor event will be using 2 ½" strips to make the QOV blocks. There are still seats available at the event if you'd like to help make a quilt for our veterans. It will take place from 1-4. The event is free and fabric is provided. Please register online, by phone, or in the shop so that we know how many to expect. Thank you for your support of those who serve in the military.

Handi Quilter is dedicated to supporting its customers. One way they do that is through education, which is why we offer classes with an HQ Educator twice a year. We still have seats available for the Quilting is a Stitch classes coming up on September 22-23. Register for all four classes, and we'll take off 10%! Buy a Handi Quilter and we'll give you the classes for free! Diane Henry, Handi Quilter National Educator, will be here to teach us about quilting borders, backgrounds, and blocks, how to select quilting patterns that compliment your patchwork, how to create special effects, how to use rulers and templates safely and accurately, and how to create stunning designs with templates that wave, curve, and make circles. And that is just a start: the National Educators always have so much to offer: stories, tips, encouragement, and lots of info about machine quilting. Sign up online, by phone (301-527-0598), or in the shop for these terrific classes.
A note from our Quilting Services staff: the holidays are rapidly approaching (Christmas is 107 days away and Hanukkah 95 days). If you have one or more quilts you would like to have us quilt in time for the holidays, please bring them to us not later than November 1 to guarantee delivery. We will not take more quilts than we think we can complete, and even the November 1 date may become a moot point. If, however, you have a top ready for quilting after November 1, please give us a call; hopefully we will be able to help you. We may have a cancellation, or the ladies may get quilting projects completed faster than they had anticipated.
Alternatively, you can purchase a Handi Quilter and finish your own quilts on Christmas Eve, in your pjs and wearing a Santa hat! All of our floor models are on sale at a 30% discount for the month of September. Or, purchase a new Avante or Fusion at $3,000 off Handi Quilter's recommended retail price. All purchases include free installation, a free lesson on using and caring for the machine, a bobbin winder, needles, thread, bobbins, and everything you need to start quilting the day you receive your machine! Most importantly, you have the full support of Handi Quilter and this shop behind you, which means you have someone to call when you have a problem or a question, lots of information available online, and a technician who comes to your home to service your machine.
Quilters' Quest is just two months away! For those of you who are new to our community, Quilters' Quest is our annual shop hop. There are ten shops that participate in QQ, and you have ten days to visit them. From November 9 -18, enjoy the shops, win prizes, and get free quilt patterns. This year's theme is "Lights, Camera, Action!" Each shop has chosen a movie to decorate around and have fun with. Our theme is Willy Wonka and the Chocolate Factory! Find out more at www.quiltersquest.org.
Too much driving, you say? Forget about the driving and concentrate on the fun! Hop on our Quilters' Quest bus on Friday and Saturday, November 10 and 11. Seats are still available. Sign up online, in the shop, or by phone (301-527-0598). The $150 fee includes a light breakfast, lunch, snacks, a deluxe coach bus, all the driving, and a ton of fun! We come back to the shop Friday evening, so you can have dinner at home with your family and sleep in your own bed. You will visit all ten shops, get all the freebies, be automatically entered in all the drawings, and receive a Quilters' Quest Card good for 10% off your purchases in all ten shops until October 31, 2018. You'll also receive a colorful tote bag to carry home the goodies!
Go 'n' Piece,
Alison
SUPERIOR THREADOLOGY
With Diane Henry, Certified Superior Threadologist
A Superior Threads Lecture & Workshop
Thursday, September 21
Lecture: 10:30-11:30
Workshop: 1-3
Learn about the features of various Superior threads,
such as King Tut, Bottom Line, So Fine#50, Metallica, and more.
Discover the uses of each thread, and which needle to use with each thread.
In the workshop, experiment with different threads and different needles.
There will be freebies! BYO lunch.
Lecture Only: $5
Lecture & Workshop: $25 Includes kit
(The workshop is limited to 20 people.)
NEW & NOTEWORTHY:

Nina has been working hard to create pre-cuts for you. Tula Pink's Spirit Animal collection is now available in 5" and 10" squares, 2 ½" strip sets, and a Fat Quarter Bundle. She's made strip sets from 20 fabrics from Alison Glass & friends that is rainbow beautiful. There is a Fat Quarter bundle of Victoria Findlay Wolfe's "Futurum" collection. Waiting in the wings is Alison Glass's "Chroma" collection; keep an eye out for it!
We also have Fat Quarter Bundles of Bali Dots from Hoffman. There are two colorways: Basil and Paprika. Look for the "Bitter Almonds" quilt hanging above the water cooler; Hilary made it using the Basil pack. It's gorgeous. The packs are $69.99 each.
New Grab n Go kits have arrived! There is one with cats, one with ornaments, and some beautiful mug rug designs. The mug rug kits are $19 and the larger mats are $25.
Annette ordered a lot of wool, wool kits, books, and patterns. Visit the Wool Department next time you are in the shop! I like the "Chunks" by 'in the Patch designs'. The company takes a patterned fabric, such as a herringbone, and overdyes it in pretty colors. You get four buttons with each pack, too. For $32.99 you get five pieces that are 9" x 10" and four buttons.

Did you know? Books are discounted every day at Capital Quilts!
This week's new books include:
Welcome Home - the New Edition, by Kaffe Fassett: Enter the London home of Kaffe Fassett. Tour the breathtaking KF textile exhibit photographed at the Minneapolis Institute of Art. And enjoy 10 projects to make! Retail: $24.95 CQ: $21.21

Tree of Life Quilts, by Trisch Price: 9 projects and innovative techniques. The author gives an explanation of each quilt's interpretation, ideas on how to change it, and special finishing techniques. Retail $23.95 CQ $20.36.

Layered Waves, by Karen Eckmeier: with Karen's easy layer & topstitch technique, you'll be adding graceful curves and dramatic angles to your quilting projects and winning all the quilt show competitions for miles around. Retail: $24.95 CQ: $21.21

Lovely Landscape Quilts, by Cathy Geier: if you've got strips and scraps stuffed in drawers and piled on the floor, you need this book! Cathy shows how to use them to make luscious landscape quilts. Retail: $24.99 CQ: $21.24

Fabulous Facades, by Gloria Loughman: learn how to turn a picture of a favorite building, doorway, boat, etc., into a stunning quilt. Practice a unique construction method that produces quilts that resemble woodblock prints. Retail: $29.95. CQ: $25.46
CLASSES:

You can sign up for classes online, by phone at 301-527-0598, or in person at the shop.

We're keeping the classroom open as much as possible so you can come in and made those hurricane relief quilts! Two sessions are scheduled for Friday, September 15th, at10:00 am and 2:00 pm. There is a session on September 18, beginning at 2:30, and the last one on September 19 at 2. We are working on putting together kits for you to work on at home, if you would like to.

If you're already familiar with the Handi Quilter longarm machines, and want to explore the possibilities of computer-aided quilting, you'll want to take Getting Started: The Basics of Pro-Stitcher on Friday, September 15 at noon. Please note that you'll need to make an appointment to get the simulator installed on your laptop at least three days prior to class.

CQ Cares: Quilt of Valor is one of our most popular charitable workshops. Join Sue Moats on Saturday, September 16th at 1:00pm to make a quilt to honor those who have served in the military. This is a free event, but we ask that you register as space is limited.

Bruce, our machine technician, comes to the shop on selected Sundays and spends the afternoon with us. While he is here, he can clean and tune up your sewing machine. All brands are welcome. It takes about an hour, and you get to take your machine home the same day! Appointments are available for Sunday, September 17th.
Does your serger have you flummoxed? Unravel the mystery with Barbara Kascic in her class, Sergers Made Easy, Monday, September 18, 10:30-1:30. You'll be all set to take her Serged Napkins class on December 4!
The next Sandwich Day is Wednesday, September 20. There are appointments available at 12, 3, and 4. Please note that you need to bring your backing, already seamed (if appropriate), squared, and pressed. You also need batting and spray baste and/or safety pins. The curved ones work best.
If you find it too hard to quilt your big quilts on your domestic sewing machine, but you want to finish your own quilts, consider renting our Handi Quilter machines. Take the Certification course, Getting Started: the Handi Quilter Longarm, on Wednesday, September 20, 6-9, and learn how it's done. Your first rental includes having a monitor with you to help you; this is a free service…we want you to be successful and enjoy your quilting experience!

And if you haven't already signed up for one of the limited seats at the Superior Threadology Lecture and Workshop, do it now! You really don't want to miss out on Diane's tips & tricks, nor on any of the free goodies she'll have for door prizes!

Quilting is a Stitch: Sign up for all four classes & SAVE 10%! 3Bs: Backgrounds, Borders, & Blocks, Friday 9/22/17, 10-1; learn the tricks to quilting the basic components of a quilt while creating a cohesive overall look. Tried-and-true fillers and go-to designs will be featured. Topics include continuous line designs for sashing and borders, different ways to quilt the same block, extending designs into borders, using rulers and templates, and turning a quilt. Creative Textures & Fills, Friday 9/22/17, 2-5; there are limitless creative design elements to use for filling background space. Expand your design portfolio by learning the stitch path of a wide variety of creative filler designs. Let's talk about selecting appropriate fills, creating special effects, scaling the fill design size, evenly placing and spacing fills, and effectively using Micro Handles. Ruler Mania, Saturday, 9/23/17, 10-1; let's get into it! We'll go over using rulers safely, how to use them to accurately place and precisely stitch a design, and what all the different shaped rulers can do. Custom Waves, Curves, & Circles, Saturday, 9/23/17, 2-5; open up a new world of design options using circle templates and curved rulers. Mini, half, and full circles; clam shells; curved crosshatch, swags; measuring and fitting designs within a border; ovals and arcs—we'll talk about it all!

Finish out the weekend by starting Annette's wonderful bookcase quilt workshop, Keeping Memories Alive, Sunday September 24th at 1pm. Join Annette each month to learn a different quilting technique to help you display memories in cloth…treasured books, photos, plants, and knickknacks of all kinds. Techniques covered are simple machine piecing, both hand and machine applique, broderie perse applique, photo transfer, trapunto, embellishing, wool applique and embroidery. Class platform is a two-hour detailed lecture/demonstration via camera, and show 'n tell.


SAVE THE DATES

September 21: Superior Threadology – lecture and workshop with Diane Henry
September 22 & 23: Quilting is a Stitch – a Handi Quilter education event with Diane Henry. See the 3rd quarter newsletter for more information.
September 23 & 24: Friendship & Eternal Quilts Guilds Show in Linthicum Heights, MD
September 30: 5th Saturday Club Sale!! Get your CQ Blue Bag and your Green Ticket so that you can participate in the 3rd and 4th 5th Saturday sales!
October 6-8: Everybody's Quilt Guild Quilt Show in Westminster, MD
October 13-14: The Bethesda Quilters Quilt Show in Kensington, MD
October 19: The Larry Sheckman Show
November 9-18: Quilters' Quest Shop Hop


COMMUNITY CORNER
Because Capital Quilts Cares: Fellow quilter Andrea Mitchell is collecting baby quilts for a baby shower to be given for a group of pregnant veterans whose husbands are deployed and away from home. If you would like to donate a baby quilt for this event, please bring it to Capital Quilts not later than October 7.

Pierce Mill, located at 2539 Tilden St. NW, in Rock Creek Park, is the last remaining mill in Washington, DC. Friends of Pierce Mill have set October 14 as Heritage Day. Step back in time and witness the 19th century, four-story grist mill grind corn into meal, powered by a giant water wheel. Heritage Day activities are from 10-4. Milling demonstrations will take place from 11-2. There will also be hands-on activities for children, live bluegrass music, and other exhibitions, including hand quilting. Pierce Mill is seeking a small group of hand quilters to give a demonstration. Please contact Steve Dryden at jsdryden@comcast.net or by phone at 301-512-5899 if you are interested in participating in this fun day.



CAPITAL QUILTS BLUE BAG BONANZA
Our September prize is 101 Fabulous Rotary-Cut Quilts by Judy Hopkins and Nancy J. Martin.
To be entered in each month's drawing, bring your Capital Quilts Blue Bag with you when you shop. Make sure you show it to the staffer at the register! Upon completion of your sales transaction, your name will be put in the jar for the drawing at the end of the month. The more you shop, the more chances you have to win. Don't have a Blue Bag? Purchase one at the shop, by phone, or online for just $4.99. We save all of the entries for the year, and at the end of the year we draw a Grand Prize Winner from all the entries.

Sign up for our 5th Saturday Club! Purchase your Green Tag for $10 and come to our special events on the four 5th Saturdays of 2017. The next one is September 30th! All fabric, panels, kits, and precuts will be 20% off for blue bag/green ticket holders ONLY.

Our thanks to everybody who shops at Capital Quilts and who participates in the Blue Bag Bonanza.
Save
Save
Save