What's New at CQ 10/5/17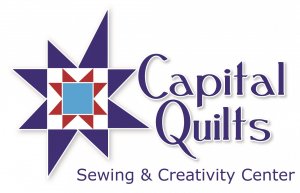 "Kind words do not cost much. Yet they accomplish much." Blaise Pascal

Dear Fantastic Friends,
The Everybody's Quilt Guild show in Westminster last weekend was a treat. There were lots of lovely quilts, homemade food, and friendly people. Our thanks to the guild for inviting Capital Quilts to be a vendor at their show.
We are working at putting more items into our online shop. You'll find Christmas and Halloween fabrics there, many Aboriginal fabrics, some batiks and novelties and knits. Keep checking and watch us grow!
FOR SALE: Handi Quilter Sweet Sixteen with TruStitch and an 18" table extension. This is the HQ sit-down quilting machine; quilting with it is much like quilting on your domestic sewing machine but with 16" of throat space and lots of table top to support your quilt. TruStitch gives you a regulated stitch, so no matter how fast or slow you quilt, your stitch remains the same size. The 30" x 36" (54" with the extension up) size is ideal for small spaces. The MSRP (manufacturer's suggested retail price) is $5834. I am offering my floor model at $3999. An overlay and bobbin winder are included, as are tools for maintaining your machine. Call me at 301-527-0598 or email me at alison@capitalquilts.com if you are interested in purchasing this quilting machine.
With shorter days approaching, we are having a Capital Quilts Cares event to make placemats for seniors to brighten up their mealtimes. Join Laurie on Monday, October 16, 10:30-12:30, to help make the placemats. Like all Capital Quilts Cares events, it is free and all fabric is provided. Please bring your sewing machine, sewing supplies, and neutral thread. Register online, by phone, or at the shop so that we know how many to expect.
Do you plan on Questing? Hate the thought of all that driving? Sign up for our Quilter's Quest Bus! We'll hit all 10 shops in 2 days, take care of all the pesky paperwork, and feed you lunch and snacks both days. There will even be door prizes!
Go 'n' Piece
Alison
VENDOR SPECIALS:
HANDIQUILTER: The CQ floor models are available at 30% off the MSRP. Stop in for a demonstration and test drive them all! Free installation and bobbin winder included.

SEW STEADY: Offers two packages to make your Holidays Shine! Package prices are good through 12/31/2017.

Wish Table Package includes 22" x 25" Wish Table with Drawer, Circles Sewing Tool, Holes in table for Circle Sewing, Universal Grid, Table Lock, 26x26 Big Table Travel Bag, and a bottle of Acrylic Shine. MSRP $260, SALE $209

Large Table Package includes 18" x 24" Large Table made for any make and model of machine, 20x26 Large Table Travel Bag, and a bottle of Acrylic Shine. MSRP $170, SALE $129


NEW & NOTEWORTHY:


We just got in a load of gorgeous bolts from Island Batiks. $12.99/yard.
Did you know that we're now preparing "Fat Quarter Stacks"? When a new collection comes on, like "Animal Spirit", "Futurum", or "Chroma", we take one fat quarter from each bolt, and put them together in a single bundle. Pricing varies, depending on the size of the collection.
We've a few new kits floating around the shop. Here is the "Modern Holiday" Christmas tree wall hanging. The included pattern also lets you make a table runner and a tree skirt! Bonus! $29.99 per kit.

CLASSES:

You can sign up for classes online, by phone at 301-527-0598, or in person at the shop.


Rag bowls are sturdy, versatile and fun to make. This class will provide instructions for making a small bowl and hopefully have you leaving with your bowl and all you need to make more. Be careful - it is addictive, but if you are a quilter and/or sewing "nut", you know all about that!!! Lois has great ideas for embellishing them, too! Friday, October 13th at 5:00pm.
Bruce currently has appointments available on Sunday, October 15th. Prepay for your machine's general maintenance, bring it in, drop it off, spend a delightful hour shopping, and take your machine home that same day!
Our customers have been very generously donating 5" squares to our Charms for Charity box at the shop. We will use these to create reversible mats with pretty fabric on one side and cheerful squares on the other during CQ Cares: Placemats for Seniors on Monday, October 16th at 10:30am. The placemats will be donated to a program for seniors in Montgomery County, MD.
Jennifer McClanahan's newest quilt, Looking Glass, has a touch of the Mondrian to it. Pinwheels spin along under a geometric grid. Learn how to work with a partial seam. Quilt sizes baby through king are available in the pattern. Tuesday, October 17th at 12:30pm.
Create your perfect fashion accessory in Sue Moats' No-Knit Scarf class on Wednesday, October 18th at 10:30am. Use yarns, ribbon, specialty threads, strips of fabric, and whatever else you want to make a work of art you can wear. Bring your sewing machine, not your knitting needles.
If you've taken our basic longarm class, you might be interested in Groovy Boards and Pantographs for the Longarm, also on Wednesday, but at 2:30pm. Groovy boards and pantographs are used to create consistent edge-to-edge quilting designs without a computer. You will learn how to start and stop a row, how to match up the rows as you advance the quilt, and how to do a partial design to finish the bottom edge of the quilt.
Annie has been working in Boro, a stitching technique used in Japanese mending. Make a hand-stitched masterpiece in The Art of Boro Stitching by placing lovely scraps on a beautiful background and using hand embroidery stitching to secure them on Thursday, October 19th at 2:30pm.
Have you ever wished you could make the fabric buying decisions for Capital Quilts? Well, here is your chance! Register for The Larry Sheckman Show and voice your fabric opinions. Larry, our manufacturers' rep for P&B, Timeless Treasures, Dear Stella, and more, is coming to show us what his companies will be showing at the Fall Quilt Market... before Market! Thursday, October 19th at 6:30. Light refreshments will be served.
Learn the basic buttons and tools of ProStitcher Premium on Friday, October 20 at 10:30am. Customize Edge-to-Edge (E2E) designs on your computer to fit any quilt size and transfer the design to the ProStitcher on the longarm for accurate stitch out.
This classic Market Bag from Anna Graham of Noodlehead, is both casual and sophisticated. A handy zippered pocket secures keys or loose change. Add leather straps or make your own. Annie teaches on Friday, October 20 at 10:30am.
Interested in longarming, but you've never touched a big machine? Take Getting Started: The Handi Quilter Longarm Machine to learn the ins and outs of the longarm machine and the frame, how to set up for quilting a quilt, what proper tension is, and some basic quilting designs. This class meets Saturday, October 21 at 11:00am.
Join Sue Moats and friends to work on a Quilt of Valor. These quilts are tremendously important to the men and women who serve our country in the military. All fabric is provided, and the session is free. You just need to register for class and bring your machine. Saturday, October 21 at 1:00pm.
Looking for some dedicated sewing time with friends old and new? Kat is holding Night Owl Sewing on Saturday, October 21 from 6:00pm to midnight. Your registration fee covers six hours sewing time, pizza, beverages, and run of the shop.
SAVE THE DATES

October 13-14: The Bethesda Quilters Quilt Show in Kensington, MD
October 19: The Larry Sheckman Show
November 9-18: Quilters' Quest Shop Hop
December 3: Trunk Show with Ginny Brown of Studio 180



CAPITAL QUILTS BLUE BAG BONANZA

The October prize is an Artisan Batiks Ten-Pack (42 ten inch squares) from Lunn Studios for Northcott Fabrics.

To be entered in each month's drawing, bring your Capital Quilts Blue Bag with you when you shop. Make sure you show it to the staffer at the register! Upon completion of your sales transaction, your name will be put in the jar for the drawing at the end of the month. The more you shop, the more chances you have to win. Don't have a Blue Bag? Purchase one at the shop, by phone, or online for just $4.99. We save all of the entries for the year, and at the end of the year we draw a Grand Prize Winner from all the entries.

Sign up for our 5th Saturday Club! Purchase your Green Tag for $10 and come to our special events on the four 5th Saturdays of 2017.
Our thanks to everybody who shops at Capital Quilts and who participates in the Blue Bag Bonanza.
Save
Save
Save