Skip Navigation
Website Accessibility
What's New at CQ 10/19/17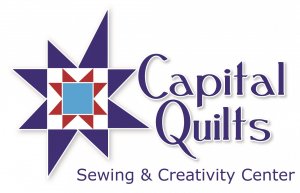 "In order to succeed, we must first believe that we can." Nikos Kazantzakis


Dear Friends of Fabric,

Handi Quilter has announced a new long arm quilting machine! The Amara has a 20" throat and 15 NEW features, including a pinpoint needle laser for identifying exactly where your needle is going to enter the fabric; LED throat lighting for excellent illumination of your project; independently adjustable front handlebars that convert to Micro Handles as well as adjusting to your own personal quilting comfort; programmable handle bar buttons, an especially nice feature if you are left-handed; and ProStitcher cabling that is hidden inside the machine.
The frame has been redesigned to allow two different loading options. It can be ordered in a 10' or 12' length.

Introductory pricing is available on the new Amara. We should be getting the new machine in the shop in about a month. As soon as it is here and ready to try, I will let you know. Shipping to the public will start in mid-December. We've scheduled a Handi Quilter Demo Day for Saturday, December 9, from 11-1. Add that date to your calendar to come see what's new!

CLUB MEMBERS: Please check the November calendar carefully. Many meetings have been moved to accommodate Quilters Quest. We apologize for any inconvenience.

Speaking of Quest, have you booked your bus seat yet? Riding a two-day bus is the easiest, least stressful way to complete Quilters Quest!

Go 'n' Piece
Alison
VENDOR SPECIALS:
HANDIQUILTER: The CQ floor models are available at 30% off the MSRP. Stop in for a demonstration and test drive them all! Free installation and bobbin winder included.

SEW STEADY: Offers two packages to make your Holidays Shine! Package prices are good through 12/31/2017.

Wish Table Package includes 22" x 25" Wish Table with Drawer, Circles Sewing Tool, Holes in table for Circle Sewing, Universal Grid, Table Lock, 26x26 Big Table, Travel Bag, and a bottle of Acrylic Shine. MSRP $260, SALE $209

Large Table Package includes 18" x 24" Large Table made for any make and model of machine, 20x26 Large Table, Travel Bag, and a bottle of Acrylic Shine. MSRP $170, SALE $129


NEW & NOTEWORTHY:


Capital Quilts has Liberty of London Fabric! We've just gotten in 23 delightful bolts from the "English Garden" collection. $11.99 per yard.

For all you Basic Grey fans, we have fifteen bolts of "Biscuits & Gravy" from Moda. $11.99 per yard.

We also have new Art Gallery fabric: ten beautiful bolts featuring bold graphics and a modern palette. $12.50 per yard.


CLASSES:

You can sign up for classes online, by phone at 301-527-0598, or in person at the shop.

If you're reading this Thursday afternoon, there's still time to take part in The Larry Sheckman Show, tonight at 6:30. Preview Fall Market fabric releases and voice your opinions. Light refreshments will be served.

Interested in longarming, but you've never touched a big machine? Take Getting Started: The Handi Quilter Longarm Machine to learn the ins and outs of the longarm machine and the frame, how to set up for quilting a quilt, what proper tension is, and some basic quilting designs. This class meets Saturday, October 21 at 11am.

Join Sue Moats and friends to work on a Quilt of Valor. These quilts are tremendously important to the men and women who serve our country in the military. All fabric is provided, and the session is free. You just need to register for class and bring your machine. Saturday, October 21 at 1pm.

Looking for some dedicated sewing time with friends old and new? Kat is holding Night Owl Sewing on Saturday, October 21 from 6pm to midnight. Your registration fee covers six hours sewing time, pizza, beverages, and run of the shop.

On Monday, October 23rd, join Kim and Kat for Improv Open Sew, 1-4pm. Let your imagination run free!

Have you ever looked at a quilt block or pattern and wondered how it was put together? In Drafting for Quilters, you will learn how to draft a variety of blocks in different sizes and how to make templates so you can stitch that block. If you have a particular block that you'd like to draft, bring a picture of it, and Laurie will help you solve the puzzle. Tuesday, October 24, 2-4pm.

Bitter Almond is a fat quarter friendly quilt. I love the interplay of lines and squares. The pattern provides instructions for small, medium, large, and extra-large quilts. Hilary teaches on Wednesday, October 25 from 10am-1pm.

Also on Wednesday the 25th, Elyse teaches EQ7 Demystified, from 6-9pm. Learn to use EQ7 on your computer to design your own quilts change the size of the quilt and/or quilt blocks and preview various fabrics and colorways. EQ7 will calculate fabric yardage and print out templates and/or rotary cutting and/or foundation piecing patterns for your favorite method of sewing your blocks.

Do you have a favorite method for making accurate half square triangles? Liz has 4! Learn the techniques, sew a bunch of triangles, and put them together to make Michael's Victory on Thursday, October 26th from 2:30-4:30.

Machine Quilting for Beginners is directed to the quilter who is unsure what to do with her hands and how to attach and use her machine's feet. We will be using a pre-printed panel to minimize preparation time and maximize learning. The panel is large enough to allow for continued practice at home. In the first session on Thursday, October 26 from 6-9pm, quilting with a walking foot will be covered, and free motion quilting is covered in the second session on November 2nd.

If it's the last Friday in the month, it's time for our FREE Sit 'n' Sew! Bring your machine, handwork, a new project or an old project, perhaps some food to share, or just come to talk and have fun with other quilters. Capital Quilts will provide beverages and have staffers on hand to assist you in any way they can. Friday, October 27 from 5-9pm.

Do the "big" longarms intimidate you? The Simply Sixteeen may be just what you're looking for! This small longarm has built-in stitch regulation. Learn how to load your quilt on the frame, thread the machine, wind and load a bobbin, establish good tension, bring up the bobbin thread, anchor and tie off threads, and do a little stitching. Class is Saturday, October 28, 1-3pm.

Billye will be at CQ on Sunday, October 29th from noon to 5pm to work on quilts for the Interfaith Works Women's Shelter. Come in and help her! She'd love to have you join in. Bring your sewing machine if you have one, we provide everything else. And if you don't have a machine, come anyway! You can press or cut or square up blocks; or just come & keep us company!

SAVE THE DATES

November 9-18: Quilters' Quest Shop Hop
December 3: Trunk Show with Ginny Brown of Studio 180
December 9: Handi Quilter Demo Day

CAPITAL QUILTS BLUE BAG BONANZA

The October prize is an Artisan Batiks Ten-Pack (42 ten inch squares) from Lunn Studios for Northcott Fabrics.

To be entered in each month's drawing, bring your Capital Quilts Blue Bag with you when you shop. Make sure you show it to the staffer at the register! Upon completion of your sales transaction, your name will be put in the jar for the drawing at the end of the month. The more you shop, the more chances you have to win. Don't have a Blue Bag? Purchase one at the shop, by phone, or online for just $4.99. We save all of the entries for the year, and at the end of the year we draw a Grand Prize Winner from all the entries.

Sign up for our 5th Saturday Club! Purchase your Green Tag for $10 and come to our special events on the four 5th Saturdays of 2017.
Our thanks to everybody who shops at Capital Quilts and who participates in the Blue Bag Bonanza.
Save
Save
Save