Skip Navigation
Website Accessibility
What's New at CQ 10/19/17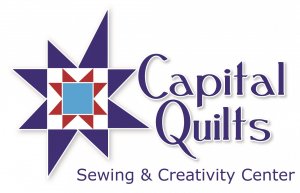 "In order to succeed, we must first believe that we can." Nikos Kazantzakis


Dear Fabrilicious Friends,
Everybody's Quilt Guild is having their quilt guild show this weekend! "Quilting Our Memories" is being held at St. John's Church Portico, 43 Monroe St, Westminster, MD. The show hours are 5-9 on Friday evening, Saturday 10-5, and Sunday 10-4. Kat and I will be in the Capital Quilts booth at the show; come by and see us!
We will be selling the Heavenly Seating chairs at the EQG show. Now through October 15, we are offering a 10% discount on the chairs. If you've been thinking about purchasing one of these wonderful chairs, this is a great time to do so. The chair is shipped directly to you, so there is no need to pick it up at the shop. Assembly is easy: no tools required! Adjustable six ways to Sunday, this chair gives you the support you need to make sewing or desk work more comfortable, so you can work longer. Come sit in one and feel the difference.
Do you have an interest in learning about working with wool and doing wool embroidery? The Wool Club is hosting an Open House here at the shop on Saturday, November 4 from 3:15-5:15. Meet the Club members, talk with them about their projects, and try your hand at a small project. I personally find wool projects a nice thing to do in the evening, in front of the TV, and they make great gifts.
Speaking of gifts, did you know that Capital Quilts has a form called "My Wish List"? This is a Wish List for you to fill out. We will keep it on file for you; you tell the special people in your life that it is here, so that they know what you would like to have when they come to the shop. We'll even contact your special peeps to drop a hint for you, if you'd like! Ask for it at the register.
Go 'n' Piece,
Alison
VENDOR SPECIALS:
HANDIQUILTER: The CQ floor models are available at 30% off the MSRP. Stop in for a demonstration and test drive them all! Free installation and bobbin winder included.

SEW STEADY: Has two packages to make your Holidays Shine! Package prices are good through 12/31/2017.

Wish Table Package includes 22" x 25" Wish Table with Drawer, Circles Sewing Tool, Holes in table for Circle Sewing, Universal Grid, Table Lock, 26x26 Big Table Travel Bag, and a bottle of Acrylic Shine. MSRP $260, SALE $209

Large Table Package includes 18" x 24" Large Table made for any make and model of machine, 20x26 Large Table Travel Bag, and a bottle of Acrylic Shine. MSRP $170, SALE $129


NEW & NOTEWORTHY:

This "For Evergreen" pattern will make the perfect gift for someone special, or decorate your home for the holidays! Make it scrappy, reversible, or all in one fabric. Embellish with bells, buttons, or miniature ornaments. Let your imagination run free! $10.00 each.
Next, we have a selection of small, pre-printed embroidery projects from Chrckadee Hollow Designs. These images come all pre-printed and pre-colored and are ready to start stitching. Each one is approximately 3.5" x 5.5" when complete. Finishing options are included as well as floss colors. We have a variety of images and colorations. $7.00 each
Eleanor Burns and Quilt in a Day bring us "Roundabout Stars Quilt" pattern. This quilt would work equally well in either scrappy or coordinated fabrics. $9.50 each
Moda has asked their top designers to create labels for your use. Each sheet of labels measures 30" x 60", and contains 51 labels measuring 3" x 6" or 6" x 7". These Designer Labels are priced at less than 40 cents per label – just $19.99 per sheet.
2018 will be here sooner than you think, and the QuiltArt Engagement Calendar is perfect for keeping you on track throughout the year. Revel in the exquisite beauty of 54 quilts from week to week. The spiral binding allows for ease of use to write down your appointments, note daily events, or make notes in the large notation section. Get a first look at the newest designs from around the country. $15.95 each.

From the inventor of the popular Add-A-Quarter line of rulers comes Trim-A-Tip. This small, easy-to-use acrylic tool that allows you to trim the tips from triangle-shaped quilt pieces for more accurate piecing. Simply line up the tool on the noted angle and cut off the corners with a rotary cutter! This affordable, must-have tool can be used with templates or your favorite method for making triangles for more precise piecing. $9.95 each.

CLASSES:

You can sign up for classes online, by phone at 301-527-0598, or in person at the shop.

Dance of the Dragonflies starts on Saturday, October 7 at 2:00pm. The dragonfly totem carries the wisdom of transformation and adaptability in life and is connected to the symbolism of change and light. This beautiful and unusual dragonfly wall hanging is made by machine appliqueing the dragonflies onto a panel called "Supernova". The dragonflies come as a kit. Make yours round as Julie has, or square. You might use it as the medallion of a larger quilt. Kits and panels are available through Capital Quilts.
Explore the Slow Stitch movement with Mariner's Compass by Hand on Monday, October 10 at 10am. Laurie guides you through the steps to make a traditional Mariner's Compass encircled by Flying Geese,using hand piecing techniques. The completed Compass is squared out to 40", and it can be used as a wall hanging or as the center medallion of a much larger quilt. Laurie can offer suggestions for borders.
Turn stacks of old t-shirts into quilts filled with love. Debra Ball will help you with layout, color suggestions, and stabilizing knits. T-Shirt Quilt starts Tuesday, October 10 at 10:30am.
Elyse is teaching EQ7 Demystified on Tuesday, October 10 at 1:30pm. EQ7 is a wonderful computer program that helps you design your own quilts, change the size of the quilt and/or quilt blocks, and preview various fabrics and colorways. EQ7 will calculate fabric yardage and print out templates and/or rotary cutting and/or foundation piecing patterns for your favorite method of sewing your blocks. This powerful, versatile program has a few quirks, and Elyse will help you navigate them with ease.
You CAN quilt your tops on our longarm! Barbara Bean will show you the ins and outs of the longarm machine and the frame, how to set up for quilting a quilt, what proper tension is, and some basic quilting designs. Once you've completed the class, you're ready to rent our machine. Getting Started: The Handi Quilter Longarm Machine is next offered on Thursday, October 12 at 10:00am.
Rag bowls are sturdy, versatile and fun to make. This class will provide instructions for making a small bowl and hopefully have you leaving with your bowl and all you need to make more. Be careful - it is addictive, but if you are a quilter and/or sewing "nut", you know all about that!!! Lois has great ideas for embellishing them, too! Friday, October 13th at 5:00pm.
Bruce currently has appointments available on Sunday, October 15th. Prepay for your machine's general maintenance, bring it in, drop it off, spend a delightful hour shopping, and take your machine home that same day!
Do you plan on Questing? Hate the thought of all that driving? Sign up for our Quilter's Quest Bus! We'll hit all 10 shops in 2 days, take care of all the pesky paperwork, and feed you lunch and snacks both days. There will even be door prizes!
SAVE THE DATES

October 6-8: Everybody's Quilt Guild Quilt Show in Westminster, MD
October 13-14: The Bethesda Quilters Quilt Show in Kensington, MD
October 19: The Larry Sheckman Show
November 9-18: Quilters' Quest Shop Hop
December 3: Trunk Show with Ginny Brown of Studio 180


COMMUNITY CORNER
Because Capital Quilts Cares: Fellow quilter Andrea Mitchell is collecting baby quilts for a baby shower to be given for a group of pregnant veterans whose husbands are deployed and away from home. If you would like to donate a baby quilt for this event, please bring it to Capital Quilts not later than October 7.

Pierce Mill, located at 2539 Tilden St. NW, in Rock Creek Park, is the last remaining mill in Washington, DC. Friends of Pierce Mill have set October 14 as Heritage Day. Step back in time and witness the 19th century, four-story grist mill grind corn into meal, powered by a giant water wheel. Heritage Day activities are from 10-4. Milling demonstrations will take place from 11-2. There will also be hands-on activities for children, live bluegrass music, and other exhibitions, including hand quilting. Pierce Mill is seeking a small group of hand quilters to give a demonstration. Please contact Steve Dryden at jsdryden@comcast.net or by phone at 301-512-5899 if you are interested in participating in this fun day.


CAPITAL QUILTS BLUE BAG BONANZA

Congratulations to Viveca, winner of our September prize drawing!
The October prize is an Artisan Batiks Ten-Pack (42 ten inch squares) from Lunn Studios for Northcott Fabrics.

To be entered in each month's drawing, bring your Capital Quilts Blue Bag with you when you shop. Make sure you show it to the staffer at the register! Upon completion of your sales transaction, your name will be put in the jar for the drawing at the end of the month. The more you shop, the more chances you have to win. Don't have a Blue Bag? Purchase one at the shop, by phone, or online for just $4.99. We save all of the entries for the year, and at the end of the year we draw a Grand Prize Winner from all the entries.

Sign up for our 5th Saturday Club! Purchase your Green Tag for $10 and come to our special events on the four 5th Saturdays of 2017.
Our thanks to everybody who shops at Capital Quilts and who participates in the Blue Bag Bonanza.
Save
Save
Save