Skip Navigation
Website Accessibility
What's New at CQ 11/2/17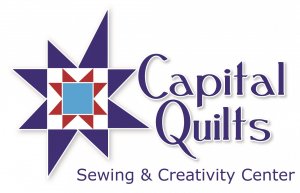 "Home again, home again, jiggity-jig." Mother Goose


Dear Friends of Fabric and Thread,
Apologies for the apparent "recycle" of our email from a few weeks ago that you just got. Our software provider has been experiencing technical difficulties. Here is what we meant to say:

Kat and I are home from Quilt Market in Houston! I've had several people ask me how things are in Texas, post-hurricane; downtown Houston, at least in the area of the convention center, looks great, fixed and clean. I understand things are less good in the suburbs. Quilt Market was somewhat smaller than usual, both in manufacturers attending and in retailers attending, but still fun and full of good stuff! The trending color was blue; there were blue quilts all over the place. The most unique new product we found was thread that, when steamed, adheres to itself but not to the fabric. This means no more big ugly knots of thread, just a couple of little backstitches. It was originally developed for Chico's, to prevent buttons and sequins from ending up on the floor. It is being advertised as button thread, but it can be used for regular sewing as well. It is available in six neutral colors, black, white, taupe, and a few grays. It is so new the distributors don't have it yet, but we placed an order with our distributor so that when they do get it, we will get one of the first shipments!
The quilts in the Houston quilt show were spectacular as always. Kat posted several on our Facebook page while we were there, so check there if you haven't already. My favorites were Danny Amazonas' Freehand Patchwork quilts, especially the really big fish quilts made with Kaffe & friends fabrics. The Vincent Van Gogh challenge by Cherrywood Fabrics was wonderful, too; each quilter was given the same fabrics and challenged to make a 20" x 20" quilt that evoked Vincent.
The Paper Pieces company introduced some new EPP patterns, my favorite being "Tula's Bloomers". We brought home two collections of the pattern plus papers and one of the acrylic templates set. Yes, of course we can get more!
We also came home with several other patterns, made arrangements for a trunk show or two, found and ordered batik that is printed on poplin and is buttery smooth, and met with numerous designers.
We attended a Handi Quilter seminar and tried out the new Amara machine. Wow, is it smooth and quiet! I was blown away. I love the laser light that shows me exactly where the needle is going to enter the fabric; this is perfect for starting up again after a thread break or for marking an area around an applique. The handlebars are independently adjustable, so that they can be used for microquilting as well as regular quilting; you can move one up out of the way when doing ruler work. The frame, now called the Studio 2 frame, can be set up in two different configurations, one of which makes ruler work a whole lot easier. The machine head has a 20" throat, two inches longer than the Avante. There is a magnetic collar near the front that will hold your scissors for you. Three power-only USB ports allow you to plug in your fan or other accessories. The lighting is phenomenally bright, so much so that HQ put a dimmer on it, and the bobbin area has a light, too. It's faster than the Avante, stitching 2500 stitches per minute, and very precise stitches they are. I got word that one of these beauties is being shipped to Capital Quilts today, so hopefully in a week it will be in the shop for you to drool over. The price, even with all these higher tech improvements, is the same as the Avante, MSRP of $10,995, or $20,995 with ProStitcher. The Avante, is on sale through December 31, 2017, for $7,995. Still a great machine, just fewer bells and whistles!
I've probably gone on too long about the Amara, but it is just a really cool machine and I am very excited about it.
Quilters' Quest is just around the corner; it starts a week from today. We have a bunch of stuff that we have been holding back in the stockroom just for the Quest, so do come by between November 9 and 18. There are still 11 seats available on our bus; we'd love to have you come along!
Go 'n' Piece,
Alison
VENDOR SPECIALS:
HANDIQUILTER: The CQ floor models are available at 30% off the MSRP. Stop in for a demonstration and test drive the Avante or the Fusion! Free installation and bobbin winder included.

SEW STEADY: Has two packages to make your Holidays Shine! Package prices are good through 12/31/2017.

Wish Table Package includes 22" x 25" Wish Table with Drawer, Circles Sewing Tool, Holes in table for Circle Sewing, Universal Grid, Table Lock, 26x26 Big Table Travel Bag, and a bottle of Acrylic Shine. MSRP $260, SALE $209

Large Table Package includes 18" x 24" Large Table made for any make and model of machine, 20x26 Large Table Travel Bag, and a bottle of Acrylic Shine. MSRP $170, SALE $129


NEW & NOTEWORTHY:


Hello World... Good Day is the latest whimsical fabric collection by Cori Dantini. An update to her best selling collection, Hello World, this group features an extra large panel design of nursery friends, balloon-floating animals in four colors ways and a new festive flag all tying back to the original menagerie of designs. Perfect for your nursery decor and more! $11.99 per yard

Rainforest Slumber by Katy Tanis is an amusing fabric collection that features sweet slumbering sloths in their natural habitat. Hanging from tree branches and hiding in a canopy of leaves, these tree dwelling mammals will provide you with endless sewing possibilities. $11.99 per yard.

If you're a fan of reproduction fabric, Harvest Hill by Kansas Troubles for Moda offers you thirteen lovely blenders for your next traditional project. $11.99 per yard.

Attention EPP fans! In addition to Tula's Bloomers (see above, $60.00 each), we brought back a few Brimfield Block patterns, paper packs, and templates. The Brimfield Block was designed by two local (!) quilters, and is based on a vintage flea market find. Pattern, $14.00; paper pack, $45.00; acrylics, $20.00.

In Strip Therapy 11 - Bali Pop Intervention, author Brenda Henning walks you through a fun collection of 6 quilt designs is based upon Hoffman Fabrics 2 1/2" Bali Pop strip sets. You can substitute other "Jelly Roll" pre-cut strips or cut your own strips from your own stash of fabrics. The collection of quilts is a blend of contemporary and traditional inspired designs that can be pieced in a weekend. MSRP $20.00; CQ price $17.00.

Award-winning art quilter Ann Loveless shares her time-tested method for creating one-of-a-kind art quilts based on your favorite landscape photographs in Landscape Art Quilts. With step-by-step instructions, she shows you her free-form method of cutting and placing fabrics on fusible web and finishing with free-motion machine quilting. MSRP $27.95, CQ price $23.76.

These Mini Mosaic quilts offer a low sew technique developed by Cheryl Lynch. Each pattern contains instructions to create a quilt from 3/8in batik squares. Included in the package is the pattern, directions, sticky stabilizer, netting, and suggested fabric colors. Finished size: 11in x 14in. Choose from sea turtle, giraffe, or flamingo. $16.00 each.

If you like the Retreat Bag from Emmaline, you're going to LOVE the Poppins Bag from Aunties Two! This fun bag has a large zipper top bag for all of your magic stuff! There are 2 pockets on the outside and 2 pockets on the inside to keep everything organized. Structural stays (included) keep it in shape. Can be made with yardage or 2-1/2in strips. $24.00


CLASSES:

You can sign up for classes online, by phone at 301-527-0598, or in person at the shop.

Have you ever wondered what the wool craze is all about? Now is your chance to find out! Our Wool Club is having an Open House this Saturday at 3:15pm. There are patterns and wool colors for every design esthetic!

Bruce has appointments available for while-you-wait machine maintenance on Sunday, November 5th. Call or register online today before they're all gone!


Debra Ball says making these Jingle Tree ornaments is as fun and addicting as eating potato chips. Monday, November 6 at 10:15 am.

Get those Quilt tops sandwiched and ready for quilting on your domestic machine! Make an appointment for Tuesday, November 7th.

If you weren't able to attend the Longarm Training class on the 2nd, you have another chance on Wednesday, 11/8 at 10am.

Do you plan on Questing? Hate the thought of all that driving? Sign up for our Quilter's Quest Bus! We'll hit all 10 shops in 2 days, take care of all the pesky paperwork, and feed you lunch and snacks both days. There will even be door prizes!


SAVE THE DATES

November 9-10: Capital Quilts Quilter's Quest Bus
November 9-18: Quilters' Quest Shop Hop
December 3: Trunk Show with Ginny Brown of Studio 180
December 9: Handi Quilter Demo Day


COMMUNITY CORNER
We are still accepting Kennel Quilts for animals affected by natural disasters. Small Kennel Quilt kits are available in the shop; just ask for one!

FMCA is excited to announce the start of their fall fundraising event, the "Cash for the Animals" Raffle. Take a chance on a win-win! Buy a raffle ticket or a few. You'll feel good about supporting FMCA and enabling them to continue our work to save homeless, abandoned and abused animals. Plus, you could win up to $2000, just in time for the holidays! Click here for all the details.


CAPITAL QUILTS BLUE BAG BONANZA

Congratulations to Judy T., winner of the October prize! The November prize is Even More Quilts for Baby By Ursula Reikes, and a Reef mini-charm pack from Elizabeth Hartman for Robert Kaufman.

To be entered in each month's drawing, bring your Capital Quilts Blue Bag with you when you shop. Make sure you show it to the staffer at the register! Upon completion of your sales transaction, your name will be put in the jar for the drawing at the end of the month. The more you shop, the more chances you have to win. Don't have a Blue Bag? Purchase one at the shop, by phone, or online for just $4.99. We save all of the entries for the year, and at the end of the year we draw a Grand Prize Winner from all the entries.

Sign up for our 5th Saturday Club! Purchase your Green Tag for $10 and come to our special events on the four 5th Saturdays of 2017.
Our thanks to everybody who shops at Capital Quilts and who participates in the Blue Bag Bonanza.
Save
Save
Save