What's New at CQ 11/9/17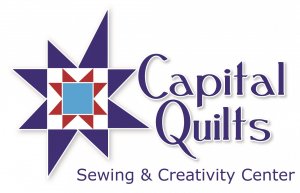 "We are the quilt makers, we are the dreamers of dreams." With apologies to Roald Dahl and Willy Wonka.


Dear Seekers of Fabric,

Quilters' Quest is on! Today is the first of ten days of visiting shops with friends, finding new and exciting patterns, books, fabric, and notions, being inspired by quilts and other projects in the shops, and just having a wonderful and fun time. Each shop has a different theme. Check us out on Facebook and on Instagram for a quick peek at what you will see if you visit the shops. #quiltersquestshophop

Did you know it takes a full year to plan for this 10-day event? The ten shop owners meet once a month to put together the myriad of details. Each of us has an assignment that we work on during the year. One person designs and orders the special fabric, one puts together the bus schedule, another orders the finishing bags. There are the Newsletters to write and publish and the Facebook page and website to maintain. And that is just the tip of the iceberg! We do all this to raise some money for our shops, of course, but even more, we do it for you. We want our customers to be excited about their Quilting Journey, to have the opportunity to visit other shops in the area, and to be inspired by what they see in those shops. We hope you make new friends and visit with old ones. We hope you learn something new every day! Most of all, we hope you have fun.

Our shop's theme is Willy Wonka and the Chocolate Factory. Come have your picture taken with Willy himself! Visit our Candy Shoppe. Maybe you will be the lucky winner of a Golden Ticket, which gives you a 30% discount off one in-stock item at Capital Quilts between November 19 and December 31, 2017. We have hidden 40 of them inside bolts of fabric throughout the shop.

While you're here, please consider purchasing raffle tickets for the wonderful quilts brought in by local guilds Friendship Star and Clustered Spires. Raffle quilts are in the classroom, along with the daily drawing and passport stamping station.

We look forward to seeing you!

Go 'n' Piece,
Alison

VENDOR SPECIALS:
HANDIQUILTER: The CQ floor models are available at 30% off the MSRP. Stop in for a demonstration and test drive the Avante or the Fusion! Free installation and bobbin winder included.

SEW STEADY: Has two packages to make your Holidays Shine! Package prices are good through 12/31/2017.

Wish Table Package includes 22" x 25" Wish Table with Drawer, Circles Sewing Tool, Holes in table for Circle Sewing, Universal Grid, Table Lock, 26x26 Big Table Travel Bag, and a bottle of Acrylic Shine. MSRP $260, SALE $209

Large Table Package includes 18" x 24" Large Table made for any make and model of machine, 20x26 Large Table Travel Bag, and a bottle of Acrylic Shine. MSRP $170, SALE $129


NEW & NOTEWORTHY

You simply MUST come in to feel this Modern Batik from Studio E! It's printed on poplin, and has such a nice hand... $12.99 per yard

If you're a fan of Cori Dantini, you won't want to miss this quick "Wee Pals" quilt kit. $29.99 each

Like our "quote" of the week? It's better on an apron! $9.99 each

Quilt As You Go Pet Placemats are here! $7.99 each

Books are discounted every day at Capital Quilts!

In Radiant Quilts, well known author and quilt designer Elsie Campbell offers a complete guide to making gorgeous scrap quilts using 1, 2, or 3 simple, related shapes. Basic shapes like triangles, clamshells, half-hexagons, strips, and diamonds are used to make 9 start-to-finish projects from stunning table runners to a gorgeous king-sized quilt. Simplicity is the key to all the projects and Elsie explains how to make decisions about fabric color, value, and contrast. MSRP $22.95, CQ Price $19.51.

Susan Marth's Dresden Quilt Workshop will have you falling in love with the classic quilt block all over again as you learn the secret to impeccable mini Dresdens in two sizes - 4 1/2in and 9in finished. Polish your piecing, pressing, and applique with proven techniques and apply those skills to 13 projects from bed-size beauties to wall hangings and table toppers. A mix of easy and intermediate quilts includes a quilt-as-you-go project, tranquil yet engaging color palettes, and not-quite-traditional layouts with their own unique flair. MSRP $24.95, CQ Price $21.21


CLASSES

You can sign up for classes online, by phone at 301-527-0598, or in person at the shop.


No classes during Quilter's Quest!

Getting Started: ProStitcher meets Sunday, 11/19 from 2-5pm. Learn the ins and outs of the computerized stitching system for the Handi Quilter longarm machines.

This Fold 'n Stitch Wreath from Poorhouse Quilts is all the rage! Learn how to make your own on Monday, November 20, 2-5.

Learn how to use the Simply Sixteen -- the littlest longarm from Handi Quilter -- on Tuesday, 11/21 at 10:30am.

Cathy Sullivan shows you how to make the delightful Tannenbaum Tree Skirt on Tuesday as well. 1-5pm.

Take a break from Black Friday shopping to Sit N Sew in the Capital Quilts classroom! Our classroom will be open on a first come, first served basis on Friday, 11/24 from 5-9pm. We provide beverages; you may wish to bring a snack to share with your fellow quilters.


SAVE THE DATES

November 9-10: Capital Quilts Quilter's Quest Bus
November 9-18: Quilters' Quest Shop Hop
December 3: Trunk Show with Ginny Brown of Studio 180
December 9: Handi Quilter Demo Day


COMMUNITY CORNER
We are still accepting Kennel Quilts for animals affected by natural disasters. Small Kennel Quilt kits are available in the shop; just ask for one!

FMCA is excited to announce the start of their fall fundraising event, the "Cash for the Animals" Raffle. Take a chance on a win-win! Buy a raffle ticket or a few. You'll feel good about supporting FMCA and enabling them to continue our work to save homeless, abandoned and abused animals. Plus, you could win up to $2000, just in time for the holidays! Click here for all the details.


CAPITAL QUILTS BLUE BAG BONANZA

Congratulations to Judy T., winner of the October prize! The November prize is Even More Quilts for Baby By Ursula Reikes, and a Reef mini-charm pack from Elizabeth Hartman for Robert Kaufman.

To be entered in each month's drawing, bring your Capital Quilts Blue Bag with you when you shop. Make sure you show it to the staffer at the register! Upon completion of your sales transaction, your name will be put in the jar for the drawing at the end of the month. The more you shop, the more chances you have to win. Don't have a Blue Bag? Purchase one at the shop, by phone, or online for just $4.99. We save all of the entries for the year, and at the end of the year we draw a Grand Prize Winner from all the entries.

Sign up for our 5th Saturday Club! Purchase your Green Tag for $10 and come to our special events on the four 5th Saturdays of 2017.
Our thanks to everybody who shops at Capital Quilts and who participates in the Blue Bag Bonanza.
Save
Save
Save