Skip Navigation
Website Accessibility
What's New at CQ 11/16/17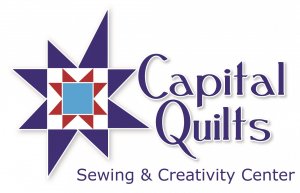 "Let us always meet each other with smile, for the smile is the beginning of love." Mother Teresa


Dear Fabricphiles,
To those of you who have visited Capital Quilts during the last week while Questing, and to those of you who visited even though you weren't Questing, thank you for coming! We enjoyed your company and I hope we see you again soon. We have had visitors from all over the country and even the world. That is one of the most fun parts of Quilters' Quest. We love your smiles and laughter, your stories, and your questions. I hope you had a good time while you were here! And if you haven't been by yet, we're looking forward to seeing you! Quest runs through Saturday.
Don't miss Ginny Brown's Studio 180 Trunk Show on Sunday, December 3, at 3pm. Ginny is a certified Deb Tucker Studio 180 Instructor. She'll show us beautiful quilts that she has made using the Deb Tucker tools and tell us about those tools as well as talking about her own story. If you are thinking about participating in Tucker University, which begins in January, this is a great introduction! Registered attendees get a 20% discount on Studio 180 products on the day of the Trunk Show.
Ginny is teaching a class, "Explore the Galaxy", on Wednesday, December 27, 10:30-4:30. "Galaxy" is an alternating block design. Through color placement and the different angles of the triangles, interesting interlocking circles appear, with no curved piecing. Sign up online, in the shop, or by phone at 301-527-0598.
Many of you have been asking me about the Westalee rulers for quilting at home on your domestic sewing machine. On Friday evening, January 5, Dena Wilkins, a certified Westalee instructor, will be lecturing to us about the rulers from 6-9. She will bring a wonderful trunk show, plus show us a power point and do a live demonstration. The next day she will lead a workshop from 9-4, to give you a hands-on experience with the rulers. The lecture is $15 and the workshop is $75. Sign up by phone, in the shop, or online.
Coming soon: Tucker University! TU offers a series of technique courses based on Deb Tucker's Studio 180 Design tools. Each month you'll learn how to use a different tool and discover all the different things you can do with it. You don't have to make a quilt top at Tucker University; each month we will work on 4" blocks, and you can use them in projects or not, as you choose. By using the tools and techniques, you will experience a better quality of piecing. You will be able to apply your new skills to any pattern that uses specific units. The classes are designed to enrich the experience of quilters of all skill levels. We will meet the third Saturday of every month, beginning January 20, from 1-5, and from 1-4 February through December.
We're looking to change our Second Saturday Club a bit in 2018, and your input is valued! Please take the survey at https://www.surveymonkey.com/GTBXWNH.
Tip from a Longarm Quilter: Staffer Cindy has been quilting T-shirt quilts on her Handi Quilter recently. She noticed that both her hopping foot and her Glide foot sometimes got stuck on the vinyl printing on the shirts, causing the machine to skip a stitch. Her solution: place your fingers and thumbs around the needle and gently push the fabric down as it stitches across printed areas to prevent the fabric getting caught and held up by the foot.
Capital Quilts will be closed on November 22 and 23 for the Thanksgiving holiday. We will see you on November 24 for Black Friday and November 25 for Small Business Saturday.
Happy Thanksgiving!
Go 'n' Piece
Alison Zacharkiw
VENDOR SPECIALS:
HANDIQUILTER: The CQ floor models are available at 30% off the MSRP. Stop in for a demonstration and test drive the Avante or the Fusion! Free installation and bobbin winder included.

SEW STEADY: Has two packages to make your Holidays Shine! Package prices are good through 12/31/2017.

Wish Table Package includes 22" x 25" Wish Table with Drawer, Circles Sewing Tool, Holes in table for Circle Sewing, Universal Grid, Table Lock, 26x26 Big Table Travel Bag, and a bottle of Acrylic Shine. MSRP $260, SALE $209

Large Table Package includes 18" x 24" Large Table made for any make and model of machine, 20x26 Large Table Travel Bag, and a bottle of Acrylic Shine. MSRP $170, SALE $129


NEW & NOTEWORTHY:

If you've been in this past week, you've likely seen Annette demoing the Fab Five Ruler from Abbey Lane Quilts. The Fab Five ruler makes cutting out projects super easy. The ruler is designed to go with the new book Fab Five Remix and comes with a free pillow pattern that can be customized to any occasion. Ruler, $14.00 each; patterns, $9-$10 each; book, MSRP $18.50, CQ price $15.73.

We turned some of those fabulous Modern Batiks from last week into strip sets! Choose from the Rainbow set (40 strips) at $42.99, or take home the Streak 'o Lightnin' "starter Kit" (42 strips) at $45.99. Streak 'o Lightnin' pattern, $9.00 each.

These pretty florals and their coordinates are from Free Spirit. $12.50/yard.


CLASSES:


You can sign up for classes online, by phone at 301-527-0598, or in person at the shop.

This Fold 'n Stitch Wreath from Poorhouse Quilts is all the rage! Learn how to make your own on Monday, November 20, 2-5.

Learn how to use the Simply Sixteen -- the littlest longarm from Handi Quilter -- on Tuesday, 11/21 at 10:30am.

Cathy Sullivan shows you how to make the delightful Tannenbaum Tree Skirt on Tuesday as well. 1-5pm.

Take a break from Black Friday shopping to Sit N Sew in the Capital Quilts classroom! Our classroom will be open on a first come, first served basis on Friday, 11/24 from 5-9pm. We provide beverages; you may wish to bring a snack to share with your fellow quilters.

Quilting by hand is immensely satisfying and a terrific stress-reliever. Not only that, others will ooh and aah over your beautiful quilt. Put on your favorite music or a book tape and find your quilting Zen. On Monday, November 27th at 10:30am, Chris will show you how to mark your fabric, what needles, thread, and thimbles to use, and how to do the stitches. A state of peace and a beautiful quilt are in your future!

Improv Open Sew! Monday, 11/27 at 1pm. Meet with like-minded quilters to expand your color horizons and free your piecing imagination. Kim and Kat will encourage you to break "the rules", and play with your fabric in ways you may not have considered.

Don't have enough room in your house to easily sandwich a quilt? Bring your top backing batting and supplies to CQ and we will help you sandwich that quilt in no time! Make your appointment for Sandwich Night (Monday, 11/27) now!

This Woven Snowflake Ornament is fun to make! Weave strips of fabric together to create a snowflake ornament to hang on the tree, a wreath, the mantle, or other decorative endeavor! You can also use these snowflakes in place of a bow on a gift. Once you know how, you'll want to make more. Tuesday, 11/28 at 10:30am.

If you have a little girl in your life that loves dresses, you'll want to make her To Tie For! This easy-to-sew reversible dress ties at the shoulders to help create a perfect fit while making it easy to get on and off. Layer it with a turtle neck and tights for cooler weather. Laurie guides you through the pattern on Tuesday, 11/28 at 1:30pm.

Barbara's popular Needles & Thread Lecture will take place on Wednesday, 11/29 at 10:30am. Learn which needles give the best results with different threads.

Finish your own quilts! It's quick and easy, once you learn how to use (and rent) our Handi Quilter longarm machines! Getting Started: The Handi Quilter Longarm is being taught on Wednesday, 11/29 at 6pm.


SAVE THE DATES

November 9-18: Quilters' Quest Shop Hop
November 22 & 23: Closed for Thanksgiving
December 3: Trunk Show with Ginny Brown of Studio 180
December 9: Handi Quilter Demo Day
December 25: Closed for Christmas
December 31 & January 1: Closed for Inventory
January 5: Westalee Ruler Lecture
January 6: Westalee Ruler Workshop



COMMUNITY CORNER
FMCA is excited to announce the start of their fall fundraising event, the "Cash for the Animals" Raffle. Take a chance on a win-win! Buy a raffle ticket or a few. You'll feel good about supporting FMCA and enabling them to continue our work to save homeless, abandoned and abused animals. Plus, you could win up to $2000, just in time for the holidays! Click here for all the details.

We are still accepting Kennel Quilts for animals affected by natural disasters. Small Kennel Quilt kits are available in the shop; just ask for one!



CAPITAL QUILTS BLUE BAG BONANZA

The November prize is Even More Quilts for Baby By Ursula Reikes, and a Reef mini-charm pack from Elizabeth Hartman for Robert Kaufman.

To be entered in each month's drawing, bring your Capital Quilts Blue Bag with you when you shop. Make sure you show it to the staffer at the register! Upon completion of your sales transaction, your name will be put in the jar for the drawing at the end of the month. The more you shop, the more chances you have to win. Don't have a Blue Bag? Purchase one at the shop, by phone, or online for just $4.99. We save all of the entries for the year, and at the end of the year we draw a Grand Prize Winner from all the entries.

Sign up for our 5th Saturday Club! Purchase your Green Tag for $10 and come to our special events on the four 5th Saturdays of 2017.
Our thanks to everybody who shops at Capital Quilts and who participates in the Blue Bag Bonanza.
Save
Save
Save