Skip Navigation
Website Accessibility
What's New at CQ 11/21/17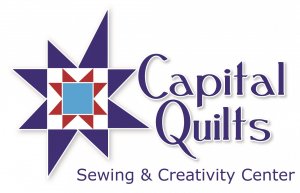 "I am grateful for what I am and have. My thanksgiving is perpetual." Henry David Thoreau


Dear Friends,

Happy Thanksgiving! May your table be full and your friends and family fuller. Capital Quilts will be CLOSED on Wednesday, November 22 and Thursday, November 23, to allow our employees to rest, relax, prepare, and enjoy Thanksgiving with their loved ones.

BLACK FRIDAY AND SMALL BUSINESS SATURDAY SALE!! If and when that big turkey dinner wears off, come on over to Capital Quilts this Friday and Saturday and save 20% on all regularly priced items in stock. Minimum 1/2 yard cut to qualify for sale pricing. Books, clearance fabric and other items, and Janome Sewing Machines are already discounted, so they are not part of this sale. You may not combine this discount with other discounts. Handi Quilter machines are not part of the sale, but the HQ rulers and other accessories and notions are.

Quilters's Quest is over for another year. We loved having you visit and hope you will come back again soon. Don't forget to bring your new Quilters' Quest discount card if you finished the Quest! I strongly recommend that you put your name on your card, so that if you lose it you have a greater chance of getting it back. We will not replace lost cards. If you have any suggestions for making the next Quilters' Quest even better, please don't hesitate to tell any of the shop owners.

The holidays are upon us and it is time to get down to gift making and buying for real. You've probably been working hard all year to make quilts and other gifts. It's not too late to make small quilts, pillows, aprons, hot pads, hot bowls, rag bowls, journal covers, pajama pants, napkins, placemats, table runners, bags, totes, and lots of other small and smallish items. We carry some fun things like quilting-related jigsaw puzzles, insulated travel bottles, woven bowls, small scissors, and tape measures, and of course we have the ever-popular Capital Quilts Gift Card!

If there is a longarm quilter or potential longarm quilter on your list (perhaps it is yourself!), Handi Quilter has some great deals right now.
Pantographs: tell us your machine throat size and Handi Quilter will send pantographs that fit. Get 6 pantographs for $30. Free shipping. Offer good November 22-29. Handi Quilter picks the pantos.

HQ Sweet Sixteen without TruStitch: this is the sit-down longarm machine. Normally $5595, purchase it between Nov. 22-29 for just $4895. Free shipping.

HQ Sweet Sixteen with TruStitch: Normally $5995, get between Nov. 22-29 and pay just $5495. Free shipping.

Avante without ProStitcher: Regularly $10,995, Handi Quilter is offering it now through December 31 for $7,995. This machine has an 18" throat and has long been the workhorse of the line. It is a reliable, smooth-stitching machine. It comes with a bobbin winder and all that you need to start stitching as soon as it is set up. The frame comes in 2' and 4' sections, so it can be set up as a 6', 8', 10', or 12' frame.

Fusion without ProStitcher: The Fusion normally sells for $13,995. Now through the end of 2017, Handi Quilter is offering this machine for $10,995. This proven machine has a 20" throat. The frame is 12'. It also comes with a bobbin winder and all that you need to start stitching immediately.

Amara without ProStitcher: This is Handi Quilter's newest machine. Much of the state-of-the-art technology in their top-of-the-line machine, the Infinity, has been incorporated in this machine. Find out more on the Handi Quilter website. The price is $10,995 through the end of the year; Handi Quilter has indicated a potential price increase at that time, but I have no details as yet. The throat is 20", so there is 2" more quilting space than the Avante. The ProStitcher is an additional $9,995.
All machine purchases include free installation, a class on using the machine, and one year's free membership in the Capital Quilts Longarm Club. The club meets on the first Saturday of every month at 10am.

Thanks for shopping at Capital Quilts!

Go 'n' Piece,
Alison


VENDOR SPECIALS:
HANDIQUILTER: The CQ floor models are available at 30% off the MSRP. Stop in for a demonstration and test drive the Avante or the Fusion! Free installation and bobbin winder included.

SEW STEADY: Has two packages to make your Holidays Shine! Package prices are good through 12/31/2017.

Wish Table Package includes 22" x 25" Wish Table with Drawer, Circles Sewing Tool, Holes in table for Circle Sewing, Universal Grid, Table Lock, 26x26 Big Table Travel Bag, and a bottle of Acrylic Shine. MSRP $260, SALE $209

Large Table Package includes 18" x 24" Large Table made for any make and model of machine, 20x26 Large Table Travel Bag, and a bottle of Acrylic Shine. MSRP $170, SALE $129


CLASSES:

You can sign up for classes online, by phone at 301-527-0598, or in person at the shop.


Take a break from Black Friday shopping to Sit N Sew in the Capital Quilts classroom! Our classroom will be open on a first come, first served basis on Friday, 11/24 from 5-9pm. We provide beverages; you may wish to bring a snack to share with your fellow quilters.

Quilting by hand is immensely satisfying and a terrific stress-reliever. Not only that, others will ooh and aah over your beautiful quilt. Put on your favorite music or a book tape and find your quilting Zen. On Monday, November 27th at 10:30am, Chris will show you how to mark your fabric, what needles, thread, and thimbles to use, and how to do the stitches. A state of peace and a beautiful quilt are in your future!

Improv Open Sew! Monday, 11/27 at 1pm. Meet with like-minded quilters to expand your color horizons and free your piecing imagination. Kim and Kat will encourage you to break "the rules", and play with your fabric in ways you may not have considered.

Don't have enough room in your house to easily sandwich a quilt? Bring your top backing batting and supplies to CQ and we will help you sandwich that quilt in no time! Make your appointment for Sandwich Night (Monday, 11/27) now!

This Woven Snowflake Ornament is fun to make! Weave strips of fabric together to create a snowflake ornament to hang on the tree, a wreath, the mantle, or other decorative endeavor! You can also use these snowflakes in place of a bow on a gift. Once you know how, you'll want to make more. Tuesday, 11/28 at 10:30am.

If you have a little girl in your life that loves dresses, you'll want to make her To Tie For! This easy-to-sew reversible dress ties at the shoulders to help create a perfect fit while making it easy to get on and off. Layer it with a turtle neck and tights for cooler weather. Laurie guides you through the pattern on Tuesday, 11/28 at 1:30pm.

Barbara's popular Needles & Thread Lecture will take place on Wednesday, 11/29 at 10:30am. Learn which needles give the best results with different threads.

Finish your own quilts! It's quick and easy, once you learn how to use (and rent) our Handi Quilter longarm machines! Getting Started: The Handi Quilter Longarm is being taught on Wednesday, 11/29 at 6pm.

Do you struggle with Binding Your Quilt? On Friday, 12/1 Annette will show you how to get perfect results every time! You will bind a "quiltlette" in class to keep forever as a reference.

Bruce is back in the shop on Sunday, 12/3 to service your machine. Appointments are required; make yours today!

Also on Sunday the 3rd, Laurie will be leading a CQ Cares: Bears and Blankets workshop. Join her to make quilts to donate to kids at the Children's National Medical Institute, along with a (purchased by you) new small stuffed animal. Guaranteed to bring a smile to the face of a sick child! All fabric is provided. Registration is requested, as limited space is available for this free event.

Finish off your Sunday with the Ginny Brown/Studio 180 Trunk Show at 3pm! Come see the lovely quilts Ginny has made, and hear her story about her quilting journey. Find out more about Studio 180 designs and tools. Pay $10 to register, get a $10 Capital Quilts Gift Card at the show!, 20% discount on Studio 180 products to registered attendees if purchased on 12/3/17.

On Monday 12/4, we have two classes for your consideration. The first, from 10:30-12:30, is the Jump-n Girl's Dress. This fun dress is easy to make, easy to fit, and easy to wear. Make it as a sundress for warm weather or a jumper for cooler times. It's reversible and has cute, elastic-edged pockets. No buttons or zippers!

Next, make Serged Napkins for the holidays using your serger. Use one fabric, or put two back to back to make a reversible napkin. Make them any size. What a lovely gift for a hostess! 1-4pm.


SAVE THE DATES

November 22 & 23: Closed for Thanksgiving
December 3: Trunk Show with Ginny Brown of Studio 180
December 9: Handi Quilter Demo Day
December 25: Closed for Christmas
December 31 & January 1: Closed for Inventory
January 5: Westalee Ruler Lecture
January 6: Westalee Ruler Workshop


COMMUNITY CORNER
FMCA is excited to announce the start of their fall fundraising event, the "Cash for the Animals" Raffle. Take a chance on a win-win! Buy a raffle ticket or a few. You'll feel good about supporting FMCA and enabling them to continue our work to save homeless, abandoned and abused animals. Plus, you could win up to $2000, just in time for the holidays! Click here for all the details.

We are still accepting Kennel Quilts for animals affected by natural disasters. Small Kennel Quilt kits are available in the shop; just ask for one!


CAPITAL QUILTS BLUE BAG BONANZA

The November prize is Even More Quilts for Baby By Ursula Reikes, and a Reef mini-charm pack from Elizabeth Hartman for Robert Kaufman.

To be entered in each month's drawing, bring your Capital Quilts Blue Bag with you when you shop. Make sure you show it to the staffer at the register! Upon completion of your sales transaction, your name will be put in the jar for the drawing at the end of the month. The more you shop, the more chances you have to win. Don't have a Blue Bag? Purchase one at the shop, by phone, or online for just $4.99. We save all of the entries for the year, and at the end of the year we draw a Grand Prize Winner from all the entries.

Sign up for our 5th Saturday Club! Purchase your Green Tag for $10 and come to our special events on the four 5th Saturdays of 2017.

Our thanks to everybody who shops at Capital Quilts and who participates in the Blue Bag Bonanza.
Save
Save
Save