What's New at CQ 11/30/17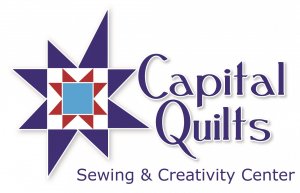 "Time and memory are true artists; they remould reality nearer to the heart's desire." John Dewey


Dear Followers of the Fabric Arts,

I have been considering the perception that time goes faster as you get older. My current theory (totally unscientific) is that age-impaired brain cells don't remember as much of what one has experienced during any given time period, so the period seems shorter or seems to have gone by faster. 2017 has certainly zipped on by! Which means I've forgotten it already, whether selectively or due to decrepit cells. Anyway, let's make the last month memorable! Let's enjoy every minute of every day; maybe time will slow down a little. Let Capital Quilts entertain you and enlighten you in December. Come join the fun! Here is what is happening:

Studio 180 Trunk Show and Lecture with Ginny Brown on Sunday at 3. Ginny is a certified Studio 180 Instructor and is an expert at using the Deb Tucker tools. In addition to the Trunk Show, Ginny will be introducing Tucker University. On the 3rd Saturday afternoon of every month in 2018, beginning in January, Ginny will teach us how to use the Deb Tucker Studio 180 Templates to create beautiful and accurate blocks that become beautiful quilts. Mystery alert: she is going to show us a brand new Studio 180 quilt that no one has seen yet!

Handi Quilter Demo Day is Saturday, December 9, 11-1. Come try the new Amara quilting machine. Find out about the next Ruler Club. The rulers are designed by Handi Quilter, but they can be used on any brand longarm machine. Learn more about our Longarm Club, ProStitcher Club, and the new Art and Stitch Club. If you've been thinking about getting a longarm machine for your home or studio, this is a great time to buy. Prices will never be cheaper than they are right now for any of the Handi Quilters!

Capital Quilts Cares: We have four events in December. On Sunday, December 3, 12:30-2:30, we have "Bears & Blankets". Bring a small stuffed animal and make a quilt to go with it. Tuesday, December 5, is Quilt of Valor day: work on QOV quilts for our vets from 10:30-12:30. On Wednesday, December 6, 10:30-12:30, make kennel quilts and pet beds for our furry friends in shelters both local and in hurricane-ravaged areas. Finally, on Monday, December 11 10-12, help make a holiday wall hanging for the Interfaith Works Women's Center. For all events, it is free and all fabric is provided. Just bring your sewing machine, thread, and basic sewing tools and lots of holiday cheer! Please register so that we know how many to expect at each event. Thank you!

And, of course, there is our always full schedule of classes to choose from. The ProStitcher Mini Academy that had been scheduled for the last week in December has been cancelled due to technical difficulties. We will reschedule the classes in 2018.

We will not be a Toys for Tots collection center this year, sadly. When I went online to sign up, I found a message saying they had enough centers already. I'll try earlier next year!

Quilting Tip: I've heard from some folks about last week's tip for quilting T-shirt quilts that have vinyl that can catch the foot. There is concern about stitching fingers when trying control the fabric. Sue Moats offers this alternative: put Golden Threads paper, tissue paper, or a water soluble stabilizer over very heavy vinyl designs on the T-shirt block so the needle can more easily glide over the printing. Custom quilting on T-shirt quilts makes it easier to anticipate problem areas and to work around them.

Go 'n' Piece,
Alison
VENDOR SPECIALS:
HANDIQUILTER: The CQ floor models are available at 30% off the MSRP. Stop in for a demonstration and test drive the Avante or the Fusion! Free installation and bobbin winder included.

SEW STEADY: Has two packages to make your Holidays Shine! Package prices are good through 12/31/2017.

Wish Table Package includes 22" x 25" Wish Table with Drawer, Circles Sewing Tool, Holes in table for Circle Sewing, Universal Grid, Table Lock, 26x26 Big Table Travel Bag, and a bottle of Acrylic Shine. MSRP $260, SALE $209

Large Table Package includes 18" x 24" Large Table made for any make and model of machine, 20x26 Large Table Travel Bag, and a bottle of Acrylic Shine. MSRP $170, SALE $129


NEW & NOTEWORTHY:


Just in from Northcott, 20 bolts of Willowberry by Angela Kilpatrick Willowberry; a beautiful floral with a vintage remix vibe. $12.50 per yard; 5" Charm packs, $10.99; 2.5" Strips, $42.99

These five bolts of Thrive from Natalia and Kathleen for Moda are fresh and clean-looking. $11.99 per yard.

These little themed clothespins are so cute! Great for crafts, your sewing room, a stocking stuffer... $5.99-9.99 per bag.


CLASSES:



You can sign up for classes online, by phone at 301-527-0598, or in person at the shop.

On Sunday the 3rd, Laurie will be leading a CQ Cares: Bears and Blankets workshop. Join her to make quilts to donate to kids at the Children's National Medical Institute, along with a (purchased by you) new small stuffed animal. Guaranteed to bring a smile to the face of a sick child! All fabric is provided. Registration is requested, as limited space is available for this free event.

Finish off your Sunday with the Ginny Brown/Studio 180 Trunk Show at 3pm! Come see the lovely quilts Ginny has made, and hear her story about her quilting journey. Find out more about Studio 180 designs and tools. Pay $10 to register, get a $10 Capital Quilts Gift Card at the show!, 20% discount on Studio 180 products to registered attendees if purchased on 12/3/17.

On Monday 12/4, we have two classes for your consideration. The first, from 10:30-12:30, is the Jump-n Girl's Dress. This fun dress is easy to make, easy to fit, and easy to wear. Make it as a sundress for warm weather or a jumper for cooler times. It's reversible and has cute, elastic-edged pockets. No buttons or zippers!

Next, make Serged Napkins for the holidays using your serger. Use one fabric, or put two back to back to make a reversible napkin. Make them any size. What a lovely gift for a hostess! 1-4pm.

Getting Started: The Handi Quilter Longarm Machine is a must for anyone interested in renting our longarms, or even if you're thinking about purchasing one! Our staff will show you the ins and outs of the longarm machine and the frame, how to set up for quilting a quilt, what proper tension is, and some basic quilting designs. Tuesday, 12/5 at 10am.

Help to cover service members and veterans with Quilts of Valor. Sue Moats leads this group in making a Quilt of Valor that will be gifted to a deserving recipient. The session is free and all fabric is provided. Please register, as space is limited. Tuesday, 12/5 at 10:30am.

If the big longarms aren't your style, meet the Simply Sixteen! This "little stand-up longarm" from Handi Quilter enables any quilter, beginner to advanced, to finish any size quilt without the space requirements of a conventional frame system. Learn how to use it on Tuesday, 12/5 at 2pm.

Local rescues and shelters have come to love the pet beds that we make and donate to them! Recently, we've also started making small kennel quilts to send to shelters taking in animals from natural disasters. Join Marla on Wednesday, 12/6 at 10:30am to make these beds and small quilts. The dogs and cats thank you!

You've learned how to use the longarms, and now you want to use the computer to stitch your top the way you see it in your head. Enter ProStitcher Premium. On Wednesday, 12/6 at 6pm, learn the basic buttons and tools of ProStitcher Premium. Customize Edge-to-Edge (E2E) designs on your computer to fit any quilt size and transfer the design to the ProStitcher Premium on the longarm for accurate stitch out.

Join Rae Cumbie for her two-day Eureka! Pants that Fit workshop on Thursday 12/7 and Friday 12/8. Rae will help you alter her basic pants pattern to achieve a perfect fit. You'll never want to buy another pair ready to wear slacks!

Two appointments for Sandwich Night on Friday 12/8 are available. For a small fee, you get the use of our classroom and a staff helper for an hour. Baste one large quilt or several small ones. Appointment required.

As mentioned above, come in on Saturday, 12/9 for Handi Quilter Demo Day! Meet the new Amara and learn all about it's exclusive features. Hear about all the clubs we have that center around longarm quilting!

Plan for another CQ Cares event on Monday 12/11 at 10am! Laurie will lead the group in making a holiday wall hanging for the local women's shelter, because everyone needs a little cheer in their lives!


SAVE THE DATES

December 3: Trunk Show with Ginny Brown of Studio 180
December 9: Handi Quilter Demo Day
December 25: Closed for Christmas
December 31 & January 1: Closed for Inventory
January 5: Westalee Ruler Lecture
January 6: Westalee Ruler Workshop


COMMUNITY CORNER
FMCA is excited to announce the start of their fall fundraising event, the "Cash for the Animals" Raffle. Take a chance on a win-win! Buy a raffle ticket or a few. You'll feel good about supporting FMCA and enabling them to continue our work to save homeless, abandoned and abused animals. Plus, you could win up to $2000, just in time for the holidays! Click here for all the details.

FMCA has another way you can help support them! Eat at the Chipotle in the Kentlands on Monday, 12/11 between 5 and 9, and tell the cashier you're there for the FMCA fundraiser -- Chipotle will donate 50% of your total purchase to the rescue!

We are still accepting Kennel Quilts for animals affected by natural disasters. Small Kennel Quilt kits are available in the shop; just ask for one!


CAPITAL QUILTS BLUE BAG BONANZA

The November prize is Even More Quilts for Baby By Ursula Reikes, and a Reef mini-charm pack from Elizabeth Hartman for Robert Kaufman.

To be entered in each month's drawing, bring your Capital Quilts Blue Bag with you when you shop. Make sure you show it to the staffer at the register! Upon completion of your sales transaction, your name will be put in the jar for the drawing at the end of the month. The more you shop, the more chances you have to win. Don't have a Blue Bag? Purchase one at the shop, by phone, or online for just $4.99. We save all of the entries for the year, and at the end of the year we draw a Grand Prize Winner from all the entries.

Sign up for our 5th Saturday Club! Purchase your Green Tag for $10 and come to our members-only sale on December 30th!

Our thanks to everybody who shops at Capital Quilts and who participates in the Blue Bag Bonanza.
SaveSaveSave