Skip Navigation
Website Accessibility
What's New at CQ 12/14/17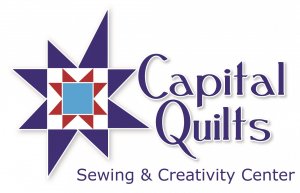 "The Arctic is among the least understood places on the planet; however, we do know that its landscape is changing and evolving as quickly as cell phones and the Internet." Philippe Cousteau, Jr.


Dear Evolved Tool Users,

My daughter flew in from Singapore last night to spend the holidays with us. She came via the polar route; she says the north side of the planet is white and full of ice floes with rivers in between. I find that disturbing; I would think the North Pole should be frozen up solid at this time of year. No sign of Santa's Workshop. She also saw the sun rise and set within a space of 3 hours. Travel is very fun!

I am working on scheduling lots of great classes and events for the first quarter of 2018, and one of the first is a Westalee Lecture/Trunk Show/Workshop. The Lecture and Trunk Show are on Friday, January 5, from 6-9. The hands-on Workshop is the next day, Saturday, from 9-4. Westalee tools are quilting tools that are designed to be used with domestic sewing machines. With practice, you will be able to achieve the look a longarm quilter creates with rulers and tools. If you are taking the Workshop, you will need an extension table as well as your sewing machine. If you don't have an extension table, we sell the Sew Steady brand of table. They are custom made to fit your machine, so order soon so that there is time to get the table made and delivered; it usually takes 2-3 weeks, and the holidays can slow things down.

We are continuing our tool education with the establishment of Tucker University. TU will meet once a month on the 3rd Saturday of the month, from 1-4 (1-5 in January). We have created 18 places and 8 of them are taken. If not all of the spots are reserved by January 6, I will open the class to those wanting to take only the January class, which is all about the Tucker Trimmer 1 and the Shaded Four-Patch block. The price for the January-only class is $40, plus $6.25 for the Design Sheet and $7.50 for the Technique Sheet (if you don't already own one), plus you must bring the tool to class. All registrations must be made by January 13 so that I have time to order and have delivered any Sheets or Tools that are needed. Sorry for the 'musts'; the timing is everything!

Save the date: February 8 & 9 is our semi-annual Handi Quilter Education Event. There will be classes for all levels of quilters, with tips, tricks, and an entertaining and knowledgeable certified HQ trainer.

If you are the proud owner of a Janome MC15000, there is an update available and Capital Quilts can install it for you. Please contact Marianne Losey at gardentreat@msn.com to make an appointment. The update makes your MC15000 at top-of-the-line quilting machine as well as embroidery machine.

The new Janome MC15000 is called the "Quilt Maker"; in addition to all the wonderful embroidery modules the V2 had, the machine now includes new quilting features and is designed to be used with tools like the Westalee tools. Sew, quilt, and embroider with ease! This machine does it all and in spades. The price is still $12,999. Buy before 2017 runs out and get 10 hours of free machine owner lessons (a $530 value) plus a $500 Capital Quilts Gift Card that you can use to buy any tangible thing the shop sells or can order; classes; events; and even chocolate.

Go 'n' Piece,
Alison

VENDOR SPECIALS:
HANDIQUILTER: The CQ floor models are available at 30% off the MSRP. Stop in for a demonstration and test drive the Avante or the Fusion! Free installation and bobbin winder included.

SEW STEADY: Has two packages to make your Holidays Shine! Package prices are good through 12/31/2017.

Wish Table Package includes 22" x 25" Wish Table with Drawer, Circles Sewing Tool, Holes in table for Circle Sewing, Universal Grid, Table Lock, 26x26 Big Table Travel Bag, and a bottle of Acrylic Shine. MSRP $260, SALE $209

Large Table Package includes 18" x 24" Large Table made for any make and model of machine, 20x26 Large Table, Travel Bag, and a bottle of Acrylic Shine. MSRP $170, SALE $129


NEW & NOTEWORTHY:


We've gotten in two new fragrances from Mary Ellen's Best Press: Subtle Scent is a lightly scented with lavender, and Lavender Thyme for those of you who like a more herbaceous scent. $8.99 for a 16 oz. spray bottle.

The 2018 edition of Needle Travel is here! This little book is the perfect gift for anyone who loves to quilt, knit, needlepoint, crochet, weave, spin, cross-stitch, or embroider! MSRP $9.95, CQ price only $8.46.

New Moon Rising from Tiger Lily Press can be made up into either a wall quilt or a table runner. $9.50 each.

Closet Case's Ginger Jeans are all over the internet! Make your own custom-fit jeans using this pattern. $18.00 each.

Do you like a scrappy look, but can't see buying ALL those different fabrics? Moda has come up with a solution! Designed by Jen Kingwell, Lollies Sweetie gives you eight different coordinated prints in a single width of fabric -- genious, right? $11.99 per yard.

From Riley Blake, we have Puppy Love. Cute dogs abound, with dog bone blenders and a great "Scrabble"-tile coordinate. 11.99 per yard.

Art Gallery knits are here! These Cotton/Spandex knits have a lovely hand and drape. Come in and see for yourself! $17.50 per yard.


CLASSES:

You can sign up for classes online, by phone at 301-527-0598, or in person at the shop.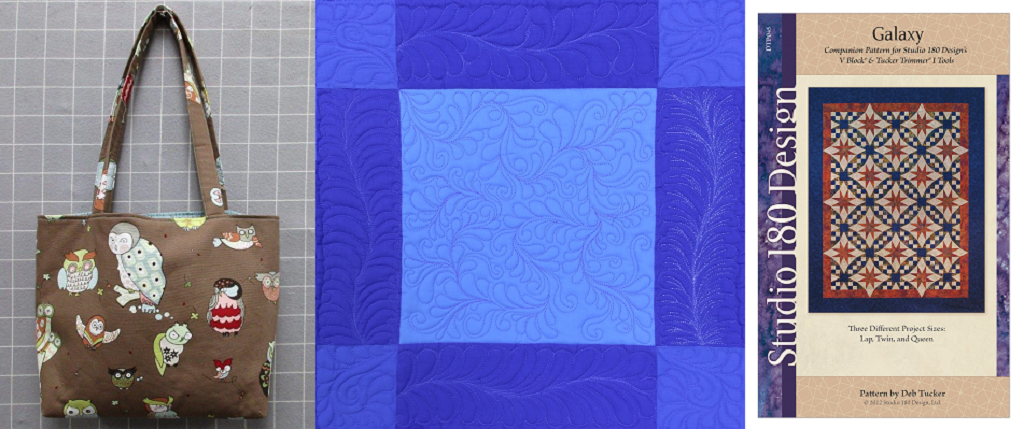 Learn to make a Basic Tote Bag on Friday, 12/15 at noon. Once you have made this tote, all other tote patterns will make sense to you. You will be able to start making variations and designing your own!

If you already have some longarm experience, you may be interested in our Free Motion Quilting on the Longarm: Feathers class; it's being held on Wednesday, 12/20 at 11am. Feathers are a beautiful addition to your quilt. They can be simple or ornate. You will learn several different feather designs, how to embellish them, and how to combine them.

Join Ginny Brown and Explore the Galaxy on Wednesday, 12/27 at 10:30am. Galaxy is a beautiful alternating block design with 3 quilt size options. Through color placement and the different angles of the triangles, interesting interlocking circles appear, with no curved piecing.

Classes for January, February, and March are appearing on our website now! We'll let you know as soon as the full class listing is posted.


SAVE THE DATES

December 25: Closed for Christmas
December 31 & January 1: Closed for Inventory
January 5: Westalee Ruler Lecture
January 6: Westalee Ruler Workshop
February 8 & 9: Handi Quilter Education Event


COMMUNITY CORNER

We are still accepting Kennel Quilts for animals affected by natural disasters. Small Kennel Quilt kits are available in the shop; just ask for one!


CAPITAL QUILTS BLUE BAG BONANZA

The December prize is The Wedding Quilt, a novel by Jennifer Chiaverini, and a Cake Mix Recipe for 10" squares from Moda.

To be entered in each month's drawing, bring your Capital Quilts Blue Bag with you when you shop. Make sure you show it to the staffer at the register! Upon completion of your sales transaction, your name will be put in the jar for the drawing at the end of the month. The more you shop, the more chances you have to win. Don't have a Blue Bag? Purchase one at the shop, by phone, or online for just $4.99. We save all of the entries for the year, and at the end of the year we draw a Grand Prize Winner from all the entries.

Sign up for our 5th Saturday Club! Purchase your Green Tag for $10 and come to our members-only sale on December 30th!

Our thanks to everybody who shops at Capital Quilts and who participates in the Blue Bag Bonanza.
Save
Save
Save