Skip Navigation
Website Accessibility
What's New at CQ 12/28/2017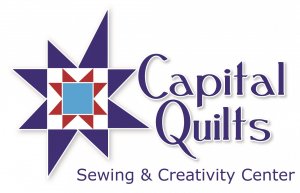 "Every time you tear a leaf off a calendar, you present a new place for new ideas and progress." Charles Kettering


Dear Friends of Capital Quilts,
You and I are about to close the tattered pages of our old calendar and open a brand new one. The pages are crisp and clean and full of potential. What will the new year bring? What adventures will we have? What quilts will we make? Will we try something new, a bag, a skirt, a hand-made project? Will we do something to help others, thereby adding to our own measure of happiness? Will we do something to help conserve and preserve our planet Earth? What stitches will we add to the creation we each call "ME"? Will we embellish who we already are? Will we rip out a bad habit or two and replace it with something healthier?
Capital Quilts will close 2017 with two sales, both happening on the same day! The day is Saturday, December 30.
Sale #1 is the Blue Bag 5th Saturday Club Sale. People holding a CQ Blue Bag and Green Ticket will be allowed in the store to start shopping at 9am. Anything and everything that can be squished into the Blue Bag receive a 25% discount (already discounted items, such as books and clearance items, are not included in the sale). Items not in the bag receive a 20% discount. You may purchase a Blue Bag and Green Ticket through December 29. The Blue Bag is reuseable.
Sale #2 is our Pre-Inventory Sale and it begins at 10am. All regularly priced items are 20% off. Everybody may participate in this sale, and we hope you do so that we don't have to count as much during Inventory!
Inventory is Sunday and Monday, December 31 and January 1. Capital Quilts will be CLOSED on those two days.
Fulfill some of your potential by taking classes at Capital Quilts in 2018! The new class schedule is now published and can be found on our website or at the shop. Clubs and events are also listed in the schedule. Join us for our first event of the year, the Westalee trunk show on Friday evening, Jan. 5, beginning at 6pm. If you've recently purchased or received a serger, consider taking "Sergers Made Easy" with Barbara Kascic on Monday, Jan. 15, 10:30-1:30. Learn a different way to set blocks in a quilt top in Hilary Hastie's class, "Circle of Turtles," on Friday, Jan. 26, 10:30-12:30.
Drum roll, please…the Pantone color of the year for 2018 is…Ultra Violet! Purple has long been symbolic of unconventionality, individuality, and artistic expression. We hope that you will embrace Ultra Violet and push your creative limits in the coming year. Be on the lookout for a purple wall at Capital Quilts in the near future!

On behalf of the Capital Quilts staff, I wish you and yours all the best in 2018. Happy New Year!
Go 'n' piece,
Alison
VENDOR SPECIALS:
HANDIQUILTER: The CQ floor models are available at 30% off the MSRP. Stop in for a demonstration and test drive the Avante or the Fusion! Free installation and bobbin winder included.

SEW STEADY: Has two packages to make your Holidays Shine! Package prices are good through 12/31/2017.

Wish Table Package includes 22" x 25" Wish Table with Drawer, Circles Sewing Tool, Holes in table for Circle Sewing, Universal Grid, Table Lock, 26x26 Big Table Travel Bag, and a bottle of Acrylic Shine. MSRP $260, SALE $209

Large Table Package includes 18" x 24" Large Table made for any make and model of machine, 20x26 Large Table, Travel Bag, and a bottle of Acrylic Shine. MSRP $170, SALE $129


NEW & NOTEWORTHY:

Angela Walters has just released a series of Creative Grids Rulers designed for quilting on your domestic machine! These Creative Grids rulers are going to be of value to machine quilters, no matter their machine or skill level! Besides versatile shapes, they come with the exclusive grip that Creative Grids is known for, and markings in black and white, which means you can see them no matter what color of fabric that you are using! $21.99 each

First Time Machine Applique by Janet Pittman teaches the basics of machine appliqué in 9 easy lessons. Practice your newly acquired skills on 5 projects including a lap throw, tote bag and seasonal table runner. Each project uses a combination of lessons. Janet even shows you how to machine appliqué on purchased items such as aprons and towels. Learn about equipment and supplies, fabrics and threads, how to prepare fused appliqué, how to prepare turned-edge appliqué, how to arrange appliqué, the basics of machine appliqué stitching, about favorite appliqué stitches, bias seams, and then put all of your skills together in a fun project. MSRP $24.95, CQ Price only $21.21

If you want to sew up a quick gift, make a toy for a baby or toddler, or decorate your home with a little whimsy, look no further than Make Softies from C&T Publishing. This collection of 11 softies from popular designers. Cute houses, cuddly creatures, friendly characters, and even a checkerboard are all achievable with three-dimensional sewing for beginners and experienced sewists. Plus, the projects in this value-packed book will use up your scraps, stash, and even your socks! MSRP $14.95, CQ Price only $12.71

In The Visual Guide to Crazy Quilting, you will find 35 must-know stitches and endless variations, shown in clear, step-by-step photographs for both right- and left-handed stitchers. Fine artist Sharon Boggon reveals design fundamentals to guide you in your process, so you can sew thoughtful, visually appealing blocks. Learn the theory and process behind this fascinating art - how to choose fabrics, piece stitch-and-flip blocks, and embellish seams with embroidery, beads, buttons, and charms. MSRP $29.95. CQ Price only $25.46

"Around the Cabin" by Nancy Rink is a pattern where the classic log cabin block meets fat quarters. Directions are included for three different size quilts. $10.00 each

Aardvark Quilts' "Progress" is a template-based quilt pattern, appropriate for either a planned or a scrappy fabrication. $9.00 each

Are you ready to teach yourself foundation paper piecing? "Taffy Pull" is suitable for beginners! Finishes at 58" square. $10.00 each




CLASSES:

You can sign up for classes online, by phone at 301-527-0598, or in person at the shop.

Join fellow quilters and sewists tomorrow night for our free Sit 'n' Sew! Bring your project and perhaps a snack to share and sew the night away from 5-9.

The Westalee Workshop next Saturday is all filled, but there is still room in next Friday night's Westalee Trunk Show and Lecture!

2018 Clubs are starting up soon! Be sure to sign up for your desired clubs before the spots are all filled. Starting Saturday, 1/6 is the Longarm Club and the ProStitcher Club. Hand Piecers meet Monday, 1/8; Improv on Tuesday 1/9. The new Art n Stitch Club has its inaugural meeting on Thursday, 1/11. Second Saturday: Before and After the Block and the Wool Club both start on Saturday, 1/13. If you English Paper Piece (EPP), our club has a range of stitchers from modern to traditional, and everything in between; their first Club meeting is on Sunday, 1/14. Janome Owners will be interested in our Janome Club starting 1/20, and the Zentangle Club starts on 1/21 if you'd like to schedule a little "mindful doodling" once a month. AccuQuilt and the HandiQuilter Ruler of the Month start on 1/27.

Does your machine need a little "pick me up"? Make an appointment with Bruce for Sunday, 1/7 or 1/21 for it's own little "spa day".

Please consider joining Laurie as she leads a CQ Cares: Days for Girls workshop on Monday, 1/8. Participants will sew drawstring bags that will be filled with reusable, sustainable sanitary products that will allow girls in undeveloped countries to attend school uninterrupted. Participants are asked to register for this free event, and to bring with them one or two new, colorful, pretty washcloths.

The complete class listing is available in store or online -- please give it a read!


SAVE THE DATES

December 30: Blue Bag Bonanza Sale & Inventory Sale
December 31 & January 1: Closed for Inventory
January 5: Westalee Ruler Lecture
January 6: Westalee Ruler Workshop
February 8 & 9: Handi Quilter Education Event


COMMUNITY CORNER

We are still accepting Kennel Quilts for animals affected by natural disasters. Small Kennel Quilt kits are available in the shop; just ask for one!


CAPITAL QUILTS BLUE BAG BONANZA

The December prize is The Wedding Quilt, a novel by Jennifer Chiaverini, and a Cake Mix Recipe for 10" squares from Moda.

To be entered in each month's drawing, bring your Capital Quilts Blue Bag with you when you shop. Make sure you show it to the staffer at the register! Upon completion of your sales transaction, your name will be put in the jar for the drawing at the end of the month. The more you shop, the more chances you have to win. Don't have a Blue Bag? Purchase one at the shop, by phone, or online for just $4.99. We save all of the entries for the year, and at the end of the year we draw a Grand Prize Winner from all the entries.

Sign up for our 5th Saturday Club! Purchase your Green Tag for $10 on or before December 29th, and come to our members-only sale on December 30th!

Our thanks to everybody who shops at Capital Quilts and who participates in the Blue Bag Bonanza.SaveSaveSave