What's New at CQ 01/04/2018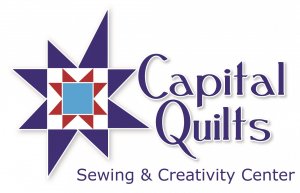 "The first fall of snow is not only an event, it is a magical event. You go to bed in one kind of a world and wake up in another quite different, and if this is not enchantment then where is it to be found?" J. B. Priestley



Dear Cold-Handed, Warm-hearted Readers,
Happy New Year! There is nothing like a protracted arctic blast to make one think of quilts, tea/hot chocolate, and blazing fires on the family room hearth. If you piece or quilt by hand, you can snuggle under a quilt by the fire and drink your hot beverage while creating a quilt! Join the Hand Piecers Club, which meets on the first Monday of each month, 1-3, or take Kim Jalette's Beginning EPP (English Paper Piecing) on Monday, Jan. 22, 10:30-1:30. If you already EPP and enjoy it, try the EPP Club; its first meeting is Sunday, January 14, 12-2.
The 5th Saturday Blue Bag Bonanza Club 2018 is open for registration! Purchase a Capital Quilts Blue Tote Bag, if you don't already have one, and a Gold Ticket. That precious ticket and tote get you in the door for one of four special sales on the 5th Saturdays during 2018. The sales are in March, June, September, and December. Gold Tickets are not sold on a 5th Saturday Sale day, but can be purchased any other day that we are open.
There are updates available for the Handi Quilter Amara machine. Go to the Handi Quilter website and click on the downloads button. You will need a USB stick. Instructions for updating your Amara are on the website. Be sure to update both your software and your machine.
January 10-23, all Handi Quilter gadgets and accessories are 15% off. If there is something you want to be sure to get, send me an email and I will make sure we have it in stock.
Also during that January 10-23 time frame, purchases of any new Handi Quilter longarm machine include a FREE Quilt-Pro Design Software package. Quilt-Pro allows you to design blocks and quilts on your computer and manipulate the design for unique effects. As always, you also get a year's free membership in our Longarm Club, free installation of your machine in your home (mileage may be charged if you live more than 50 miles from the shop), and a free lesson on the use and care of the machine.
If you use ProStitcher and are ready for an advanced class, there is one coming up:
Advanced Pro-Stitcher Simulation – January 20, 11-2
This class goes beyond creating a basic Edge to Edge (E2E) design using Pro-Stitcher. Barbara Bean will show you how to design an E2E inside a defined area with a separate border, save it to a USB stick, bring it to the Handi Quilter longarm machine, and stitch it out. You will also learn some tips on how to choose an appropriate design for E2E, sashings, and borders. Pre-requisite: Getting Started—The Basics of Pro-Stitcher Premium. Remember to bring your Windows laptop (with power cord), pre-loaded with Pro Stitcher Premium, a wired mouse, and a USB stick for saving your work.
The Saturday Tucker University class is now full, but there is still lots of room in the Tuesday class. It meets the 3rd Tuesday of each month from 2-6. This month we will be talking about the Tucker Trimmer, and in February we'll review the V-Block tool. Sign up soon, as I have to order in supplies!
Go 'n' piece,
Alison
VENDOR SPECIALS
Handi Quilter: January 10-23, take 15% off all HQ gadgets and accessories. PLUS, any new HQ longarm machine package purchased during this time will include FREE Quilt-Pro Quilt Design Software.

JANOME: Purchase a Skyline S9 now through January 10 and you can select up to $500 in accessories at no additional charge! There are almost 50 items to choose from, including feet, needles, the optic magnifier, the Universal Side Table, an accessory case, and more. This computerized sewing and embroidery machine features automatic presser foot lift, 300 built-in stitches, 250 built-in embroidery designs, 10 fonts for monogramming, built-in WIFI, 3 exclusive Janome apps for the IPad, adjustable hoop positioning and 3 hoops, plus more. The Skyline S9 has a suggested price of $3,999; get it at Capital Quilts for $3,699. Includes 2 free lessons and 1 year's free membership in our Janome Club.


NEW & NOTEWORTHY:

Tree of Life quilts are timeless and varied in style. In her newest book, Trisch Price has reinterpreted the concept to create 9 fresh and innovative quilts. Interpretations are broad, from trees to other life-sustaining habitats, such as coral, spider webs, and even our technological world. Includes a unique, quilt-as-you-go design―Circle of Life―that employs circles rather than the traditional block formation, as well as other innovative techniques. MSRP $23.95, CQ price only $20.36.

In Creative Batik, Rosi Robinson explores many different waxing and dyeing techniques, explaining how to create beautiful flowers, trees, birds, animals, landscapes, and abstract designs. MSRP $19.95, CQ price only $16.96.

International prize-winning quiltmakers Sue Nickels and Pat Holly show just how easy it is to create beautiful finished quilt projects with their new fusing methods. Even fussy pieces have sharp points, neat edges, and no seam allowances to turn under. And best yet, the resulting quilts are soft and flexible - unlike many quilts made with traditional fusing methods. These two masters of machine quiltmaking show you tricks of the trade to make your own masterpiece. Stitched Raw Edge Applique, MSRP $22.95, CQ price only $19.51.

Show someone how much you love them with this "I Ruv You!" panel from Kaufman. $8.99 each.

Pam Goecke Dinndorf's (Aardvark Quilts) second collection with Robert Kaufman - Psychedelia - features 6 psychedelic designs in a vibrant color palette. $11.99 per yard.

Michael Miller has shipped new colors of Cotton Couture! $9.50 per yard.

From Island Batiks, we have more beautiful bolts that we can show here. Come in and see them all! $12.99 per yard.

CLASSES:

You can sign up for classes online, by phone at 301-527-0598, or in person at the shop.


The Westalee Workshop on Saturday is filled, but there is still room in Friday night's Westalee Trunk Show and Lecture.

2018 Clubs are starting up soon! Be sure to sign up for your desired clubs before the spots are all filled. Starting Saturday, 1/6 is the Longarm Club and the ProStitcher Club. Hand Piecers meet Monday, 1/8; Improv on Tuesday 1/9. The new Art n Stitch Club has its inaugural meeting on Thursday, 1/11. Second Saturday: Before and After the Block and the Wool Club both start on Saturday, 1/13. If you English Paper Piece (EPP), our club has a range of stitchers from modern to traditional, and everything in between; their first Club meeting is on Sunday, 1/14. Janome Owners will be interested in our Janome Club starting 1/20, and the Zentangle Club starts on 1/21 if you'd like to schedule a little "mindful doodling" once a month. AccuQuilt and the HandiQuilter Ruler of the Month start on 1/27. We have another new club for all you garment sewers (or soon-to-be garment sewers) called Sew! Let's Get Dressed! Rae Cumbie, who writes regularly for Sew News and Threads Magazine will lead the club and the first meeting date is February 4th.

Please consider joining Laurie as she leads a CQ Cares: Days for Girls workshop on Monday, 1/8. Participants will sew drawstring bags that will be filled with reusable, sustainable sanitary products that will allow girls in undeveloped countries to attend school uninterrupted. Participants are asked to register for this free event, and to bring with them one or two new, colorful, pretty washcloths.
The Capital Quilts Complete Course of Quilting begins on Wednesday, January 10. There is one seat left in the evening class and 4 in the afternoon class. If you are a beginner quilter, this is a fabulous class that will give you a great start and no bad habits!

Learn how to longarm! We are offering Getting Started: the Handi Quilter Longarm on Wednesday, January 10th at 6pm. This class teaches everything you need to know to start renting our longarms.
Art & Stitch is software that allows you to design and manipulate both machine embroidery and machine quilting designs. An edge-to-edge class is being offered on Thursday, January 11 from 12:30-3:30; the class, "Art & Stitch: Make it Sew!", is appropriate for both beginner and intermediate skill levels. That evening, 6:30-8:30, is the inaugural meeting of our Art & Stitch Club. The club is open to all, whether you are already proficient with the software or want to become so.

If you got quilts completed over the holiday break, make an appointment for Sandwich Night on Friday, January 12 to get it ready for quilting on your domestic machine.

Getting Started: ProStitcher Premium is for those wishing to use the computerized stitching system on the longarm machines. Saturday, January 13 at 2:30pm.

On Sunday, January 16 we offer Getting Started: The Handi Quilter Simply Sixteen. This class prepares you for renting the Simply Sixteen, a small longarm that allows you to work with a quilt sandwich on a clamping frame, rather than loading your quilt top, batting, and back separately. No "leaders" required!

Learn Zentangle! Andrea will be here Sunday, January 14 at 2:30 pm for Beginning Zentangle. Learn basic patterns and how to incorporate them into your own designs. $6 materials fee payable to the instructor in class.

The complete class listing is available in store or online -- please give it a read!


SAVE THE DATES

January 5: Westalee Ruler Lecture
January 6: Westalee Ruler Workshop
February 8 & 9: Handi Quilter Education Event
June 1 - 3: QU Quilt Show
June 9 & 10: Annapolis Quilt Show


COMMUNITY CORNER

We are still accepting Kennel Quilts for animals affected by natural disasters. Small Kennel Quilt kits are available in the shop; just ask for one!


CAPITAL QUILTS BLUE BAG BONANZA

Congratulations to SJ King, who won the December prize: The Wedding Quilt, a novel by Jennifer Chiaverini, and a Cake Mix Recipe for 10" squares from Moda.

Congratulations as well to Barbara G., winner of the year-end Blue Bag Bonanza drawing, and recipient of a $150 Gift Card!

January's prize is Five "Paloma" Fat Quarters from Junebee for Ink & Arrow Fabrics.
To be entered in each month's drawing, bring your Capital Quilts Blue Bag with you when you shop. Make sure you show it to the staffer at the register! Upon completion of your sales transaction, your name will be put in the jar for the drawing at the end of the month. The more you shop, the more chances you have to win. Don't have a Blue Bag? Purchase one at the shop, by phone, or online for just $4.99. We save all of the entries for the year, and at the end of the year we draw a Grand Prize Winner from all the entries.

Sign up for our 5th Saturday Club! Purchase your Gold Tag for $10 and be able to participate in four special sales on the four 5th Saturdays on 2018.

Our thanks to everybody who shops at Capital Quilts and who participates in the Blue Bag Bonanza.
Save
Save
Save