Skip Navigation
Website Accessibility
What's New at CQ 01/11/2018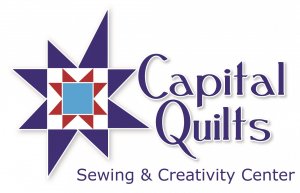 "A good use for me is to let me go away with my sewing machine and come back with some really new stuff." Betsey Johnson



Dear Beautiful Quilters and Sewers,

The Quilters' Quest Committee had its first meeting for Quilters' Quest 2018 yesterday! Isn't it amazing how long it takes to pull together an event like the Quest? The big news is that we have changed the dates of the Quest to October. Quilters' Quest will be on October 19-28. Save the date! Why did we do this, you ask? In the Survey that many of you completed after Quest 2017, respondents commented that November was a very busy time of year, that they were reluctant to spend too much on their own hobby with the holiday shopping beginning, that they were traveling over the Veterans Day weekend, and/or that they were committed to a quilt retreat, many of which happen mid-November. That, coupled with the fact that Quilt Market, which the shop owners like to attend, is a week later this year and therefore during our traditional Quest dates, led us to try an earlier time. There are bonuses: it will still be Daylight Savings Time, so it will be lighter longer, and the weather should be nicer.

Don't forget to register for the Quilters' Quest newsletter, if you haven't already. There will be fun facts, updates on what will be happening during Quest, and a monthly free pattern. Go to www.quiltersquest.org to get on the newsletter list!

Now that the holidays are over, are you getting some sewing done? Send us pictures that we can share on our website and/or social media; we'd love to see what you are up to!

Have you ever tried Zentangle? There is a beginner's class on Sunday, January 14, at 2:30. Learning and practicing Zentangle will help your quilting, as many of the designs are nearly identical. Check out online images of Zentangle quilts. There are some very beautiful quilts out there that are influenced by Zentangle.

Our first meeting of the Tucker University classes is coming up next week! The first section meets on Tuesday the 16th, 2-6. The other section, which is full, meets on Saturday. Both sections will cover the same material, which is all about the Tucker Trimmer and Shaded 4-Patch blocks and quilts. I hope you can come on Tuesday!

Go 'n' Piece,
Alison



VENDOR SPECIALS
Handi Quilter: January 10-23, take 15% off all HQ gadgets and accessories. PLUS, any new HQ longarm machine package purchased during this time will include FREE Quilt-Pro Quilt Design Software.


NEW & NOTEWORTHY:

Chase away winter doldrums with these two new fabric collections!

From Moda, we have Summer Breeze V, 27 summery, blue and yellow mostly floral prints. $11.99 per yard. Also available are in-house-made strip sets ($42.99 each) and charm packs ($10.99 each), and a FQ bundle ($94.50).

Create quilts that evoke the rich culture of Tuscany in this batik collection from Timeless Treasures. 20 bolts, each at $12.99 per yard. The FQ Bundle is available now ($70.00), and we'll have strip sets ($42.99 each) and charm packs ($10.99 each) available soon!


CLASSES:


You can sign up for classes online, by phone at 301-527-0598, or in person at the shop.

Join a club! We have many different clubs here at CQ to tempt you; there's something for everyone! Second Saturday: Before and After the Block and the Wool Club both start on Saturday, 1/13. If you English Paper Piece (EPP), our club has a range of stitchers from modern to traditional, and everything in between; their first Club meeting is on Sunday, 1/14. Janome Owners will be interested in our Janome Club starting 1/20, and the Zentangle Club starts on 1/21 if you'd like to schedule a little "mindful doodling" once a month. AccuQuilt and the HandiQuilter Ruler of the Month start on 1/27. The new Art and Stitch Club has its inaugural meeting on Sunday, 1/28. We have another new club for all you garment sewers (or soon-to-be garment sewers) called Sew! Let's Get Dressed! Rae Cumbie, who writes regularly for Sew News and Threads Magazine will lead the club and the first meeting date is February 4th. The Hand-piecers, Longarmers, Prostitchers, and Improv clubs have already started, but you can still sign up.

On Sunday, January 14 we offer Getting Started: The Handi Quilter Simply Sixteen. This class prepares you for renting the Simply Sixteen, a small longarm that allows you to work with a quilt sandwich on a clamping frame, rather than loading your quilt top, batting, and back separately. No "leaders" required!

Learn Zentangle! Andrea will be here Sunday, January 14 at 2:30 pm for Beginning Zentangle. Learn basic patterns and how to incorporate them into your own designs. $6 materials fee payable to the instructor in class.

Barbara is extremely serger savvy, and you can be, too! Join her for Sergers Made Easy on Monday, 1/15 at 10:30am.

You can finish your own quilts on the shop longarm machines. All it takes is a little time, and our Getting Started: The HandiQuilter Longarm class! Barbara takes you through loading, tension, and basic quilting instruction on Monday at 2pm.

Lois Sumser has one spot left in her Rag Basket class, being held Tuesday 1/16 at 10:30am.

Tuesday at 2pm is the first Tucker University stand-alone class. It will cover the Tucker Trimmer 1 and shaded four-patch blocks.

EQ8 has a brand new and more intuitive look, and some new and improved tools. It is a computer based application with which you can preview, color, and even design and resize your quilt. It will calculate yardage, add the ¼ inch seam allowance, and create templates, rotary cutting instructions, or foundation piecing patterns. EQ8 is available from Capital Quilts, and Elyse will be teaching the basics on Thursday, 1/18 at 10:30am.

If you've already taken the beginner's longarm class, you may want to look into Getting Started: ProStitcher Premium on Saturday, 1/20 at 11am. The ProStitcher quilting system integrates Handi Quilter's world-class quilting machines with the latest computer technology. The software is managed from the included touchscreen tablet conveniently mounted on top of the quilting machine. This rich and full featured software is easy to learn and makes precise quilting simple and fun!

The complete class listing is available in store or online -- please give it a read!


SAVE THE DATES

February 8 & 9: Handi Quilter Education Event
June 1 - 3: QU Quilt Show
June 9 & 10: Annapolis Quilt Show
October 19-28: Quilter's Quest


COMMUNITY CORNER

We are still accepting Kennel Quilts for animals affected by natural disasters. Small Kennel Quilt kits are available in the shop; just ask for one!


CAPITAL QUILTS BLUE BAG BONANZA

January's prize is Five "Paloma" Fat Quarters from Junebee for Ink & Arrow Fabrics.
To be entered in each month's drawing, bring your Capital Quilts Blue Bag with you when you shop. Make sure you show it to the staffer at the register! Upon completion of your sales transaction, your name will be put in the jar for the drawing at the end of the month. The more you shop, the more chances you have to win. Don't have a Blue Bag? Purchase one at the shop, by phone, or online for just $4.99. We save all of the entries for the year, and at the end of the year we draw a Grand Prize Winner from all the entries.

Sign up for our 5th Saturday Club! Purchase your Gold Tag for $10 and be able to participate in four special sales on the four 5th Saturdays on 2018.

Our thanks to everybody who shops at Capital Quilts and who participates in the Blue Bag Bonanza.
Save
Save
Save