What's New at CQ 01/19/2018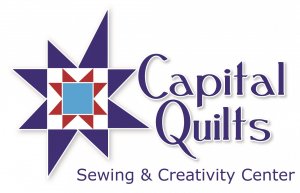 "Life is like riding a bicycle. To keep your balance, you must keep moving." Albert Einstein



Dear Sewists Extraordinaire,

We have been moving things around (this is what we do on slow days). You will now find the solids in the back of the shop, where the Christmas fabrics were. Christmas fabrics and patterns are up near the windows; they are all 30% off. New lines that have come in since the first of the year are in the front of the room; take a look at all the fabric displays when you first enter the shop. There is a line of gray fabrics called "Gray Matters" that is wonderful, and a delightful, whimsical line from Dear Stella called "For Fox Sake".

Our next Handi Quilter Education Event, "Quilt Like a Pro", is rapidly approaching. The dates are February 9 & 10, a Friday and Saturday. Sarah Thompson is our National Educator. Sarah is a commercial pilot turned professional longarm quilter, designer, and educator. She is known extensively for her unique free motion quilting style, which she calls "sketchbook quilting". She will share that quilting style with us on Friday morning, in the "Fast, Fun, and Fabulous Free Motion" class. Friday afternoon she will give us her approach to quilting feathers in "Feather Foundations". Saturday's classes will have a different focus: in the morning, we'll talk about how to use some of the new rulers recently introduced by Handi Quilter in "New Kids on the Block". The afternoon's class is called "You Can Do That on a Longarm, Too?" and is about all the things you can do with a longarm quilting machine in addition to quilting (binding, applique, and piecing, to name a few!). Classes are from 10-1 and 2-5; each costs $30. In each one, you will have the opportunity to use a longarm machine to try out some of the ideas Sarah shares with us. Sign up online, by phone, or in the shop. If you've taken one of these classes before, you know how much fun they are and how much you can learn from the different teachers, each of whom brings their own talents and knowledge to the class and to longarm quilting.

Don't miss Janome's Red Tag Sale going on now through the end of February. It's a great opportunity to get a new machine.

Go 'n' Piece,
Alison

VENDOR SPECIALS
Handi Quilter: January 10-23, take 15% off all HQ gadgets and accessories. PLUS, any new HQ longarm machine package purchased during this time will include FREE Quilt-Pro Quilt Design Software.

Janome: Take advantage of Janome's Red Tag Event January 15-February 28! Save hundreds of dollars on select machines. Looking for a really good entry-level embroidery machine? Consider the S9. You'll save $400 AND a receive a free, one-year gold membership in the Design Flex Club, which entitles you to 50 free embroidery designs every month. Come to the shop and try out the Janome sewing machines; sewing is believing.

NEW & NOTEWORTHY:


Modern Quilts: Designs of the New Century, from the Modern Quilt Guild, is a coffee table book of glorious quilts. The book includes a short history of the modern quilting movement, followed by page after page of full page photographs of important and beautiful modern quilts. $39.95 (CQ price: $33.96)

For garment sewers, we have two new patterns from Sew Liberated: the "Stasia Dress and Top" and "Matcha Top". The dress is for knit fabrics, and the top is for drapey fabrics like double gauze. Both are $21 and include sizes from 0 to 24.

The Orange Pop Rulers from KimberBell are here! Use these rulers for squaring off blocks and for fussy cutting. The package includes a strip of Slip-Stop to keep your rulers from slipping while cutting and directions for downloading a free table runner pattern. $49.95.


And, of course, we have new fabric to offer you: From Dear Stella, a line called "For Fox Sake" has delightful hedgehogs, owls, raccoons, reindeer, foxes and more in shades of taupe and rich coffee. $12.50/yd. There is also a single flamingo fabric that I just liked. $12.50/yd. Looking for fabulous grays? P&B offers us "Gray Matters" at $10.99/yd. QT's "Ombre Stitches" was very popular at Quilt Market. The ombre effect is all over, rather than shading from selvedge to selvedge. It's very pretty. $10.99/yd. We haven't had a nice French country line in the shop for a while. Penny Rose Fabrics gives us "Les Fleurs de Nantes". $11.99/yard.


CLASSES:
You can sign up for classes online, by phone at 301-527-0598, or in person at the shop.


Join a club! We have many different clubs here at CQ to tempt you; there's something for everyone! Janome owners will be interested in our Janome Club starting 1/20, and the Zentangle Club starts on 1/21 if you'd like to schedule a little "mindful doodling" once a month. AccuQuilt and the HandiQuilter Ruler of the Month start on 1/27. The new Art and Stitch Club has its inaugural meeting on Sunday, 1/28. We have another new club for all you garment sewers (or soon-to-be garment sewers) called Sew! Let's Get Dressed! Rae Cumbie, who writes regularly for Sew News and Threads Magazine will lead the club and the first meeting date is February 4th. Many clubs have already had their first meeting, but you can still sign up!

If you've already taken the beginner's longarm class, you may want to look into Getting Started: ProStitcher Premium on Saturday, 1/20 at 11am. The ProStitcher quilting system integrates Handi Quilter's world-class quilting machines with the latest computer technology. The software is managed from the included touchscreen tablet conveniently mounted on top of the quilting machine. This rich and full featured software is easy to learn and makes precise quilting simple and fun!

Dance of the Dragonflies is a beautiful and unique quilt that honors the dragonfly totem. The totem carries the wisdom of transformation and adaptability in life and is connected to the symbolism of change and light. Make the quilt round or square. The dragonflies are created first, then mounted on the background. You can purchase the kit at Capital Quilts, or select your own fabrics. The first of three sessions meets this Sunday, January 21, from 3-5. Julie Evans is teaching.

Get in on the English Paper Piecing craze! Kim Jalette is teaching a Beginning EPP class on Monday, January 22, 10:30-1:30. She will go over how to prepare your fabrics, baste the pieces around paper templates, and stitch the shapes together. This is a hand-stitching class; no machine required!

Take the Getting Started: The Handi Quilter Longarm Machine on Thursday, January 25 with Barbara Bean. Completion of the class enables you to rent a longarm machine to finish your own quilts (and maybe others', too!) as well as be ready to take more advanced machine quilting classes.

Learn how to make a quilt with an unusual and visually appealing circle setting. Nine framed novelty blocks are the focus of the quilt. Hilary Hastie is teaching this Circle of Turtles quilt on Friday, January 26 at 10:30. The class is half full; sign up soon!

The weather is supposed to be nice next weekend and Saturday is going to be a fun day. Start with AccuQuilt Club in the morning at 10:30 or join the Handi Quilter Ruler Club 2 at 10. The HQ rulers can be used with any longarm machine. In the afternoon, Hilary is back to teach Bitter Almond, a gorgeous fat-quarter-friendly quilt, from 1-4. If you are still awake, be a part of the Night Owl Sewing retreat here in the shop; Kat Martinez is your hostess from 6-12. Receive a $10 Capital Quilts Gift Card, pizza, beverages, and tons of fun and friendship.

The complete class listing is available in store or online -- please give it a read!


SAVE THE DATES

February 9 & 10: Handi Quilter Education Event
June 1 - 3: QU Quilt Show
June 9 & 10: Annapolis Quilt Show
October 19-28: Quilter's Quest


COMMUNITY CORNER

We are still accepting Kennel Quilts for animals affected by natural disasters. Small Kennel Quilt kits are available in the shop; just ask for one!


CAPITAL QUILTS BLUE BAG BONANZA

January's prize is Five "Paloma" Fat Quarters from Junebee for Ink & Arrow Fabrics. To be entered in each month's drawing, bring your Capital Quilts Blue Bag with you when you shop. Make sure you show it to the staffer at the register! Upon completion of your sales transaction, your name will be put in the jar for the drawing at the end of the month. The more you shop, the more chances you have to win.

Don't have a Blue Bag? Purchase one at the shop, by phone, or online for just $4.99. We save all of the entries for the year, and at the end of the year we draw a Grand Prize Winner from all the entries.

Sign up for our 5th Saturday Club! Purchase your Gold Tag for $10 and be able to participate in four special sales on the four 5th Saturdays on 2018.

Our thanks to everybody who shops at Capital Quilts and who participates in the Blue Bag Bonanza.

Save
Save
Save