What's New at CQ 01/25/2018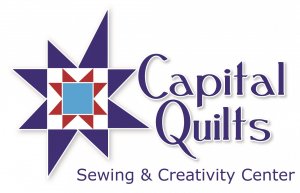 "Be eccentric now. Don't wait for old age to wear purple." Regina Brett


Dear Lovers of All Things Textile,

I have added a new Trunk Show and Lecture to our line-up of fun things to do here at Capital Quilts! On Saturday, February 3, 3:30-5:30, visit with designer and Handi Quilter Educator Sarah "Sari" Thomas and find out how a one-time commercial pilot becomes a professional longarm quilter. Sari is known for her "Sketchbook Quilting" technique, a kind of uninhibited free motion quilting. Doesn't "uninhibited" sound like fun?! She will share lots of her quilts with us, including the one that you can find on the September page of 2018 Quilter's Planner. Even if you don't "do" longarm quilting, you will enjoy Sari, her story, and her quilts.

Sari currently lives in Harper's Ferry with her husband, two boxers, and her off-track Thoroughbred. In addition to quilting and designing, she teaches at the nearby university wellness center and enjoys running and hiking. You can find her on her website at www.sariditty.com, on Facebook at www.facebook.com/designsbysari, and on Instagram @sariditty.

Curious about Zentangle? Zentangle is a fun way to relax, focus, and gain inspiration. Many of the Zentangle patterns can be used in your quilting projects. Zentangle drawing can be done anywhere, by yourself or with others, and does not require any special drawing or artistic ability or expensive equipment. Take Zentangle for Beginners on Sunday, February 18, 12:30-2:30 to find out more.

Also added to the class schedule is Zentangle: Beyond the Basics, on Saturday, February 24, 1:30-3:30. This class is designed to give you a more in depth understanding of the Zentangle method of drawing. You will learn new patterns and new techinques to enhance your Zentangle experience.

Janome has added another deal to their Red Tag Sale. Purchase the Horizon Quilt Maker MC15000 machine and receive the brand new Artistic Digitizer Software absolutely FREE. This is full-featured embroidery, sewing, and crafting software, compatible with both Windows and Mac. The Quilt Maker 15000 won't make your coffee in the morning, but it will sew, quilt, and embroider like none other. Come to the shop and experience this top-of-the-line machine! This Janome offer is good February 1-28.

The Pantone Color of the Year has arrived at Capital Quilts! This past weekend, we switched out our accent wall from Greenery to Ultra Violet, and it is stunning! Come in and take a look; Ultra Violet may inspire you to create something wonderful!

Go 'n' piece,
Alison
VENDOR SPECIALS
Janome: Take advantage of Janome's Red Tag Event January 15-February 28! Save hundreds of dollars on select machines. Looking for a really good entry-level embroidery machine? Consider the S9. You'll save $400 AND receive a free, one-year gold membership in the Design Flex Club, which entitles you to 50 free embroidery designs every month. If you are ready for the top-of-the-line machine, consider purchasing the Quilt Maker 15000, as described above (note that the availability dates are slightly different). Additional bonus: 1 year free membership into the CQ Machine Embroidery Club ($50 value). Come to the shop and try out the Janome sewing machines; sewing is believing.

NEW & NOTEWORTHY:

We've got so much new fabric coming in, it's hard to keep up with it all! Lemmikki from Lotta Jansdotter for Windham Fabrics is a 26 bolt collection comprised of patterns and motifs created in different shades of gray. Also included are bright and sunny accent colors in shades of sunny and warm oranges and classic leafy greens. $12.50 per yard.

Moda's Gingiber is back with Catnip! We've picked up 7 of the bolts (11.99 per yard), and two panels ($11.99 each). Meow!

Michael Miller's Project Dovetail asked some of licensed designers to come up with a fabric pattern to be included in a collaborative collection. We have 7 lovely bolts at $12.50 per yard. Michael Miller is also accepting blocks made from Project Dovetail fabrics to make quilts for Quilts of Compassion. See the Michael Miller website for more information.

Enter into a botanical retreat with Rae Ritchie's collection from Dear Stella, Garden Sanctuary, a collection based on Rae Ritchie's love of all things gardening. Greenhouses, Foxgloves and little black cats basking in the sun await you! $12.50 per yard.

We also picked up two of Gingiber's cute cat quilt patterns. Choose from either Hidden Kittens or Rows of Cats (or both, for those of you on the 'crazy cat lady' path!). $9.00 each.

A Tale of 2 Gnomes from Abbey Lane is a fun, whimsical quilt for all seasons. $12.00 each.

Did you know that books are discounted every day at Capital Quilts?

Ann Small's imaginative use of cutting and manipulating techniques, and her layering and coloring tricks, makes The Textile Artist: Layered Cloth your go-to guide for bringing form and texture to your fabric artwork. This book is a rich resource and reference for textile artists seeking new ideas and who want to experiment with reverse applique and related techniques such as layering, trapunto, stacks, puffs, and fabric manipulation. MSRP $35.00, CQ price only $29.75.

Couldn't make the "Beginning EPP" class we had recently, but still interested in the technique? Quilting on the Go…English Paper Piecing by Sharon Burgess guides crafters through all the steps of English Paper Piecing, starting with the basics. Work your way from through the humble hexagon, stars, curves, and more. The author shares her tips, techniques, and her preferred products to help you achieve great results and identify what to look for when choosing fabrics to fussy cut. The book has a range of patterns from simple smaller projects through to baby and full-sized quilts, offering something for all levels of experience. MSRP $21.95, CQ price only $18.66.

Curves are easy to sew when you top stitch them, and Karen Eckmeier is eager to show you how in Wiggles and Waves. This book contains over 20 great projects for table runners, small wall-hangings and quilts to celebrate the joys of life. MSRP $25.00, CQ price only $21.25.


CLASSES:

You can sign up for classes online, by phone at 301-527-0598, or in person at the shop.


It's never too late to join a club. If the club has already begun, we prorate the fee for the balance of the year. Pick a topic that interests you and come enjoy the company and the experience.

Learn how to make a quilt with an unusual and visually appealing circle setting. Nine framed novelty blocks are the focus of the quilt. Hilary Hastie is teaching this Circle of Turtles quilt on Friday, January 26 at 10:30. The class is half full; sign up soon!

Enjoy an evening of sewing and friendship at our monthly Sit N Sew, Friday, January 26, 5-9. Bring some food to share. Capital Quilts provides the beverages. FREE.

Saturday is going to be a fun-filled day. Start with AccuQuilt Club in the morning at 10:30 or join the Handi Quilter Ruler Club 2 at 10. The HQ rulers can be used with any longarm machine. In the afternoon, Hilary is back to teach Bitter Almond, a gorgeous fat-quarter-friendly quilt, from 1-4. If you are still awake, be a part of the Night Owl Sewing retreat here in the shop; Kat Martinez is your hostess from 6-12. Receive a $10 Capital Quilts Gift Card, pizza, beverages, and tons of fun and friendship.

The Handi Quilter Ruler Club 2 is beginning this Saturday! Over the course of 6 months, you will receive and learn about 6 brand new HQ rulers. The rulers can be used on any brand of quilting machine. Save about $40 on the cost of the 6 rulers, which aren't available to the general public until August. There is a free gift for you at the last meeting! Join Barbara Bean from 10-12 on January 28 for fun, hands-on-learning, show & tell, and friendship.

There is a new club meeting on Sunday, January 28, 12:30-2:30. The Art & Stitch Club will explore the A&S software and all the ways it can be used. If you have done a project, big or small, using A&S, bring it along for show and tell. Elyse Turkeltaub is your hostess.

Quilt by hand or quilt by machine? Hmm…Learn how to do both on Tuesday, January 30. Chris Giannascoli will teach you the pleasures and techniques of hand quilting in the morning, 10:30-12:30, in the class Hand-Quilting: The Ultimate Finish. Explore the ins and outs of free motion quilting with Annette Burns in Machine Quilting for Beginners from 6:30-9. There are benefits to knowing how to quilt both ways.

We finish out the month with Barbara Kascic's ever so useful class, Needles & Thread, a one-hour lecture designed to enlighten you about how different needles and various kinds of thread interact and what you can do to ensure a good stitch. Join her on Wednesday, January 31, 10:30-11:30.

The complete class listing is available in store or online -- please give it a read!


SAVE THE DATES

February 3: Trunk Show and Lecture with Sari Thomas
February 9 & 10: Handi Quilter Education Event
June 1 - 3: QU Quilt Show
June 9 & 10: Annapolis Quilt Show
October 19-28: Quilter's Quest


COMMUNITY CORNER

Headed out to Nebraska? The International Quilt Study Center and Museum in Lincoln has part of Ken Burns' quilt collection on display. Check out the Center's website for photos of wonderful quilts!

We are still accepting Kennel Quilts for animals affected by natural disasters. Small Kennel Quilt kits are available in the shop; just ask for one.


CAPITAL QUILTS BLUE BAG BONANZA

January's prize is Five "Paloma" Fat Quarters from Junebee for Ink & Arrow Fabrics.

To be entered in each month's drawing, bring your Capital Quilts Blue Bag with you when you shop. Make sure you show it to the staffer at the register! Upon completion of your sales transaction, your name will be put in the jar for the drawing at the end of the month. The more you shop, the more chances you have to win. Don't have a Blue Bag? Purchase one at the shop, by phone, or online for just $4.99. We save all of the entries for the year, and at the end of the year we draw a Grand Prize Winner from all the entries.

Sign up for our 5th Saturday Club! Purchase your Gold Tag for $10 and be able to participate in four special sales on the four 5th Saturdays on 2018. The first one is in March.

Our thanks to everybody who shops at Capital Quilts and who participates in the Blue Bag Bonanza.
Save
Save
Save