Skip Navigation
Website Accessibility
What's New at CQ 02/01/2018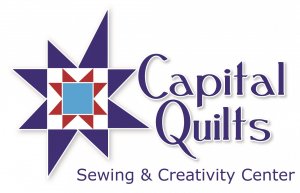 "Love is a canvas furnished by nature and embroidered by imagination." Voltaire

Dear Friends of Fabric and Thread,

I have added yet another new Trunk Show and Lecture to our line-up of fun things to do here at Capital Quilts! Dottie Acton will be here on Saturday, March 24, 4:30-5:30 to show us many beautiful machine-embroidered quilts that she and members of the Machine Embroidery Club have made. Dottie will tell her story as well as talk about all the activities of the Machine Embroidery Club. The club's first meeting is on Saturday, April 14, 2:30-4:30, and the members would like you to know that new members are always welcome! The club will meet on the 2nd Saturday of every month, 2:30-4:30.

Don't miss designer and Handi Quilter Educator Sarah "Sari" Thomas' trunk show on Saturday, February 3, 3:30-5:30, and find out how a one-time commercial pilot becomes a professional longarm quilter. Sari is known for her "Sketchbook Quilting" technique, a kind of uninhibited free motion quilting. Doesn't "uninhibited" sound like fun?! She will share lots of her quilts with us, including the one that you can find on the September page of 2018 Quilter's Planner. Even if you don't "do" longarm quilting, you will enjoy Sari, her story, and her quilts, a few of which are now hanging in the shop. Your $10 registration fee gets you Sari for two hours, and a $10 CQ Gift Card at the show. Find Sari on her website at www.sariditty.com, on Facebook at www.facebook.com/designsbysari, and on Instagram @sariditty.

And don't forget to sign up for Sari's Quilt Like a Pro quilting classes on February 9 & 10! There are two each day, from 10-1 and 2-5. Sign up for all four and receive a 10% discount on the total cost. During the event, take 10% off all Handi Quilter branded tools, gadgets, DVDs, and machine accessories. Get a great price on machines, too! See our website or ask at the shop for more information.

If you'd like to learn more about longarm quilting or about using the HQ ProStitcher, consider joining the Longarmers Club and/or the ProStitcher Club. Both meet this, the 1st Saturday of the month, 10-12 and 12:30-2:30 respectively. There is lots of sharing of tips and tricks and projects!

I'd love to get more of you making your own clothes! Wouldn't it be nice to have a few unique pieces in your closet? Rae Cumbie of Fit For Art Designs is leading a club called "Sew! Let's Get Dressed"; the first meeting is this Sunday, the 4th, 2:30-4:30. It will meet six times during the year, and the focus is on new garment makers and learning how to read and make variations in a pattern and how to achieve a good fit. If you are interested, I hope you will come to the meeting on Sunday!

Curious about Zentangle? Zentangle is a fun way to relax, focus, and gain inspiration. Many of the Zentangle patterns can be used in your quilting projects. Zentangle drawing can be done anywhere, by yourself or with others, and does not require any special drawing or artistic ability or expensive equipment. Take Zentangle for Beginners on Sunday, February 18, 12:30-2:30 to find out more. If you find you like it, join the Zentangle Club!

Also added to the class schedule is Zentangle: Beyond the Basics, on Saturday, February 24, 1:30-3:30. This class is designed to give you a more in depth understanding of the Zentangle method of drawing. You will learn new patterns and new techniques to enhance your Zentangle experience.

TUCKER UNIVERSITY: I have ordered all of the tools that will be discussed during the year, as well as all of the technique sheets. Find them hanging on the wall at the back of the Notions Department. When we run out of a given tool or sheet, we'll order more, so do not despair!

Janome has added another deal to their Red Tag Sale. Purchase the Horizon Quilt Maker MC15000 machine and receive the brand new Artistic Digitizer Software absolutely FREE. This is full-featured embroidery, sewing, and crafting software, compatible with both Windows and Mac. The Quilt Maker 15000 won't make your coffee in the morning, but it will sew, quilt, and embroider like none other. Come to the shop and experience this top-of-the-line machine! This Janome offer is good February 1-28.

A riddle for you: How many past US presidents are NOT buried in the United States? Answer in next week's newsletter!


Go 'n' piece,
Alison


VENDOR SPECIALS
Janome: Take advantage of Janome's Red Tag Event January 15-February 28! Save hundreds of dollars on select machines. Looking for a really good entry-level embroidery machine? Consider the S9. You'll save $400 AND receive a free, one-year gold membership in the Design Flex Club, which entitles you to 50 free embroidery designs every month. If you are ready for the top-of-the-line machine, consider purchasing the Quilt Maker 15000, as described above (note that the availability dates are slightly different). Additional bonus: 1 year free membership into the CQ Machine Embroidery Club ($50 value) with the purchase of either the S9 or the 15000. Come to the shop and try out the Janome sewing machines; sewing is believing.


NEW & NOTEWORTHY:


A customer asked me a couple of weeks ago if I had ordered a fabric line called "Gleaned", and I said I had not. To this customer I offer my most humble apologies: I did after all order "Gleaned", and it has arrived! "Gleaned" is Carolyn Friedlander's newest collection, 24 fabrics in all, and quite stunning they are. Carolyn's designs are always 'out-of-the-box', always very new and different. Thank the Robert Kaufman company for allowing her to exert her creativity. As someone who sees a lot of fabric from a lot of companies, I can tell you that a lot of them just regurgitate hedgehogs and foxes and llamas or whatever the current fad happens to be. Designers like Carolyn are a breath of fresh air. $12.50/yd.

From Oasis Fabrics, we have two smaller collections. First up is "Horseplay", seven bolts that evoke Maryland's (and Virginia's) rich equestrian history. Next, we have eight lovely blue and white fabrics, one featuring elegant peacocks delicately accented with silver. Both collections are $11.99 per yard.

Books are discounted every day at Capital Quilts!

Celebrate National Embroidery Month with a stitching book! With clear, concise stitch instructions and adorable flora and fauna motifs to try for yourself, the A–Z of Wool Embroidery is a treasure trove of stitches, hints and designs for beginners and beyond. MSRP $19.95, CQ price only $16.96.

In Seasons of Wool Applique, Rebekah Smith, the author of best-selling Wool Applique Folk Art presents a treasure trove of 12 seasonal wool applique projects, with 3 for each season. Her Americana aesthetic, although very true to early decorative arts, would look great in many homes today. MSRP $29.95, CQ price only $25.46.

Rooted in the Victorian era, crazy quilting has a powerful allure for today's quilters, who use it to let loose and tell a unique story with fabric. The Visual Guide to Crazy Quilting Design embraces crazy quilting with 35 must-know stitches and endless variations, shown in clear, step-by-step photographs for both right- and left-handed stitchers. Fine artist Sharon Boggon reveals design fundamentals to guide you in your process, so you can sew thoughtful, visually appealing blocks. MSPR $29.95, CQ price only $25.46.



CLASSES:

You can sign up for classes online, by phone at 301-527-0598, or in person at the shop.

Join Rae Cumbie for one of CQ's newest clubs, this one centering around garment sewing! Rae has been creating custom clothing professionally for more than 20 years. Rae is also a nationally respected teacher, and is a contributor to Threads Magazine and Sew News Magazine. Sew! Let's Get Dressed will meet every other month, starting Sunday, 2/4 at 2:30pm.

Finish your own quilts on our longarm machines! Our Getting Started: The Handi Quilter Longarm covers all the basics on Tuesday, 2/6 at 11am.

We saw these Mini Mosaics at Quilt Market in October, and instantly fell in love with them. Pick your favorite, select some batik scraps, and join Kat on Tuesday 2/6 at 1pm to learn how to put them together!

Rag bowls are sturdy, versatile and fun to make. This class on Thursday, 2/8 at 10:30am will provide instructions for making a small bowl and hopefully have you leaving with your bowl and all you need to make more. Be careful - it is addictive, but if you are a quilter and/or sewing "nut", you know all about that!!!

If the larger longarms intimidate you, you may want to enroll in Getting Started: the Simply Sixteen. Learn how to load your quilt on the frame, thread the machine, wind and load a bobbin, establish good tension, bring up the bobbin thread, anchor and tie off threads, and do a little stitching, Thursday 2/8 at 6:30pm.

Our first Quilt Like a Pro class on Friday, 2/9 at 10am is Fast, Fun, Fabulous Free Motion Quilting. Quilters everywhere LOVE the excitement and fun of free motion quilting – and it's easier than you think! Create flowing designs by connecting simple design elements with continuous lines, traveling across the quilt or filling in a specific area. Learn how drawing and muscle memory contribute to beautiful free motion quilting, and how to create stunning designs. Stay for the 2pm class, Feather Foundations. Feather designs always add a touch of class to any quilt, evoking a positive response from any viewer. Learn to draw and stitch these beautiful elements in many different styles, from traditional to contemporary. Then learn how to fit them in specific geometric spaces, how to turn corners, make feather wreaths, and how to echo and add fills. It's easier than you think!

Don't have enough room in your house to easily sandwich a quilt? Make an appointment for Sandwich Night on Friday, 2/9 and bring your top backing batting and supplies to CQ and we will help you sandwich that quilt in no time!

Saturday, we have two more Quilt Like a Pro classes for your enjoyment. Handi Quilter continually adds new rulers to the line-up and you will welcome them with open arms. Come to New Kids on the Block at 10am, and learn about their features, how to use them and what you can accomplish with this cadre of handy new rulers. Sized to fit your hand and designed to make ruler work easier, you'll be reaching for these rulers again and again! At 2pm, we offer You Can Do That on a Longarm, Too? You will discover that a longarm isn't just for quilting tops! Come see how techniques usually done with a sewing machine can be accomplished with a longarm machine. You'll leave with brilliant shortcuts and ideas for quick and easy projects, and a whole new perspective on what's possible with a longarm!

Decorated Wool Eggs is being held Saturday as well, at 2:30pm. These beautiful appliqued and embroidered wool eggs will become a family heirloom. Made with felted wool, the colors are rich and luminous. Learn how to fuse the pieces in place and embellish with embroidery.

Jackie Kelso will be here on Sunday, 2/11 at 11am to teach Rocky Mt. Bear's Claw. This delightful table runner was designed by Judy and Brad Niemeyer. Learn how to paper-piece this block and assemble the runner. There are enough papers left over to make two pillows.

It's never too late to join a club. If the club has already begun, we prorate the fee for the balance of the year. Pick a topic that interests you and come enjoy the company and the experience.


SAVE THE DATES

February 3: Trunk Show and Lecture with Sari Thomas
February 8 & 9: Handi Quilter Education Event
March 24: Machine Embroidery Trunk Show
April 12-14: "Quilt Fiesta" Faithful Circle Quilters Show
June 1 - 3: QU Quilt Show
June 9 & 10: Annapolis Quilt Show


COMMUNITY CORNER

We are still accepting Kennel Quilts for animals affected by natural disasters. Small Kennel Quilt kits are available in the shop; just ask for one!


CAPITAL QUILTS BLUE BAG BONANZA

Congratulations to Cathy S., winner of the January prize!

February's prize is a "Sunday Drive" charm pack from Pat Sloan for Moda, and a Swatch Buddy starter set.

To be entered in each month's drawing, bring your Capital Quilts Blue Bag with you when you shop. Make sure you show it to the staffer at the register! Upon completion of your sales transaction, your name will be put in the jar for the drawing at the end of the month. The more you shop, the more chances you have to win. Don't have a Blue Bag? Purchase one at the shop, by phone, or online for just $4.99. We save all of the entries for the year, and at the end of the year we draw a Grand Prize Winner from all the entries.

Sign up for our 5th Saturday Club! Purchase your Gold Tag for $10 and be able to participate in four special sales on the four 5th Saturdays on 2018.

Our thanks to everybody who shops at Capital Quilts and who participates in the Blue Bag Bonanza.
Save
Save
Save